Ware Family Genealogy Home Page

This site is the property of Judy C. Ware – the author of New Nation/New Home and also Virginia Roots in Kentucky Soil. It specifically deals with the descendants of James Ware I and his wife, Agnes Todd Ware who settled in Gloucester County, Virginia in the 1700's. This particular branch of the Ware tree has found its roots in Virginia, Kentucky, South Carolina, and Texas, but generations have ultimately spread all over the map. The work on this site is copyrighted but happily available for all family researchers and genealogists – with the simple request that proper accreditation be given when using it as a source.
Complete Lineage of the Ware Name to the Present Generation
Agnes TODD WARE vs. Agnes NALL or PACE WARE
Order form for
New Nation/New Home –
the Biography of James Ware I
by Judy C. Ware
Revised edition© 2013
Please signify which purchase you would like to make, fill out the address you want it mailed to, and send a check or money order to:
Mrs. Judy C. Ware
2716 Jaclyns Trail
Edmond, Oklahoma 73012
The books or CDs will be mailed after receipt of your check. I will not deposit your money however, until I hear confirmation you have received your purchase. Please allow 2 -3 weeks for binding and shipping.
ORDER FORM
Spiral copy ($65.00 per copy) how many ___
Disc ($10.00 each) how many ___
Total enclosed _______
Name: _____________________________
Address: _______________________________
City: _____________________________
State: _______________ Zip: __________
Email for confirmation ___________________________
Option 1 A spiral bound copy (similar to Virginia Root in Kentucky Soil – Contains all information, has soft clear cover and paper backing. Cost per book which includes express shipping anywhere in the U.S. is $65.00 – will need 2 week notice for binding and shipping
.
Option 2 – Disc which contains all the information in PDF form. You can print from the disc yourself or take it to any office supply store and they will print a copy for you in whatever form you wish. The cost may vary according to the store you use. Price per disc, which includes shipping, is $10.00.
Please be advised, however, that the disc does not include the clip art additions nor the index.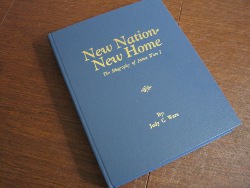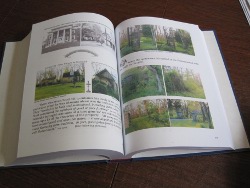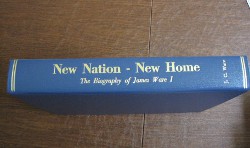 The hardbound version of this book is now only available by special order. The price is $115.00 and requires 2 weeks for binding and delivery. The priority mailing fee is included in the cost.
Thank you all for your kind wishes and thoughtfulness during the writing of this book.
NEW! NEW NATION / NEW HOME
The Biography of James Ware I
NEW! Table of Contents
NEW! Acknowledgements
NEW! Preface
NEW! Chapter 1 - Change is in the Air
NEW! Chapter 2 - "By Favor of God"
NEW! Chapter 3 - James and Agnes ~ The Early Years
NEW! Chapter 5 - Son - Nicholas
NEW! Chapter 7 - Son - Richard & Daughter - Clary
NEW! Chapter 8 - Son - William
NEW! Chapter 10 - Changing Times for James & Agnes
NEW! Chapter 11 - To Whom Much Is Given, Much Shall Be Required Luke 12:4
NEW! Chapter 12 - The Only Thing That Lasts



VIRGINIA ROOTS IN KENTUCKY SOIL
The History of Dr. James Ware II & His Wife, Virginia Catherine Todd Ware
Introduction
Preface
Chapter 1 - Beginning with James Ware I
Chapter 2 - Early Years of James Ware II
Chapter 3 - The Call of Kentucky
Chapter 4 - The Journey West
Chapter 5 - Son, Thompson Ware
Chapter 6 - Son, James Ware III
Chapter 7 - Daughter, Mary (Polly) Todd Ware
Chapter 8 - Daughter, Lucy C. Ware
Chapter 9 - Son, Charles Ware
Chapter 10 - Daughter, Catherine Ware
Chapter 11 - Son, George Ware
Chapter 12 - Location, Location, Location
Chapter 13 - Becoming "Kentuckian"
Chapter 14 - A Good Tree Bears Good Fruit
Chapter 15 - Letters and Bible Pages
Acknowledgements
References

Transcription of 1812 Letter from James Ware II to James Ware III
Transcription of 1819 Letter from Catherine Conn to Sally Ware (Josiah's sister)
Transcription of 1825 Letter from Thompson Ware to Sally Ware
Transcription of Lucy Webb letter to Sally Ware Stribling - circa 1828
Transcription of 1831 Letter from Charles Ware to Sally Ware Stribling
Josiah William Ware - Brief Overview
Transcription of 1831 Letter to Sally Ware (Josiah's sister) from Charles Ware
Transcription of 1833 Letter to Josiah Ware from T. S. Davison (coming soon)
A Map of Ware-Related Houses in Virginia
Ware Connection to Grace Episcopal Church
Preface
Acknowledgements
Part 1 - Early Years
Part 2 - Josiah William Ware and his first wife, Francis
Part 3 - James Alexander, John Glassell and Charles Alexander Ware
Part 4 - Elizabeth Alexander Ware (Britton) (McGuire)
Part 5 - Lucy Balmain Ware (Lewis) and Connection to Washington Family
Part 6 - Josiah William Ware and his 2nd wife, Edmonia
Part 7 - Jaqueline Smith Ware
Part 8 - Sigismund Stribling Ware
Part 9 - Reverend Josiah W. Ware
Part 10 - Robert Macky Ware
Part 11 - Edmonia Jaquelin Smith Ware
Part 12 - Final Thoughts and References
Connection Between the Wares and Presidents James Madison and Zachary Taylor
Ware Connections to General George S. Patton

Springfield - Before and After the Fire

Josiah's 1826 Letter - A Man in Love
Biography of Frances Toy Glassell Ware, first wife of Josiah William Ware
Biography of Edmonia Jaquelin Smith, second wife of Josiah William Ware (coming soon)
Transcription and Adaptation of Cornelia Ware Anker's Letter of 1945, Providing First-hand Memories of Ware Family Life in the 1800's (coming soon)
Josiah Ware's Connection With Top Political & Military Figures of His Time

President John Tyler
a. Background information
b. Letter from the White House, December 21, 1842
c. Letter from the White House, December 28, 1844
d. Introductory letter from President Tyler, December 7, 1844
e. President Tyler visits Springfield

President Zachary Taylor
a. Background information
b. Letter from President Taylor dated 1850

Senator & Secretary of State Henry Clay
a. Background information
b. Letter from Henry Clay dated 1836

Senator & Secretary of State Daniel Webster
a. Background information
b. Letter from Daniel Webster to Josiah Ware dated 1840
c. Letter from Daniel Webster to Josiah Ware dated 1848

Senator & Attorney General John J. Crittendon
a. Background information
b. Letter from J. J. Crittenden to Josiah Ware dated July 8, 1838

Senator & Secretary of State, John C. Calhoun
a. Background Information
b. Letter from Senator John Calhoun to Josiah Ware in 1836

Confederate General Robert E. Lee
a. Information on the Connection Between the Lee & Ware Families
b. Letter from Robert E. Lee to Josiah Ware dated 1861
c. Letter from Robert E. Lee to Josiah Ware dated 1862

Senator William C. Rives
a. Background Information
b. Letter from Senator W.C. Rives to Josiah Ware, Nov 1838

Senator Benjamin Watkins Leigh
a. Background Information
b. Letter from B.W. Leigh, Oct 9, 1836
c. Letter from B.W. Leigh, April 1, 1839

Senator William R. King
a. Background information
b. Letter from Senator William R King, April 1, 1842
c. Companion Letter (i.e. April 1, 1842) from Mrs. Byron
d. Letter from Senator William R. King, 1838

Secretary of the Navy William C. Preston
a. Background Information
b. Letter from Senator Preston to Josiah, dated 1839

Governor of Virginia & Senator James Pleasants Jr.
a. Background information
b. 1824 Commissioning paper for Josiah Ware

Congressman John Bell
a. Background information
b. 1824 Commissioning Oath

Governor of Virginia Henry Wise
a. Background information
b. Letter from Henry Wise Feb. 18, 1860
c. Commissioning Papers for Josiah for the Rank of Colonel
(plus affidavit for oaths taken before Chief Justice Francis McCormick)

Union Cavalry Col. A.T. McReynolds & Lt. James H. Stevenson
a. Safeguard letter, May 30, 1863, with quotes from Stevenson's book
about Josiah
b. Safeguard pass, May 31, 1863
c. Safeguard pass, April 6, 1863
d. Long letter, April 6, 1863 that accompanied the above safeguard

BACKGROUND ON COMPENSATION NOTES

Union Maj. General Nathaniel Banks
a. Background information on Gen. N.P. Banks
b. Letter from Major General Nathaniel Banks June 25, 1862
c. Claims letter to Justice of the Peace Henry Edwards

Captain Samuel M. Zulick
a. Compensation letter (not dated)

Notarized Letter from Josiah Ware 1865 Concerning
Compensation

Confederate General John D. Imboden
a. Background information on General Imboden
b. Letter (1859) from John D. Imboden

Confederate General William H. Richardson
Union Captain J.C. Battersby
Confederate Captain E.G. Alburtis
Union Lt. Col. Thomas C. McDowell
Notary Public C.J. Brown, 1874

Democratic Politician Henry Ware
a. Background information on Henry Ware
b. Letter from Henry Ware to Mrs. Hayes

Democrat George N. Miller
a. Background Information on George N. Miller
b. Letter from Miller to Josiah Ware in 1880

Plantation Owner James T. E. Fripp
Reverend Henderson Suter
Union Officer Lt. Jesse Wyckoff
Correspondence Between President & Mrs. Hayes and the Ware Family (Lucy Ware Webb Hayes) - Cousin of Josiah Ware (coming soon)
Josiah Ware's Military Records and Service (coming soon)
Virginia Battlefield Information
Letter from Edmonia Ware to her stepdaughter
Josiah's 1863 Letter to His Son
Josiah's 2nd Civil War Letter to His Son
Josiah Arrest and Imprisonment During the Civil War (coming soon)
Biography of Judge (Col.) James Alexander Ware, oldest son of Josiah William Ware and Frances Toy Glassell Ware (coming soon)
Biography of Lucy Balmain Ware Lewis, youngest Daughter of Josiah William Ware and Frances Toy Glassell Ware (coming soon)
Biography of Dr. Charles Alexander Ware, youngest son of Josiah William Ware and Frances Toy Glassell Ware

The Ware Connection to George & Martha Washington
(coming down from James Alexander Ware and Lucy Balmain Ware)
Brief History of Lucy Balmain Ware and Edward Parke Custis Lewis
(coming soon)
Washington Sugar Bowl Donated to Mount Vernon
The Sugar Bowl is Home at Last
Lucy Ware Lewis McCormick (coming soon)
Last Will & Testament of Lucy Ware McCormick
Josiah Ware's Writings Concerning Washington
a. Letter to Pres. Hayes 8/14/1879 (Continental money, boots, Fairfax
screens, Washington letter, autographs)
b. Letter to Pres. Hayes 11/20/1879 (Continental money, boots, screen)
c. Letter to Lucy Hayes 2/8/1880 (Continental money)
d. Letter to Lucy Hayes 1/12/1882 (Martha Washington's dress)
Note Concerning George Washington's Death
Biography of Jaquelin Smith Ware, oldest son of Josiah and Edmonia Ware (coming soon)
Biography of Rev. Josiah William Ware II, son of Josiah and Edmonia Ware (coming soon)
NEW! Biography of Sigismund Stribling Ware, son of Josiah and Edmonia Ware
Biography of Robert Macky Ware, youngest child of Josiah and Edmonia Ware (coming soon)
Judge James Alexander Ware - the Ware Branch in Texas (coming soon)
Biography of Jane Morton Smith Ware - Wife of James Alexander Ware (coming soon)
Basic Lineage:
James Ware I
James Ware II and Virginia Catherine Todd Ware
James Ware III
Josiah William Ware
James Alexander Ware (coming soon)
Jane Morton Smith Ware (coming soon)
Somerville Ware (coming soon)
Ora Lena Rogers Ware (coming soon)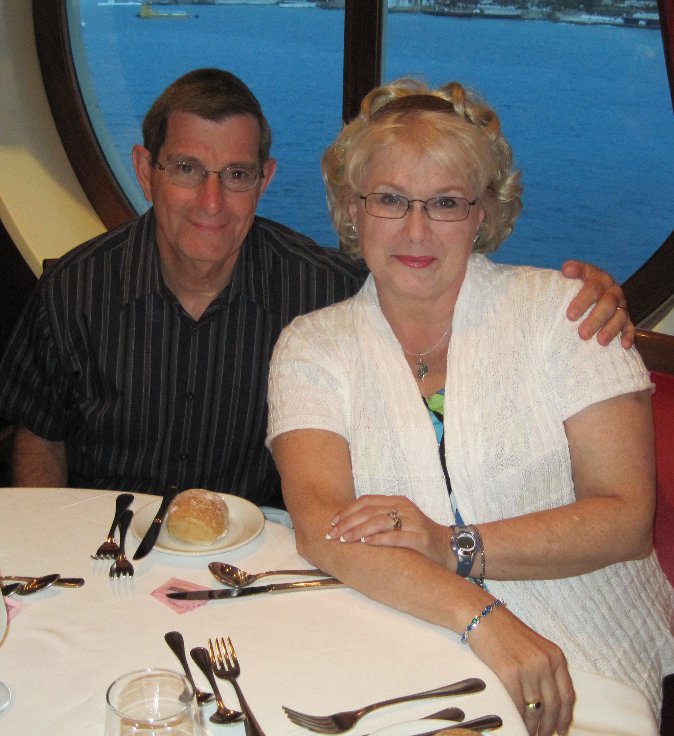 Jim and Judy Ware