TRANSCRIPTION OF 1865 LETTER JOSIAH WARE WROTE & HAD NOTARIZED IN AN ATTEMPT TO OBTAIN SOME COMPENSATION FROM RESOURCES LOST DURING GENERAL A.P. HILL'S ENCAMPMENT ON HIS LAND
Transcribed by Judith C. Ware
February 2009
© Judy C. Ware
Original letter owned by Jane & Scott Dudgeon
---
Virginia, Clarke County, Sct
This day J.W. Ware personally appeared before me, a justice of the peace, in and for the county of aforesaid and made oath to the correctness of the annexed statement - March 20, 1865
George C. Blankenship
Annexed statement
When General A.P. Hill's command was encamped on my ground returning from Maryland the weather was very stormy (snow) and (they had) but very few blankets, so much more wood was consumed than usual and such fine timber that I was directed by authority to get three disinterested freeholders, after being sworn, to estimate and appraise it. Three were selected from different parts of the county, made the estimate and appraisement on oath, that estimate is to be credited with four hundred dollars ($400) paid on account by Colonel Brockenborough's command. This is all I have received of the estimate, the wood was consumed by the three Brigades mentioned in the estimate and the straw appraised by the commissioners was used by the two Brigades for bedding and shelter from the storm. Colonel Brockenborough, having paid for that used by his brigade, it is not included in the estimate. The weather was so severe and so few blankets that the soldiers had to rely on enormous fires and large quantity of straw. I make the above statement this 20th of March, 1865, under oath.
J W Ware
Clarke County, Virginia
** A.P. Hill was a Confederate General who encamped his army on Springfield – Josiah's farm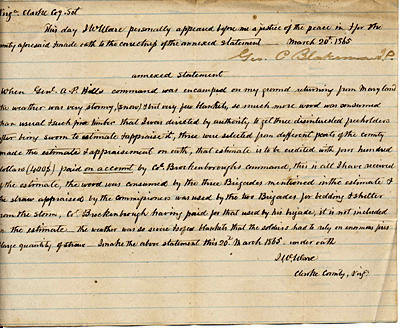 ***I would like to thank Jane & Scott Dudgeon for allowing me to copy & transcribe this note for my historical research. I am deeply grateful.