Background Information on J.J. Crittenden
Researched & written by Judy C. Ware
March 2009
© Judy C. Ware
---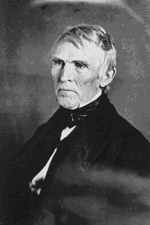 Although never attaining the office of President of the United States, John Jordan Crittenden was still one of the most active politicians of his era. At different times during his life, he held the position of Senator from Kentucky, United States Attorney General, Governor of Kentucky, and member of the House of Representatives.
Crittenden was born in Woodford County, Kentucky on September 10, 1787. This was the same area of the state that James Ware II had settled in when he moved the majority of his family from Virginia to Kentucky in 1791. According to family letters, "...Thompson Ware had already settled near Paris, Kentucky. James II and Caty homesteaded in Fayette County around Lexington on land "that James II subsequently lived and died on." We also know that "Charles lived near Versailles..." (ref. #299 & 334) The Crittenden and Ware families were related by marriage when Laura Ware Bacon married Eugene Crittenden, son of the illustrious politician
At the time J.J. Crittenden wrote his letter to Josiah Ware (dated 1838) he would have been 51 years old and Josiah was 36. Josiah opened his home, Springfield Plantation, to many of the high profiled politicians of his time and Crittenden was no exception. We don't know if the Senator from Kentucky was ever able to actually make it to Springfield for a visit at a later date, but clearly the invitation had been made.
J.J. Crittenden graduated from William & Mary in 1807 and he set up his criminal law practice in Frankfort, Kentucky where he was soon well established. It wasn't long before he was serving in the House of Representatives and ended up as Speaker of the House. In the election of 1825, he actually ran (and ultimately was elected with) a man named Solomon P. Sharp who happened to be the husband of one of Josiah's cousins, Betsy Scott. Unfortunately, Solomon Sharp was the victim of a highly publicized assassination. In an old family letter, it stated; "Your cousin, Betsy Sharp, lost her husband the 1st Sunday in November last by a midnight assassin. He was stabbed in the abdomen in his own house at 1 or 2 o'clock and expired without speaking a word in a few minutes in the midst of his family." Crittenden refused to represent the murderer (Jereboam O. Beauchamp) when he came to trial.
John J. Crittenden was a consummate politician – holding important positions in government all his adult life. In 1817, he was elected to the Senate and served there (off & on) for the rest of his life. The following gives a brief example of his remarkable career:
1817 – 1819 served in the Senate
1835 – 1841 served in the Senate
March 5, 1841 – Sept. 12, 1841 (15th) U. S. Attorney General
1842 – 1848 served in the Senate
Sept. 6, 1848 – July 31, 1850 Governor of Kentucky
July 22, 1850 – March 4, 1853 (22nd) U.S. Attorney General
March 1855 – March 1861 United States Senator
March 1861 - 1863 Member of the House of Representatives
Was a candidate for reelection when he died on July 26, 1863
---
References:
Letter from Lucy Webb to her niece, Sarah Stribling and her nephew, Josiah Ware - June 5 (circa 1830s).
Lawyers and Lawmakers of Kentucky, by: H. Levin, editor, 1897. Published by Lewis Publishing Company, Chicago.
BIOGRAPHY OF DR. JAMES WARE II written and researched by Judy Ware posted on the web March 17, 2006
Letter from Charles Ware to his niece Sarah (Sally) Ware Stribling dated 1831.
Letter from Thompson Ware to his niece, Sarah (Sally) E.T. Ware.