MAP OF CLARKE COUNTY, VIRGINIA
Courtesy of Judy Ware
© Judy C. Ware, 2002
---
This map shows the location of some of the most beautiful homes in the area of Clarke County, Virginia - in the heart of the Shenandoah Valley. The following estates are of particular interest to the Ware family - they are color-coded to match the description of each.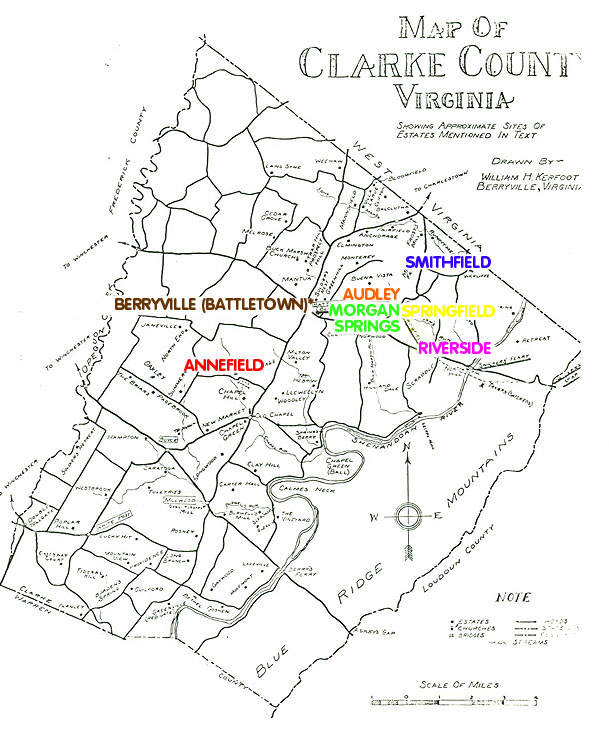 1. SPRINGFIELD (yellow) - home of Josiah William Ware. He acquired this land from his mother, Elizabeth Alexander Snickers Ware. (She married James Ware III) Elizabeth had acquired it from HER mother, Sarah Snickers Taliaferro Alexander (who married Morgan Alexander - an officer in the Revolutionary War). She had acquired it from her father Edward Snickers (who married Elizabeth Taliaferro). Edward had been a soldier in the French & Indian Wars and was a good friend of George Washington. He settled in Clarke County prior to 1762. In Washington's diary, he frequently mentions "stopping at Snicker's, sometimes for the night and sometimes 'to bait'." Edward Snickers was a very large landholder who had original land grants from Lord Fairfax. At one time, the town of Blumont was actually named Snickersville. After the Civil War, Josiah Ware was forced to sell Springfield, and it became the property of the Clagett family.
2. RIVERSIDE (pink) - Home of James Ware III (Josiah's father). He married Elizabeth Snickers Alexander - daughter of Sarah Snickers Taliaferro & Morgan Alexander. It was a beautiful gray stone house on the banks of the Shenandoah River. James had inherited the land from HIS father, Dr. James Ware II (who married Catherine Todd). Directly across the road from Riverside was (and is) WARE'S MILL.
3. ANNEFIELD (red) - The birthplace of Mary Anna Randolph Custis on October 1, 1808. She was the only daughter of George Washington Parke Custis (grandson of George Washington). She was, consequently, the great granddaughter of George Washington. She later married Robert E. Lee - commander of the Confederate forces in the Civil War. She wrote a very kind letter to Josiah's oldest daughter, Elizabeth, and also mailed a photograph of the general to her. (Both the letter and photograph are currently the property of Jim and Judy Ware)
4. AUDLEY (orange) - Home of Edward Parke Custis Lewis and Lucy Balmain Ware Lewis. Lucy was the second daughter of Josiah. Edward acquired the home from his father, Lorenzo Lewis (who married Esther Maria Coxe). Lorenzo was given the estate from his father, Lawrence Lewis - a favorite nephew of George Washington who married Nelly Custis, the granddaughter of Martha and adopted granddaughter (although legally she was the adopted daughter) of George Washington. Lawrence had purchased the land from Warner Washington Jr. in 1818; a cousin of George's.
5. SMITHFIELD (blue) - Home of Edmonia Jacquelin Smith (Ware) - she was the 2nd wife of Josiah William Ware. Her father was Edward Jacquelin Smith (who married Elizabeth Mackey). He inherited the estate in 1826 from HIS father, Col. Edward Smith. Col. Smith built the home in 1816 and all the bricks for the residence were fired on the place. Edmonia was born at Smithfield. The beautiful home is now operating as a Bed & Breakfast.
6. MORGAN SPRINGS (green) - Home of Dr. Sigismund Stribling and his wife, Sarah Elizabeth Taliaferro Ware. She was Josiah's sister, and they were very close. Josiah & Edmonia even named one of their sons after Dr. Stribling - Sigismund Stribling Ware. Morgan Springs is located directly across the road from Springfield, and there are several references in old letters about the fun that the cousins would have together.
* This marks the location of Berryville (the original name was Battletown)
---
This site maintained by John Reagan and last updated July 12, 2009