TRANSCRIPTION OF LETTER FROM HENRY WARE FOR
MRS. RUTHERFORD B. HAYES WHILE SHE WAS STILL IN THE WHITE HOUSE
Transcribed by Judy C. Ware
© Judy C. Ware February 2009
Original letter owned by Jane & Scott Dudgeon
---
** written on stationary from the White House
Executive Mansion, Washington
Please ask Mrs. Hayes if she has knowledge of John Ware or his family who emigrated from Virginia to Kentucky among the first settlers of that country. If so, I would like to know how many children there were and their names. I wish this information for the benefit of my children. John Ware was my only uncle on my father's side. My father's name was Thomas.
Henry Ware
Pass Christian, Mississippi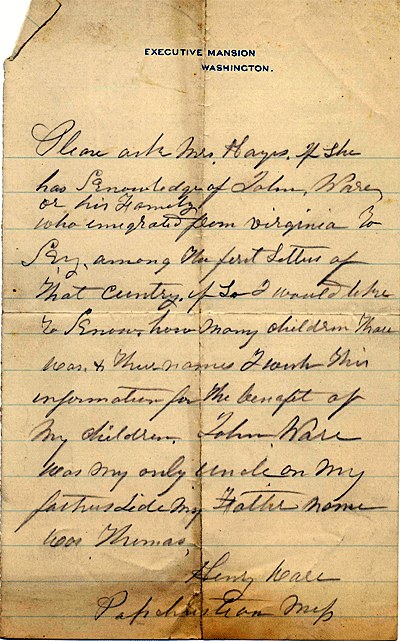 ** Henry Ware was not a member of the family line that came down through Josiah Ware.
***I would like to thank Jane & Scott Dudgeon for allowing me to copy & transcribe this letter for my historical research. I am deeply grateful.