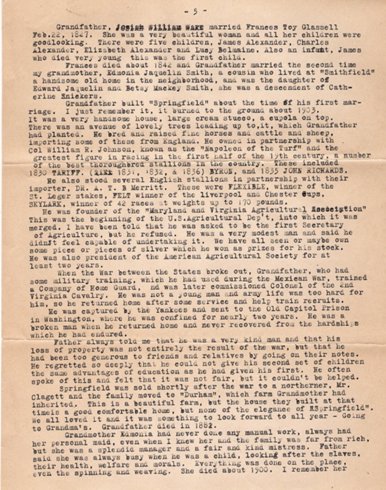 Original page 5
22.

Grandfather, JOSIAH WILLIAM WARE married Frances Toy Glassell Feb. 22, 1827. She was a very beautiful woman and all her children were good-looking. There were five children: James Alexander, Charles Alexander, Elizabeth Alexander and Lucy Belmaine. Also, an infant, James, who died very young. This was the first child.
CORRECTION: Lucy's middle name was Balmain – in honor of Reverend Alexander Balmain, a dear friend of the family. Lucy's mother, Frances Glassell Ware, stayed with the Balmain family when she first came to Winchester to attend school.
CORRECTION: There were actually six children. Cornelia omitted John Glassell Ware.
(1)James Ware was born Feb. 16, 1831 and died at 8 months on October 25, 1831.
(2)James Alexander Ware was born November 26, 1832 and died on August 19, 1896.
(3) John Glassell Ware was born on May 2, 1835 and died on September 29, 1858 of yellow fever at the age of 23.
(4)Elizabeth Alexander Ware was born on September 30th, 1837 and died on March 29, 1925.
(5)Lucy Balmain Ware was born January 10, 1839 and died on August 26th, 1866.
(6) Charles Alexander Ware was born April 26, 1841 and died on December 3, 1823.
23.

Frances died about 1842 and Grandfather married the second time my grandmother, Edmonia Jaquelin Smith, a cousin who lived at "Smithfield" – a handsome old home in the neighborhood, and was the daughter of Edward Jaquelin and Betsey Mackey Smith. She was a descendant of Catherine Snickers.
CORRECTION: Frances Toy Glassell Ware died on May 10, 1842.
The following is an excerpt from Biography of Frances Toy Glassell Ware by Judy C. Ware:
"Frances died at the young age of 33 - - leaving a grieving husband and five small children behind. James was only ten years old, John was 7, Elizabeth was 5, Lucy was 3 and little Charles was just one. In a letter to his sister that was written from Winchester, Josiah confided that 'Bess asked me today if I was almost done going to see Reverend Balmain.' He also wrote poignantly that 'John often asks me what his Ma will say when she "comes home" if she sees him reading. It must have been a very difficult time for all of them."
Edmonia, a cousin to Josiah, was the daughter of Edward Jaquelin Smith (born 1785) and Elizabeth Macky Smith (born 1789). Their graves are located at the very back of the northeast part of the Grace Episcopal Church cemetery, at the end. The Smiths had six children:
1. Catherine Smith (1814-1900) wed Edward E. Hall. They lived at Cedar Hall.
2. William Dickerson Smith (1815-1894) wed twice. His first wife, Frances Stribing, died in 1860. He later married Agnes Williams on December 9, 1862. William became the owner of Smithfield Plantation after his parents passed away.
3. Edmonia Jaquelin Smith (1817-1900) wed Josiah William Ware, and they lived at Springfield Plantation and then Durham Farm which Edmonia had inherited.
4. Elizabeth Smith (1823-1874) wed twice. Her first husband was John Bush of Kentucky, and then she later married Oliver Tousey of Indianapolis.
5. Edward Smith was born but died in infancy.
6. Emily Smith (1826-1841) died at the age of 15.
7. Roberta Smith (1831-1919) wed Philip Powers and they lived at Auburn.
(Ref. History of the Lower Shenandoah Valley edited by J. E. Norris, Chicago, Illinois, A. Warner & Co. Publishers 1890 Virginia Book Company, Berryville, Virginia)
The following is from: Ware Connection to Grace Episcopal Church written by Judy C. Ware: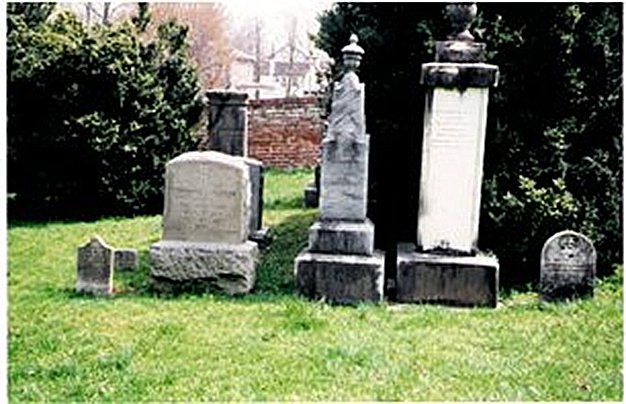 Tall, white tombstone for Edward Jaquelin Smith visible in the background.

Edward Jaquelin Smith
There is "another very old tombstone and almost impossible to get close to at this point in time because of the wall and extreme overgrowth of greenery. It is dedicated to Edmonia's father, Edward Jaquelin Smith":
In memory of Edward Jaquelin Smith
July 28, 1785
Died February 15, 1878
Next to this, but hidden by the tree in front, is a very tall monument dedicated to Edmonia's mother, Elizabeth Macky Smith:
Elizabeth Smith
Born August 24, 1789
Died November 13, 1851
And next to this is a tombstone for the young daughter of Edward and Elizabeth's, named Emily, who died when she was only 15 years old.
Emily, daughter of Edward J. and Elizabeth Smith
born April 12, 1826
died January – 1841
The family home of Edmonia Jaquelin Smith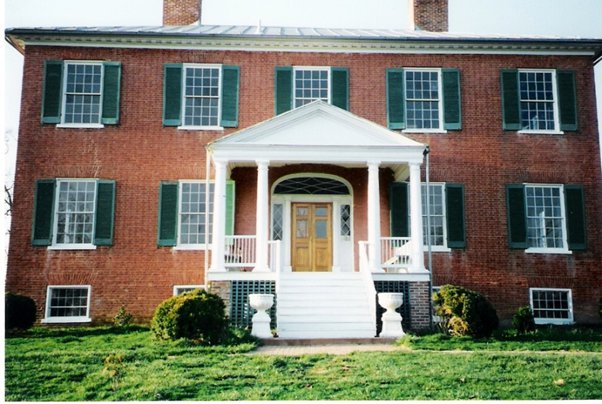 Smithfield Farm
Photos taken by Judy Ware 1989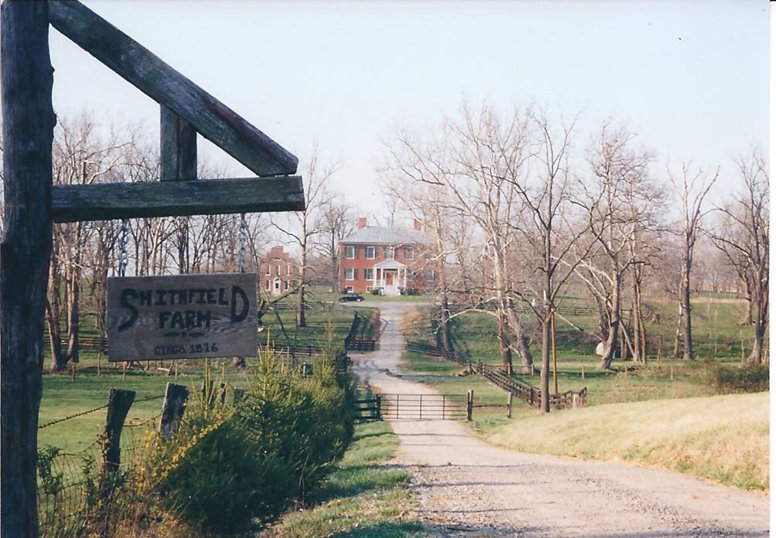 SMITHFIELD FARM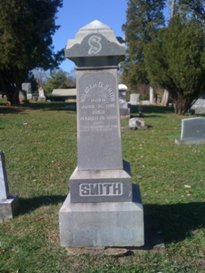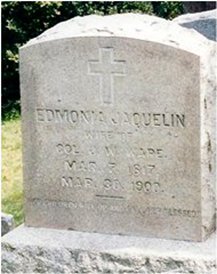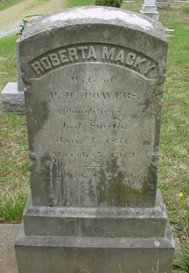 Graves for other Smith children:
William D. Smith - Edmonia Jaquelin Smith (Ware) - Roberta Macky Smith (Powers)
Edward Jaquelin Smith purchased Smithfield Farm in 1816 from George Whiting. The 308 acres had been bought by Francis in 1773 from "James Somerville. Somerville had purchased it in March of 1771 from Robert Rutherford who had acquired it as a grant from Lord Fairfax on October 8, 1760." (Ref. Historic Registry) It was on Smithfield Farm that Edmonia Jaquelin Smith grew up, and she descended the stairs there on her wedding day to marry her cousin, Josiah W. Ware, in 1845.
Staircase at Smithfield before and after renovation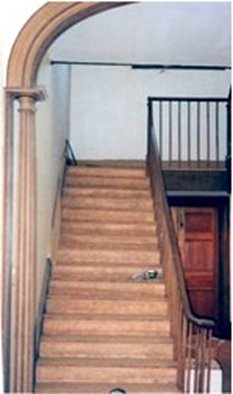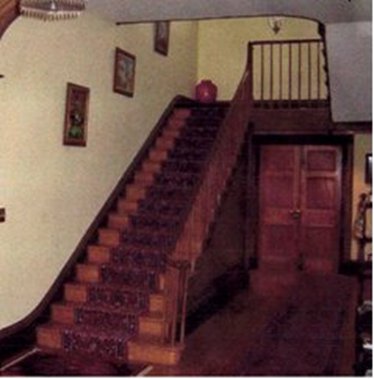 Photos by Judy Ware
24.

Grandfather built "Springfield" about the time of his first marriage. I just remember it – it burned to the ground about 1903. It was a very handsome house, large cream stacco, a cupola on top. There was an avenue of trees leading up to it which Grandfather had planted.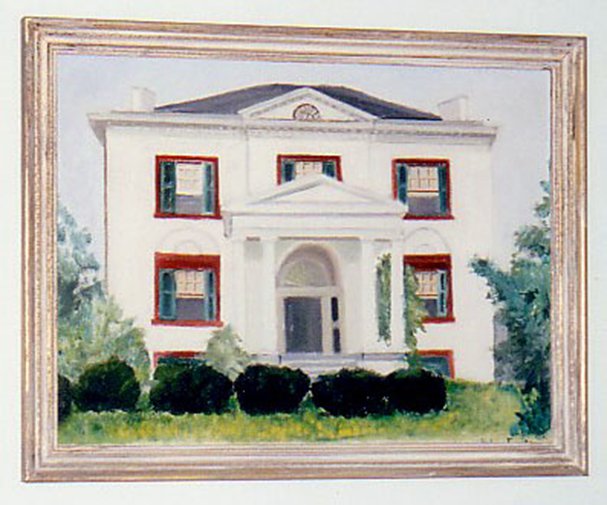 Oil painting of Springfield – property of Barbara Clagett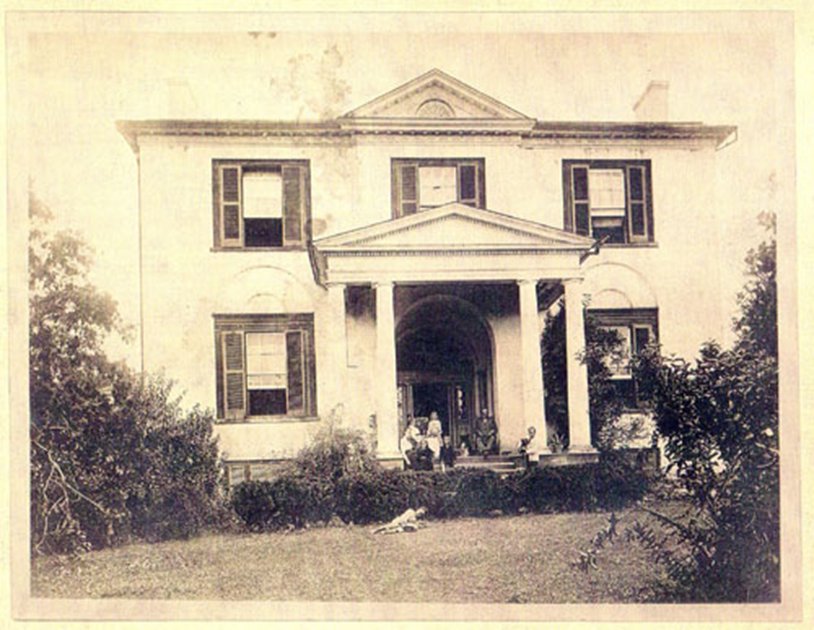 Photo of the original Springfield – owned by Barbara Clagett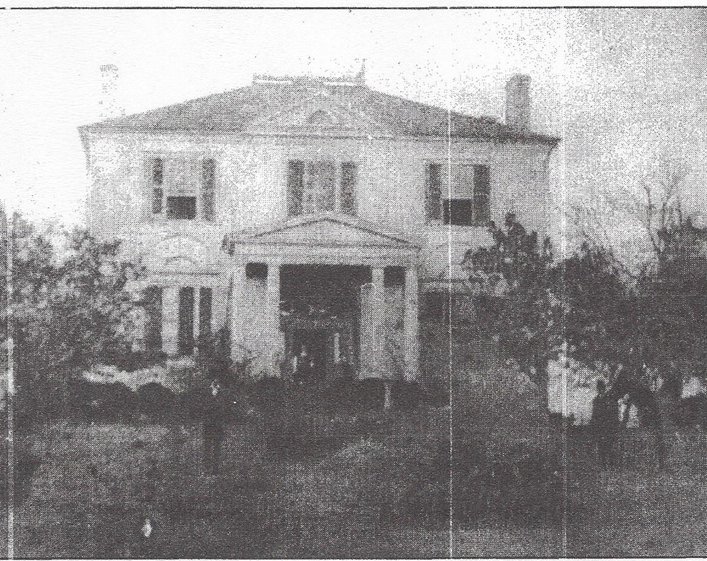 Original Springfield
Upon his death, Edward Snickers bequeathed 4,000 acres of his vast property to his four children. Out of this settlement, the 411 acres of land called "Springfield" went to his daughter, Sarah. Sarah Snickers married Colonel Morgan Alexander - an officer in the Revolutionary War. (Ref. 3, 28, 138,160) In the last will and testament of Edward Snickers, he wrote "I give and bequeath to my well beloved daughter Sarah Alexander, the tract of land on which I now live, containing 411 acres, known by the name of Springfield." (Ref. 200)
On Nov. 10, 1796, James Ware III married Elizabeth Alexander, the daughter of Sarah and Morgan Alexander. James had acquired land along the Shenandoah River himself and built a home there called Riverside, but "Springfield" was property passed onto them as Elizabeth's inheritance from her mother. One record states that "Josiah William Ware was born at Springfield on August 19, 1802." (Ref. 4, 23)
It was from his mother (Elizabeth Alexander Ware) that Josiah inherited the Springfield property, and he started construction of his home there shortly before his marriage to Frances Toy Glassell in 1827. It was called "one of the most beautiful of the valley houses." (Ref. 110, 195) According to the memoirs of his son, Reverend Jo Ware, "Springfield was a stock farm chiefly – thoroughbred horses and pure bred other stock." He added, "our house was large, and the rooms were spacious, and there were, I'm sure, at least 20 servants on the place. The house was imposing in appearance; lumber was seasoned for three years before being used." (Ref. 81)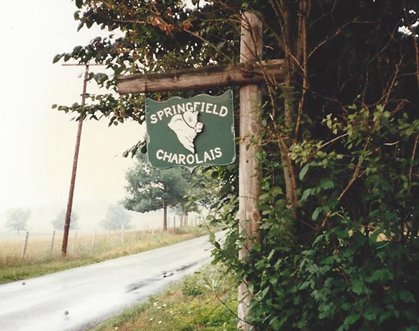 Sign that used to hang by the entrance at Springfield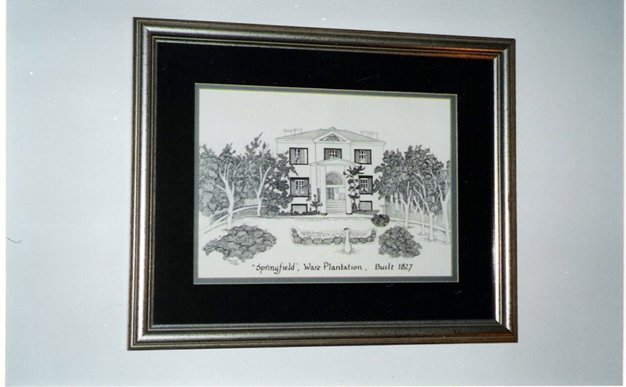 Pen & ink drawing of the original Springfield
owned by James & Judy C. Ware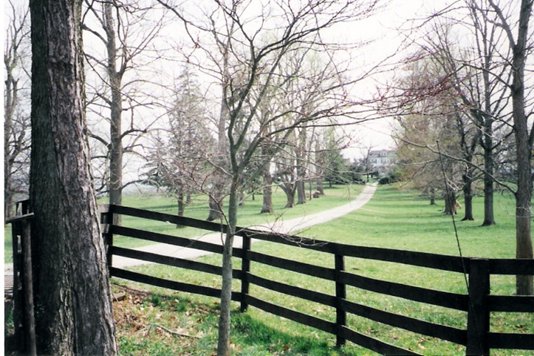 Current entrance into Springfield which shows
the line of trees that Josiah planted.
Photo taken by Judy Ware 1998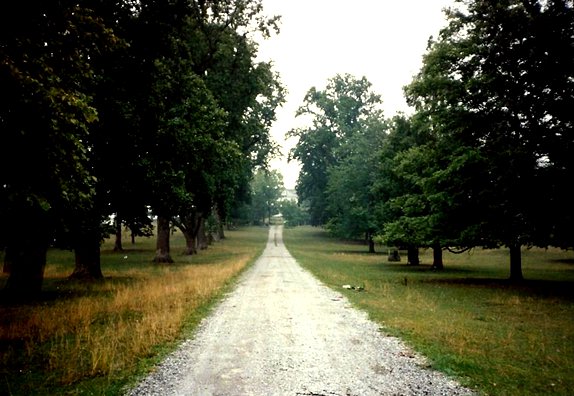 Photo taken by Judy Ware 1986
Springfield was a well-known landmark in the region and the lovely home saw many famous visitors – including three presidents; Taylor, Tyler, and Polk.
The following are newspaper articles concerning the visit of President Tyler.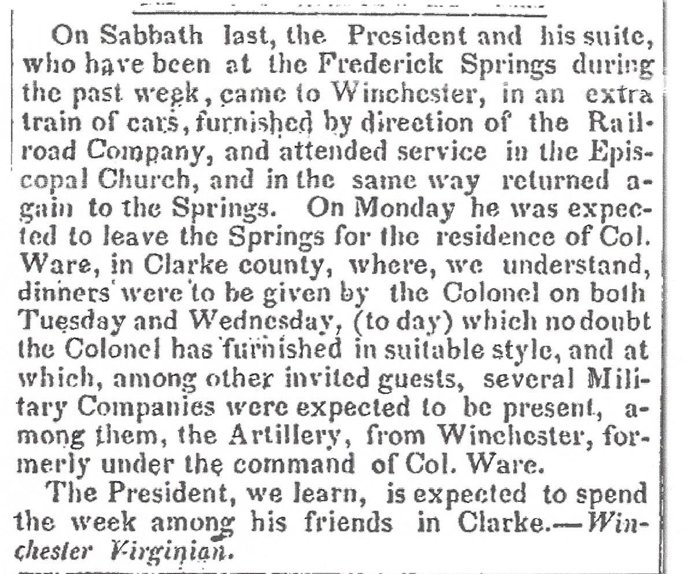 Josiah lost his home after the Civil War. It was bought by the Clagett family and sadly, it did catch fire in the early 1900s. The remarkable photographs below were kindly provided by Barbara Clagett, the current owner. When the home was restored, they used whatever could be salvaged as part of the new building. With the walls being 26 inches thick, quite a bit was able to be incorporated back into the restoration process.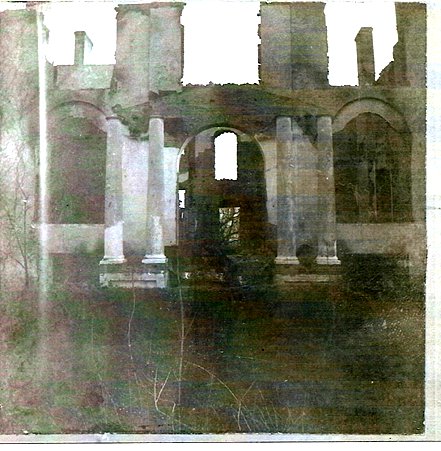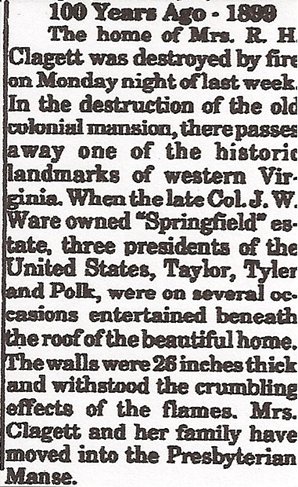 Newspaper article about the fire

He bred and raised fine horses and cattle and sheep, importing some of these from England. He owned in partnership with Col. William R. Johnson, known as the "Napoleon of the Turf" and the greatest figure in racing in the first half of the 19th century, a number of the best thoroughbred stallions in the country. These included 1830 TARIFF, (1831, 1832, 1836) BYRON, and 1835 JOHN RICHARDS.
** One of the most famous horses owned by Josiah was Byron. There were 2 portraits made of the winning horse – one hangs in 'Springfield' and the other one hangs in the Clarke County Historical Museum.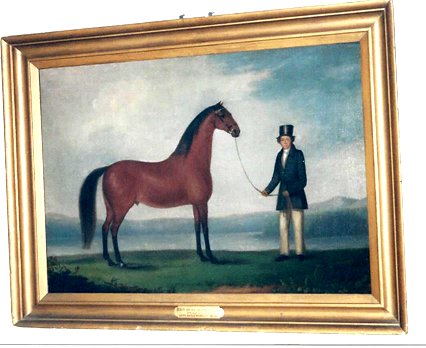 Photo date - 1986 Byron and his groom, William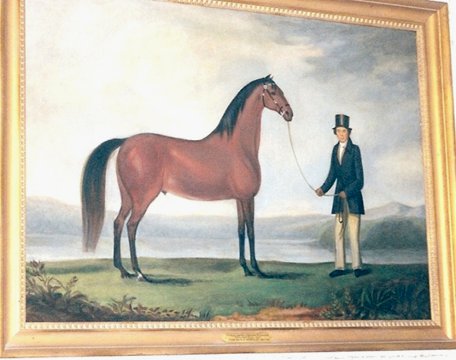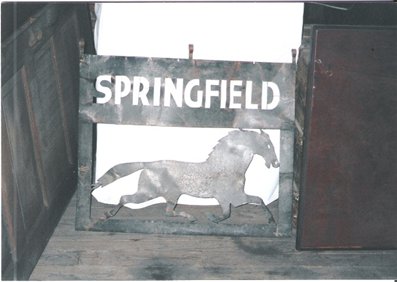 The iron 'horse' sign above was hung at the entrance to Springfield many, many years ago.
25.

He also stood several English stallions in partnership with their importer, Dr. A. T. B. Merritt. These were FLEXIBLE, winner of the St. Leger stakes; FELT, winner of the Liverpool and Chester cups; SKYLARK, winner of 42 races at weights up to 170 pounds.
Advertisement in paper
Imported Skylark: This Most Capital Racer and Getter of Racehorses Will Stand this Season (which Will End 1st July) at My Stable, 2 ½ Miles East of Berryville, at $50 the Season to be Paid on Or Before the 2d July ... Josiah Ware
Two of Josiah's sons served with General J.E.B. Stuart during the Civil War – Dr. Charles Alexander Ware and Jaquelin Smith Ware. The Ware stallion, Skylark, became a well known favorite of the renowned Confederate general. In the book titled I Rode With JEB Stuart, it is recorded that "Stuart himself lost two valuable animals – Lady Margrave and Skylark." Charles, who eventually transferred over to the medical corps, wrote: "I rode Vista in the Civil War – while in General J.E.B. Stuart's Cavalry." He later added, "I rode Maygo during the War between North and South, through the whole war, she and her sister, Vista, for four years. [I also rode] Decca Singleton (all daughters of Skylark) and was very much envied by General J.E.B. Stuart though he was also mounted on a son of Skylark." (Ref. 210)

The above clipping was taken from Horses and Mules in the Civil War by Gene C. Armistead
26.

He was founder of the "Maryland and Virginia Agricultural Association." This was the beginning of the U. S. Agricultural Department into which it was merged. I have been told that he was asked to be the first Secretary of Agriculture, but he refused. He was a very modest man and said he didn't feel capable of undertaking it. We have all seen or maybe own some piece or pieces of silver which he won as prizes for his stock. He was also president of the American Agricultural Society for at least two years.
The silver tea service pictured below came from one of those horse races that Josiah won. He took the silver coin and had it melted down and molded into this lovely three piece set. Each piece has "Ware", "Agricultural Prize", and "1856" engraved on it. It is currently owned by one of Josiah's great, great grandsons – James H. Ware.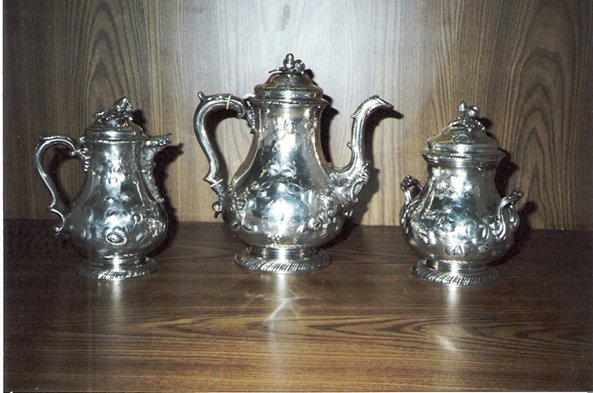 Josiah was very active in the agricultural and political organizations of his time. In 1858, he served on the Executive Committee for the 6th Annual Exhibition of the United States Agricultural Society which was held in Richmond. (See below)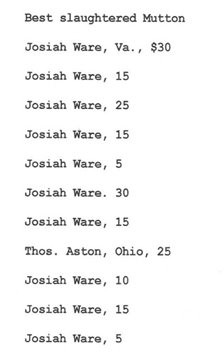 Newspaper - We learned from the 'Charlestown Spirit of Jefferson' that Colonel Josiah W. Ware of Clark County shipped a few days ago for California, 13 head of sheep for which he was paid $75 apiece. They were by no means the choice of his superior stock. He has also shipped to the same state his fine blooded stallion, Cosmo, at the price of $2,000.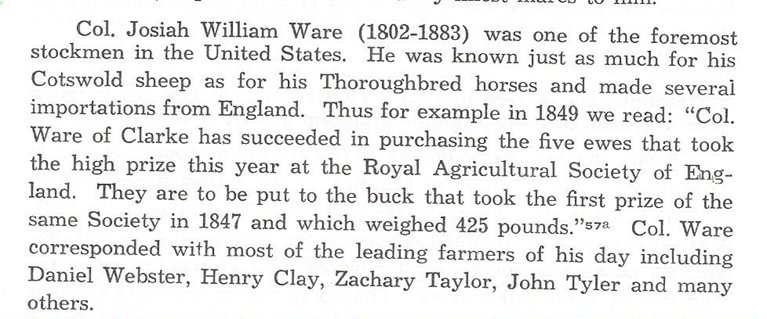 Excerpt from Proceedings of the Clarke County Historical Association 1947
In 1836, Josiah posted the following article in the newspaper himself.
Newspaper Flexible – Imported - This celebrated English racer and stallion will stand at my stable in Frederick County, Virginia the present season, which has commenced. He covered several seasons in England where he proved himself a very sure horse and his get won in that country last year - the first time of their appearing in public. He won 11 races before he was five years old - several of them long distance and one a 4-mile race with heavy weights. He beat Longwaist (equal to any horse of his day), Signorina, Dr. Faustus, Arachne, and many other good ones. He is one of the best bred sons of the famous Whalebone and was unquestionably a racer - possessing both speed and game. . . Flexible is a horse of fine size and length, of great power, good action, and a beautiful dark bay color. For further particulars see handbills.
March 3, 1836 Josiah W. Ware
27.

When the War Between the States broke out, Grandfather, who had some military training which he had used during the Mexican War, trained a company of Home Guard, and was later commissioned Colonel of the 2nd Virginia Cavalry. He was not a young man and army life was too hard for him, so he returned home after some service and helped train recruits.
CORRECTION: Josiah was commissioned Colonel of the 3rd Regiment of Artillery. (see following commissioning papers)

Inventory of letters on file in the Virginia Historical Library
By the 1830s and 1840s, several states had weakened or abolished their systems of compulsory military service, relying instead on volunteers. These volunteer units were useful to state and local authorities because they often assisted in maintaining law and order. Josiah actually received his first military commissioning at the age of 22 when he was given the rank of captain of a "Company of Artillery, in the Third Regiment and Third Division of the said Militia" on July 3, 1824. His appointment was made by Governor James Pleasants, and his oath of office was signed by Justice of the Peace, John Bell.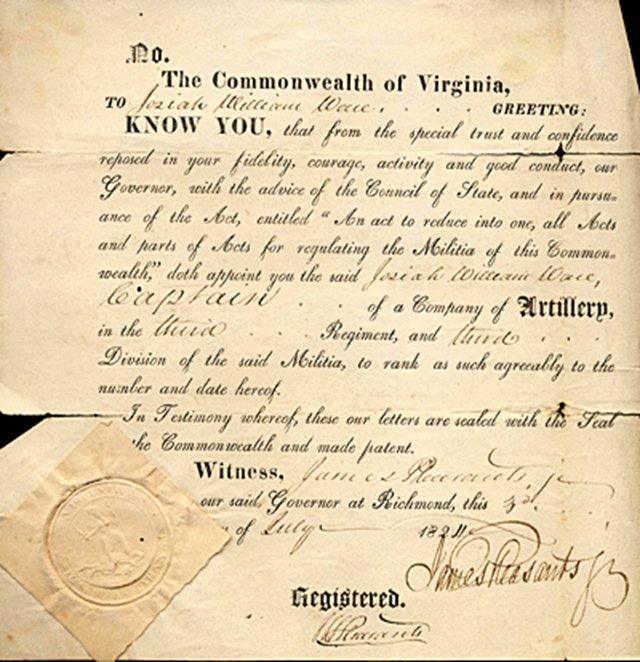 The Commonwealth of Virginia,
To Josiah William Ware . . . . Greeting:
KNOW YOU, that from the special trust and confidence reposed in your fidelity, courage, activity, and good conduct, our Governor, with the advice of the Council of State, and in pursuance of the Act, entitled "An act to reduce into one, all Acts and parts of Acts for regulating the Militia of this Commonwealth," doth appoint you the said
Josiah William Ware, Captain . . . of a Company of Artillary, in the Third . . . Regiment, and Third . . . Division of the said Militia, to rank as such agreeably to the number and date hereof.
In Testimony whereof, these our letters are sealed with the Seal of the Commonwealth and made patent.
Witness, James Pleasants, Jr.
Our said Governor at Richmond, this 3rd . . . day of July 1824
James Pleasants, Jr.
Registered.
J.H.Pleasants
In 1832, Josiah was still serving in the 3rd Regiment of Artillery, but the unit had taken on the name of the 16th Brigade and 3rd Division of the Militia. It was Governor Henry Wise who signed his commissioning papers in 1858 that promoted him to the rank of full Colonel – retro-active to his service since 1832.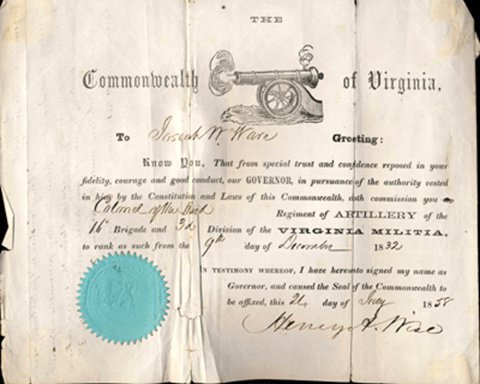 The
Commonwealth of Virginia
To Josiah W. Ware Greeting:
KNOW YOU, that from special trust and confidence reposed in your fidelity, courage, and good conduct, our GOVERNOR, in pursuance of the authority vested in him by the Constitution and Laws of this Commonwealth, doth commission you Colonel of the third Regiment of ARTILLERY of the 16th Brigade and 3rd Division of the VIRGINIA MILITIA, to rank as such from the 9th day of December 1832.
Notarized seal
In Testimony whereof, I hereunto signed my name as Governor, and caused the Seal of the Commonwealth to be affixed, this 24 day of July 1858. Henry A. Wise
On the back of the Commissioning document was the following attachment. Transcribed by Judy C. Ware

Virginia, Clarke County Sct.
I, Chief Justice in and for the county aforesaid, do testify that Josiah William Ware this day personally appeared before me in my county aforesaid & took the several oaths required by law to qualify him to act, as Colonel of the 3rd Regiment of Artillery under the within Commission.
Given under my hand this 24th day of August 1858
Francis McCormick
Original military documents are the property of Jane and Scott Dudgeon.
---
Newspaper article: The 122nd Regiment of Virginia Militia was convened in Berryville, on Saturday, the 20th day of May, 1858, pursuant to notice given - in conformity to the Act of Assembly passed March 6th, 1858 - when the following named persons were duly elected officers for said regiment, namely: Josiah W. Ware, Colonel; Washington Dearmont, Lt. Colonel, Joseph F. Ryan, Major; William G. Hardesty, Major.
The Civil War began on April 12, 1861 with the firing on Fort Sumter in South Carolina. The following letter from Robert E. Lee to Josiah was written only two months after the beginning of hostilities. At the time, Lee was not yet in charge of the entire Confederate army. As a brigadier general (and later full general), he was in charge of supervising all Southern forces in Virginia. It was only after the wounding of General Johnston on May 31, 1862 that Lee was put in command of the famous Army of Northern Virginia. At age 59, Josiah had already been serving in the Virginia Volunteers for almost forty years.
Headquarters, Virginia Forces
Richmond, June 10, 1861
Colonel J. W. Ware
Berryville, Clark County, Virginia
Colonel,
Your letter of the 4th inst. (of the present month) has been received. You have been assigned to the command of the 34th Regiment Virginia Volunteers, and will report for duty to General Joseph E. Johnston, Commanding at Harpers Ferry. Should General Johnston see fit to detach your regiment on special service in the manner you propose it will be competent for him to do so. It is not deemed advisable by the President to organize an independent or guerilla force, armed, equipped, and paid by the Confederate States.
Very respectfully, Your obedient servant,
Robert E. Lee General Commanding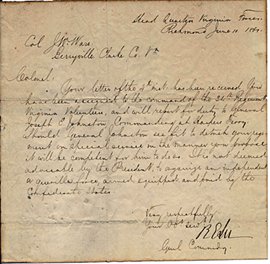 Original letter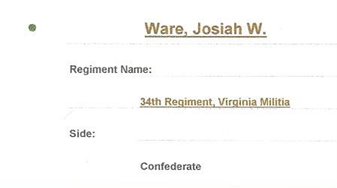 Service assignment for Josiah
28.

He was captured by the Yankees and sent to the Old Capital Prison in Washington, where he was confined for nearly two years. He was a broken man when he returned home and never recovered from the hardships which he had endured.
From entries that Josiah made in his own journal, it would appear that he was taken prisoner in fall of 1863 and did not return home until late spring of 1864.
Excerpts from journal:
Fall - was a prisoner in Washington. Do not know how much pork was put up. All nearly was stolen by the Yankees. Put in about 20 acres in wheat.
1864 - Was a prisoner until late in the spring. Put in corn, lower corn field - badly cultivated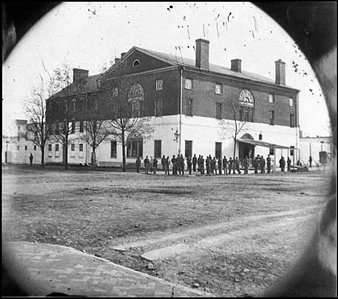 Old Capital Prison
Josiah's imprisonment was well documented by the memoir of his son, Rev. Jo Ware, and he also wrote about it himself in later years. According to author, John D. Wright, in The Language of the Civil War, the Old Capital Prison was:
"A prison in Washington, D.C. for Confederate soldiers as well as for political prisoners and important people suspected of being disloyal. The latter two groups were often denied the writ of habeaus corpus. The granite prison building had once been the nation's temporary Capitol after the British had burned the Capitol during the War of 1812. It was then a hotel before becoming a prison in July 1861. It had an annex known as Carroll Prison. Famous Civil War prisoners in the Old Capitol included the flamboyant raider, Major John Singleton Mosby, known as the Gray Ghost, and the Confederate spy, Mrs. Rose O'Neal Greenhow." The site of the Old Capitol Prison is today occupied by the U.S. Supreme Court Building.
In most places, it is written that Josiah spent time in Old Capital Prison, but other documents sometimes mention the prison by the name of Carroll Prison. It is easy to understand the two names when we read the description of the prison by Colonel N. T. Colby, who became prison superintendent at the end of the war:
"That which is commonly known as the Old Capitol Prison, and which figured so conspicuously in the history of the late war, consisted, really, of two separate and distinct edifices, locally known by the names of the Old Capitol and the Carroll buildings, and were situated, the first, on the corner of Pennsylvania avenue and East First street, and the other on the corner of Maryland Avenue and East First – a block apart, and both facing the Capitol building and East Capitol Park. The 'Old Capitol' was so named from having been the temporary meeting-place of both Houses, I believe, after the destruction of the Capitol buildings by the English . . . in the war of 1812, and the other from its having been the property of the Carroll family. Of course the use to which they were devoted in the late war was far enough from that for which they were originally constructed."
It became a common practice after President Lincoln suspended habeas corpus in May of 1861, for southern sympathizers to be arrested and imprisoned on the mere suspicion of spying – especially men who were from wealthy or politically powerful families.
(Hapeas Corpus is a court order that requires a person under arrest to be brought before a judge or into court. The principal ensures that a prisoner can be released from unlawful detention if there is not sufficient proof or evidence. It was (and is) an important legal instrument which safeguards a person's individual freedom from state arrest.)
According to the memoirs of Josiah's son, "we heard a banging on door. Father got up partly dressed and went to the door. As he opened it, an officer said: 'you are my prisoner and you will go with me.' He finished dressing, said good-by, and disappeared in the night. There was no mail service then, and one can only imagine what the suspense was until we heard of the whereabouts of father. Mother said she lived in constant expectation of hearing of the finding of his dead body. Finally we learned that he was a prisoner in Washington."
In the case of Josiah, he had been arrested on the suspicion of being a spy because he had been seen in the local store getting groceries. As his son wrote, his case would have never gone to trial "because, of course, Col. Reynold's pass and testimony would have acquitted him." (Colonel Reynolds was the Union officer who had signed the safe passage form for Josiah to go into town.) Even with no official charge against him and no evidence to support a trial, however, Josiah "was kept in prison, the old Carroll prison, for seven months."
Historian Allan Nevins described the Old Capitol Prison as "a decaying jail hastily refurbished for captured Confederates, refugee Negroes, blockade runners, and state prisoners. The verminous rooms stank of open drains, sweaty inmates, and the eternal fare of salt pork, beans and rice. A military guard clattered its arms on the cobblestones outside while patrols thumped up and down the wooden hallways. The dark, ill-ventilated cells, kept full to bursting, became breeding places for all kinds of maladies. During 1862, a midsummer influx of captured Confederates raised the population to 600."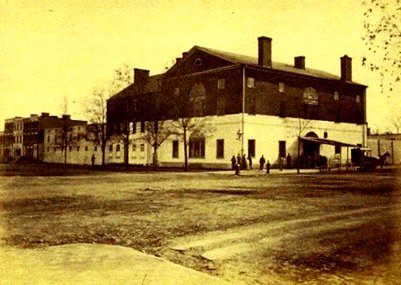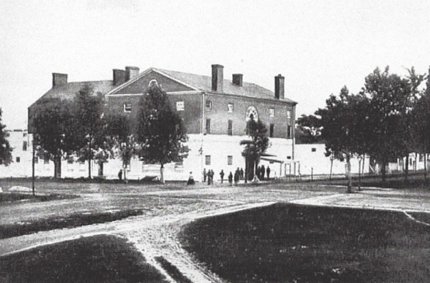 Photos of Old Capital Prison in Washington D.C.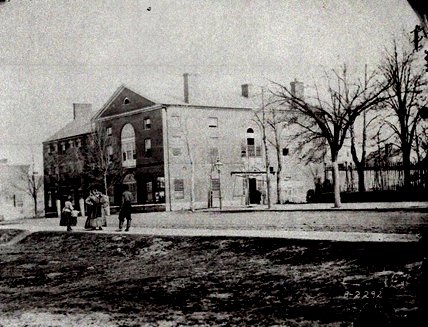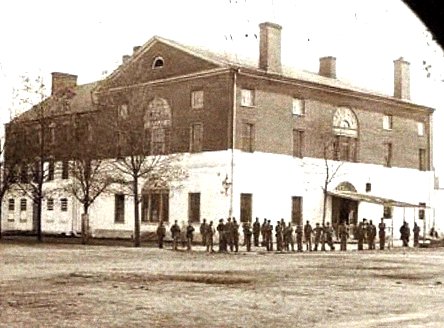 Josiah's daughter, Elizabeth, wrote in one of her letters about how Josiah was "carried to the Old Capitol Prison in Washington where no charges were ever brought against him and where he remained until wrecked. . ." Josiah even mentioned it himself in a letter he later wrote to President Rutherford B. Hayes in 1882. "As to health, all are in good health except Jo and myself. He had a malarial attack hard to eradicate . . . I, the chronic prison disease I owe to Stanton's brutality that will probably accompany me to the grave (now not far off.)
Secretary of War, Edwin M. Stanton, was the person who directed that all commanders
of places of confinement be notified that there would be no more exchanges. This decision
would greatly affect the large numbers of prisoners in northern and southern prison camps.
The so-called "holding pens" now became permanent prisons.
"The one redeeming feature of this ramshackle prison was its convivial jollity, for most prisoners were herded into five large second-story rooms partitioned out of the great chambers which had been occupied by Congress just after the burning of the Capitol in 1815. Here, by pooling their resources, the inmates could while away the hours with poker, dominoes . . . and talk."(Nevins)
In the memoirs of Rev. Jo Ware, he elaborated on the imprisonment of his father. "I may mention here several things Father mentioned as occurring during his imprisonment. The prisoners played cards as a pastime. (My father taught his sons to play, believing that it was a protection to learn in a wholesome home than elsewhere and let the fascination of it somewhat wear off . . . and none of his seven sons cared for cards - - so far as I know.) He added, "Sometimes a guard on the outside would bayonet a rat and throw it inside, when there would be a scramble for the delicacy."
After seven long months, Josiah was finally released. According to his son, "our first knowledge of his release was seeing him walking up the road to the house. Oh joy! I recall, and have often done so with much feeling, what he brought me. I cannot say that it was a pocket knife; it was a black horn knife handle with a half blade in it. How I would like to know how he got it, and would like to own it now! I have among my prized possessions, a bible presented to him while in prison, inscribed 'To Col. J. W. Ware, Carroll Prison, from M. Davison.' "
29.

Father [ Sigismund Stribling Ware] always told me that he [Josiah] was a very kind man and that his loss of property was not entirely the result of the war, but that he had been too generous to friends and relatives by going on their notes. He regretted so deeply that he could not give his second set of children the same advantages of education as he had given his first. He often spoke of this and felt that it was not fair, but it couldn't be helped.
** Josiah's daughter, Elizabeth Alexander Ware, mentioned this in a letter to her step-brother, Robert, many years later.
"It has always been the impression and often intimated to me that we had more advantages than you boys had. I see nothing that we were ahead of you in, except that we grew up before the war when things were different, but I don't see that even then we had any more. Our educations were charged to my grandfather's estate; none of us were at home very long after we were grown and the boys not at all. (Ref. 65)
30.

Springfield was sold shortly after the war to a northerner, Mr. Clagett, and the family moved to "Durham" - which farm Grandmother had inherited. This is a beautiful farm, but the house they built at that time, a good comfortable home, but none of the elegance of Springfield. We all loved it and it was something to look forward to all year – going to Grandma's. Grandfather died in 1882.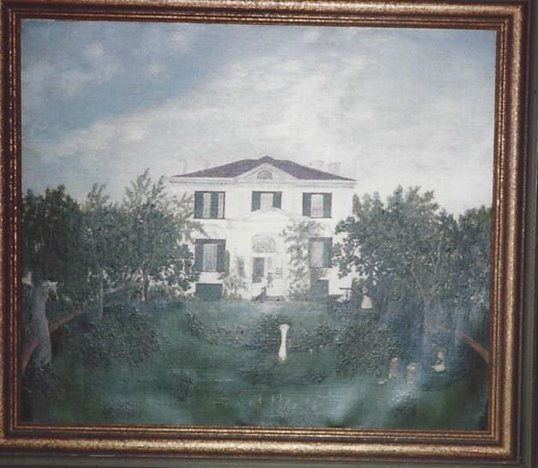 An oil painting of Springfield – courtesy of Barbara Clagett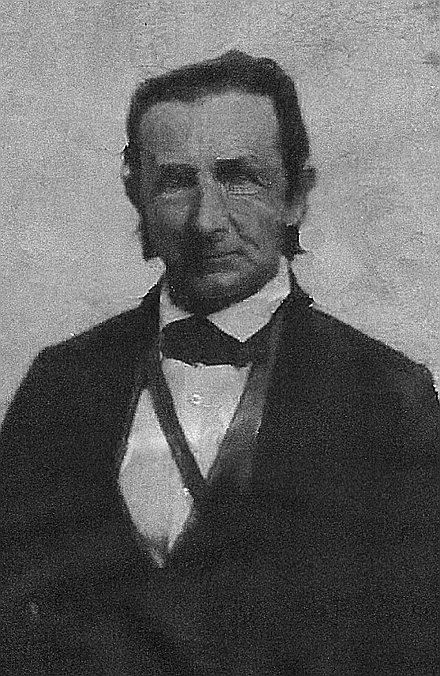 Josiah William Ware
Property of James & Judy C. Ware
The above is possibly one of the last photographs taken of Josiah William Ware. He died on August 13, 1883, at the age of 81. The Baltimore Sun newspaper wrote the following:
"Colonel Ware, during the magisterial system, was for many years a member of the court of his county. It was stated at the bar today that although hundreds of cases came before him, he was never reversed. The court adjourned at 12 o'clock today until 10 o'clock tomorrow, as a mark of respect to the memory of the deceased. Before the Civil War, Col. Ware was the most extensive sheep raiser in the valley of Virginia and did more than any man in his section to improve the breed of sheep by importing from England." Baltimore Sun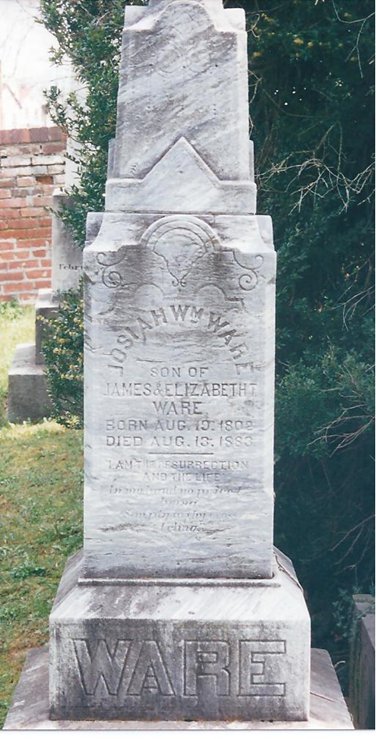 Grave for Josiah William Ware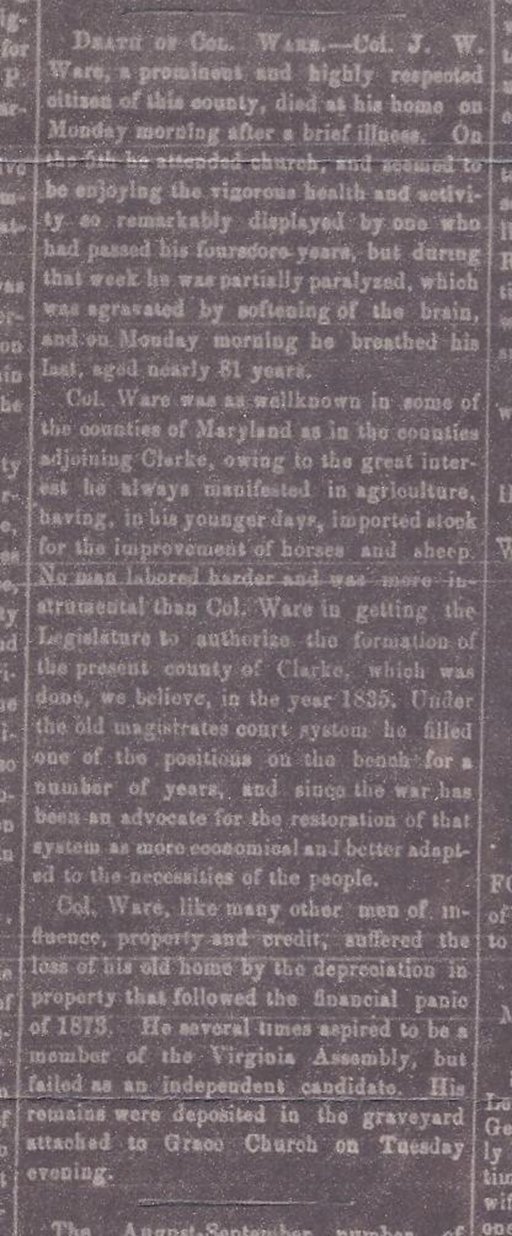 Obituary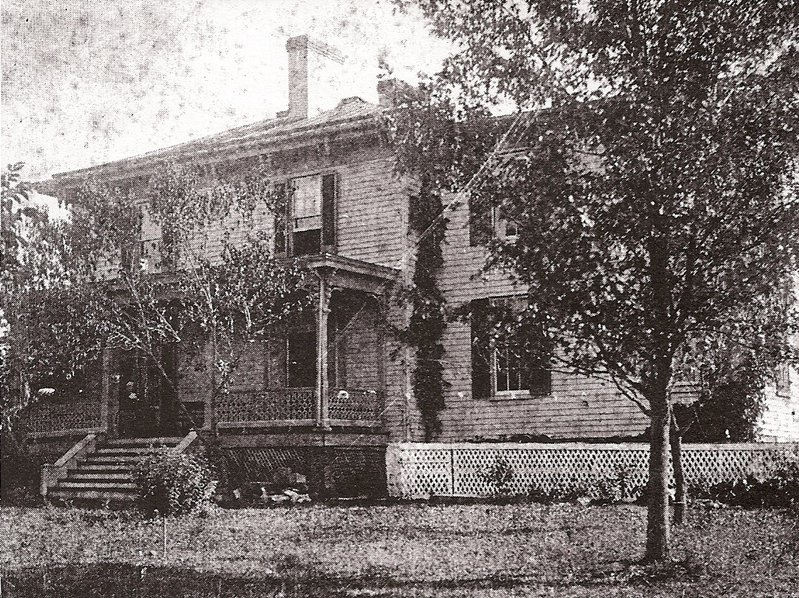 Durham Farm
31.

Grandmother Edmonia had never done any manual work, always had her personal maid, even when I knew her and the family was far from rich, but she was a splendid manager and a fair and kind mistress. Father said she was always busy when he was a child - - looking after the slaves, their health, welfare, and morals. Everything was done on the place, even the spinning and weaving. She died about 1900. I remember