Transcription Of 1859 Letter from Reverend Henderson Suter
to Josiah Ware
Transcribed by Judy C. Ware
© Judy C. Ware March 2009
Original letter owned by Jane & Scott Dudgeon
---
Berryville, Virginia August 24, 1859
The kindness of my unknown friend, which has been manifested in forms so very substantial, calls for some mark of attention. In this way, then, do I thank "No Matter Who" for the late very acceptable gift. While the Scripture precept, "Do not sound a trumpet before thee," is so strictly followed, the writer hopes that the giver may be one of those who will receive the reward of the future in addition to the present pleasure of a liberal heart.
Very truly,
H. Suter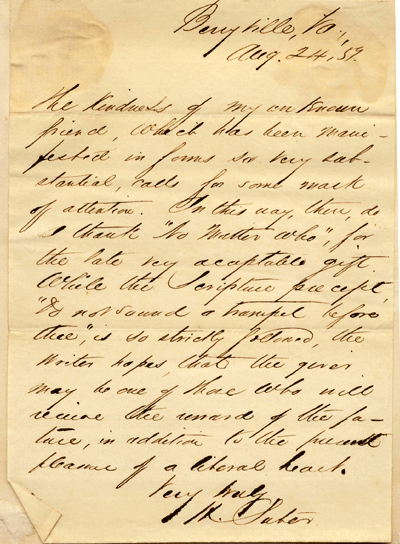 *** Reverend Henderson Suter took charge of Old Christ Episcopal Church in Alexandria, Virginia in September of 1878. Before that, he lived and worked in Berryville.
In another letter that was written earlier to Josiah's daughter, Lucy Balmain Ware Lewis, Rev. Suter offered his assistance on the burial of her infant daughter.
That letter reads as follows:
Berryville, Virginia
My Dear Mrs. Lewis,
Washington arrived in time to select a spot for the little girl. I will be on hand at any time fixed upon to bury her, either at your home or here.
Very truly Yours
H. Suter
* Washington was the name of a servant.