Chapter 8
Son ~ William
The spring of 1750 found James and Agnes Ware adding to their family again. Both parents were now 36 years old, and their home was filled with the sounds of several children: John was 14, Nicholas 11, James nine, Richard five, and little Clary three. On March 29th, baby William joined the group. The Wares were doing their part in populating North America.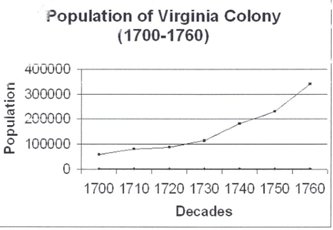 Growth chart for Virginia from 1700 to 1760
Virginia was growing by leaps and bounds. As news spread abroad about the possibilities of wealth and land ownership in the colonies, more and more people flocked to the "New World" to try their luck. As the above chart shows, the population kept steadily climbing from the 1700s until the year William was born in 1750, and then it spiked. Even in 1750, Virginia was the most populated of all the colonies.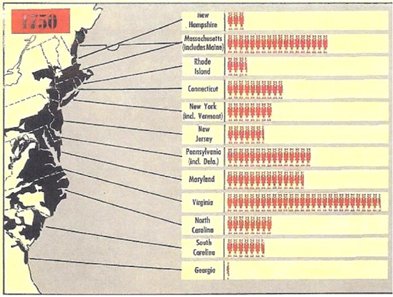 Chart showing the colonies with the most population in 1750.
William Ware grew up in the years that established his home as more than just a 'possession' of England. He was part of the very undercurrent that was shaping this new nation. It was only natural that (around the age of 26) he served as "a private in a Virginia unit" during the Revolutionary War. (Ref. 692)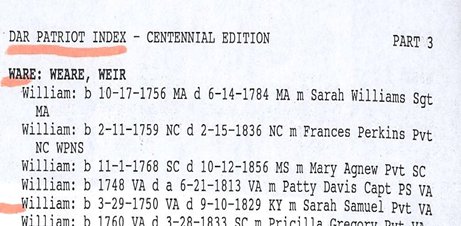 DAR record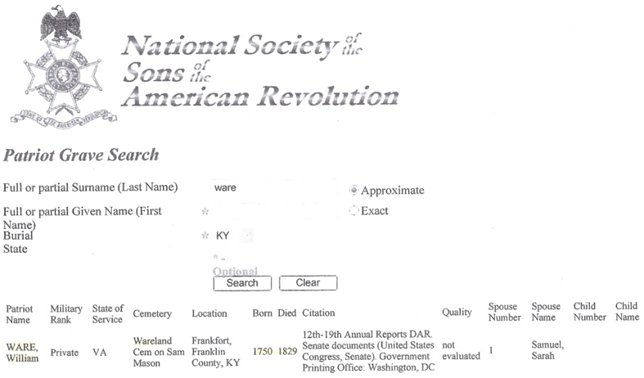 Military record
Due to his service during the war, William was also awarded a land grant in Kentucky. We assume that he sold this particular section of land at some point because when he moved to Kentucky, he lived on the property his father owned in Woodford County and ultimately inherited that estate.
Land warrant #2792 for William Ware for 482 acres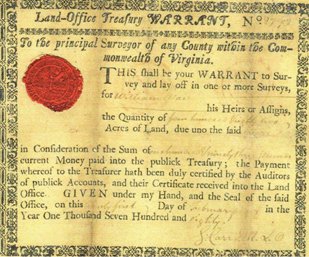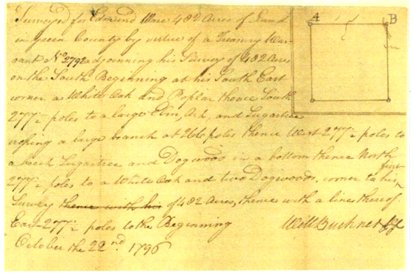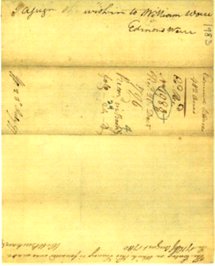 Survey and registration
Prior to his military service, William had married into the Samuel family in Virginia. His bride, Sarah, "was the sister of Rueben Samuel who married Governor Letcher's sister." (Ref 873)

(Ref. 1063)
Sarah's family, "including several brothers and sisters, came from Virginia about the same time that the Wares and others came and were prominent citizens." (Ref. 1024)
William and Sarah started their family in Virginia on the very threshold of what would change American history forever. Sarah delivered their first son, Samuel, on July 3, 1775. One year earlier, in 1774, England closed the port of Boston to all commerce, and the First Continental Congress convened to discuss the escalating tensions with the British.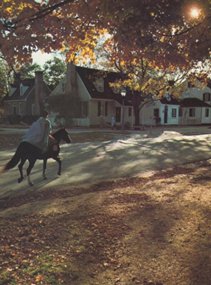 Then, three months before Sarah went into labor, open revolution commenced with the "shot heard round the world" in Lexington, Massachusetts. The time for any peaceful negotiations had passed. One year after his birth, in 1777, Samuel would celebrate his first birthday just 24 hours before the Continental Congress officially adopted the Declaration of Independence. Samuel's birth would herald an eight-year struggle to establish freedom for a fledgling country against the world's strongest and best equipped military power at the time. What a fascinating time to be born!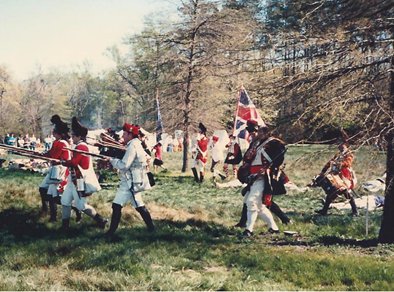 Photos taken in 1986 by James & Judy Ware at a Revolutionary War reenactment in Virginia
1.

Samuel Ware

William Ware was 25, and Sarah Samuel (born 1754) was 21 at the time of

Samuel

's arrival.

They would eventually have five more children:

(2)

Betsey

,

(3)

James

,

(4)

Agnes

,

(5)

Sarah

, and

(6)

Rebecca

,

but young

Samuel

was clearly named in honor of Sarah's maiden name.

He would grow up to provide many grandchildren for William and Sarah and great grandchildren for James and Agnes.
Samuel actually married three times, but he only sired children with his first two wives. On June 10, 1801, he wed Elizabeth Ann Read, the daughter of Hankerson Read and Mary Slaughter Read. (See record below)
Elizabeth Read, born September 2, 1778; married Samuel Ware 1801.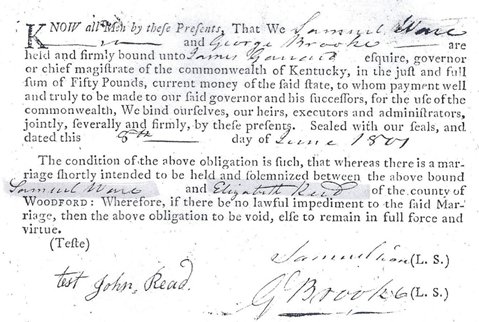 Official Wedding Bond - The bond was signed 2 days prior to the wedding.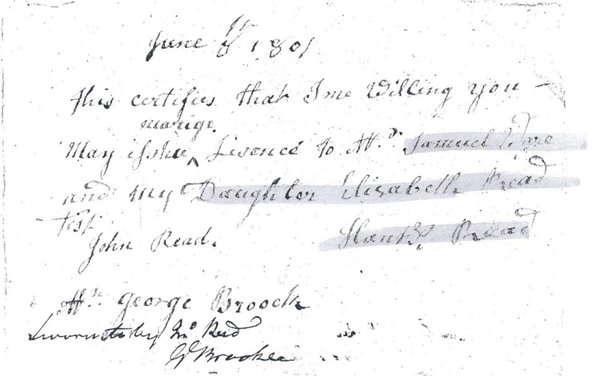 Wedding bond signed by Elizabeth's father – Hankerson Read
Samuel and Elizabeth (who was frequently known as Ann) "lived on a farm not far from Ducker's Station, a part of his father's [William Ware's] estate." (Ref. 874) They were married for 13 years before Elizabeth died at the age of 36. They had seven children:
(1)James, (2) Lucy, (3) Agnes, (4) Hankerson Favor, (5) Hankerson Read, (6) William Samuel, and (7) Ann Richardson Ware.
(1)James Read Ware – Born on May 30, 1803, James died on September 22, 1857.
(2) Lucy Ware – Born on April 7, 1805, Lucy died at the age of twelve in May 1817.
(3) Agnes Ware – On November 16, 1806, Elizabeth delivered a daughter they named Agnes, probably in honor of Samuel's great grandmother, Agnes Todd Ware. On December 21, 1824, at age 18, Agnes married Thomas Bullock. He became a member of the Illinois state senate.


(Ref. 2534)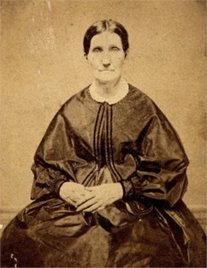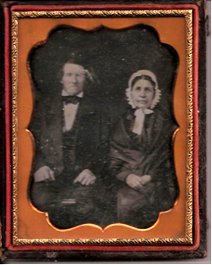 Agnes Ware Bullock - Thomas and Agnes Bullock (Ref. 2534)
The following was written by Amy Robbins-Tjaden, who transcribed material from "The Past and Present of Woodford County, Kentucky," printed in 1878:
"Thomas Bullock, Sr., came from Woodford County, Kentucky, to Illinois in 1835, and settled in Walnut Grove, where all the first settlements were made in this township [Olio]. Sprung from an intellectual family, a family productive of statesmen and men of ability, he has ever been a man of weight and influence in the county, and one of its leaders in politics, and in enterprise and improvement. He it was, who was instrumental in getting up the project which finally resulted in the formation of Woodford County, of which event full particulars are given in the general history of the county. Mr. Bullock is still living near Versailles, the original capital of Woodford, to some extent reconciled to the greater power, or pressure, which wrested from his own little village of Versailles, the seat of justice. Of all the early settlers in Walnut Grove, Mr. Bullock is probably the oldest one now still living in what is known as Olio Township. These old landmarks are rapidly passing away. The few still left are fluttering over the dividing line between two worlds, and ere long will be gone from our sight."
A short biography of Thomas Bullock, written by Vicki Ware Cheesman, also tells us more about this interesting man. He "started for Illinois with his wife and children in a two-ox wagon and a two-horse 'carryall'; arrived Oct. 20th, 1835, taking them about eighteen days in making the trip. He first lived in a log cabin near the present home."
Agnes and Thomas Bullock settled in Illinois and provided 13 grandchildren for Samuel and Elizabeth! (They continued the trend for twins in the family.) According to one author, John Drury, who wrote about the Bullocks in 1955, "familiarly known as 'Uncle Tom' Bullock, he is regarded by local historians as the founder of Woodford County. Bullock came from Woodford County, Kentucky, and it was he who bestowed the name of the Kentucky County on the Illinois County."(Ref. 2562)
The following is information concerning the children of Agnes and Thomas Bullock (grandchildren of Samuel and Elizabeth, great grandchildren of William and Sarah, and great, great grandchildren of James and Agnes):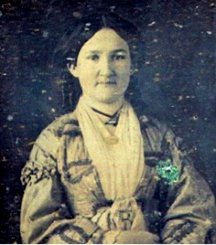 Lucy Bullock
Photo courtesy of Turitzin-Swearingen
Lucy Anne Bullock
Lucy was born September 28, 1825, a year after her parent's marriage. She wed John Jonas Davenport on August 23, 1843, and they had a set of fraternal twins among their children. Lucy died October 15, 1914 at age 89.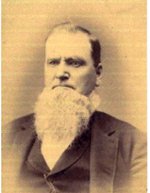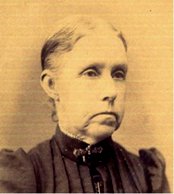 William & Mary Bullock
William Samuel Bullock
William was born May 12, 1827. He wed Mary Ann Mitchell on October 14, 1852, at the age of 25. The couple had three children: (1) Clara (who wed Thomas Spencer); (2) Harvey W. (who wed Miss Ayers); and (3) John M. (who wed Miss Blanchard). William and his wife were members of the Christian Church. William died October 26, 1906.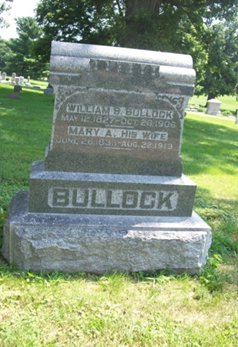 Grave for William and Mary Ann Bullock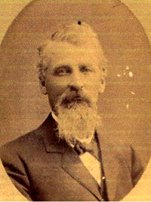 James P. Bullock
James Porter Bullock
Agnes delivered James on May 24, 1829, and he married Mary J. Powell in 1854. James was drawn west to California in the search for gold. His plans ended up changing and during February of 1858, he bought 590 acres northeast of Woodland on Grand Island. There he engaged in raising stock and general farming and also serving as sheriff of Yolo County. James built a beautiful home in Woodland, and for years he served as a trustee of the Christian Church and was one of its most influential workers. Six children were born to James and Mary: (1) Agnes, (2) George Spencer, (3) Lela, (4) Fred, (5) Mrs. Mary Nelson DeMerritt, and (6) Mrs. Helen Fregidgo. After having been an invalid for five years, James died on September 25, 1888.
Home of James P. Bullock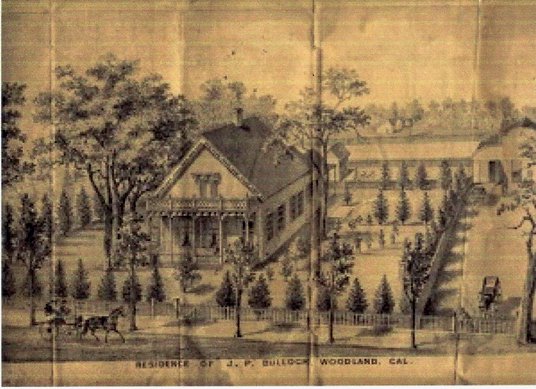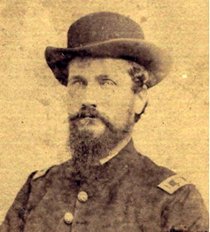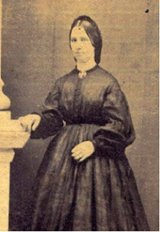 Thomas and Jennie
Thomas Bullock Jr.
Born on August 15, 1831, Thomas Jr., was obviously named after his father. He married Nancy Jane (known as Jennie) Mitchell in 1861. Thomas served as an officer in the Civil War. The 1870 census showed "Thomas and Nancy living in Eureka, Woodford County, Illinois where he was working as a clerk in a flour mill." The 1880 census showed Thomas living in the same place, but his occupation had changed to "clerk in a bank." Thomas Jr., died on March 11, 1905, and his wife spent her last years living with their daughter, Anna, whose married name has been spelled Van Bebber, Vanbilber, and Van Bibben.
Elizabeth Bullock
– Elizabeth was born in January 1834.
Henry S. Bullock – Henry, born April 16, 1836, died in 1889.
Robert Bullock - (twin) – Born April 9, 1838, he only lived five months and died on September 1, 1838.
Sarah Bullock - (twin) – Born April 9, 1838, she also only lived five months and died two days after Robert, on September 3, 1838.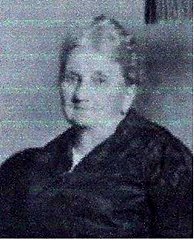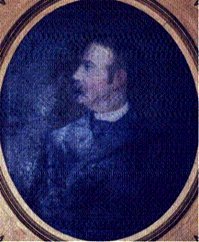 Mary and David
Mary Ware Bullock

–
Agnes Bullock gave birth to another daughter, Mary Ware Bullock, on April 14, 1840.

Mary wed Christopher David Chenault (known as David) on September 5, 1865, at the age of 25.

The following is an excerpt from the History of Kentucky: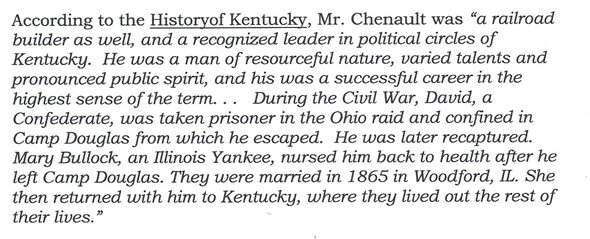 Excerpt
The paragraph below was written by Agnes Irene Bullock in her father's biography. It has been kindly shared by Judi Harris, a family descendant.
"In 1862, Wingfield Bullock was elected captain of Company E, 108th Regiment, Illinois Volunteers, a group collected largely from Woodford County. His commission is dated October, 1862, but he was chosen by a vote of the company, in August, 1862, while encamped at Peoria, Illinois. His cousin Thomas Bullock, Jr. was chosen first lieutenant in the same company. The fathers of both men must have been very much grieved when their sons joined the Northern army, for both Wingfield's father, Mordecai Redd Bullock and Thomas Bullock, Jr.'s father, Thomas Bullock, Sr. were strongly Southern in their sympathies during the War. My father's father refused to send his picture to his son in the South because he 'did not want his picture down there among all those 'Yankees'! Lieutenant Thomas Bullock's father even went so far as to make his home a refuge for Southern soldiers escaped from Northern prisons. One such Southern soldier, David Chenault, one of Morgan's men, later married Mary Ware Bullock, daughter of Thomas Bullock (1803-1888} and took her back to Kentucky. I remember Cousin David Chenault many years later while visiting at our house near Eureka, Illinois, saying in his delicious Southern drawl, 'I started out to conquer the whole North, and I let one little Northern woman conquer me.' "
Christopher David Chenault died in 1925, but Mary lived to be 92 years old - dying on June 27, 1932.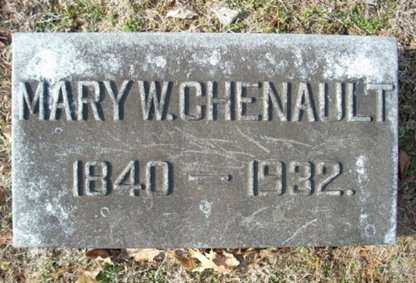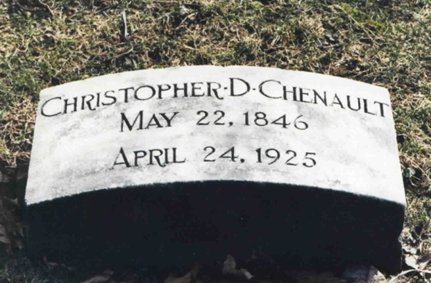 Grave markers for Mary and Christopher David Chenault
Charles B. Bullock

– Agnes was 36 when she delivered Charles on July 18, 1842.

As an adult, Charles was commissioned as a government storekeeper at Springfield, Illinois, and he remained there for two years.

He went to Colorado in 1869 and, by 1870, he had established himself as one of the leading men of Georgetown, Clear Creek County.

After holding a position as a clerk for four years, Charles then started a feed, grain, and transfer business for himself.

In 1877, he added coal to the other supplies he carried.

John J. Hardin Bullock

– Born on February 13, 1845, John only lived a year.

He died on August 25, 1846.
Horace Bullock

– Horace was born on July 4, 1847.

He wed a woman named Adah in 1897.

Holding the position of Georgetown postmaster, Horace died on July 17, 1911.
Hankerson Bullock – Agnes was 44 years old when her last child was born. Hankerson, born May 6, 1850, only lived to be six years old. He died May 15, 1856.
Samuel
and Elizabeth Ware's daughter,

Agnes Ware Bullock,

died February 17, 1882, at the "age of 75 years, 3 mos. and 1 day."

Thomas died in 1888, "aged 84 years, 5 mos. and 21 days."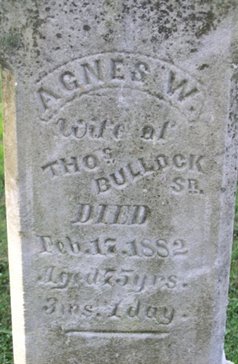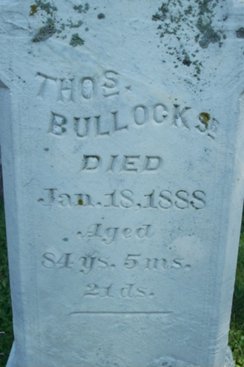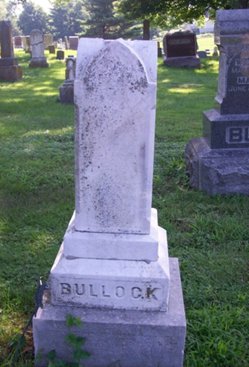 Buried in Illinois
GRAVES OF THOMAS AND AGNES WARE BULLOCK

(4) Hankerson Favor Ware – Samuel Ware and Elizabeth provided a fourth grandchild for William and Sarah in 1808. Hankerson Favor Ware was born on the 26th of April, but he died the same year.

(5) Hankerson Read Ware – A year after the first baby they named Hankerson died, Elizabeth Read Ware delivered another little boy. Born September 3, 1809, the couple named this child Hankerson as well - using Elizabeth's maiden name as his middle name. This second Hankerson was one of the last owners of Wareland. He died on January 9, 1849.

(6) William Samuel Ware – On March 10, 1811, Elizabeth bore another son and named him after both his father and grandfather - William Samuel Ware. William died on August 2, 1860 at age 49.

(7) Ann Richardson Ware – The last child Elizabeth (Ann) Read had with Samuel Ware before her death on August 30, 1814, was a daughter named Ann Richardson Ware. The baby was born December 7, 1812. (Ref 1024) On July 21, 1883, at the age of 19, Ann married Elijah Fogg.


MRS. ANN R. FOGG, a native of Woodford County, is a daughter of Samuel and Elizabeth (Read) Ware.
July 21, 1883, she married Elijah Fogg, who was born in Woodford County, July 23, 1803, and who was
the only son of Obadiah and Elizabeth (Shipp) Fogg. Record


According to the book titled Kentucky: A History of the State:

"Elijah Fogg was a carpenter, at which trade he was employed until 1840, and then engaged in farming until his death. He and his wife were the parents of eight children, six living: (1) Elizabeth (married to Anderson Chenault, and had six children: Agnes, Christopher, Samuel, Jephtha, Elijah and Emma); (2) Samuel W. (who married Fanny Gaines, and became the father of five children: Anna, Jennie, Fannie, William and Lucy); (3) Agnes ( who was married to Thomas Steele), (4) Anna (who was married to W.G. Welch, and had three children: Anna, Murray and Gipson); (5) Virginia (who was married to Oakley Thompson, and had four children: Edwin, Barbara, Virginia and Oakley); and (6) Richard J. (who married Miss Susie, daughter of Isham and Sarah (Hall) Hawkins, and had born to him two children: Sadie and Willie). Elijah Fogg died a member of the Christian Church, of which Mrs. Ann R. Fogg and all the children were also members." (Ref. 2563)


The following data is for the children of Ann R. Ware Fogg and Elijah Fogg.

Elizabeth (Betty) D. Fogg – Born on July 11, 1838, Betty Doniphan Fogg married Anderson Chenault on March 15, 1867. They had six children: (1) Agnes, (2) Christopher, (3) Samuel, (4) Jephtha, (5) Elijah and (6) Emma Chenault. Betty died on January 3, 1929 at age 91.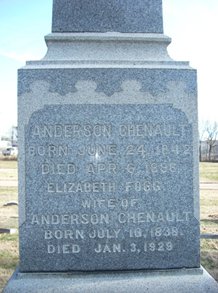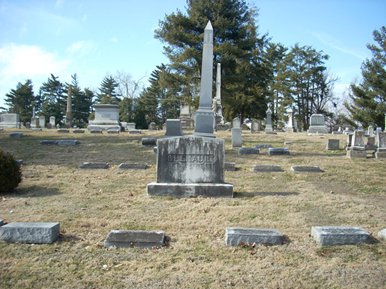 Anderson and Elizabeth Fogg Chenault
William Samuel Ware Fogg – William, who usually went by his middle name of Samuel, was born March 29, 1841. He married Frances (Fannie) Gibson Gaines on February 9, 1871, and they had five children: Annie Belle, Jennie J., Fannie, William Ware, and Lucy. "Fannie married John Church and Lucy married Curtis Lawson." (Ref. 1024) From their tombstone, it would appear that neither Annie Belle nor her sister (Jennie) ever married. Annie Belle died in 1949 at the age of 78, and Jennie J. Fogg died in 1966 at the age of 92.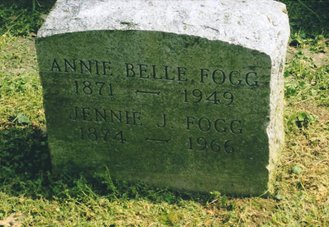 Grave for Annie Belle Fogg and Jennie J. Fogg


According to the Historical Sketch & Roster for The KY 8th Cavalry Regiment, William Samuel Fogg served in the Confederate Army. He eventually attained the rank of captain, and he passed away on November 6, 1906.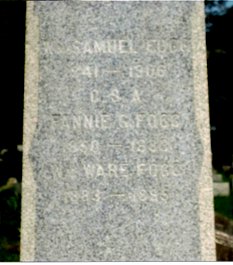 Grave marker for Wm. Samuel, Fannie, and Wm. Ware Fogg


Photo courtesy of Judy Ware 2012

Sarah (Agnes) Fogg – Sarah, born October 14, 1844, was always called by her middle name of Agnes. At the age of 23, she married Captain Thomas Steele on November 21, 1867. Thomas also served in the Confederate Army. Agnes died on December 21, 1917, at age 73.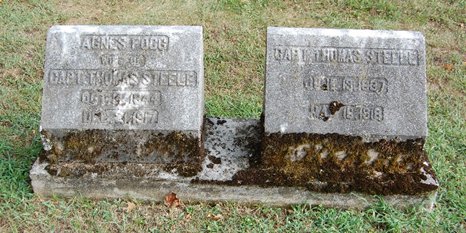 Grave for Agnes Fogg Steele and her husband, Capt. Thomas Steele
Annie Bland Fogg – Elijah and Ann R. Ware Fogg welcomed daughter Annie on Christmas Day, December 25, 1848. She married William Gibson Welch (called Gibson) on November 12, 1868. He was the son of William Welch and Lucinda Samuel Welch. Gibson served in the Confederate Army under General Morgan. On May 27, 1927, Annie passed away at age 20. Her mother-in-law, Lucinda Samuel Welch, was the daughter of John and Lucy Samuel. "John Samuel was one of Woodford's pioneer citizens and he settled on a farm at Ducker Station, known for many years as the Gibson farm . . . Preston L. Gibson being the last to own it. Three or four generations of the relationship were buried there in a private burial ground." (Ref. #873)
All photos of the Gibson graveyard were kindly taken and provided by Crit Blackburn Luallen, one of the current owners of the property earlier known as Wareland.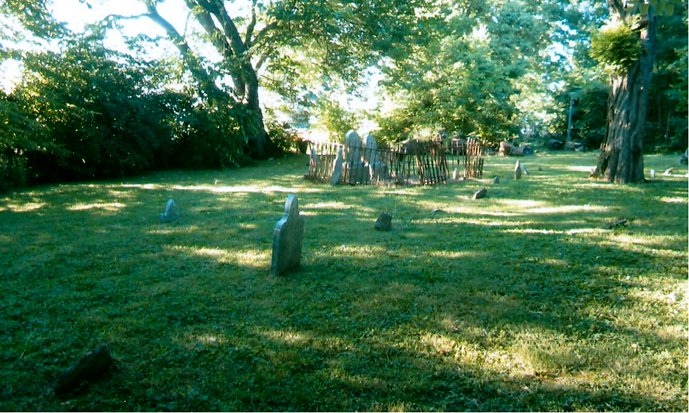 Gibson Farm cemetery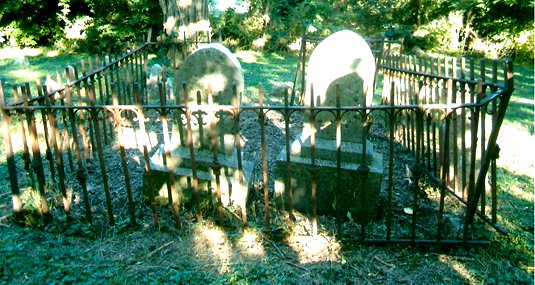 William Gibson, died 1825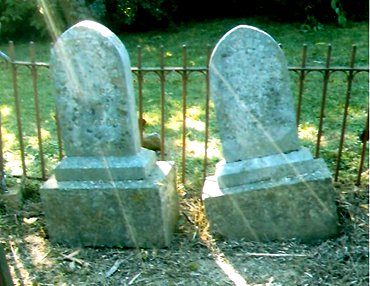 Fanny, wife of William Gibson, died 1871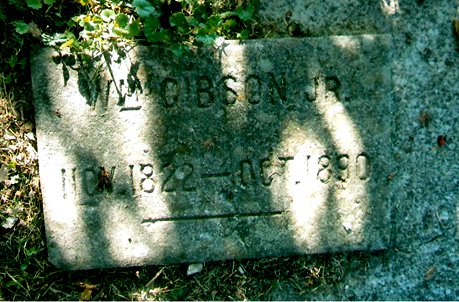 Wm. Gibson, Jr. Nov. 1822-Oct. 1890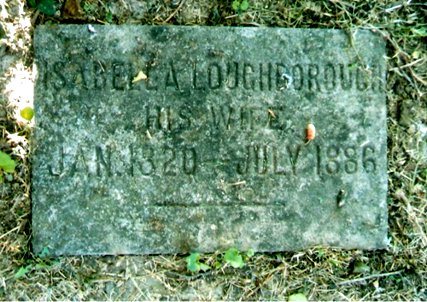 Isabella Loughborough - His Wife Jan 1820-July 1886

The following shows how the Gibson Farm is connected to the Ware family through the Samuels:

John Samuel wed Lucy Woolfolk in 1798

The seven Samuel children were:

1 Elizabeth (Betsy) Samuel weds Thomas Loughborough (They have a daughter named Isabella who marries her cousin, Gibson Welch.)

2 John Samuel

3 Fanny Samuel weds William Gibson (They have a son named William Gibson Jr. who weds his cousin, Isabella Loughborough.) See above graves

William and Isabella have a son named Thomas Gibson who marries Elizabeth Ayres.

4 Larkin Samuel married Miss Graham

5 Kitty Samuel married Mr. Anderson

6 Lucinda Samuel weds William Welch.

They have Capt. Welch who marries Annie B.

Ware

Fogg

– Anne was the granddaughter of

Samuel Ware,

the great granddaughter of

William Ware, and the great granddaughter of James and Agnes Todd Ware.

7 Richard Samuel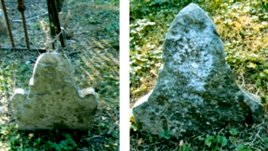 Some of the stones are so old that they appear hand hewn and are impossible to decipher.
Virginia (Jennie) Jackson Fogg – Elijah and Ann R. Ware Fogg provided another granddaughter for Samuel Ware on March 22, 1851. Named Virginia Jackson Fogg, she was called Jennie. She married Oakley Thompson on February 20, 1877, at the age of 26. The wedding "took place at Grassy Springs Church." (Ref. 1024) The couple "lived on the Frankfort-Versailles pike east of the old Steele's Ferry road." (Ref. 1024) Jennie lived to be 84 years old, dying on August 26, 1935.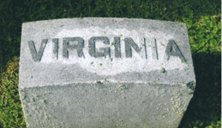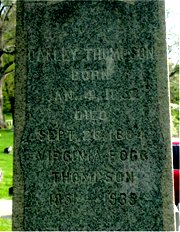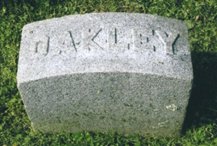 Markers for Oakley and Virginia Fogg Jackson
Richard Jackson Fogg – The Foggs had their last child, Richard Jackson, on May 3, 1853. Ann was 41 at the time. Richard wed Susan (Susie) Hawkins on December 9, 1879, in Grassy Springs Church. (Ref. 961)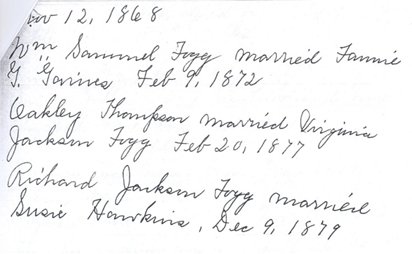 Bible entry
The Fogg family (consisting of Samuel's daughter, Ann Richardson Ware, her husband, Elijah Fogg, and their six children (described above) "lived in 'a splendid old mansion' in Woodford County. It was called 'Spring Garden' and was located seven miles down on Frankfort Road." (Ref. 1024) Spring Garden was actually part of the original land acquisition of Ann's great grandparents, James and Agnes Todd Ware. The History of Woodford County, published in 1938, states that, "James Ware owned all of the farm that was afterwards owned by Capt. Elijah Fogg and all of the farm that was later owned by Robert Scott and now owned by the Mason heirs." (Ref. 1024) (Emphasis done by me)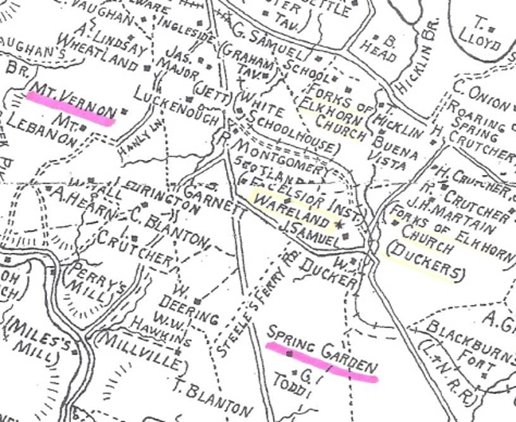 Notice the locations of Spring Garden and Wareland
Ann Richardson Ware Fogg died on March 25, 1889, at the age of 77. Elijah predeceased her by nine years.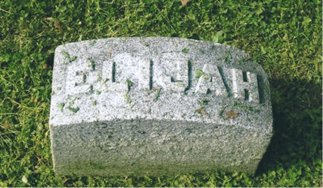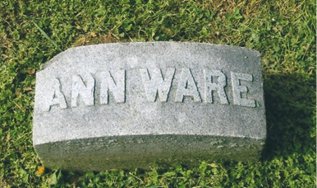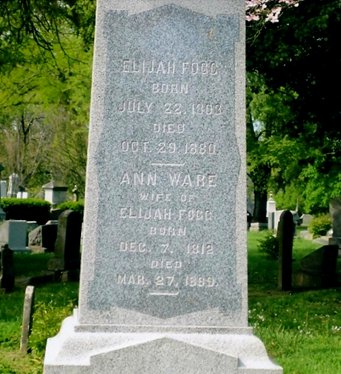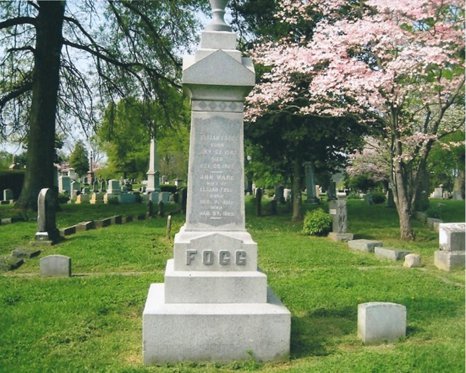 Graves for Elijah and Ann Ware Fogg
William and Sarah's firstborn son, Samuel, celebrated 13 years of marriage with his first wife, Elizabeth, before she died on August 30, 1814, at the age of 36. Upon her death, Samuel still had a house full of children: oldest son James was 11, Lucy 9, Agnes 8, Hankerson 5, William 3, and Ann Richardson was only two. It is not surprising that 48-year old Samuel would choose to wed again.
On January 21, 1823, the widower married Betsy Bullock Redd who was 41 years old. Betsy, born in 1782, had also been previously married. Her husband, Thomas Minor Redd, had died in 1820 - leaving Betsy with five children of her own coming into the new marriage: (1) James Waller Redd (age 14); (2) Archie Overton Redd (age 12); (3) Martha Ann Redd (age 11); (4) Mordecai Redd (age 8); and (5) Agatha Redd (age 5). "Thomas died before his children were grown and Waller Bullock was guardian of the minor children; they becoming wards of Samuel Ware." (Ref. 1024)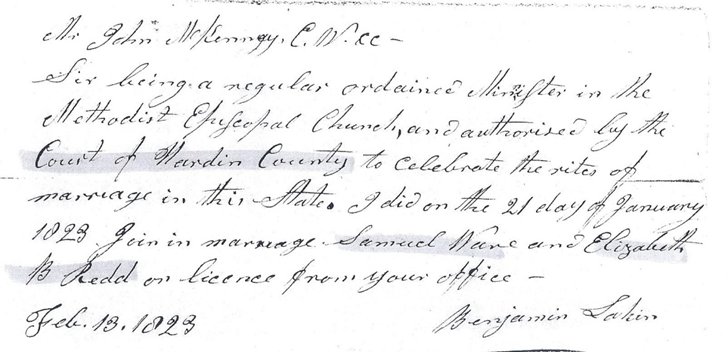 Wedding license for Samuel Ware and his 2nd wife, Elizabeth Bullock Redd
The 

Samuel

 

Ware household now contained 10 children, ranging from the age of 
fourteen to two.

  

One last baby joined the group on January 14, 1824, Elizabeth 
Redd Ware.

  

She married John Benjamin Utterback (nephew of Lewis Berry) in 1843, 
and they "purchased a farm near the Mt. Vernon Church." 

(Ref. 2575)

 John "acquired 
other property in the county besides, and at the time of his death owned nearly 600 
acres of land.

  

He was a man of high character; genial, popular, progressive and 
public spirited, but never aspired to political place." (Ref. 2575)

  
Elizabeth and John had several children.

  

Their son, Lewis, farmed in Missouri - - 
and son, Charles W., owned and occupied the old homestead of his grandfather in 
Woodford County.

  

Their daughter, Allie, became the wife of William Smith of 
Winchester, and she died in 1886.

  

Daughter, Lelia, "resided on the father's 
homestead." 

(Ref. 2575)

 

The last two daughters, Fannie and Elizabeth Utterback, married 
Hardin Field and David Redd, respectively.

  

John died in 1856, and Elizabeth R. 
(Ware) Utterback died in 1875.
 
Graves for John and Elizabeth Utterback

Samuel's second wife, Elizabeth (Betsy) Bullock Redd Ware, died August 1833, after 10 years of marriage to him. She was 51 years old. In 1834, Samuel married a third time - to Mary A. Jennings. There were no children from this union, and Mary died in 1846. From the eight children sired by Samuel Ware with his first two wives, over 20 great grandchildren were born for James and Agnes!

Samuel, who inherited Wareland from his father (William), died on September 12, 1846, at age 71. At the time of his passing, he owned 10 slaves which he bequeathed to his daughters. They were: Joe, James, Ashby, Ann, Lucinda, Fielding, Caroline, Delilah, Anne, and Allen. All of the actual property of Wareland he put into a trust for his three sons - James, Hankerson, and William. Unfortunately, only one year after his death, his sons began the process of dividing out the land and selling it. Samuel would be the last sole Ware owner of Wareland - the property his grandparents, James and Agnes Ware, originally settled on almost 50 years earlier.

LAST WILL AND TESTAMENT FOR SAMUEL WARE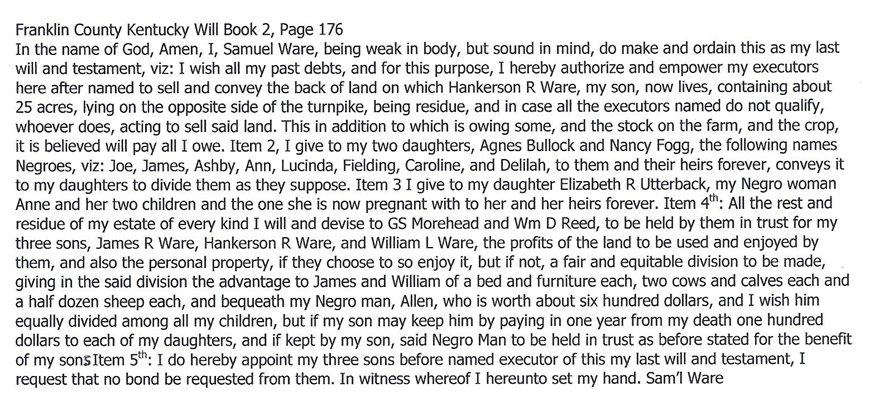 (2) Betsey Ware
In May of 1776, William Ware and Sarah Samuel Ware were celebrating more than just the break with Great Britain. Sarah delivered their second child - a daughter named Elizabeth (Betsey) Ware, who arrived on the 30th. William probably left shortly after her birth to join the Continental Army.
In 1799, Betsey married John Bacon of Franklin County, Kentucky. She was 23 at the time. (See record below)


Marriage Record (Ref. 1071)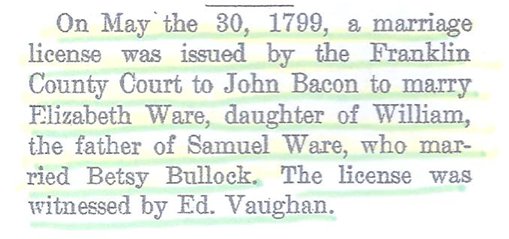 Notice of Betsey's wedding to John Bacon

According to the Bacon family bible, John Bacon (born March 10, 1767) "moved from Virginia to

Kentucky prior to 1794, and had first married Anna Patterson."

Anna died shortly after delivering her second baby, and John married again in 1799 – this time to

Betsey

Ware.

One of his descendants wrote, "John Bacon made, what was for that time, a large fortune which gave him, in his later years, opportunity for the indulgence of his literary taste.

He

owned a good farm about four miles from Frankfort and many slaves."

(Ref. Sallie Jouett Cannon ~ descendant)

There were eight children born to John and Betsey:

(1) Anne Apperson Bacon, (2) Sarah Ware Bacon,
(3) Williamson W. Bacon, (4) Dr. James Ware Bacon, (5) Richard Apperson Bacon, (6) John Mosby Bacon, (7) Elizabeth P. Bacon, and (8) Albert Gallatin Bacon.

The following is information on each child.

(1) Anne Apperson Bacon – Anne Apperson was born March 25, 1800. On May 1, 1821, she married Reverend Philip Slater Fall, a native of Brighton, England. Philip, who was born in 1798, had only arrived in New York a few years prior to his move to Kentucky – where he met Anne. He had come to take charge of an academy in the Frankfort area in 1818. He also began his ministerial career in the Baptist church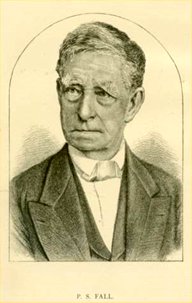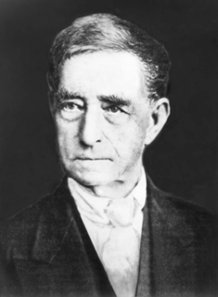 Philip Slater Fall
the same year. Philip served in many different capacities in the education field; opening an academy in Louisville and establishing the Female Eclectic Institute. In addition to teaching, he preached in the Baptist church - eventually adopting the principles now recognized by the Christian Church (Disciples of Christ) and preaching in that new faith until 1877. One of the several churches he served was Grassy Springs Church.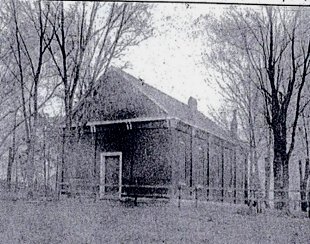 Grassy Springs
When public schools were suspended during the Civil War, Reverend Fall opened a private academy which was extremely successful. When he retired in 1877, he was "probably the oldest educator in the county, and, doubtless, the oldest Christian minister in the State, if not in the United States." (Ref. Bio)
Reverend and Mrs. Fall lived in a lovely home called Poplar Hill, about three miles
north of Frankfort.

  

They had several children:
(1)

James Slater

(April 4, 1822) became a professor and married Martha King.
(2)

Caroline

,

known as Carrie, died single.
(3)

Albert Boult Fall

died while serving in the Confederate Army at Fort Donaldson.
(4)

William Ware Robinson Fall

was born in 1837.
(5)

Catherine Marianna Fall

, born in 1829, married Colonel John B. Temple.
(6)

Elizabeth Sarah Fall

, born on July 29, 1826, married Colonel Edmund H. Taylor.

She died May 11, 1898.

There were also four other sons born to Reverend and Mrs. Fall, but they did not survive to maturity:

James, John, Alexander, and Henry Ewing.
(Ref. 2291)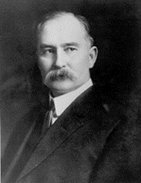 William Ware Robinson Fall

 became a schoolteacher and married Edmonia Louisa Taylor who died in
1906.

  

One of their children, born November 26, 1861, was named Albert Bacon Fall.

  

Albert, a 
senator from New Mexico and the Secretary of the Interior under President Warren G. Harding, was
infamous for his involvement in the Teapot Dome scandal.

  

Convicted in 1929 of accepting a bribe for
leasing government-owned oil reserves at Teapot Dome to private companies, he was sentenced to a 
year in prison in 1931.

  

Sadly, John and 

Betsey Ware

 Bacon's grandson died in poverty.

  

He was 
buried in Texas.

 

(Ref. 1024) 
  

Edmonia Louise Taylor Fall - Albert Bacon Fall - Grave for Albert Bacon Fall
Catherine Marianna Fall married Colonel John Baylor Temple on October 4, 1853. Shortly after marriage, in December, she died of a stomach inflammation at the age of 24.
Elizabeth Sarah Fall, born July 29, 1826, married Colonel Edmund Haynes Taylor (son of Richard Taylor) on February 12, 1861. Edmund was born on June 4, 1799, and Elizabeth was his fourth wife. He had previously been married to Elizabeth Clay, Louisa Ann Brown Hart, and Martha Southgate Taylor.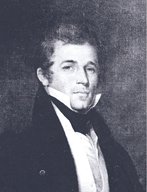 Edmund Haynes Taylor Sr
Edmund and Elizabeth had two children: (1) Philip Fall Taylor (born 1864), who married Margaret J. Taylor in 1901; and (2) Sallie Jouett Fall Taylor (born 1865), who married Dr. Samuel James. When Samuel died, she then married John Stout Cannon. Sallie was the secretary-treasurer of the Kentucky Historical Society for many years and provided wonderful insights into her family history. Edmund Haynes Taylor passed away on April 24, 1873, and Elizabeth died May 11, 1899.
Grave markers for Colonel Edmund H. Taylor and Elizabeth Fall Taylor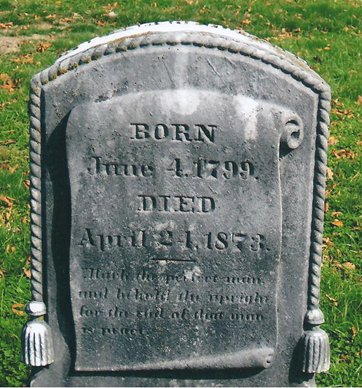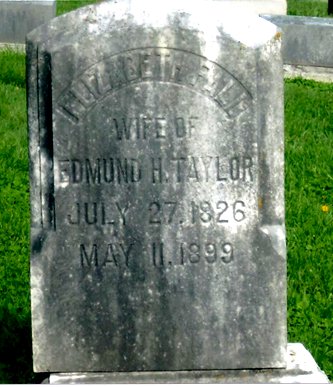 Top part of tombstone
The inscription on E. H. Tayor's grave is from Psalms 37:37


"Mark the perfect

 

man, and behold the upright

: for the end of that man is peace"
John and Betsey Ware Bacon's daughter, Anne Apperson Bacon Fall, died October 20, 1888, and Reverend Philip Slater Fall lived two more years, dying in 1890.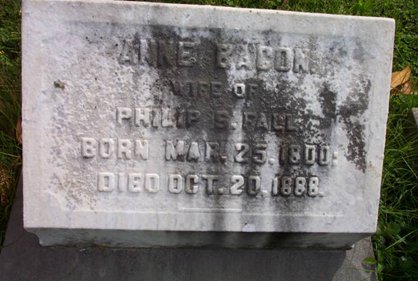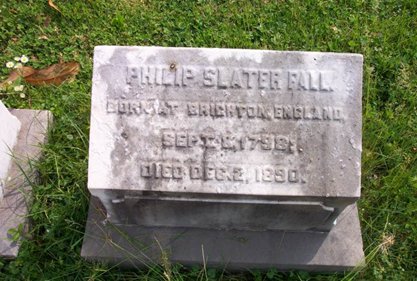 Graves for Anne Apperson Bacon Fall and Reverend Philip Slater Fall
(2)

Sarah Ware Bacon
-
John and Betsey Ware Bacon's second daughter, Sarah, was born on the 24th of March, 1802.

She never married and died on the 27th of March 1886, at the age of 84.

The following is a wonderful description of her provided by her niece, Sallie Jouett Cannon:
"Sarah Ware Bacon retained through her long life a youthfulness of feeling, an interest in those around her that made her very dear to her relatives and friends, and with it all, she had a very stately dignity, a courtly manner. I have heard it said that when General Taylor made a tour through the country, he came to Frankfort and was given a reception at my father's house. When he was presented to Aunt Sarah, he exclaimed, 'What? Miss Bacon, still?' 'Yes,' she replied. 'Like you, General, I never surrendered.'"
(3) Williamson Ware Bacon – Williamson, often called William, was born March 7, 1804. At the age of 20, he married Anne Maria Noel on November 4, 1824. She was "the daughter of the Reverend Silas Noel." (Ref. Sallie Jouett Cannon)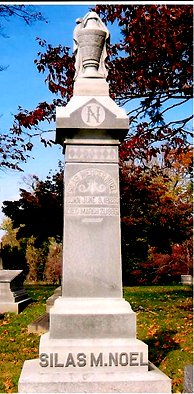 Grave for Reverend Noel – Williamson's father-in-law


(Ref. 2534)

Williamson and Anne had the following children: (1) Maria (April 11, 1826), who wed John Adair Monroe; (2) Anna Caroline (May 1, 1828), who wed Callender Lewis; (3) Sarah Cordelia (November 1830), who wed Frank Pryor; (4) Laura Bacon (February 1834), who wed Major Eugene Wilkinson Crittenden; (5) Alice Bacon (August 12, 1836); and (6) Williamson Ware Bacon, Jr., (February 3, 1844), who wed Elizabeth Glass. The senior Williamson Ware Bacon, son of John and Betsey Ware Bacon, passed away March 17, 1845.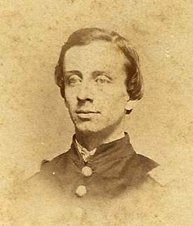 Captain Williamson Ware Bacon, Jr.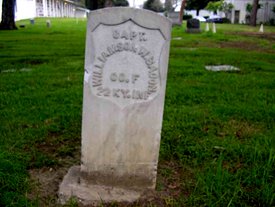 Captain Williamson W. Bacon served in Company 'F' Kentucky Infantry during the Civil War.

"

He was promoted first lieutenant in 1862 at Cumberland Gap and to the rank of captain in 1863 at Vicksburg, where he was wounded.

From the close of the war until 1873 he resided in Frankfort, at which time he purchased and removed to the old Logan place."

(Ref. Web)

Williamson lived to be 80 years old.
Laura Bacon

, daughter of

Williamson

Sr

. and his wife, Ann Maria, also led a very interesting life.

Not only did Laura marry into the famous Crittenden family of Kentucky by her union with Eugene Crittenden, but it is through her line that the property of Wareland has stayed in the family all these generations.

Laura's great granddaughter, Eugenia Crittenden Hay, married Samuel Blackburn.

Eugenia and Samuel's daughter, Eugenia (Crit) Blackburn Luallen (along with her brothers) are the current owners of the property which was originally settled on by virtue of payment for service in the Revolutionary War. As the great, great granddaughter of Eugene and Laura Crittenden, Crit is also the great (x 4) granddaughter of John and Elizabeth Ware Bacon, the great (x 5) granddaughter of William and Sarah Ware, and the great (x 6) granddaughter of James and Agnes Todd Ware – the very first people to build a home on this beautiful property back in the 1780s.

It means that this parcel of Kentucky soil has been in the family for over 225 years!!
Crit's family line, so closely intertwined with the Wares, deserves much more space than this chapter could allow, so I have added an addendum to the back of this book dedicated solely to the descendants of Laura Crittenden, daughter of Williamson Ware Bacon. It is with a grateful and humble heart that I encourage the reader to savor all the interesting and historical facts that weave our families together.
(4) Dr. James Ware - On March 22, 1807, Betsey and John Bacon provided another grandchild for William and Sarah Ware. Betsey was now 31 years old. As was the custom of the times, they probably named their new son after William's father, James Ware. The War for Independence was over, but Great Britain was still a major threat to the newly organized United States of America. Between 1803 and 1812, England would impress approximately 10,000 American sailors, forcing them to work on British warships. The birth year of James was one which was (again) filled with political turmoil.
On March 24, 1836, James married Alice Riggs. "Her father was of the firm Riggs & Cochran." (Ref. Sallie Jouett Cannon) James entered the medical profession, and he "was the attending physician at the Federal Penitentiary in Philadelphia during the Civil War. Among his patients were many wounded Confederate prisoners." (Ref. 2527)

James and Alice had the following four children: (1) Romulus Riggs Bacon, (2) Alice E. Bacon, (3) John Philip Bacon, and (4) Albert W. Bacon. (Ref. 2527) Romulus, born December 31, 1836, married Elizabeth Sneed and died in 1868. Alice Elizabeth, born July 25, 1843, wed Benjamin Harrison Blanton in 1868 and died on December 2, 1917. John Philip Bacon married Jessie Cunningham, and Albert W. Bacon married Kate Stoughton.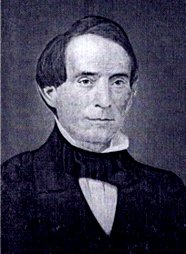 Dr. James Ware Bacon
Photo courtesy of Alice Bacon Blanton (Ref. 2527)
During the war, Alice Bacon "helped her father care for the wounded men and she became a member of the United Daughters of the Confederacy on her own war record." (Ref. 2527) Alice and her husband (usually just known as B. H. Harrison Blanton) had the following six children: (1) James Bacon Blanton, (2) Elizabeth Dudley Blanton, (3) Benjamin H. Blanton, (4) Ambrose Dudley Blanton, (5) Albert Blanton, and (6) Alice Blanton.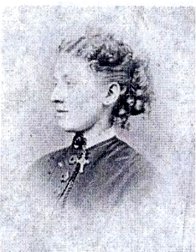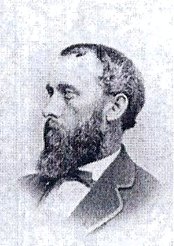 Alice Elizabeth Bacon Blanton and B. H. Blanton

Ben H. & Alice B. Blanton
Their names are part of the large monument that honors their son,
Albert Bacon Blanton, who married Vannie Stevens.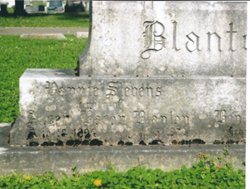 Albert Bacon - son of Ben H. and Alice Bacon Blanton


Vannie Stevens – wife of Albert Blanton born Aug. 14, 1894, died Jan. 5, 1977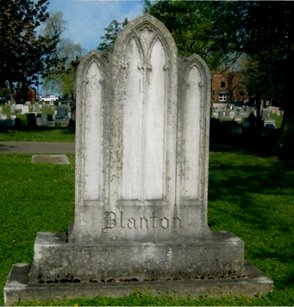 Full Tombstone - Photos courtesy of James and Judy Ware 2012
First cousins, Laura Ware Bacon (Crittenden) and Alice Bacon (Blanton), became even closer when their descendants worked 'hand in hand' to make the Kentucky distillery business famous around the world. Laura's daughter, Sadie, married J. Swigert Taylor – the son of Edmund Haynes Taylor, Jr., the man whose "innovations, systematic approach to whiskey making, dedication to quality, and constant battle to protect bourbon and keep its name from being applied to inferior whiskeys [earned him the title of ] 'The Father of the Modern Bourbon Industry.' " (Ref. Buffalo Trace) Alice Blanton's son, Albert Bacon Blanton, went into the distillery business at the young age of 16. He later "took over the operation of the distillery and added many quality control enhancements. An innovator in his own right, Blanton enjoyed producing single-barrel bourbon for himself and his friends." (Ref. Buffalo Trace) These two business titans revolutionized what is now known as the Buffalo Trace Distillery. More information can be found in the addendum of this book concerning the connection of the Crittendens, Wares, and Taylors.
(5) Richard Apperson Bacon - Ten years after their marriage, John and Betsey Ware Bacon welcomed their fifth child. Born on July 2, 1809, this son was named Richard. (Ref. Bible) His sister Anne was nine, Sarah was seven, his brother Williamson was five, and James was two. Richard married "Elizabeth Ellen Terrell of Paducah on April 15, 1830." (Ref. Bible) The couple had eight children: (1) Cordelia, (2) Elizabeth, (3) Ellen, (4) Charles, (5) Chiles, (6) Alice, (7) Sarah, and (8) Katherine. Richard Bacon died in 1865. (Ref. Bible)
(6) John Mosby Bacon - Two years after the birth of Richard, (on October 31, 1811), Betsey delivered another son. Named John Mosby Bacon, he "married Miss Sarah Jane Haggin and died while still a young lawyer." (Ref. Sallie Jouett Cannon) John and Sarah Jane had wed on March 29, 1835, and they only had eight years together before he passed away on September 16, 1843. He was just 32 years old. The couple had several children; their son, John Mosby, Jr., obviously being named in honor of his father.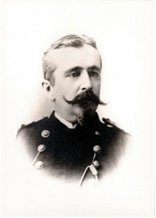 John Mosby Bacon, Jr.
John served many years in the military and was promoted to major for his "gallant and meritorious action at the siege of Fort Kesaca, Georgia . . . . At the outbreak of war with Spain in 1898, he was promoted brigadier-general and appointed to the command of the department of Dakota, with headquarters in St. Paul, Minn. In October, 1898, he promptly put down an outbreak among the Chippewa Indians on the Leech Lake reservation." (Ref. 1005)
(7) Elizabeth P. Bacon – Born on May 7, 1814, Betsey and John's next daughter, Elizabeth P. Bacon, married Benjamin Howard Bryan on December 31, 1839. (Ref. Bible) Elizabeth died October 15, 1850.
(8) Albert Gallatin Bacon – Now 40 years old, Betsey Ware Bacon had her last child on December 8, 1816 – Albert Gallatin. During the Civil War, Albert served as a captain in Company "C" of the Kentucky cavalry. It was during this time of service when he died. According to Sallie Jouett Cannon, "Of my grandfather's brothers, Capt. Albert Gallatin Bacon died in defense of the cause which he believed to be just; fighting to the last and refusing to surrender though surrounded by overwhelming numbers. He was killed at the battle of Sacramento Kentucky." An affidavit provided by Isaac and Elizabeth Johnson (in January 1862) provides an intimate, detailed description of Albert's death:
"McLean County, KY. This day personally appeared before me, D. Little, presiding judge of the McLean County court, Isaac Johnson and Elizabeth Johnson his wife who state that on Saturday the 28th day of December 1861, they found Capt. Albert G. Bacon of Col. Jackson's Regiment of KY Cavalry lying on the side of the road leading from Ramsey to Greenville in McLean County, KY. That when they approached him and asked him if he was hurt, he stated that he was. He said his watch had been taken. They then asked him if he was a citizen of this part of the country, and he replied that he was a citizen of Frankfort, KY. They then asked him if he was a man of family, he replied that he was not. Johnson then asked Bacon if he was a religious man. He replied that he was not and asked Johnson to pray for him when he died. Bacon then prayed himself, after which he asked Johnson if he could write, that he desired his will be written, but Johnson having no writing materials could not comply with his request. Johnson then asked Capt. Bacon in the event he did not live to have his will written, in what way he desired to dispose of his property. Bacon replied that, after the payment of all his just debts, he 'willed' his entire property to his sister living in Frankfort, KY. who was an unmarried woman. They say that at the time of the above conversation, Capt. Bacon was evidently in the full possession of his faculties and entirely rational. They say that after this, he lived about twenty five or thirty minutes, and that he seemed to retain his faculties to the last moment." In testimony of which we here unto set our hands this 2nd day of January, 1862. Isaac Johnson Elizabeth Johnson
Captain Albert Gallatin Bacon died on December 28, 1861.

John and

Elizabeth

Ware Bacon were married for 18 years before John died in 1817, at the age of 50.

Betsey

passed away 32 years later on July 30, 1849.

She was 73.

The couple had provided many grandchildren for William and Sarah and great grandchildren for James and Agnes!

(Ref. 869, 874, 1024)
3. James Ware – A third child, named after William's father, arrived to William and Sarah on May 12, 1780. The four-year gap between the birth of Betsey and James can probably be attributed to the fighting going on in the Revolutionary War. In all likelihood, William was not at home much during those four years as we know he served in the Continental Army. Unfortunately, there is no further information available at this time on James except his birth date. It would lead us to suspect he died at birth or at an early age.
4. Agnes Ware - In 1783, with the war over and William home more often, it was not long before a fourth Ware grandchild was born for James and Agnes. On May 17, 1783, baby Agnes Ware arrived – almost assuredly named after her paternal grandmother. Sarah was 29 by this time, and William was 33. The spring had brought many reasons for the couple to celebrate. Not only did they have a new daughter to enjoy, but one month before her birth, on April 18th, fighting had ceased, and the Continental Army had officially disbanded. The Revolutionary War was over - - eight years (to the day) from when it began. Sarah had given birth in a country finally at peace.
Agnes married twice. Her first husband was Philemon Rowsey (often spelled Rouzee, Rowzee, or even Rouzes). (Ref. 874) They wed on July 29, 1805, and had one daughter named Maria.


Marriage notice for Agnes Ware
After Philemon passed away, Agnes married William Porter on February 19, 1820. He was a widower who had previously been married to Hannah Kennedy. The couple had at least two children: (1) Mary Hannah Porter (born February 10, 1822), who married Jesse Cooper; and (2) Rebecca Ware Porter (born December 1, 1826), who married Fleming Greenwood Dawson. Agnes died in October 1877 - at the advanced age of 94.
(5) Sarah Ware - In 1788, another daughter was born to William and Sarah. Fittingly, the baby was named after her mother. Sarah wed William Porter, Jr., on September 15, 1819 - thereby bringing the Porter and Ware families even closer. Her sister, Agnes Ware, was the wife of William Porter, and Sarah Blanton, (her niece by her Aunt Rebecca), wed John Porter.
Sarah and William had a son named Dudley Porter, Jr., who was a lawyer in Paris, Kentucky. They also had a daughter named Elizabeth, who "married J. D. C. Atkins who was a United States Senator and Commissioner of Indian Affairs under President Cleveland" from 1885 to 1888. (Ref. 1024) His full name was John DeWitt Clinton Atkins.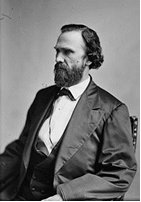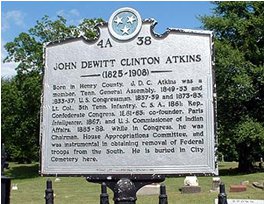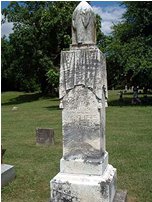 Honorable J. D. C. Atkins - Memorial - Grave for Elizabeth Bacon Porter Atkins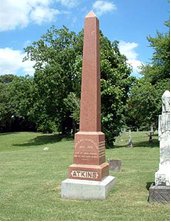 Grave for J.D.C. Atkins - Buried in Tennessee
(6)
Rebecca
–
The last child was born to

William

and Sarah on March 13, 1790.

They named her

Rebecca,

and at the age of 22, she married Willis Blanton on January 1, 1812.

Willis was "the son of John Blanton and Nancy Roberson, who lived near Grassy Springs Church, on the Versailles and Frankfort Road. Willis's father died before 1810 and his mother continued to live on their family estate with the help of at least 23 slaves.

The newlyweds lived on the estate with Nancy and inherited the land from her when the matriarch died."
(Ref. 873)
Willis, a surveyor, is credited with "surveying the line that separates Franklin and Woodford counties," and his surveying instruments have been lovingly passed on to his descendants.
(Ref. 1024)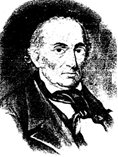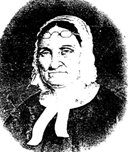 Willis Blanton and Rebecca Ware Blanton
The Blanton home must have been quite a showcase. William Railey described it as "a farm that adjoined the estate of Rev. Isaac Crutcher, on the summit of a hill that not only commands a view of the 'Big Eddy' and its romantic surroundings, but also overlooks all of the hills that surround Frankfort." (Ref. 1024)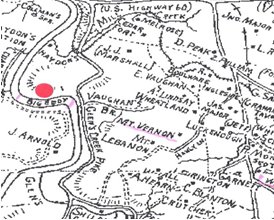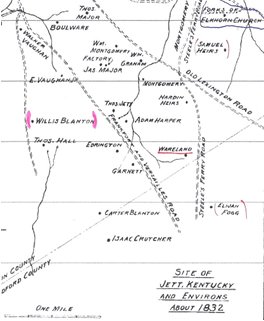 Map showing the "Big Eddy" located on the Kentucky River
Location of the property of Willis Blanton

Willis and Rebecca raised quite a large family in this lovely home:

(1) John William, (2) Sarah Ann, (3) Horace Thompson, (4) Elizabeth Ware, (5) Maria Louise, (6) Agnes Dorothy, and (7) Rebecca Willis.


John William Blanton – John, born September 18, 1813, married twice. On October 20, 1834, he wed Elizabeth Ann Samuel. They relocated to Tennessee and had the following six children before Elizabeth died (in 1850) at the age of 42: (1)
John William, (2)
Rebecca, (3)
Belle, (4)
Horace T., (5)
Churchill S., and (6)
John Jamison Blanton.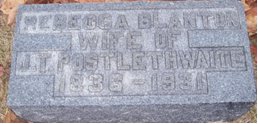 Grave for John's 1st wife, Elizabeth Ann Blanton Grave for Rebecca Blanton Postlethwaite
Daughter Rebecca was actually born a twin.

Her brother (named William Samuel) did not survive long - dying on his ninth birthday on September 30, 1845.

Rebecca lived to adulthood and married Lt. John. T. Postlethwaite.

She died in 1931 at the age of 95.
The following brief information is about the other children of John William Blanton and his wife, Elizabeth:
John W. Blanton (Sept. 1838- Oct. 1888)

Horace T. Blanton (1839-1929) was a captain in the Confederate Army.

Churchill S. Blanton (Jan. 22, 1842) married Maria E. Noble.

Belle Blanton (1844-1936) never married.

John Jamison Blanton (Jan. 22, 1848 – Oct. 18, 1864)

Richard Blanton (Sept. 16, 1850- March 5, 1861) lived only one year.
After

Elizabeth's death,

John

married Lucy Belle Buck on December 4, 1851.

He and Lucy added more children to the family home: William Blanton, who married Lucy Hunt, and Martha Buck Blanton, born on March 2, 1855.
John W. Blanton died on February 19, 1859 at the age of 47.
Markers for the whole Blanton family
Sarah Ann Blanton – Willis and Rebecca welcomed a baby daughter next - Sarah Ann Blanton. Born in the winter, on December 11, 1815, Sarah married John Campbell Porter on April 14, 1834. John was the brother of William Porter, Jr., who would marry her younger sister. The Porters lived in Tennessee, and their children were (1) Agnes Porter, (2) James William Porter, (3) W. S. Porter, and (4) George M. Porter. Sarah died (at age 79) on January 11, 1894.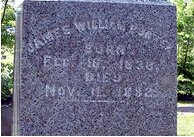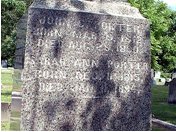 James William Porter, son of Sarah Ann and John Grave for Sarah Ann Porter and John C. Porter
Horace Thompson Blanton – Rebecca next gave birth to a son named Horace. Born on July 18, 1818, Horace married four times. He and his first wife, Martha Lamb, had one daughter named Martha. Horace next wed Eliza Thompson, and they had two sons - John William Blanton and Edward Thompson Blanton. "John was the grandson who inherited Willis Blanton's surveying instruments." (Ref. 1024)



Grave for John William Blanton Grave for Elizabeth Blanton Fox
Horace's third wife, Mrs. Susan Currier Kane, was the widow of John Kane of Ireland. Horace and Susan had a daughter named Elizabeth. She married Richard A. Fox from Virginia.
The last wife for Horace Blanton was Henrietta Stevens. They had three children: (1) Nettie Blanton who never married; (2) Horace Blanton, Jr., (born 1866), who died in his 17th year; and (3) Mary Blanton (born 1868), who wed Lewis Postlethwaite.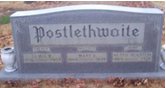 Grave for Lewis and Mary Postlethwaite – also Nettie Blanton

Elizabeth Ware Blanton – Born on February 24, 1821, Elizabeth Ware Blanton married John Y. Mills on January 13, 1849, at the age of 28. She died on January 6, 1910.

Maria Louise Blanton – Three years after the birth of Elizabeth, on September 20, 1823, Rebecca delivered Maria. At age 26, Maria wed Nathaniel Currier from Massachusetts on June 13, 1849. The couple had seven children: (1) David Willis Currier (1852-1854), (2) Horace Chase Currier (1853-1866), (3) Sallie Rebecca Currier (1855-1858), (4) John Thomas Currier (1856 – 1938), (5) Nathaniel Currier (1858-1859), (6) Bettie Mills Currier (1861-1922), and (7) Maria Louise Currier (1867-1868). Maria died around 1906.

Agnes Dorothy Blanton - Agnes was born on October 29, 1829.

Rebecca Willis Blanton – Most records state that a last daughter, Rebecca Willis Blanton, was born in 1830 but died young. There is, however, very little data on either Agnes or Rebecca – these last two daughters of the Blantons. (Ref. 873, 874)

Rebecca and Willis Blanton provided many grandchildren for William and Sarah and great grandchildren for James and Agnes - a minimum of 27! At some point, Willis sold his property to the Crutcher family. "Located on the Versailles and Frankfort Road, in full view of the church, it soon became known as the 'Levi Crutcher' home." (Ref. 1024, 2291) Rebecca Ware Blanton predeceased her husband by one year, dying on August 6, 1858. The graves of both Willis and Rebecca are so damaged as to be indecipherable.

With the birth of Rebecca in 1790, William and his wife were through having children. He had served his country well during the Revolutionary War and legitimately earned the title of "Patriot."

Patriots Buried in Kentucky

He could now devote his energies more fully to home, church, and community. It was not long before William decided to leave his birth state of Virginia and travel with the majority of his family to Kentucky, where the land grants he earned for military service offered great possibilities for the future.
Even though we know William was given his own warrant for land in Jefferson County, it made sense for him to sell it because he, ultimately, "took charge of his father's estate, named Wareland, after James passed away." (Ref. 379) One record states specifically that "after the death of James, his son, William, took over Wareland and was influential in the affairs of the community." (Ref. 2219)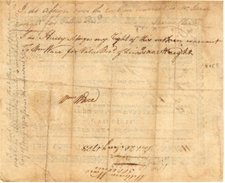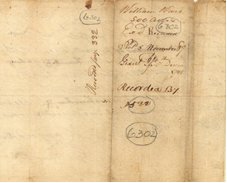 "Land bounties were not automatically issued to veterans. They had to be applied for. Successful applications were issued warrants, which confirmed eligibility for a certain amount of property. The warrant could usually be transferred or sold, and frequently was." (Ref. Genealogy writer; Sunny McClellan Morton )
It did not take long for William and Sarah to take prominent roles in the forming of the Forks of Elkhorn Baptist Church. The church records, for the years 1788 through 1800, provide names of the following family members belonging to this congregation: James Ware, Edmund Ware, William Ware, and Sally Ware. (Ref. 2284) In fact, "The Records of the Forks of Elkhorn Baptist Church for 1800-1803" state that in May of 1801, "a meeting was held at William Ware's." Later, in 1812, when there was movement to find a location for a new meetinghouse, William Ware was a key member of the committee dealing with those decisions. (Ref. 2291) He served with men like John Price, Silas Noel, Carter Blanton, William Samuel, John Major, and Joseph Edrington. (Ref. 2291)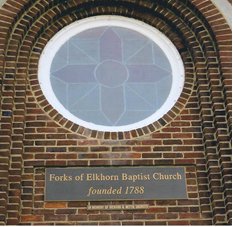 Front of the Forks of Elkhorn Church
Photo taken by Judy C. Ware 2009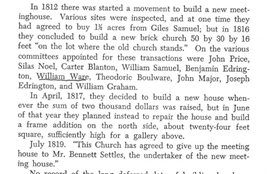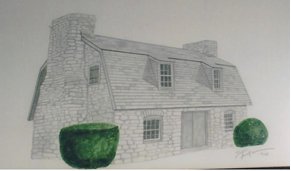 Notice of plans for new meetinghouse

Sketch of early Forks of Elkhorn Church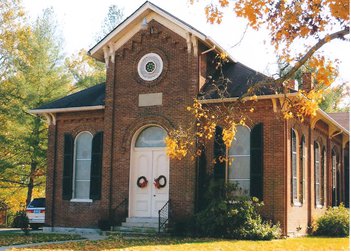 Forks of Elkhorn Church, founded in 1788
In addition to church activities, William poured a lot of his energy into Wareland from the very beginning. The following tax records validate his ownership of the land with his father - showing that they were paying taxes on the property as early as 1791. They also show that, by 1796, only William and Samuel were responsible for the taxes, making it clear that James had passed away by then.
    
    
    
   
(Ref. 2526)

  
William took his civic responsibilities seriously as well. He was appointed as a Justice of the Peace for Franklin County in 1795, and the following document shows how he was, indeed, becoming "influential in the affairs of the community."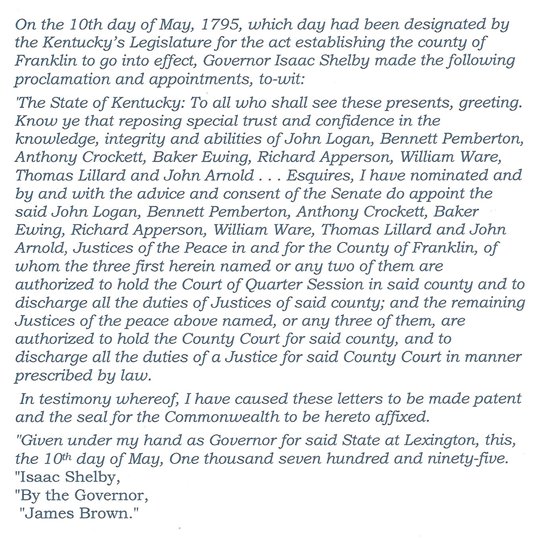 (Taken from The History of Franklin County)
The ceremonies of the day were closed with a fine display of fireworks on the river 
front. 

 

A large number of papers giving an historical account of many interesting 
things connected with a history of the city were contributed . . . and Rev. Philip S. 
Fall, [one] of the oldest citizens of Frankfort at that time, each contributed an article. 
Scores of other valuable articles giving a history of the different churches, secret 
orders, courts, and in fact, almost everything that had happened in Frankfort during 
the century were repaired and sent in to be fik'd as a part of the archives of the city, 
but on account of the gross and almost criminal negligence of the city authorities,
nearly all of these records were destroyed, about the only thing left was the 
centennial register which was turned over to the Historical Society and filed with the 
archives of the society. The loss by the city and county by reason of the destruction 
of these papers is inestimable." 

(Ref. 2259)
William had been living with his family on a section of his father's estate since marriage. He and Sarah both died in 1829, and according to DAR records, William was "buried at Wareland." (Ref. 2005, 2095) Deeds found on file in Woodford County show that after his death, the next in line to own Wareland was his firstborn son, Samuel Ware. Like his father, Samuel [had] lived "on a part of his father's estate" all his life. (Ref. 1024)
The senior Wares must have found great comfort in having William and his large 
family living close by.

  

Even with advance preparations, it would require a lot of hard 
physical labor to clear the land, cultivate the fields, and turn their dream into a 
reality.

  

By the time James Ware I was paying those taxes in 1791, he was 77 years 
old!

  

The vast property that he claimed would demand much from its owners in 
those first formative years, but the family blood, sweat, and tears only made the soil 
that much richer for future generations. 
 

Wareland property as of 2012
All photos of the current Wareland property seen below were kindly and graciously made available through one of the current owners, Crit Blackburn Luallen – the great (X 6) granddaughter of James and Agnes Todd Ware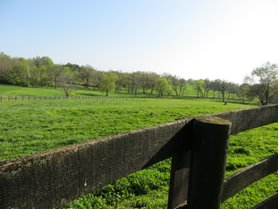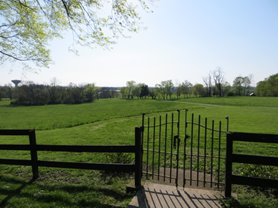 Wareland – the view that James & Agnes had from their front porch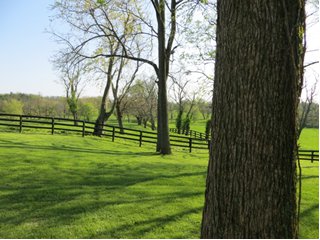 If only trees could talk!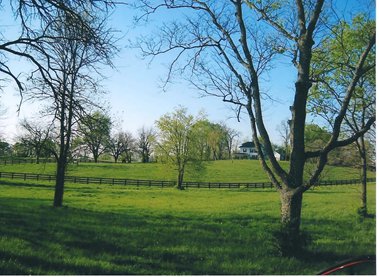 Photos taken by Judy & James Ware 2012
Supporting Documentation for Chapter 8

CHILDREN OF:

WILLIAM WARE

and

SARAH SAMUEL
B. March 29, 1750

B. 1754
D. Sept. 10, 1829

D. Sept. 10, 1829
William was the son of James Ware I and his wife Agnes Todd Ware.

He married Sarah Samuel.

William inherited his father's property called Wareland.
(1)

Samuel Ware

(July 3, 1775 - Sept. 12, 1846) wed (a.) Elizabeth Read on June 10, 1801; (b.) Elizabeth Bullock Redd on Jan. 21, 1823; and (c.) Mary A. Jennings in July 1834.

(1024)

(2)

Elizabeth

(Betsey) Ware (May 30, 1776 - July 30, 1849) wed John Bacon on May 31, 1799.
(3)

James Ware

was born May 12, 1780.
(4)

Agnes Ware

– (May 17, 1783 - Oct. 1877)

wed (1) Philemon Rowsey on July 29, 1805 and (2) William Porter on February 19, 1820.

(5)

Sarah (called Sally) Ware

– (1788 - ) wed William Porter Jr., on Sept. 15, 1819.
(6)

Rebecca Ware

– (March 13, 1789 - Aug. 6, 1858) wed Willis Blanton on

January 1, 1812.

CHILDREN OF:

SAMUEL WARE

AND

ELIZABETH READ (1ST WIFE)

B. July 3, 1775

B. Sept. 2, 1778

D. Sept. 12, 1846

D. Aug. 30, 1814

Samuel was the oldest son of William Ware and Sarah Samuel Ware and the grandson of James Ware I and his wife Agnes Todd Ware.

Elizabeth Read was his first wife, and they were married on June 10, 1801.

(1)

James Read Ware (May 30, 1803 - Sept. 22, 1857)
(2)

Lucy Ware (April 7, 1805 - May 1817)

at age 12
(3)

Agnes Ware (Nov. 16, 1806 - Feb. 17, 1882) wed Thomas Bullock on

Nov. 22, 1824.
(4) Hankerson Favor Ware (April 26, 1808 – 1808)
(5) Hankerson Read Ware (Sept. 3, 1809 - Jan. 9, 1849)
(6) William Samuel Ware (March 10, 1811 - Aug. 2, 1860)
(7) Ann Richardson Ware (Dec. 7, 1812 - April 1892) wed Capt. Elijah Fogg on July 21, 1833
CHILDREN OF: SAMUEL WARE

and

ELIZABETH BULLOCK REDD

(2ND

WIFE)

B. July 3, 1775

B. Sept. 2, 1778

D. Sept. 12, 1846

D. Aug. 1833
Samuel was the oldest son of William Ware and Sarah Samuel Ware and the grandson of James Ware I and Agnes Todd Ware.

Elizabeth Redd was his second wife, and they were married on January 21, 1823.

Samuel married a third time (July 1834) to Mary A. Jennings.

(1)Elizabeth Redd Ware (Jan. 14, 1824 - June 6, 1875) wed John Benjamin Utterback

CHILDREN OF:

AGNES WARE

and

THOMAS BULLOCK

B. Nov. 16, 1806

B. July 27, 1803

D. Feb. 17, 1882

D. Jan. 18, 1888

Agnes was the granddaughter of James Ware I and his wife, Agnes Todd Ware.

She married Thomas Bullock in 1824.
(1)

Lucy Anne Bullock (Sept. 28, 1825 - Oct. 15, 1914) wed John Jonas Davenport on Aug. 23, 1843.

Lucy and John had fraternal twins.
(2)

William Samuel Bullock (May 12, 1827 - Oct. 26, 1906) wed Mary Ann Mitchell on Oct. 14, 1852.
(3)

James Porter Bullock (May 24, 1829 – 1888) wed Mary J. Powell.
(4)

Thomas Bullock Jr., (Aug. 15, 1831 - March 11, 1905) wed Nancy J. Mitchell in 1861.
(5) Elizabeth Bullock (Jan. 26, 1834)

(6) Henry S. Bullock (Apr. 16, 1836 - Aug. 2, 1889)
(7) Robert Bullock (Apr. 9, 1838 - Sept. 1, 1838) was a twin.
(8) Sarah Bullock (Apr. 9, 1838 - Sept. 3, 1838) was a twin.
(9) Mary Ware Bullock (Apr. 14, 1840 - June 27, 1932) wed Christopher David Chenault on Sept 5, 1865.
(10) Charles B. Bullock (July 18, 1842)
(11) John J. Hardin Bullock (Feb. 13, 1845 - Aug. 25, 1846)
(12) Horace Bullock (July 4, 1847 - July 17, 1911) wed Adah M. in 1897.
(13) Hankerson Bullock (May 6, 1850 - May 15, 1856)
Bullock Family Bible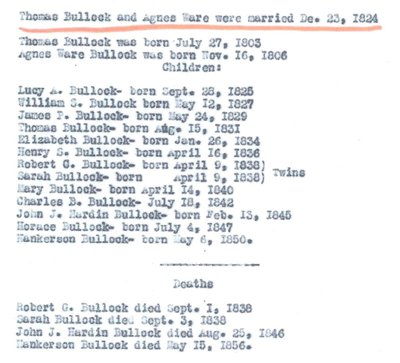 CHILDREN OF:

ANN RICHARDSON WARE

and

Capt. ELIJAH FOGG

B. Dec. 7, 1812

B. July 22, 1803

D. April 1892

D. Oct. 29, 1880

Ann Richardson Ware was the daughter of Samuel Ware and his wife, Elizabeth Read Ware, granddaughter of William Ware and his wife, Sarah Samuel Ware, and great granddaughter of James Ware I and his wife, Agnes Todd Ware.

Ann married Elijah Fogg on July 21, 1833.

(1)

Elizabeth (Betty) D. Fogg (July 11, 1838 - Jan. 3, 1929) wed Anderson Chenault on Mar. 15, 1867.
(2)

William Samuel Ware Fogg (Mar. 29, 1841 - Nov. 6, 1906) wed Frances Gibson Gaines on Feb. 9, 1871.
(3)

Sarah (Agnes) Fogg (Oct. 14, 1844 - Dec. 21, 1917) wed Capt. Thomas

Steele on Nov. 21, 1867.
(4)

Annie B. Fogg (Dec. 25, 1848 - May 27, 1927) wed William Gibson Welch

on Nov. 12, 1868.
(5)

Virginia (Jennie) Jackson Fogg (Mar. 22, 1851 - Aug. 26, 1935) wed Oakley Thompson on Feb. 20, 1877.
(6)

Richard Jackson Fogg (May 3, 1853 - ) wed Susie Hawkins on

Dec. 9, 1879.

(Ref. 961)
Bible owned by Ann Richardson Ware Fogg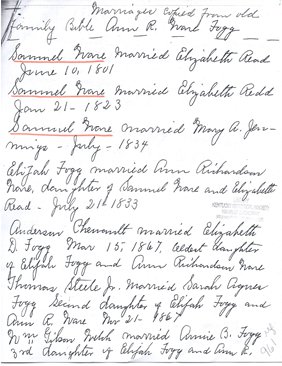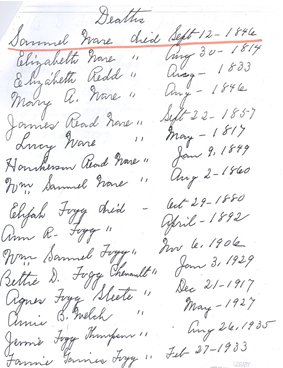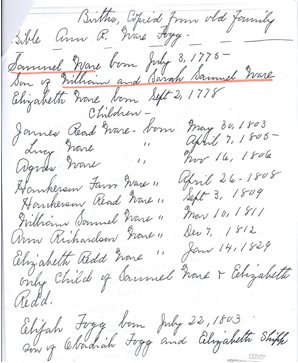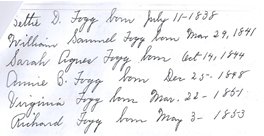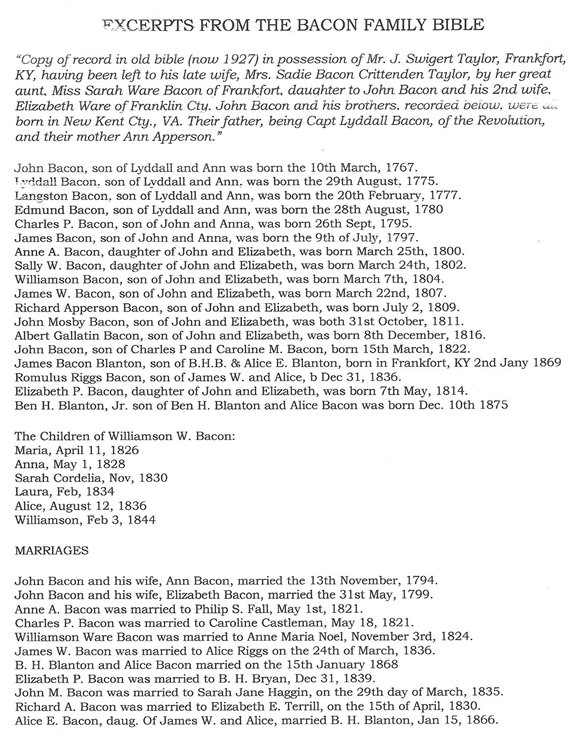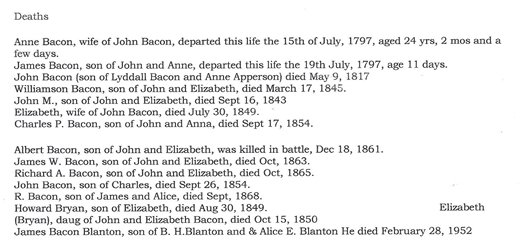 CHILDREN OF:

John Bacon

and

Elizabeth (Betsey) Ware
B. March 10, 1767

B. May 30, 1776
D.

May 9, 1817

D. July 30, 1849

Elizabeth was the daughter of William and Sarah Samuel Ware.

She was also the granddaughter of James Ware I and Agnes.

She married John Bacon on May 30, 1799.

(1)

Anne Apperson Bacon (March 25, 1800 - Oct. 20, 1888) wed Rev. Philip Slater Fall on May 1, 1821.
(2)

Sarah (Sally) Ware Bacon (March 24, 1802 - March 27, 1886)
(3)

Williamson Ware Bacon (March 7, 1804 - March 17, 1845) wed Anna Maria Noel on Nov. 3, 1824.
(4)

Dr. James Ware Bacon (March 22, 1807 - Oct. 2, 1863) wed Alice Riggs

on March 24, 1836.

(5)

Richard Apperson Bacon (July 2, 1809 - Oct. 1865) wed Elizabeth Ellen

Terrill on April 15, 1830.
(6)

John Mosby Bacon (Oct. 31, 1811 - Sept. 16, 1843) wed Sarah Jane

Haggin on March 29, 1835.
(7)

Elizabeth P. Bacon (May 7, 1814 - Oct. 15, 1850) wed Benjamin Howard Bryan on Dec. 31, 1839.
(8) Capt. Albert Gallatin Bacon (Dec. 8, 1816 - Dec. 28, 1861)

CHILDREN OF

REBECCA WARE

and

WILLIS BLANTON

B.

March 13, 1789

B. April 11, 1787

D.

Aug. 6, 1858

D. March 6, 1859

Rebecca, the daughter of William Ware and Sarah Samuel Ware, was also the granddaughter of James Ware I and Agnes Todd Ware.

She married Willis Blanton on January 1, 1812.

(1) John William Blanton (Sept. 18, 1813 - Feb. 19, 1859) wed (a) Elizabeth Ann Samuel on Oct. 20, 1834, and (b) Lucy Buck on Dec. 4, 1851.
(2) Sarah Ann Blanton (Dec. 10, 1815 - ) wed John Porter, the brother of William Porter Jr.
(3) Horace Thompson Blanton (July 18, 1818 - after 1868) wed (a) Martha Lamb, (b) Eliza Thompson, (c) Mrs. John Kane, (d) Henrietta Stevens.
(4) Elizabeth Ware Blanton (Feb. 24, 1821) wed John Y. Mills on January 13, 1849.
(5) Maria Louise Blanton (Sept. 20, 1823 – 1906) wed Nathaniel Currier on June 13, 1849.
(6) Agnes Dorothy Blanton (1827 - )
(7) Rebecca Willis Blanton (1830- died young)