Transcription of March 26, 1862 Letter From General Robert E. Lee to Josiah Ware
Transcribed by Judy C. Ware
© Judy C. Ware March 2009
Original letter on file in the RB Hayes Library
---
Headquarters Richmond, Virginia 26 March 1862
Col. J.W. Ware
Col:
In reply to your letter of the 24th instant (of this month) to His Excellency the President & referred to me, I would respectfully refer you to the recent "acts" of Congress and the Legislature of Virginia by both of which the matter of re-enlistments has lately been made the subject of legislation. The Honorable Secretary of War has decided and ordered that the recruiting of all new organizations within the limits of this state should cease until the quota of Virginians have been filled.
I am very much Your obedient servant RE Lee General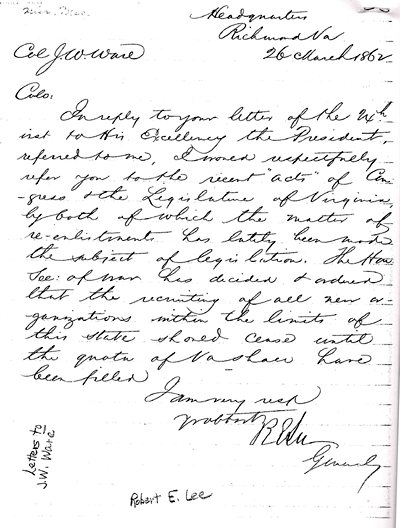 *** In March of 1862, Lee had traveled to Richmond Virginia to become military advisor to Confederate President Jefferson Davis. He was not put in full charge of the Army of Northern Virginia until June of that year.