COMPENSATION & SAFEGUARD LETTER FROM COL. A. T. McREYNOLDS TO JOSIAH WARE DATED APRIL 6, 1863
Transcribed by: Judith C. Ware
© Judy C. Ware Sept., 2008
Original copy owned by Jane and Scott Dudgeon
It is interesting to note that, later in the war, Col. McReynolds got into a great deal of trouble for his leniency with the South – exactly what this letter is about.
ARREST OF THE COMMANDER OF THE POST AT MARTINSBURG.—COL. MCREYNOLDS, of the 1st New York cavalry, known as the Lincoln cavalry, commander of the post of Martinsburg, Va., is in this city under arrest. The charges against Colonel McReynolds are that he has permitted rebel officers to promenade in Martinsburg unmolested, and that he has permitted and directed goods to be taken through Martinsburg without an examination by the provost marshal.
The charges against him were later dropped and he went on to serve honorably in the Union army.
---
Headquarters U.S. Forces
Berryville, VA, April 6, 1863
Dear Sir:
I have received your note and duly appreciate the disadvantages to which you have been, as I think, unjustly subjected. In the presence of an army it is difficult to avoid intrusion to a greater or less extent. My purpose however, is as has always been my policy when uncontrolled by higher power, to avoid every species of interference of that person or property of non-offending citizens, and in fact in all cases where a positive military necessity does not render a different course absolutely imperative. As to your negroes I have never interfered in any wise with that class and do not intend to, believing as I do that a large majority of them have much more real happiness where they are than they will experience in the east, north, or west. No officer or man of my command has any authority to interfere with your private property, not so long as you remain unoffending with your person. General Banks parole should be a sufficient protection but at your solicitation I now forward you a safeguard.
Respectfully yours,
Andrew T. McReynolds
Col. 1st New York Cavalry, Commanding
J.W. Ware, Esquire,

near Berryville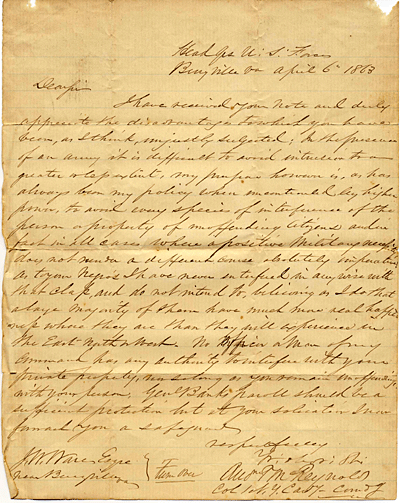 ---
***I would like to thank Jane & Scott Dudgeon for allowing me to copy & transcribe this letter for my historical research. I am deeply grateful.
*** Placement of family photographs and visual graphics accompanying this piece are the fine work of John Reagan who has been an invaluable help in setting up a website for me entitled Ware Genealogy at www.waregenealogy.com. I will forever be grateful for his expertise and kindness.