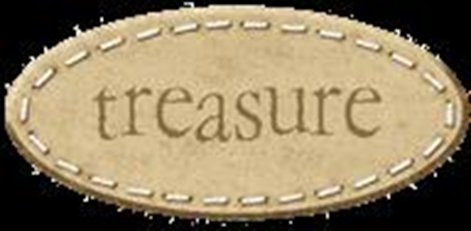 TREASURES OF WARE FAMILY HISTORY

Inspired by LETTERS OF CORNELIA WARE ANKER

Researched and written by Judy C. Ware © 2014

Cornelia Ware Anker was the daughter of Reverend and Mrs. Sigismund Stribling Ware and the granddaughter of Josiah William Ware and his second wife, Edmonia Jaquelin Smith Ware. Given the full name of Margaret Cornelia Ware, she was born on May 22, 1887 in Virginia. Her father was an ordained priest in the Episcopal Church, and Cornelia was the only child of her parent's union who survived to adulthood. She married John Anker and became "a statistician for the U.S. Government. The Ankers lived for 35 years in McLean, Virginia. When Anker retired, the couple worked for the Episcopal Church in the Blue Ridge Mountains for three years and in missions in Gloucester County, Virginia. John Anker died in 1962 leaving no children. Mrs. Anker moved into Goodwin House, Alexandria and died in 1978." (Ref. 2384)

The idea behind Goodwin House began when the Episcopal Church in the Diocese of Virginia acquired its first home for older adults in Richmond in the 1950s. Goodwin House was unusual for its day in being one of the first purpose-built continuing care communities in the country. In the 1970s and 1980s, Goodwin House Alexandria became a sought-after place to live.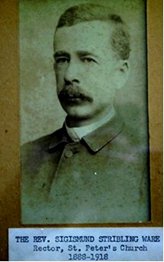 Sigismund Stribling Ware
According to Cornelia, her father, Sigismund Ware, was given a packet of old family letters "from a distant relative, Mrs. Bergland, of Baltimore, who said that she wanted someone in the Ware family to have them who would value and preserve them."
Cornelia's grandfather, Josiah Ware, had always had a deep love of family history, and this trait was clearly passed down to both his son and his granddaughter. Cornelia not only honored her father's wishes concerning the old documents, but she went even further. She decided to write down her own personal memories and recollections of family members and the times in which she lived. It is through her wonderful words that we can learn so much about the Ware family history.
The following manuscript contains an exact copy of Cornelia's original writings with the exception of typing errors that have been corrected and misspelled words that have (hopefully) been adjusted. I have broken down her work into paragraphs (notated with a

) with the goal of adding new information I have researched and found to augment her statements or clarify any confusing parts. (In rare instances, her quotes were just speculations or "hearsay" passed down as oral history. We now have proof to supplement what she wrote.) My expansion of this cherished piece of literature is also an attempt to make available to other researchers some vital documents and information that I have been entrusted with by my predecessors. There is great fear that these treasures will be 'lost to time' if not made available to others. As with any genealogist, my deepest hope is that some family researcher, in years to come, will feel as appreciative about my contributions here as I most certainly am about Cornelia's. I will footnote the references I use since, unlike Cornelia, my information cannot come from memory.
In addition – Cornelia wrote a follow-up letter in 1948 to add to the one she had written before and to correct some mistakes. The vast majority of the writing is an exact copy of the same information written in the first letter. Any new information or clarifications she made in her second copy I have included in the text here within.
In the following chapters, the type color of black indicates Cornelia's words, blue text is my own writing, and red indicates where I have found errors or clarification in her work. The numbers relate to paragraphs or noticeable breaks in her writing.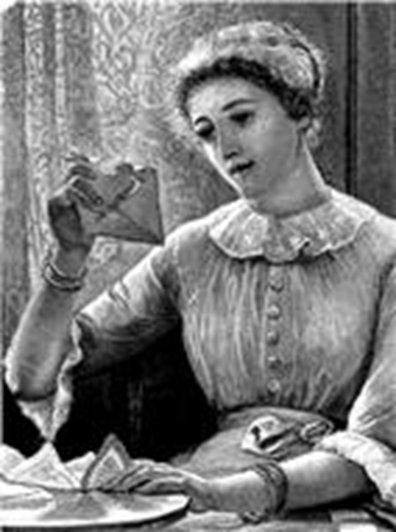 This work is copyrighted but happily made available for all family researchers and genealogists to use – with the simple request that proper credit be given when quoting it or using it as a source. This has been the final result of over 30 years of research and devoted time.
© Judy C. Ware 2014