Background Information on Senator John C. Calhoun
By: Judith C. Ware
February 2009
© Judy C. Ware
During the early and mid 1800's, there were 3 men who helped shape American history in a very profound way. Each held tremendous political power and yet none of these three men ever attained the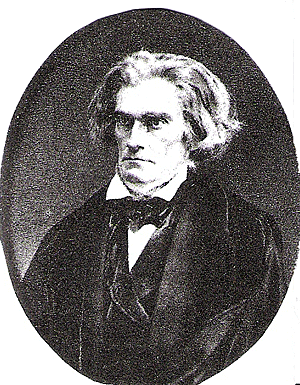 office of the Presidency. It certainly was not for lack of trying. These men were John C. Calhoun, Daniel Webster, and Henry Clay. Together they were often referred to as the "Great Triumvirate" for their outstanding oratory and statesmanship qualities.
John Caldwell Calhoun was born on March 18, 1782 in South Carolina. He received his education at Yale College and earned his degree from there in 1804. Of the three great politicians, Calhoun and Webster were the same age and Henry Clay was the eldest. Josiah Ware was at least 20 years younger than all of them.
John Calhoun was elected to Congress in 1810. Henry Clay was already leading a group of "War Hawks" who were supporting what would later be called the War of 1812. He and Calhoun served together in this effort. By 1817, President James Monroe appointed Calhoun to be Secretary of War and he served in this capacity until 1825. The three great orators (Clay, Webster, and Calhoun) were the backbone of the Whig party.
As with Webster and Clay, John Calhoun had aspirations for the Presidency. He discovered, however, that his future rested in the role of Vice President instead. He served as Vice President for John Quincy Adams from 1824 to 1828. He then became one of only two people to ever serve as Vice President under two different presidents when he was elected with Andrew Jackson in 1828. His relationship with Jackson became very strained, however, and in 1832 Calhoun became the first politician to resign from the Vice Presidency. He decided to run for the Senate and represent his home state of South Carolina. It was in this role that he would achieve his greatest notoriety.
With his roots deeply embedded in the South, it is no surprise that John Calhoun was a strong supporter of slavery. It was in this area that he broke with Henry Clay and Daniel Webster. Calhoun was a radical believer in white supremacy; not only supporting the institution but actually believing that it represented a "positive good." He is most famous for his fire-breathing speeches on state's rights. In one of his last appearances before the Senate, Calhoun gave an "uncompromising diatribe against the North." He died before the Civil War in 1850 of tuberculosis, but his speeches continued to fuel the divide between the North and the South.
The correspondence between Josiah and Calhoun (dated 1836) does not shed much light on their relationship, but he did offer to send Josiah some copies of his speeches.
References:
John C. Calhoun by: Charles M. Wiltse, 3 vols. 1944-51.
A Biography of John C. Calhoun by: Irving H. Bartlett, 1993
Wikipedia 2009
Team of Rivals by: Doris Kearns Goodwin, copyright 2005, Blithedale Productions, Inc., Simon & Schuster Paperbacks