Background Information on
Speaker of the House Henry Clay
By: Judith C. Ware
January 2009
© Judy C. Ware
During the early and mid-1800's, there were 3 men who helped shape American history in a very profound way. Each held tremendous political power and yet none of these three men ever attained the office of the Presidency. It certainly was not for lack of trying. These men were John C. Calhoun, Daniel Webster, and Henry Clay. Together they were often referred to as the "Great Triumvirate" for their outstanding oratory and statesmanship qualities.
Henry Clay was born in 1777 in Virginia and attained his legal educat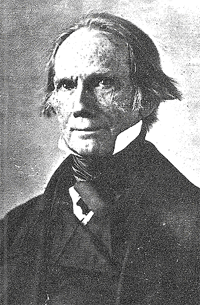 ion at the College of William and Mary. In 1797, he set up legal practice in Lexington, Kentucky where his parents then resided. It is of interest to note that his parents settled in Versailles, Kentucky which is the exact area that Josiah's grandfather (along with most of his children ) settled. In a letter to future President Hayes in 1876, Josiah wrote, "My grandfather Ware moved to Kentucky; Uncle Thompson settled near Paris, Uncle Charles settled near Versailles, Uncle George in the homestead, Aunt Lucy Webb the farm adjoining, Aunt Polly Webb near Paris, & Aunt Catherine Scott in Frankfort, Kentucky." This migration of the Ware family from Virginia to Kentucky took place around 1791 and Henry Clay moved from Virginia to Kentucky in 1797.
There is further evidence of the closeness of the Clay family to the Wares by some of the marriages that subsequently took place. Josiah's cousin Davidella Ware married Asa Kentucky Lewis Bedford on May 8, 1834. He was the 2nd cousin, once removed, of Henry Clay. Josiah's cousin Lucy C. Ware married Henry Bedford in Oct. of 1829 and he was another 2nd cousin, once removed, of Henry Clay. And yet another cousin, James T. Ware, married a girl named Patsy Bedford who was another 2nd cousin.
At the time of the letter that Henry Clay wrote to Josiah (1836), Clay was in the spotlight for numerous Presidential nominations. He was nominated in 1824 (but John Quincy Adams won), in 1832 (but Andrew Jackson won), in 1840 (but William Henry Harrison won), in 1844 (but James K. Polk won), and in 1848 (but Zachary Taylor won). As one author wrote, "No American was ever better loved and received fewer votes than Henry Clay." His inability to get elected to the Presidency certainly did not hinder his political service though.
Henry Clay served as a Senator for two short terms (1806-1807 and 1810-1811) and also as the 8th, 10th, and 13th Speaker of the United States House of Representatives. He had the great distinction of being chosen Speaker of the House on the first day of his first session, something that had never been done previously and has never been accomplished since. His service as Speaker of the House turned that position into one of great power; second only to the President. He also was the first person to "lie in state" in the Capitol rotunda when he passed away.
Henry Clay lived his life with an intensity and passion that guaranteed him a place in the history books.

In his earlier youth he actually participated in two duels, and his dramatic flair showed through in all his speeches.

As a skilled orator, Clay drew tremendous crowds whenever he spoke, and they would often erupt into enthusiastic applause.

He, thus, had a profound influence on the governmental system.

He was beloved by many and yet he and Andrew Jackson literally despised each other.
Clay retired to his family home called Ashland (which he mentioned in the letter to Josiah) and died of tuberculosis.
References:
Letter from Josiah Ware to Gov. Hayes July 16, 1876
Wikipedia 2009
Henry Clay and the Art of American Politics Eaton, Clement. (1957)