Chapter 2
Early Years of James Ware II
James Ware II was born on March 13, 1741/2, in Gloucester County, Virginia. (See previous page for double dating information.) He was the third child in the family; having two older brothers named John and Nicholas, three younger brothers named Richard, William, and Edmund, and one sister named Clara (everyone called her Clary). (Ref. 386 & 415) Both of his parents were 28 years old at the time of his birth.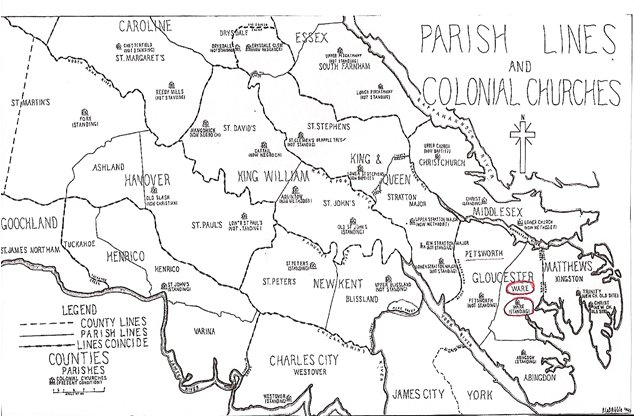 Map showing Ware Parish
Several references have stated that James was "one of the handsomest men in the state and one of the finest looking men to be found anywhere." (Ref. 2, 6, 2095) He later studied medicine and moved to Caroline County to set up his practice. (Ref. 2, 6, 2095)
It was in this county that James met Virginia Catherine Todd, a close neighbor. Her nickname was Caty (sometimes spelled Katy) and she "was the daughter of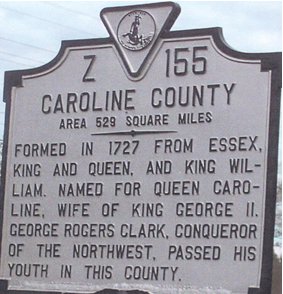 <![if !vml]><![endif]> Historical marker
Dr. James Todd, an eminent physician and a Scotchman." (Ref. 2, 6, 874) According to a letter from Cornelia Ware Anker, written in the early 1940s, "James was born and lived the early part of his life in Gloucester County, Virginia. He studied medicine, moved to Caroline County to practice, and it was there he met his future wife, Virginia Catherine Todd." (Ref. 2,35G)
Even in a time when it was not unusual for women to marry young, Caty Todd, born on February 9, 1753, entered matrimony at a very early age. She and James married in 1767, with James being 26 and Caty not quite 14 at the time! (Ref. 2,35G, 602, 621,874) In a letter written in 1831 by their son, Charles Ware, he stated that his parents "were married early in life, particularly your grandmother (before she was 14 years old.)" (Ref. 35G)
The newlyweds remained in Caroline County until their first son, Thompson, was born in 1769. They then moved to Frederick County and continued to live there until 1791. (Ref. 35G)
Frederick County, located in what is considered the heart of the Shenandoah Valley, was an area of great attraction to prominent landowners from the Tidewater region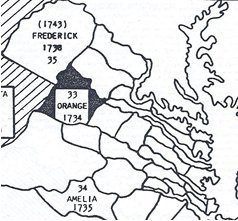 <![if !vml]><![endif]>Area in blue shows location of Caroline County

of Virginia. "The

appeal of the Valley to these men was clear. For some, a cooler, drier climate meant a healthier life." (Ref. 48) Diseases such as malaria were a profound fear for the colonists who lived around the lowlands surrounding Williamsburg. Located by large bodies of water, this area provided a perfect breeding ground for the mosquitoes which carried the malaria parasite to humans. The land further north had fewer mosquitoes and it also offered relief from the stifling humidity that usually accompanied these insidious pests.

In addition to a lower mortality rate from malaria, the fertile soil and rolling meadows of Frederick County promised prosperity for whoever laid claim to the land. As John Page, a former governor of Virginia, once reported, "the gentlemen who have moved from Gloucester to Frederick make near five times as much there as they did down here." (Ref. 48) It is not surprising that James and Caty wanted to provide this hopeful future for their growing family.

Caty soon gave birth to a second son in Frederick County. Named after both his father and grandfather, James Ware III was born on January 13, 1771. (Ref. 1) He was followed shortly by a daughter named Mary Todd (called Polly) Ware in 1772, another daughter in 1773 named Lucy, a son named Charles in 1775, a daughter named Catherine (who was called Kitty) in 1777, and finally, a last son named George in 1779. (Ref. 56, 173)

The colony of Virginia was in great turmoil during the time Caty was pregnant with most of her children. It must have been a worrisome time to bring new life into the world. Lucy was born the year of the Boston Tea Party, Charles was born when the first shot

was fired in 1775, Kitty was born while the war still raged in 1777, and even baby George was born before the fighting finally ceased and peace was won. As Thomas Paine wrote in 1776, "These are the times that try men's souls." It certainly must have felt that way sometimes.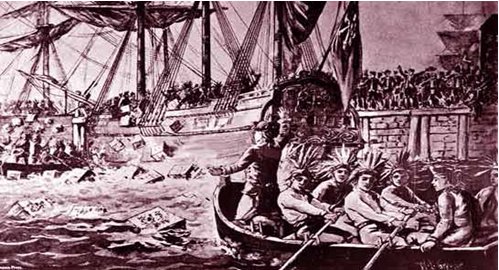 Painting of the Boston Tea Party
Courtesy of the Boston Tea Party Historical Society
In addition to her children, Caty, most assuredly, must have worried about her husband since we know that James served as a Patriot during the war. According to several records of the DAR, "James Ware (born on March 13, 1741 – died 1820 in Kentucky) was a soldier in the Cavalry of Virginia." (Ref. 692,978) His skills as a doctor were probably in great demand during the arduous years of battle.
DAR RECORDS FOR JAMES WARE II


On January 8, 1782, it is recorded that James, "along with Edward Smith and other inhabitants of Winchester, communicated with the Executive of Virginia. They were setting forth reasons why the British prisoners [being held] in barracks near Winchester should not be moved." (Ref. 372) (Calendar of VA state papers) Before the year ended, John Adams, John Jay, and Benjamin Franklin negotiated the Treaty of Paris; thus ending the eight-year war with Great Britain. Peace was finally at hand.
Dr. Ware not only did military service in Winchester, but he and Caty had their home there. Winchester was the county seat for Frederick County. George Washington had done quite a bit of survey work in this area of Virginia in his younger years, and in 1756, he supervised construction of Fort Loudoun, the most formidable fort on Virginia's colonial frontier. It served as the command center for the Virginia Regiment and made the town invaluable to the region. "There is a deed on file in the courthouse there for property bought by James Ware in 1781. The deed conveys to him half an acre of land in Winchester, Virginia for 2,000 pounds of tobacco; Virginia money." (Ref. 2, 334)
The Ware family grew and prospered during their time in northern Virginia. Cornelia Ware Anker made an interesting observation in transcribing some of her old Ware family letters that had been passed down through the family from the late 1700's.
"In reading the old letters, punctuation is almost nonexistent, with capitals thrown in indiscriminately, but one thing I notice is that there are three words that are unfailingly capitalized, namely 'Money', 'Interest' and 'Horse'. These old Wares had the greatest respect for 'Property' and the love of good horses is in our blood." (Ref. 2)
Frederick County offered the perfect environment for both.
Alexander Mackay-Smith put it beautifully in this article he wrote for the Clarke County Proceedings:
"The Shenandoah Valley comprises the section between the Blue Ridge on the East, the Alleghenies on the West, the Massanutten Mountain on the South, and the Potomac River on the North. It includes the Virginia counties of Frederick, Clarke, and Warren and the West Virginia counties of Berkeley and Jefferson. Throughout its history, the Valley has been celebrated for its grass. The grass, the heavy clay soil, the limestone outcropping and never-failing springs all combined to make the Shenandoah a horsemans's paradise." Alexander Mackay-Smith (Ref. 2111)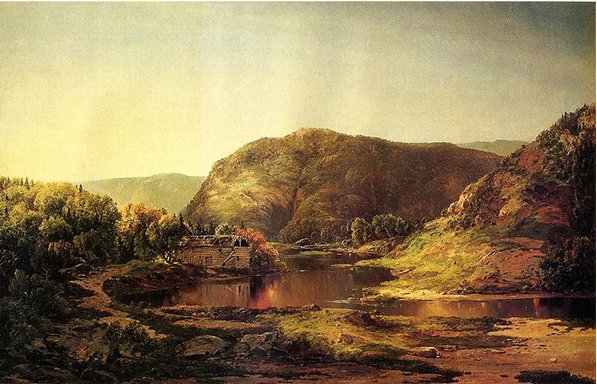 <![if !vml]><![endif]> "Shenandoah Valley," oil on canvas, by the artist William Louis Sonntag
Courtesy of the Virginia Historical Society.
James, as a land owner, took on the civic responsibilities expected of him as such. "In October 1772, James Ware was appointed overseer of the road leading from Berry's Ferry (where US Route 50 crosses the Shenandoah River) to Winchester. Part of this old road is still in use and crosses the road leading from Boyce to Old Chapel near New Market." (Ref. 203, 272, 322) General Daniel Morgan, an American pioneer, soldier, and United States representative from Virginia, had previously been the overseer and James succeeded him. (Ref. #203, 272, 322)
In 1785, Gen. Morgan petitioned the court of Frederick County to have this road changed so that it would pass by a mill being built at that time in Millwood. "Upon the petition of Daniel Morgan, praying for a road to be opened from James Ware's fence between the Chapel road and the road to Berry's Ferry, by a new mill to be erected on Burwell's land, it was ordered that Marquis Calmes, William Ball, Charles Webb, and Isaac Webb or any three of them do view the ground and report the conveniences and inconveniences which would attend the altering of the said Chapel Road so as to be by the said mill." (Ref. 249) In May of the same year, the court approved Morgan's petition. (Ref. 203, 272, 322)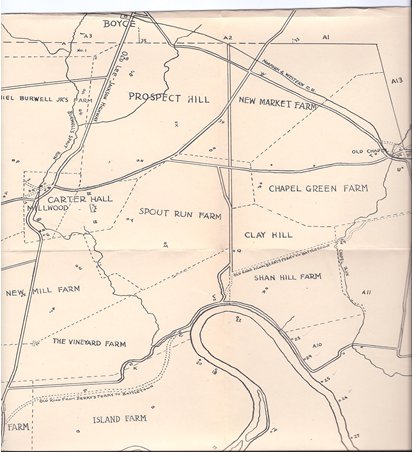 THE CARTER BURWELL TRACT BY CURTIS CHAPPELEAR (see #7) There are also Virginia documents that state, "a large marsh on Chapel Run is mentioned in the deed from Colonel Hugh Nelson to James Ware in 1788 for 478 acres of land 'whereon the said James Ware now lives'." (Ref. 320) This gives some idea of the land holdings of James, but it may represent only a portion of his total acreage which was later sold to John Short. (Ref.255)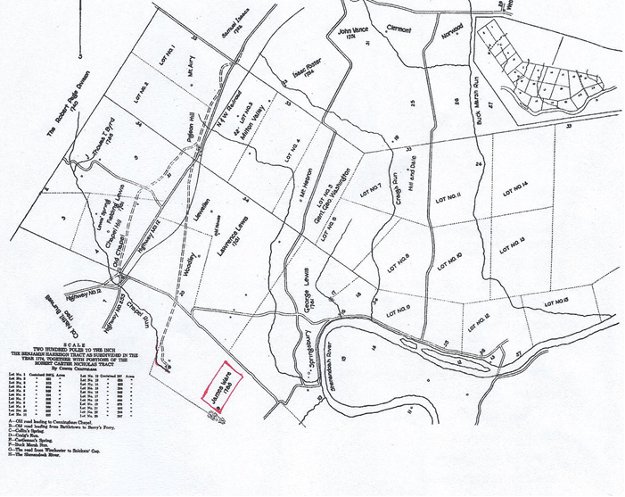 Maps showing property of James Ware II in Frederick County, Virginia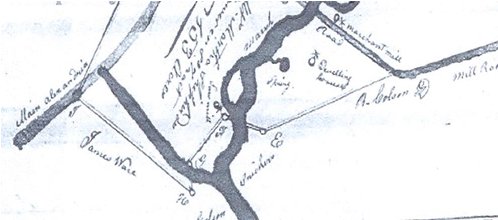 <![if !vml]><![endif]> Land of James Ware II
While James and Caty were living in Frederick County, they attended the Anglican church at Trap Hill. "Before 1790-1791, when Old Chapel was built, there was no place of worship for the Episcopalians in the area." (Ref. 1000) A new church was needed. "Reverend Alexander Balmain, who had been a chaplain in the army, was chosen as minister for Frederick Parish by the Episcopal vestry elected immediately after the Revolutionary War. Mrs. Hannah Washington, being anxious that steps be taken to provide a place of worship, interested a number of people in securing the services of Dr. Balmain and renting a house of Mr. McMahon at Trap Hill in which to hold divine services. Mrs. Washington sent her own carpenters to fit the house for use as a church." (Ref. 708) All necessary alterations were done and "the Trap Hill congreagation held services in the McMahon house as early as 1782. Around 1791, many of the members, perhaps all, joined the Old Chapel congregation." (Ref. 706, 1000)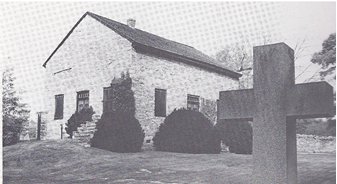 <![if !vml]><![endif]> Old Chapel 1789
Reverend Balmain kept a journal providing much information about the church and the Ware family. "The organization of the 1st congregation in the Balmain journal is of the one at Trap Hill, a place a little north of the town of Berryville in Clarke County, a village then known as Battletown." (Ref. 242) The journal included a list of subscribers in the congregation for September 1782 through September 1784. "Subscribers invariably meant contributors to the support of the minister, and under the title 'subscribers paid in money' was the name of James Ware." (Ref. 242, 708) The good reverend was so esteemed by the Ware family that a future descendant (daughter of James' grandson, Josiah Ware) was bestowed with Balmain as her middle name in his honor; hence, Lucy Balmain Ware.
General Marquis Calmes, a friend of the beloved Marquis de Lafayette, the man so instrumental in obtaining the support of France during the Revolutionary War, was also a member of the Trap Hill congregation at the same time. He was undoubtedly aquainted with the Ware family. He later founded the city of Versailles, Kentucky, using the name of "Versailles" (one of his favorite cities in France) as a way to honor his Huguenot ancestry.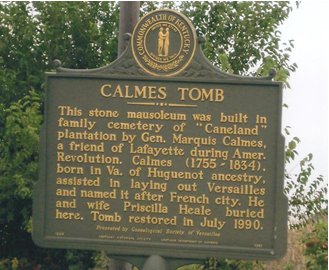 <![if !vml]><![endif]> Kentucky Historical marker
Life was good for the Wares in Virginia, but change was on the horizon. The coming years would find "decreasing fertility of Virginia's soils." (Ref. 2254) One citizen expressed the concern that "the rate of taxation in Virginia was so rigid that the average family found it difficult to live after paying its taxes." (Ref. 2254) The bottom line, however, was that once the war was over, "Revolutionary soldiers of Virginia were unpaid, and the state used her western lands to settle these debts." (Ref. 2254) The patriotic service that James had performed for his country would now provide even greater opportunities for him and his family, but not in his native state of Virginia; they would come from a new frontier territory called Kentucky.

Supporting Documention for Chapter 2
Map showing the original 13 colonies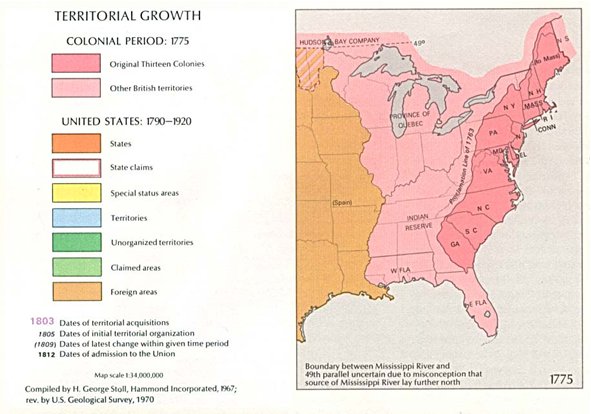 The Original 13 colonies were Massachusetts, New Hampshire, New York, Pennsylvania, Maryland, Delaware, Virginia, North Carolina, South Carolina, New Jersey, Rhode Island, and Georgia.