Letter dated (Jan. 30, 1850) from
President Zachary Taylor to Josiah Ware
Transcribed by Judy C. Ware
© Judy C. Ware April 2009
Original letter owned by Jane & Scott Dudgeon
---
Washington, January 30, 1850

My Dear Sir:

Your forms of December 27th and January 22nd came duly to hand, and I must thank you for your kind attention in giving me information about the extraordinary mutton which you have sent to market and while I had the good fortune to see as they pass through Washington, I could not, of course, have expected a repetition of your very handsome present of last spring, even had not your mutton been in such demand. I hope your business or leisure may soon bring you again to Washington when I shall expect the pleasure of seeing you at the White House.

Meanwhile, I remain,

Very truly your friend,

Z. (Zachary) Taylor

Col. Josiah W. Ware
Berryville


Clark County, Virginia
---
***I would like to thank Jane & Scott Dudgeon for allowing me to copy & transcribe this letter for my historical research. I am deeply grateful.
*** President Taylor died just 6 short months after this letter was written.
*** Josiah was well known throughout the country for having outstanding breeding stock, racing horses, cattle, and sheep. He was particularly famous for his stock of Cotswold sheep.
Cotswold
The Cotswold breed originated in the Cotswold Hills of Gloucester, <![endif]-->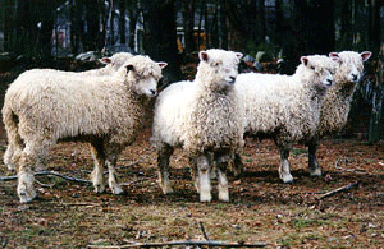 a south midland county of England. The name "Cotswold" was given the breed because in the early days they were folded or housed in shelters known locally as "cots" or "cotes" and they were pastured on the wild, treeless hills of the area, called "wolds".
Cotswold sheep are a large, white-faced, hornless breed with a broad, flat back, moderately deep body, heavy fleece, and long, coarse wool hanging in ringlets. .
From: The Columbia Encyclopedia, Sixth Edition | Date: 2008 | The Columbia Encyclopedia, Sixth Edition. Copyright 2008 Columbia University Press.
We know from other letters, that Josiah also provided mutton for President John Tyler. His son, Josiah William Ware wrote that:
"When President Tyler was a guest at Springfield, he was taken into the dining room where the decanters and wine glasses were on the side-board. The "saddle of mutton" was brought in, and he was more enthusiastic over it than the refreshments."
Another way of looking at the family connection between the Taylors and Wares is like this:
Frances Toy Glassellís paternal grandmother (Elizabeth Taylor) was the niece of Zachery Taylor Sr. who was the grandfather of President Zachary Taylor.