Part 11 of Ware Connection to Grace Episcopal Church
Edmonia Jaquelin Smith Ware
As mentioned before, when Josiah Ware married for the second time, his new wife was a cousin named Edmonia Jaquelin Smith. They were wed at her home called Smithfield Farm on January 30, 1845. Josiah was 43 and Edmonia 28 years old at the time. It was his second marriage and her first. Their union would last for 38 years until Josiah's death in 1883 at the age of 81.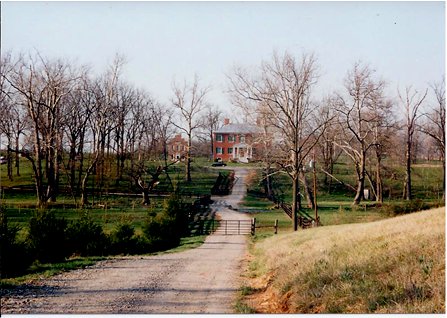 Smithfield Farm – Birthplace of Edmonia Jaquelin Smith
Photo by James and Judy Ware 1998
This is the staircase at Smithfield that Edmonia walked down on her wedding day.
Before and after renovation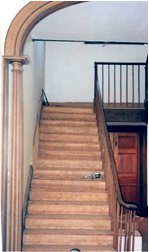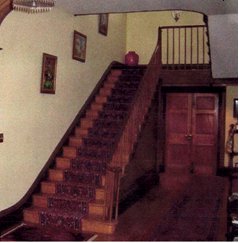 photo by James and Judy Ware
Cornelia Ware Anker, daughter of Sigismund Stribling Ware, wrote the following: "I remember Grandmother Edmonia very well . . . she was a very strong character and deeply religious. When the War Between the States had impoverished the family, as it did all southerners, she never lessened her contribution to the church and continued her subscription to the 'Southern Churchman'. Father said he didn't know how she ever did it. I'm sure her life and teachings were the direct cause of father and Uncle Jo entering the ministry." (Ref. 2)
Edmonia had an amazing amount of fortitude and courage. She helped raise the children of Josiah from his first marriage and treated them as her own. The youngest, Charles Alexander, was only four years old at the time of their wedding. She then gave birth to six babies of her own, although only four would live to adulthood. During the traumatic years of the Civil War, she spent many times alone at Springfield while Josiah was away, and it was up to her to "face down" the Union troops and deserters who often ransacked their property. She stood fearlessly in front of soldiers threatening to burn her home and courageously looked down the barrel of loaded guns pointed directly at her by the enemy. She secretly tied boots for her Confederate son under her hoop skirts and then traveled at night - with a blind horse - crossing a river - to get those boots to him. She worried over each of her sons as they headed off to fight in the war, and then spent endless nights fearing for her husband when he was arrested in the middle of the night for being a southern sympathizer and taken off by Union soldiers to Old Capital Prison in Washington. Her son, Jo, wrote:
"There was no mail service then and one can only imagine what the suspense was until we heard of the whereabouts of Father. Mother said she lived in constant expectation of hearing of the finding of his dead body." (Ref. 84) Josiah was held in prison for seven months and "our first knowledge of his release was seeing him walking up the road to the house. Oh joy! . . . a relation of Mother's, a Union man living in Rockville, succeeded in getting President Lincoln to pardon him." (Ref. 84) Edmonia Ware was a force to be reckoned with.
Cornelia Ware Anker shared more vivid memories of her stoic grandmother in her later years:
"
I remember Grandmother very well; I was 11 or 12 when she died.

I stood in great awe of her, thought her very severe.

She was a very strong character and deeply religious."
(Ref. 2)
She went on to add: "As I know Grandmother, she was a very stout old lady, her only claims to beauty being her tiny hands and feet and her lovely white curls, which she combed back of her ears. Her sons waited on her hand and foot and adored her. (Ref. 2) They were, indeed, a very close family.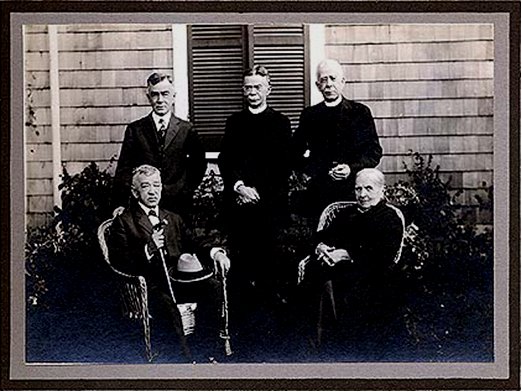 Elizabeth Ware Britton McGuire and her four step-brothers
After the passing of Josiah, Edmonia lived 17 years as a widow. Before her own death in 1900, she suffered a stroke that left her dealing with the frustrations of paralysis for several years. Her sons were a great solace and having Sigismund, a widower by this time, living back home with her was a huge help.
On March 30, 1900, at five o'clock in the evening, Edmonia Jaquelin Smith Ware died. Her services were held at Grace Episcopal Church and she was buried next to her husband in the church cemetery.
Obituary for Edmonia Jaquelin Smith Ware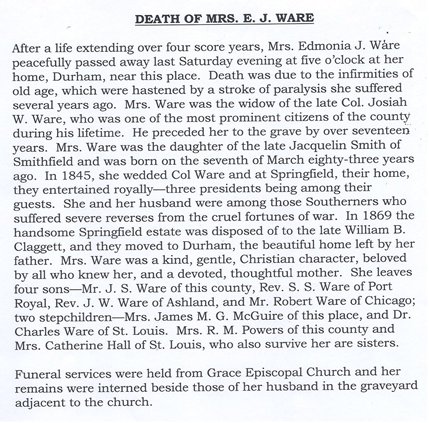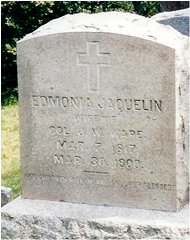 Edmonia Ware's grave
It seems only fitting that the inscription on her tombstone reads:
"Her children rise up and call her blessed"
Photo courtesy of James and Judy Ware