Part 6 of Ware Connection to Grace Episcopal Church
Josiah William Ware and his 2nd wife, Edmonia
As mentioned before, Josiah William Ware remarried three years after the death of his first wife. His second wife, Edmonia Jaquelin Smith, was a cousin from Smithfield Plantation. They also had six children, but only four sons lived to adulthood. Grace Episcopal Church would continue to play a huge role in the lives of each Ware family member.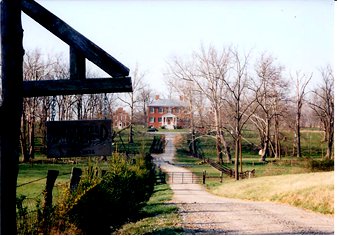 Photo of Smithfield taken by James & Judy Ware 1998
<![if !vml]>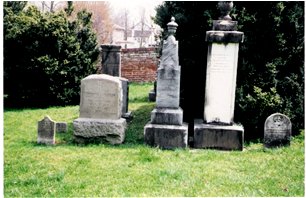 <![endif]>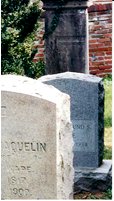 Edmonia's parents were Edward Jaquelin and Elizabeth Macky Smith. Their graves are located at the very back of the northeast part of the church cemetery, at the end. The tall, dark monument set furthest back (beside the large shrub) is dedicated to the sister-in-law of Edmonia by her brother, William D. Smith.
Fanny M. Smith, wife of W. D. Smith -- 1860
Due to its' old age, the lettering is very hard to make out.
Located behind the large shrub/tree is another weathered tombstone; sitting directly behind Fanny Ware's and beside Fanny Smith's.
Although it is not visible in the above photograph, it can be seen in the photo below. It is another very old tombstone and almost impossible to get close to at this point in time because of the wall and extreme overgrowth of greenery. It is dedicated to Edmonia's father, Edward Jaquelin Smith: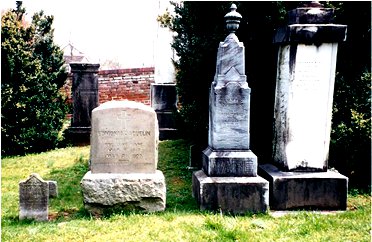 Tall, white tombstone for Edward Jaquelin Smith visible in the background.
In memory of Edward Jaquelin Smith
July 28, 1785
Died February 15, 1878
Next to this, but hidden by the tree in front, is a very tall monument dedicated to Edmonia's mother, Elizabeth Macky Smith:
Elizabeth Smith
Born August 24, 1789
Died November 13, 1851
And next to this is a tombstone for the young daughter of Edward and Elizabeth's, named Emily, who died when she was only 15 years old.
Emily, daughter of Edward J. and Elizabeth Smith
born April 12, 1826
died January - 1841

As with so many couples during this time in history, Josiah and Edmonia Jaquelin Smith Ware lost two babies due to illness. Edmonia gave birth on July 8, 1847 to a son named after her husband, but baby Josiah William Ware only lived four months; dying on November 13, 1847. The next son, born June 27, 1849, was named Sigismund Stribling Ware after Josiah's brother-in-law, Dr. Stribling. This child died on January 1, 1850, after living only seven months. Both babies were laid to rest in the family section of Grace Episcopal cemetery. Their tiny tombstone is marked in the photo on page 85 with the arrow that is pointing upwards. There is also a small foot-stone located behind the engraved headstone for the boys. (Ref. 1) (see below)
<![if !vml]>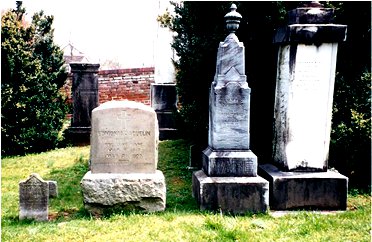 <![endif]> <![if !vml]>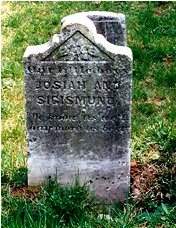 <![endif]> tombstone for the sons of Josiah and Edmonia
Tiny tombstone for Josiah and Sigismund Ware<![if !vml]><![endif]>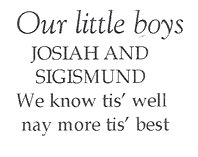 Photo taken by James & Judy Ware