Part 7 of Ware Connection to Grace Episcopal Church
Jaqueline Smith Ware

Before the deaths of these babies, however, Edmonia had delivered a healthy son on February 7, 1846. He was named in honor of the maternal side of the family; Jaquelin Smith Ware. Jaquelin usually went by the nickname of Jack, although family members often called him Uncle Jaque or Jac.
As a youth, Jack attended school at the Berryville Academy. After the Civil War began, he joined the Confederate Army at the age of 17, enlisting in Company D, 6th Virginia Cavalry. The roster for Company D, compiled from State of VA Reel 14 "Clarke Co. VA Muster Rolls," shows Jack serving in the same unit as his older step-brother, Charles Alexander Ware. They did not stay together long, however, because Charles, being a doctor, transferred to the medical corps and Jack "was detailed as a courier at the headquarters of General J.E.B. Stuart and served there until General Stuart was killed." (Ref. 3)
When the war finally ended, Jaquelin Ware went back to help his family during the turbulent years of Reconstruction. Josiah eventually was forced to sell Springfield, and the family then moved to Durham Farm; property inherited by Edmonia. Jack, like his father, had a love for farming and his future success was found in the field of agriculture. He remained single for many years, but his time was well invested in the land and in civic affairs. "In 1892 Gov. McKinley placed him on the World's Fair Commission & in 1893 he was named as a member of the Board of Trustees of the State Normal School at Farmville."(Ref. 14)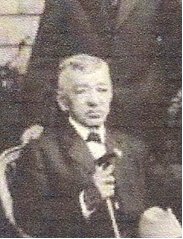 Jaquelin Smith Ware
By March of 1900, both of Jack's parents had passed away, and after years of caring lovingly for his widowed mother who had suffered a stroke, he probably felt free to marry. On October 24th of that year, at 11 o'clock, Jaquelin Smith Ware married Miss Helen Glassell Grinnan at the home of her uncle, Mr. Andrew Grinnan, near Orange Courthouse. It must have been a special occasion for Jack as his two younger brothers, Rev. Sigismund S. Ware and Rev. Josiah W. Ware, Jr., jointly performed the ceremony.
Wedding announcement for Jaque and Helen Ware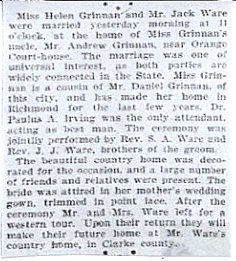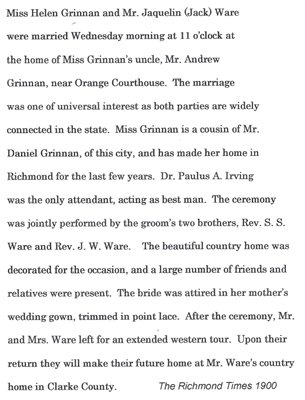 After their wedding, Helen and Jaque settled into a comfortable life in Clarke County. Although they never had any children of their own, their country home became the gathering spot for all the family to return to for family reunions. As Cornelia Ware Anker once wrote:
"All the nieces and nephews loved Uncle Jaque; he was very jolly and always joking and teasing. Aunt Helen was a splendid woman, so cute too. I can see her with my mind's eye – a very small person - Uncle Jaque called her "Teeny" - running around on her housewifely duties, little short steps, slightly pigeon-toed. . . . It was most unusual the way she felt that she wanted Durham to stay the same home for us all to come back to." (Ref. 3)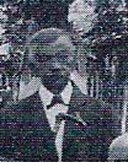 Jaque Ware
Jaquelin Ware was very active in Grace Episcopal Church, serving on the vestry there. Although both he and Helen were buried at Green Hill Cemetery, their funeral services were performed at Grace. Jaque died at the age of 73 on November 28, 1919. Helen lived just two years later.
<![if !vml]>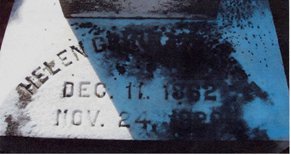 <![endif]>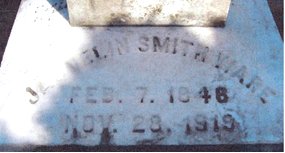 Grave markers for Helen Grinnan Ware and Jaquelin Smith Ware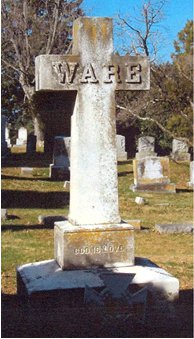 <![if !vml]><![endif]> Located at Green Hill Cemetery
The deep affiliation between Grace Episcopal Church and Jaquelin Ware can be attested to by the beautifully engraved brass pulpit memorial that can still be seen today.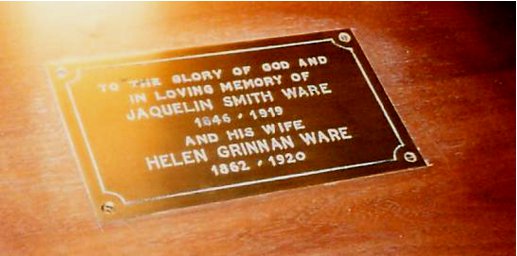 Brass pulpit memorial ~ photos taken by James & Judy Ware
<![if !vml]>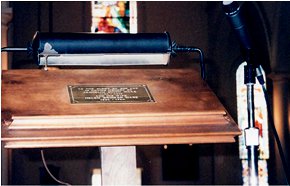 <![endif]>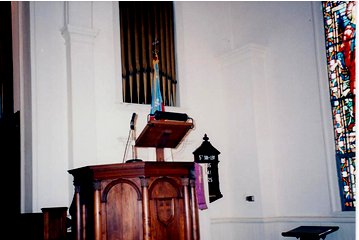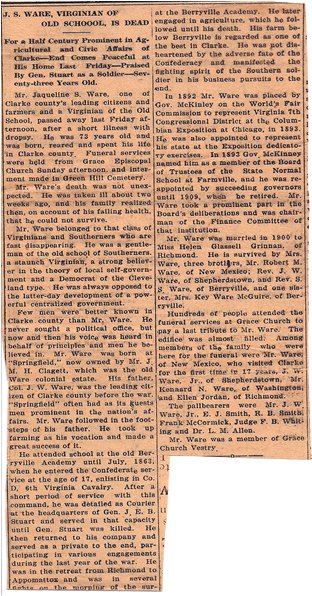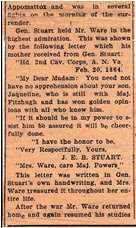 Obituary for J. S. Ware

Owned by James & Judy Ware

Transcribed obituary for Jaquelin Smith Ware

J.S. WARE, VIRGINIAN OF OLD SCHOOL, IS DEAD
FOR A HALF CENTURY PROMINENT IN AGRICULTURAL AND CIVIC AFFAIRS OF CLARKE – END COMES PEACEFUL AT HIS HOME LAST FRIDAY – PRAISED BY GEN. STUART AS A SOLDIER – SEVENTY-THREE YEARS OLD

Mr. Jaquelin S. Ware, one of Clarke County's leading citizens and farmers, and a Virginian of the Old School, passed away last Friday afternoon after a short illness with dropsy. He was 73 years old and was born, reared, and spent his life in Clarke County. Funeral services were held from Grace Episcopal Church Sunday afternoon and internment made in Green Hill Cemetery.

Mr. Ware's death was not unexpected. He was taken ill about two weeks ago and his family realized then, on account of his failing health, that he could not survive.

Mr. Ware belonged to that class of Virginians and Southerners who are fast disappearing. He was a gentleman of the old school of Southerners, a staunch Virginian, a strong believer in the theory of local self-government and a Democrat of the Cleveland type. He was always opposed to the latter-day development of a powerful centralized government.

Few men were better known in Clarke County than Mr. Ware. He never sought a political office, but now and then his voice was heard in behalf of principles and men he believed in. Mr. Ware was born at "Springfield", now owned by Mr. J.M.H. Clagett, which was the old Ware colonial estate. His father, Col. J.W. Ware, was the leading citizen of Clarke County before the war. Springfield often had as its' guests men prominent in the nation's affairs. Mr. Ware followed in the footsteps of his father. He took up farming as his vocation and made a great success of it.

He attended school at the old Berryville Academy until July, 1863 when he entered the Confederate service at the age of 17, enlisting in Company D, 6th Virginia Cavalry. After a short period of service with this command, he was detailed as Courier at the headquarters of General J.E.B. Stuart and served in that capacity until General Stuart was killed. He then returned to his company and served as a private to the end, participating in various engagements during the last year of the war. He was in the retreat from Richmond to Appomattox and was in several fights on the morning of the surrender.

General Stuart held Mr. Ware in the highest admiration. This was shown by the following letter which his mother received from Gen. Stuart:

Headquarters 2nd Cavalry Corps, A.N.Va.
February 20, 1864

"My Dear Madam: You need have no apprehension about your son Jaquelin, who is still with Major Fitzhugh, and has won golden opinions with all who knew him. If it should ever be in my power to assist him, be assured it will be cheerfully done.

I have the honor to be,

Very respectfully yours,

J.E.B. Stuart" Mrs. Ware, care Maj. Powers

This letter was written in General Stuart's own handwriting, and Mrs. Ware treasured it throughout her entire life.

<![if !vml]>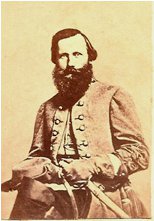 <![endif]> General J. E. B. Stuart – photo owned by James and Judy Ware

Another newspaper carried news of Jaquelin's death:

After the war Mr. Ware returned home and again resumed his studies at the Berryville Academy. He later engaged in agriculture, which he followed until his death. He was not disheartened by the adverse fate of the Confederacy and manifested the fighting spirit of the Southern soldier in his business pursuits to the end.

In 1892 Mr. Ware was placed by Gov. McKinley on the World's Fair Commission to represent Virginia 7th Congressional District at the Columbian Exposition at Chicago in 1893. He was also appointed to represent his state at the Exposition dedicatory exercises. In 1893 Gov. McKinley named him as a member of the Board of Trustees of the State Normal School at Farmville, and he was reappointed by succeeding governors until 1909 when he retired. Mr. Ware took a prominent part in the Board's deliberations and was chairman of the Finance Committee of that institution.

Mr. Ware was married in 1900 to Miss Helen Glassell Grinnan, of Richmond. He is survived by Mrs. Ware, three brothers, Mr. Robert M. Ware of New Mexico; Rev. J.W. Ware of Shepherdstown, and Rev. S.S. Ware of Berryville, and one sister, Mrs. Key Ware McGuire of Berryville.

Hundreds of people attended the funeral services at Grace Church to pay a last tribute to Mr. Ware. The edifice was almost filled. Among members of the family who were here for the funeral were Mr. Ware, of New Mexico, who visited Clarke for the first time in 17 years, J.W. Ware, Jr., of Shepherdstown, Mr. Kennard N. Ware of Washington, and Ellen Jordan, of Richmond.

The pallbearers were Mr. J.W. Ware, Jr., E.J. Smith, R.B. Smith, Frank McCormick, Judge F.B. Whiting, and Dr. L. M. Allen.

Mr. Ware was a member of Grace Church Vestry.

The Confederate Veteran Magazine carried the following article about him:

Jaquelin S. Ware, one of the leading citizens of Clarke County, Va., passed away at his home, near Berryville, on the 3rd of December, at the age of 73 years. He was born at Springfield, the old colonial estate of the Wares. His father was Col. J. W. Ware, a prominent citizen of the county before the war.

Young Ware attended school at the old Berryville academy until July 1863, when he entered the Confederate service at the age of 17, enlisting in company D, 6th Virginia Cavalry. Shortly after, he was detailed as a courier at the headquarters of General J.E.B. Stuart and served there until General Stuart was killed. He then returned to his company and served as a private to the end, participating in various engagements during the last year of the war.

Not disheartened by the fate of the Confederacy, he returned home and resumed his studies at Berryville Academy, then engaged in agriculture as his life work. The fighting spirit of the Southern soldier was in his business pursuits to the end. He was married in 1900 to Miss Helen Glassell Grinnan, of Richmond, who survives him, with three brothers and a sister.

General Stuart held his young courier in the highest estimation, as is shown by the following letter to his mother:

Headquarters 2nd Cavalry Corps, A.N.V. February 20, 1864

"My Dear Madam: You need have no apprehension about your son Jaquelin, who is still with Major Fitzhugh, and has won golden opinions with all who knew him. If it should ever be in my power to assist him, be assured it will be cheerfully done. I have the honor to be, Very respectfully yours,

J.E.B. Stuart"

From Confederate Veteran, Volume 28, by Confederated Southern Memorial Association, 1920

<![if !vml]><![endif]>