Part 8 of Ware Connection to Grace Episcopal Church
Sigismund Stribling Ware
It was in the years immediately following the birth of their first son, Jaquelin, that Josiah and Edmonia lost their other two babies, but on February 3, 1851, they were blessed with another infant boy. They named him Sigismund Stribling Ware in honor of the husband of Josiah's older sister, Dr. Sigismund Stribling.
Jaquelin was five years older than Sig (as he was often called) and both boys grew up with the turmoil of the Civil War swirling around them. Being older, however, Jaque joined the Confederate Army while his younger siblings were still at home. In the memoirs written by his brother, Rev. Josiah W. Ware, there is a fascinating story of how young Sigismund drove a carriage through enemy lines to help bring a pair of boots to his older brother. He was only 12 years old at the time:
"At times a soldier, when near enough to his home and when he could be spared, would get a furlough to visit his home for a few days. On one such occasion Jaque got as far as the east side of the river, then he learned that the Union soldiers in the country were in such numbers that he could not reach home. His whereabouts became known through underground telegraph and Mother and 'Sister Anne' Stribling started in the carriage with old blind 'Queen' and 'Sig' as driver to 'spend the day with a friend.' Under her hoops Mother carried a pair of big cavalry boots . . . suspended from her waist. In the boots were, I am confident, some yarn socks and I do not know what else." (Ref. 84)
Sigismund obtained his early education at Auburn school taught by Mr. Powers. In the publication, Education in Clarke County, Virginia Proceedings XXV, it is recorded that:
"Sizz, Joe, and Robert Ware were students under Mr. Powers at his old location at Wycliffe during the years 1865, 1866, and 1867. . . Auburn school (a select boarding and day school for Boys) opened in 1865 at the old Wycliffe Academy building and was taught by Mr. Powers. He moved this school to Auburn and continued it in operation until 1877 at which time he closed the Auburn school to become permanently associated with the public schools of the county." (Ref. 717)
There was also an Episcopal High School which was founded in 1839 just west of Alexandria, but immediately following Union occupation during the war, it had been closed. When it reopened in 1866, with Mr. Launcelot Minor Blackford as the principal; "among the boys of this period at Episcopal High School were Sigismund and J. W. Ware, both afterwards clergy and devoted friends of Mr. Blackfords." (Ref. 838)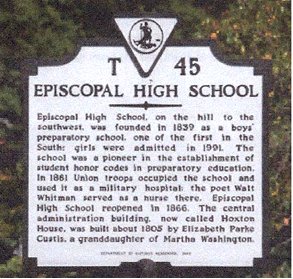 Historical marker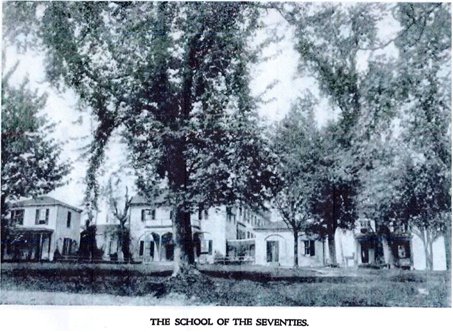 Early photo of Episcopal High School, circa 1870's <![if !vml]> <![endif]> #838
According to his Cornelia Anker, "when Father (Sigismund) was about 18 years old, he went to Indianapolis and worked in Uncle Tousey's store, a fine mercantile wholesale business. He lived with the Tousey's - they were wealthy, with a lovely big home and Father was so fond of the family. Aunt Lib was grandmother's sister. Later, Uncle Jo joined Father and they both decided to enter the ministry. They returned to Virginia and entered the Theological Seminary, near Alexandria, Va. As I have mentioned before, Father had done very well financially in Indianapolis and was able to pay his own way through the seminary and also help his younger brother with his education. . . . Uncle Jo and Father were always the most devoted brothers and both of them spent their whole ministerial life in Virginia." (Ref. 2)
On June 28, 1878, Sigismund Stribling Ware was ordained as a Deacon at a ceremony at St. Paul's Church in Alexandria, Va.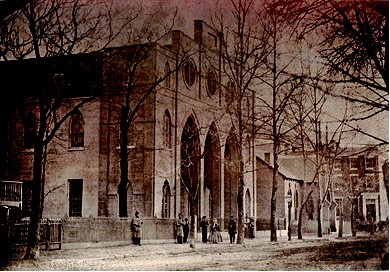 St. Paul's Church in Alexandria around the time of the Civil War.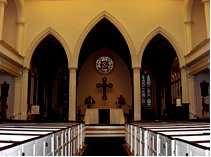 Interior of St. Paul's
A year later, in the same church, he was ordained as a Priest in a beautiful ceremony performed by Bishop Whittle.
Article in The Seminarian announcing Sigismund's ordination into priesthood.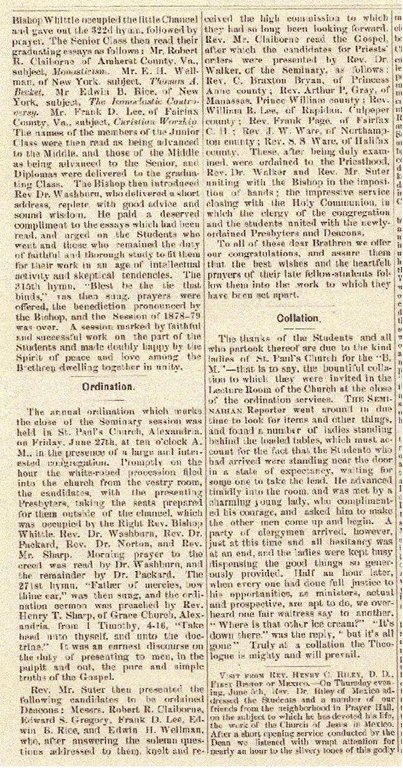 On December 31, 1878, Rev. Sigismund Ware "married Elizabeth Walker, the daughter of Cornelius Walker, a professor and afterwards Dean of the Seminary." (Ref. 2384, 2392) The announcement appeared in the newsletter called the Seminarian, which was printed at his alma mater.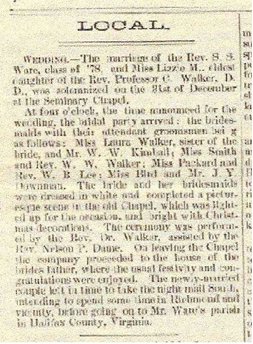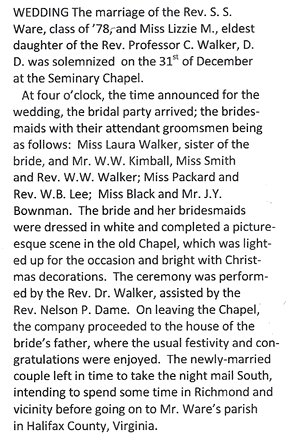 After their honeymoon, Sigismund and his new wife set up housekeeping at his first parish in Antrim, Halifax County, Virginia. They were there from 1878-79. They next served from 1879 to 1888 in Shelburne Parish, Hamilton, Virginia. (Ref. 2)
Cornelia wrote, "Father had three charges – Halifax County, Hamilton, & Port Royal, where he moved when I was a baby." (Ref. 2) Indeed, in 1888, Rev. and Mrs. Ware moved to Port Royal, Virginia, where "The Rev. Sigismund (Sidge) Stribling Ware became Rector of St. Peter's church and of Grace Church, October 15, 1888; he resigned the latter church after 15 years, June 26, 1903, and resigned from St. Peter's Church after 30 years, October 15, 1918." (Ref. 2384)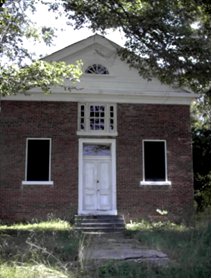 <![if !vml]> <![endif]> Grace Episcopal Church in Port Royal, Virginia
Photo and Contributed by Paula Lucy Delosh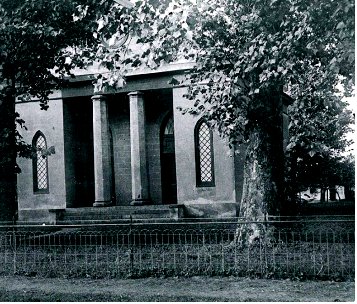 St. Peter's Episcopal Church (Ref. 2384)
<![if !vml]>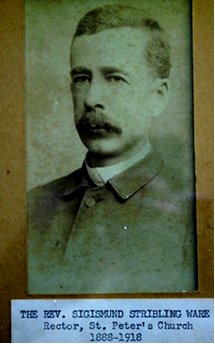 <![endif]>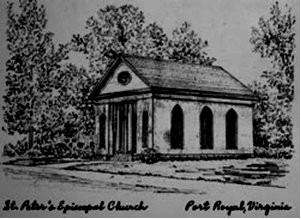 St. Peter's Episcopal Church (Ref. 2384)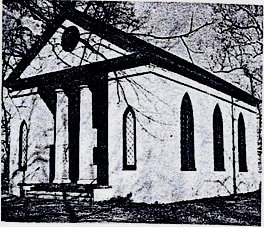 <![if !vml]> <![endif]>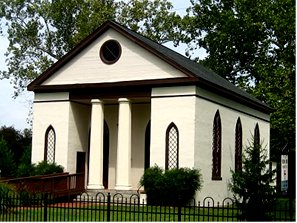 Current Photo
According to Hidden Village, Port Royal, Virginia 1744-1981, written by Ralph Emmett Fall, "The Ware family lived in the Rectory on Lot 4 in Port Royal for 30 years, where the Rector kept a garden toward the river." (Ref. 2384)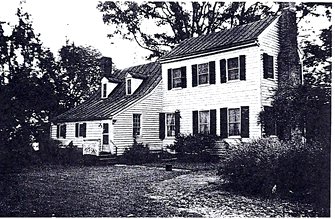 Rectory at St. Peter's Church (Ref. 2383)
It was in this home that Sigismund and Lizzie raised their children, although only one child would live to see adulthood; Cornelia Ware Anker. On August 18, 1892, the couple welcomed a son named Edward Jaquelin Ware, but he died at the young age of four on November 3, 1896. He was buried in St. Peter's Churchyard.
<![if !vml]>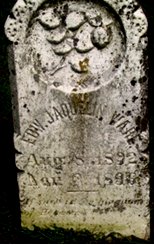 <![endif]>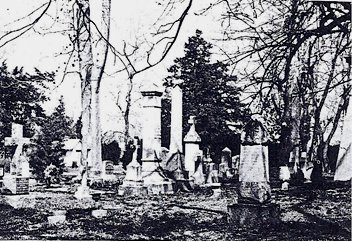 Grave of Edward Jaquelin Ware, and Cemetery at St. Peter's Church in Port Royal
The Wares also had a daughter, named Edmonia Jaquelin Ware, who did not survive infancy. This child, however, was buried in Grace Episcopal Church Cemetery in Berryville, close to the grandmother she was named after. Her little tombstone sits beside the one for the baby Elizabeth Ware Britton had to bury, Josiah's namesake.
<![if !vml]>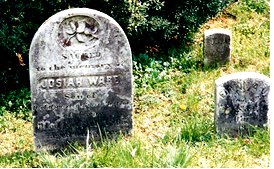 <![endif]>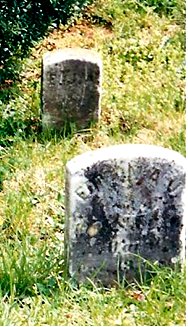 Baby Josiah, Baby Edmonia, and the grave for Sigismund's baby girl
<![if !vml]>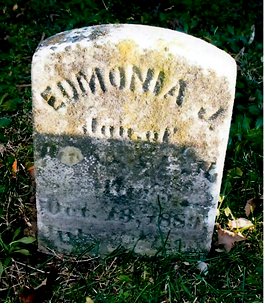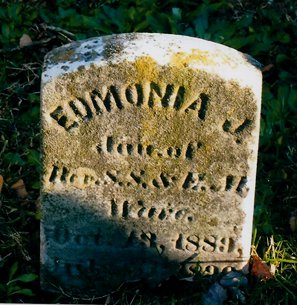 <![endif]>
Edmonia J.
daughter of
Rev. S. S. & E. M.
Ware
Oct. 13, 1889
July 31, 1890
The child 'who lived to adulthood' was a daughter born before Sigismund and Lizzie moved to Port Royal. Margaret Cornelia Ware came into the world on May 22, 1887. She married John Anker and became "a statistician for the U.S. Government. The Ankers lived for 35 years in McLean, Virginia. When Anker retired, the couple worked for the Episcopal Church in the Blue Ridge Mountains for three years and in missions in Gloucester County Va. John Anker died in 1962 leaving no children. Mrs. Anker moved into Goodwin House, Alexandria and died in 1978. From her will she gave her father's leather-bound volume of sermon-manuscripts to the writer who presented them to St. Peter's Church." (Ref. 2384) It is through the wonderful old family letters, which Cornelia lovingly saved and passed on, that we can learn so much about the Ware family history.
"In 1914, the wife of the Rev. S.S. Ware, Mrs. Lizzie Montgomery (Walker) Ware (1850-1914) died and was buried in St. Peter's Churchyard beside their son who died in 1896. Much of the present shrubbery at the Rectory, including the large mock-orange tree in the driveway was planted by Mrs. Ware during the 26 years she occupied the Rectory. Her husband and daughter lived there another four years." (Ref. 2384)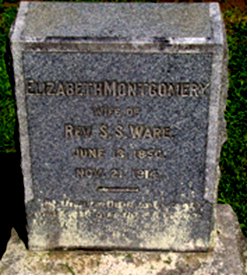 Grave of Elizabeth Montgomery Walker Ware
Born June 13, 1850
Died Nov. 21, 1914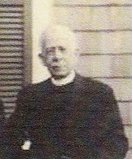 Rev. Sigismund Stribling Ware
"On October 15, 1918, the Rev. S.S. Ware resigned as Rector of St. Peter's Church. He was presented with a silver-plated loving-cup inscribed on one side, "Rev. S.S. Ware, Rector of St. Peter's Church, Port Royal, Va., 1888-1918," and on the reverse side, "In grateful recognition of his faithful ministry by the Community of Port Royal." The Vestry inscribed in the minutes to his honor, "We reluctantly accept the resignation of the Rev. S.S. Ware, but we cannot refrain from expressing our deep regret that the pleasant and cordial relations existing between us, as Vestrymen and individuals, for 30 years shall now be severed, and we will ever gratefully remember the faithfulness and earnestness with which he ministered to us as a congregation and as a community." (Ref. 2384)
The author of Hidden Village – Port Royal, Virginia 1744-1981 wrote the following about Rev. Sigismund Ware: "Fifty years later, citizens both black and white still remembered Ware with affection. A photograph of Ware is seen in the church's sacristy. The credence shelf in the church sanctuary holds a brass tablet as a memorial to Ware. (Ref. 2384)
<![if !vml]>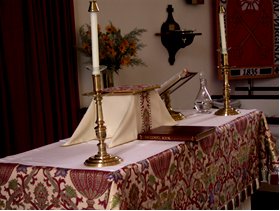 <![endif]>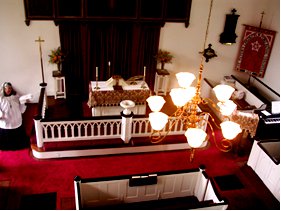 Interior of St. Peter's Church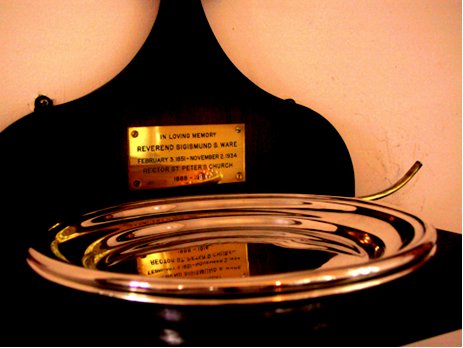 Credence Shelf – used for holding articles in the Eucharist service
When Sigismund retired, he moved out of the rectory and returned to Berryville where he resided with his older sister, Elizabeth (Key) Alexander Ware McGuire. (Ref. 2,3) His daughter, Cornelia, who had served as the organist at his church in Port Royal, later wrote, "Father lived with my husband (John Anker) and me the last eight years of his life. He came to us when Aunt Key died. Mother died Nov. 18, 1914 and Father, Nov. 4, 1934. (Ref. 2)
The Rev. Sigismund Stribling Ware died November 4, 1934, and "was buried in Grace Churchyard, Berryville, Clarke County, Va." (Ref. #2) His tombstone sits directly behind that of his mother, Edmonia Jaqueline Ware.
Sigismund's grave is in the middle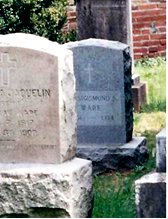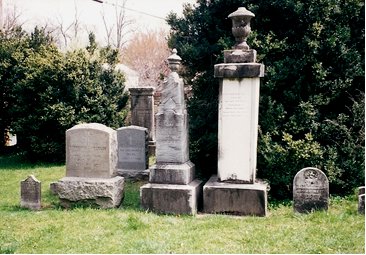 Ware section in the Cemetery