Part 9 of Ware Connection to Grace Episcopal Church
Josiah William Ware
Josiah Ware finally obtained a namesake who would live to maturity when he and Edmonia welcomed their next child two years after the birth of Sigismund. On November 23, 1853, Josiah William Ware, Jr., was born. (Ref. 3, 84) He attended school "under Mr. Powers at his old location at Wycliffe during the years 1865, 1866, and 1867," along with his brothers, Sigismund and Robert. (Ref. 717)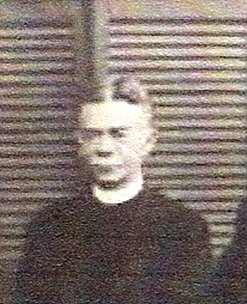 Rev. Josiah W. Ware
Jo Ware's childhood was highly influenced by the Civil War that raged on around him. The memories he shared were clear and sharp and as he later wrote, "I recall the animated discussions before hostilities began. I was then 7 ½ years of age." (Ref. 84) Fortunately for all of us, he recorded his memoirs at the request of his family. These writings have provided great insights into that time of history for all the generations who have followed him.
One of the stories he related is a testimony to the great courage his mother, Edmonia, showed in the face of adversity and how deeply her actions impressed him.
"The Yankees took out of a bureau drawer the pride of my life - - a blue jacket with brass buttons. While they were thus behaving, my mother said, 'I am going to the camp and request a guard.' It was customary to assign a soldier to stand guard around a home, while the enemy army was in camp, near. They said that she should not. When she stood in front of the house, one of the skunks threatened to shoot her. And she would have gone had not we held her. We thought then that he would shoot her, as he raised his gun. How vividly I recall these experiences!" (Ref. 84)
Jo decided to follow in the footsteps of his older brother, Sigismund, and enter the ministry. He clearly felt that his decision was, in large part, due to the relationship he had with his mother. He wrote, "I gladly record my gratitude for the influence of my mother's life, teaching and prayers; to the last to these I attribute the divine call to the ministry of my brother (Sigismund S.) and myself." (Ref. 84)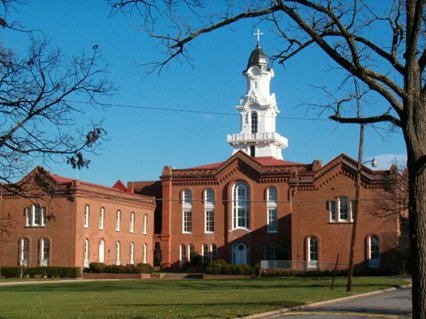 Virginia Theological Seminary
Both Ware brothers attended Virginia Theological Seminary at the same time, and both became ordained as deacons in 1878 and as priests in 1879. The two ceremonies were performed by Bishop Whittle and attended by Reverend Suter, the Episcopal priest from Berryville who had been such a comfort to Lucy and her family when she lost her children. The following is a program of the events leading up to the ordination of both Sigismund and Josiah Jr. as deacons.
Ordination program for Deacons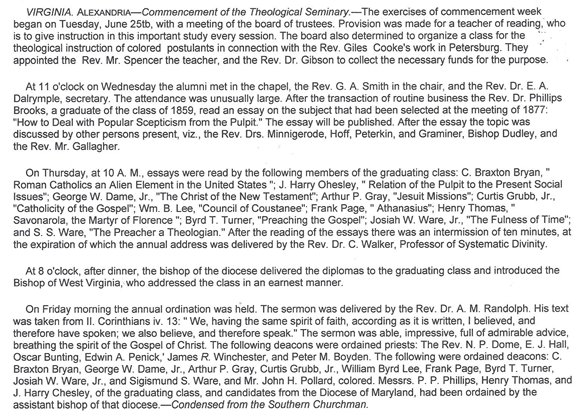 The ceremony for their ordination as priests took place in St. Paul's Episcopal Church on Friday, June 27, 1879 at 10:00 a.m.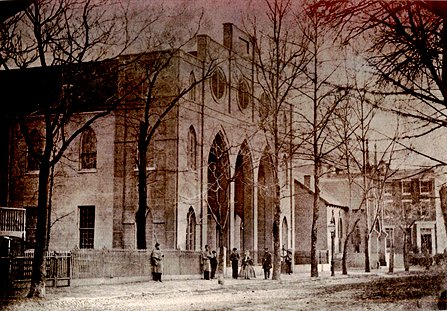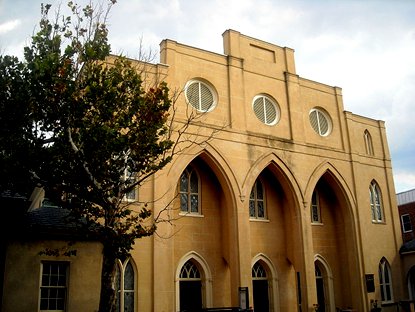 St. Paul's before and after the Civil War
Cornelia wrote, "After being ordained to the Episcopal ministry, he [Josiah Ware Jr.] had a parish on the eastern shore of Virginia in Accomac County, where he met his future wife, Anne Nottingham . . . . Uncle Jo was a consecrated good man. He also had much charm." (Ref. 2)
From 1878 until 1880, Rev. Jo Ware worked in Hungar's Parish, a place rich in history and tradition. (Ref. 2392) The two churches that fell in his parish, Hungar's Church and Christ Church in Eastville, had served the people of the Eastern Shore of Virginia since 1623.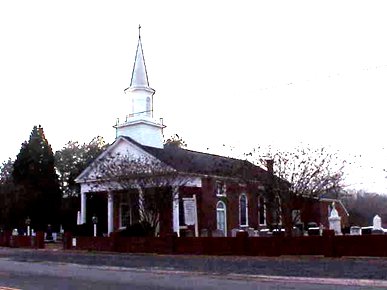 Hungar's Church, and Christ Church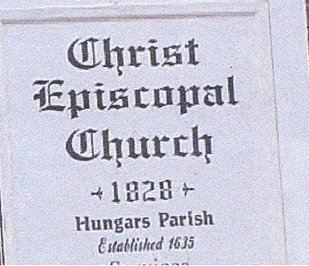 Sign in front of church
On October 22, 1879, at Christ Church, Rev. Josiah Ware married Ann Wise Stratton Nottingham. The wedding ceremony was especially memorable for him because his brother, Rev. Sigismund Stribling Ware, performed the ceremony. (Ref. 2394)
Wedding announcement for Josiah W. Ware Jr., and Christ Church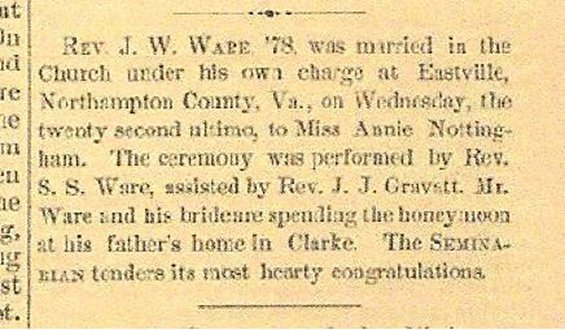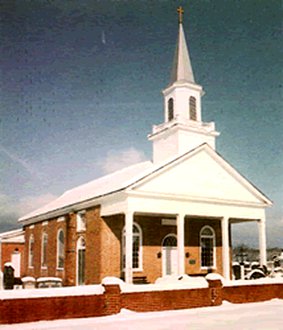 Jo and Anne enjoyed a close marriage as can be attested to by an excerpt from his memoir. He wrote in 1924, "Again, I gratefully record my thanks for the wife, who in God's goodness has blest my life for so many years. Great is His mercy in sparing her life so long, not only to enrich my life, but also those of our children. Gifted intellectually with a character which has been enriched by a noble charity for the faults of others, generous in her judgments, liberal in the use of limited means, she is an inspiration to her husband and children." (Ref. 84)
During his ministry, Rev. Ware served in several different churches and parishes. His time spent at his first assignment in Northampton County was obviously very productive as is recorded in an excerpt from the newsletter at his old school.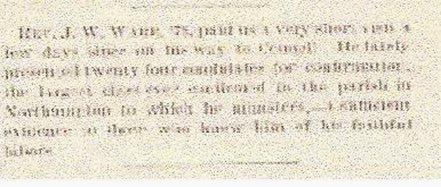 "Rev. J.W. Ware '78 paid us a very short visit a few days since on his way to Carmel. He fairly presented twenty four candidates for confirmation, the largest classes confirmed in the parish in Northampton [County] to which he ministers – testament evidence to those who know him of his faithful labors."
After leaving Hungar's Parish in 1880, he and Anne lived in Nelson Parish for two years and Jo became the priest for Christ Episcopal Church there until 1882.
Christ Episcopal Church in Nelson Parish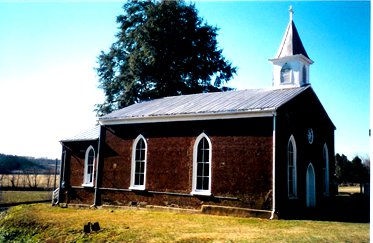 Then, the couple moved to Christ Church in Clarksburg. (Ref. 2392) According to the Council Journal, Diocese of West Virginia, Volumes 1-8, "The Rev. J. W. Ware accepted the charge of Clarksburg & Grafton."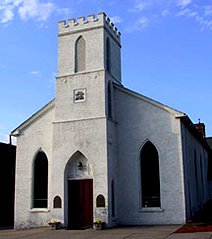 Christ Church, Clarksburg
By the year 1885, Rev. Jo and Annie were living in Farmville, Virginia, where he ministered to St. John's Memorial Church for the next 11 years.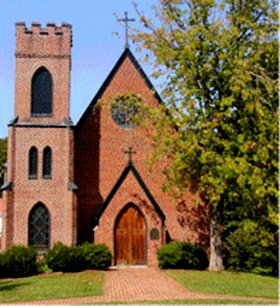 St. John's Church
| | |
| --- | --- |
| The Rev. W. E. Webb | 1879 |
| The Rev. Frank S. Stringfellow | 1879-1880 |
| The Rev. Arthur Seldon Lloyd | 1880-1885 |
| The Rev. J.W. Ware *** | 1885-1896 |
Record of past Rectors of St. John's Memorial Church
After leaving Farmville, the couple went to Ashland, Virginia, where Jo served in St. James Church from 1896 until 1903. (Ref. 2392)
St. James, Ashland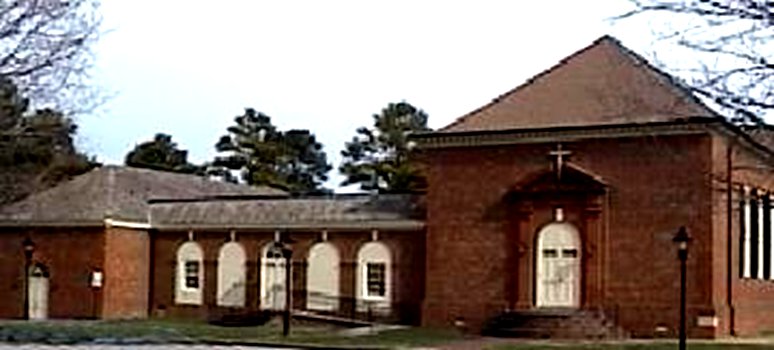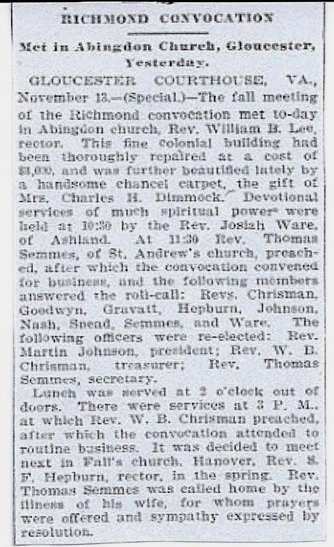 Rev. Ware provided the devotions at the Richmond Convocation during this time at Ashland.
From Ashland, the Wares moved to St. Mark's Parish in Culpeper County, Virginia. In 1903, Jo began his ministry at St. Stephen's Episcopal Church. (Ref. 2392) The book entitled Some Prominent Virginia Families by Louise Pecquet de Bellet states, "Rev. JW Ware is rector of St. Stephen's Church in Culpeper Va." (Ref. 2414)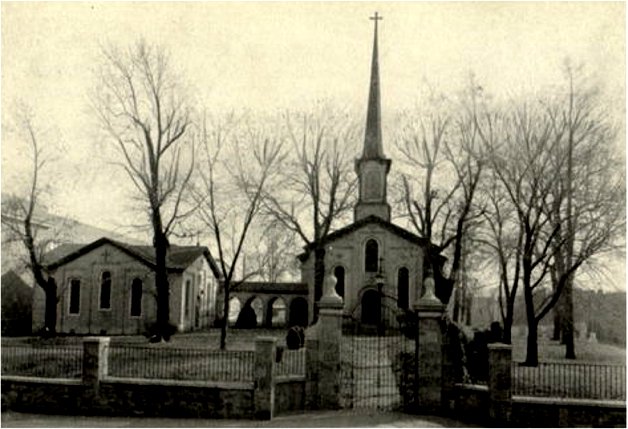 St. Stephen's Episcopal Church in St. Mark's Parish in Culpeper, VA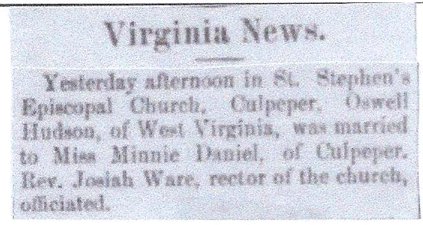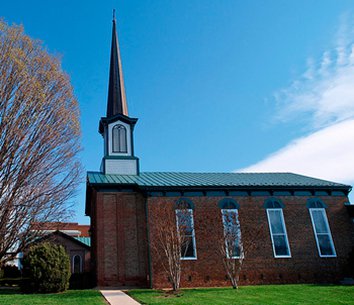 Shows a wedding that Rev. Josiah Ware officiated at in St. Stephen's Episcopal Church

Annie and Jo's own daughter, Jaquelin, was wed at St. Stephen's in 1912.

A manuscript at the Rutherford B. Hayes Library lists the children of Josiah and Anne as "John Nottingham Ware, Annie Ware, Jaqueline Ware, Josiah William Ware III, Kennard Nottingham Ware, and Dorothy I. Ware." (Ref. Hayes Library) Since Cornelia Ware Anker recorded that the couple had "five children who lived to maturity; John Nottingham, Jaquelin, Josiah William III, Kennard, and Dorothy," one can assume that Annie Ware did not survive childhood. (Ref. 2)

Their first son, born on February 8, 1882, was named John Nottingham Ware. According to Cornelia's letter written in the 1940s, John "graduated from Randolph Macon College and got his PhD from Johns Hopkins. John is the traveler and historian of the family. He spent a large part of his young manhood, and also later years too, living and traveling in Europe. He met his future wife in Paris – Dora von Turckheim. She is a grand person and highly cultured. They have one daughter – Dora, who is now in New York, doing radio work. He [John Nottingham] and Dora Sr. live in Rome GA where John is professor of Romance languages in Shorter College." (Ref. 2)

Other records show that John Nottingham Ware "studied in Paris and was an instructor of French at the University of North Carolina in 1910." (Ref. 2395) He later "became a teacher in Sewanee, Tennessee and married Dora Von Turckheim on July 27, 1915." (Ref. Hayes) They had one child, a daughter named Dorchen Ware who "married James Marshall." (Ref. 3) According to The Living Church, Volume 140, John, "who was a vestryman of St. Peter's Church, Rome, Georgia, died December 10, 1959 at the age of 77 in Rome."

There is another interesting piece of information about John Nottingham Ware that can be gleaned from a letter written by his Aunt Elizabeth, his father's older sister, in 1915. She wrote:

"I must tell you a contradictory thing in the family. John (Jo's son) is professor of languages at Sewanee Tenn. and for several years has spent his vacations in foreign countries, studying them and became enamored of a German girl and this summer despite all risks, went to Germany, married and brought her home. He made narrow escapes crossing from England and from being arrested as a spy. Once had a paper rolled up under his foot but though they felt all around in the shoe – did not take it off. Had they found it, he would be fared horrible. After all, she seems to be a most desirable partner and will be well treated." (Ref. 161)

Jo and Anne next had a daughter; naming her Jaquelin Ware. She married Severn Marcellus Nottingham (a distant cousin) and the ceremony was held in her father's church - St. Stephen's Episcopal. Their announcement read:
Ware, Jacqueline, Miss to Severn Marcellus Nottingham - Date of Marriage; Wednesday - Married at Saint Stephen's Episcopal Church - Daughter of Rev. and Mrs. Josiah William Ware - Son of Edgar Nottingham, Sr. - Will make their home in Culpeper - Nottingham-Ware - ESH 14 Jun 1912.
The couple had two children, a son named after his father, Severn Nottingham, Jr., who was killed in the battle of the Coral Sea in 1942, and a daughter named Anne who married John Piers.
According to Cornelia, "Jaquelin married Severn Nottingham (a distant cousin) a fine man and a very successful lawyer. There were two children, both the finest type of young man and woman. Severn Jr., after graduating with highest honors in law at the University of Virginia entered his father's law office in Orange, Va. When the war came, he volunteered and entered the Navy as Ensign – was promoted to Lieutenant j.g. and killed in action in the Solomons on Nov. 14, 1942. (This was the same day and practically the same hour that his dear grandfather, My Uncle Jo, died.) Anne, a darling girl and so pretty, is now employed by the American Red Cross and stationed in one of our Army hospitals." (Ref. 2, 3)
Jaquelin Nottingham was an active member in the United Daughters of the Confederacy and in 1931 became an officer in the organization. Below is her letter of acceptance.

(Ref. 2394)

Josiah William Ware III was Jo and Anne's next child. He married Elizabeth Thruston Leavell in December of 1916 and they had 5 boys; Josiah W. Ware IV, Francis Leavell Ware, Edward Jaquelin Ware, Thruston Ware, and John Nottingham Ware. (Ref. 2, 3) Of this family, Cornelia recorded:
"Josiah William Ware III married Elizabeth Leavell and they have 5 fine boys; Josiah William III, Edward Jaquelin, Francis, Thruston, and John Nottingham. These Wares have a farm near Shepherdstown, W.V. Thruston and Jo are in the armed forces and Edward is doing war work at the Fairchild Plant. Francis runs the farm with his father and Johnny is still a child. These are such good, Christian people. They have been brought up on hard work and Jo and Elizabeth have reared them so wisely. Elizabeth's aunt, Miss Mynna Thruston, makes her home with them and she has been a splendid influence on the boys." (Ref. 2) There has often been a misspelling of this name, but the correct spelling is Thruston.

Another son for Jo and Anne, Kennard Ware, was named in honor of Anne's mother, Sally Stratton Kennard. According to a book written on Col. John Wise:
"Anne Wise Stratton Nottingham married Rev. Josiah William Ware. She was the daughter of Sally Stratton Kennard and John E. Nottingham. Sally's parents (Anne's grandparents) were Ann Wise Stratton and William Kennard. Anne's great grandparents were Esther Parsons and Benjamin Stratton. Her great great grandparents were Ann Wise and Thomas Parsons. Her great great great grandfather was Col. John Wise IV born at Clifton on July 27, 1723 who married Elizabeth Cable." (Ref. 2393)
Kennard Nottingham Ware married Margaret Parkhurst. According to Cornelia, "Kennard saw service overseas in World War I. He married Margaret Parkhurst and they have one child, Ellen, who is still in school. He is a patent attorney and they live in Philadelphia. Father always said that Kennard had the best mind in the family, he is a very attractive person." (Ref. 2, 3)

The youngest child of Jo and Anne was a daughter named Dorothy. She married John Runkle, who was an Episcopal clergyman, and according to Cornelia, "they live in Washington D.C. where John is a rector of a church in Anacostia. They have 2 children: John and Peter who are still at school. These cousins are so busy. John and Dorothy are both so active and have so many duties in the church that we practically never see them, I'm sorry to say." (Ref. 2, 3)
Over the years, Rev. Jo Ware and his brother, Sigismund, stayed very close to each other; serving in their respective churches, sitting on committees together, and even attending school reunions.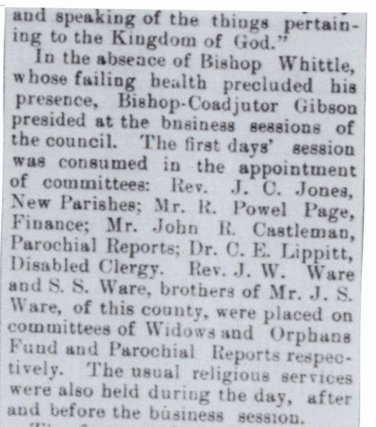 Clarke Courier, Berryville, Virginia May 22, 1901, it mentions both brothers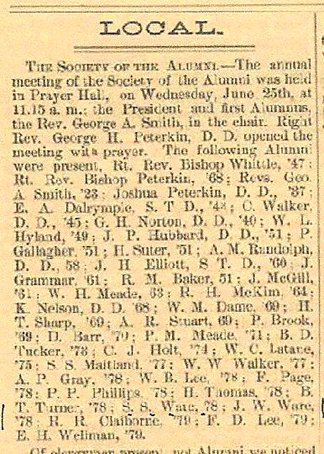 Article in 'The Seminarian' – mentions reunion with alumni
After Rev. Josiah Ware's retirement, "he and Aunt Annie bought a home in Orange, Virginia where they lived just across the street from their daughter Jaquelin." (Ref. 2, 3) Anne passed away first in 1938, and Josiah died about four years later on November 15, 1942. (Ref. 3) They were both buried in Graham Cemetery in Orange, Virginia.
Tombstone for Anne Stratton Nottingham Ware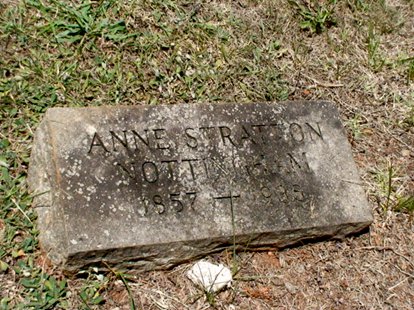 Grave for Reverend Josiah William Ware ~ Orange County