Part 10 of Ware Connection to Grace Episcopal Church
Robert Macky Ware
The youngest child of Josiah William Ware and Edmonia Jaquelin Smith Ware was named Robert Macky Ware. He was born on May 5, 1857. (Ref. 2) With the Civil War on the very brink of erupting, most of Robert's young life was centered around the turbulence of those times. He learned firsthand what the price of war was for his family as they endured vandalism, loss, destruction, and hunger. As his brother Jo wrote, "Uncle William used to tell us children to eat dried apples, then drink plenty of water; and as the apples swelled, we would have our stomachs full." (Ref. 84) It must have made for a "character-building" childhood.
All three of the youngest Ware sons attended school together during their youth. Records show that "Sizz, Joe, and Robert Ware were students under Mr. Powers at his old location at Wycliffe during the years 1865, 1866, and 1867." (Ref. 717, 1000)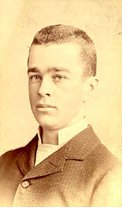 Robert Macky Ware
Photo courtesy of The Goddard-Reagan family web site
At age 18, Robert moved to Chicago and "went to work as a haberdasher [dealer in men's furnishings] for Wilson Brothers." (Ref. 84,103) Between 1887 and 1926, the company expanded its line of merchandise to include undershirts, pajamas, knitted underwear, neckties and assorted men's shirts.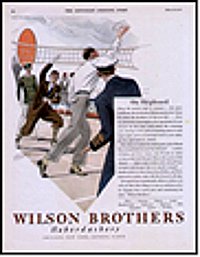 Old advertisement for the company
During his time in Chicago, Robert met his future wife, Caroline Hubbard Waughop. On September 27, 1881 they were married and the couple continued to live in Chicago "while he continued on in the business until 1905." (Ref. 2, 3)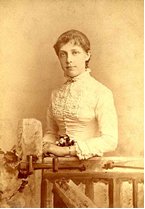 Caroline Hubbard Waughop
Photo courtesy of The Goddard-Reagan family web site
Rob and Caroline moved to Riverside, "a residential suburb of Chicago," (Ref. 103) and raised their family there. They had four children who lived to maturity, not counting "two sons who died in infancy, viz: Sigismund S. and Josiah Wm." (Ref. 84)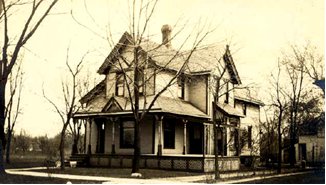 Home of Robert and Caroline Ware in Illinois
photo courtesy of The Goddard-Reagan family web site
Their first daughter, named Ellen Edmonia Ware, was born on June 24, 1882. (Ref. 2, 3,103)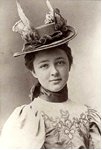 Ellen Edmonia 1898
Cornelia wrote glowingly of Rob and Caroline's daughter:
"Ellen Edmonia (the beauty of the family) married first Sterling Goddard and there were five children by this union . . . . they have all turned out well, I understand. Sterling died in 1918. Ellen remarried. . . [Herbert Reagan] was a widower with six children and Ellen moved her brood over to his big house. There are so many tales in the family about this huge, interesting family. They seemed to live in perfect accord under Ellen's management. There were two boys born to the Reagans, Benjamin and Herbert. Mr. Reagan died about 1938. Ellen traveled abroad and there she met Mario Saint Cyr, a musician and an Italian, whom she married and they came back to this country to live. He died several years ago. As I have said before, Ellen now lives in Chicago and Aunt Carrie lives with her." (Ref. 2, 3)
Ellen Ware was, indeed, quite beautiful.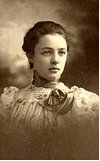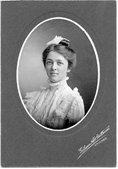 Ellen Ware in 1902, 1904, and 1906
All photos of Ellen Edmonia Ware provided courtesy of The Goddard-Reagan family web site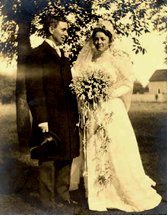 Goddard/Ware wedding in 1905
After her marriage to Joseph Sterling Goddard (known as Sterling) on June 3, 1905, they had five children: Caroline, Elizabeth, Joseph Sterling, Jr., Lester Orestes, and Jaquelin.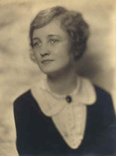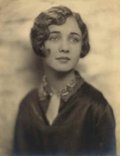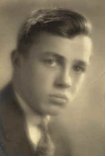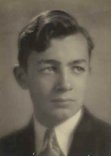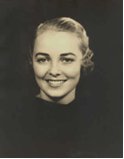 Caroline, Elizabeth, Joseph Sterling, Lester and Jaquelin
Sadly, Ellen's first husband died suddenly from pneumonia in 1916. Two years later, she married again on September 28, 1918. Her new husband was a widower named Herbert Everett Reagan. He also had five children from his first marriage.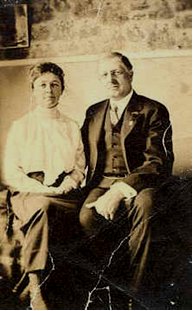 Ellen Ware and Herbert Reagan on their honeymoon, 1918
The now blended family with ten children included Archibald, Keturah, Babbie, Barabara, and Ruth. The youngest child, Ruth, was only seven when the families merged into one.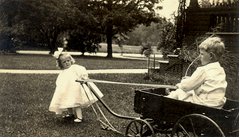 Keturah and Archie, Babbie (Ethel), Barbara, and Ruth
Ellen soon delivered two more sons, Herbert Everett Reagan and Benjamin Franklin Reagan, bringing the total to 12 children.


Ben Reagan in 1943 and Herb Reagan in 1942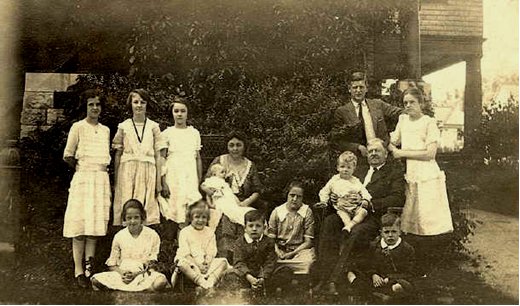 Family photo showing all 12 children
Unfortunately, Ellen's second husband passed away also, but she married for a third time in October 1932. She met her husband, Mario Saint-Cyr, while visiting in Italy. He was descended from an Italian mother and French father.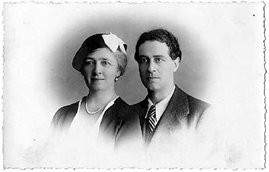 1932 - Ellen and Mario
The couple had several happy years together before Mario passed away. In 1967, Ellen celebrated her 85th birthday and wrote her memoir. As she recorded then, "Now it is 1967 and we are planning another reunion on my 85th birthday, June 24th. There are ten of my children now: Ben, my youngest, was killed in a plane crash in 1956; and Archibald, the oldest, died with a heart attack in 1965. Of the generation of my children, 17 will be here (4 are wives and 3 are husbands); of the next generation, grandchildren, 20 will be here (2 are wives and 3 are husbands); and of the youngest generation, the great-grandchildren, 15 will be here. A very grand total of 52!!!!!" (Ref. personal memoirs ) Ellen Edmonia Ware Goddard Reagan Saint-Cyr died six years later on June 11, 1973, in Illinois. She was 91 years old.

The second child for Robert Macky Ware and Caroline was named in honor of Robert's father, Josiah William Ware. Jo was born on July 12, 1884. According to Cornelia, "Josiah William is married and lives in California. They have bought a farm or ranch out there, I understand. I am sorry I don't know more about the "Ware boys" but I haven't seen them since we were children together at Durham." (Ref. 2) Jo actually married more than once. His first wife was Eunice Stalker and his second wife was Pauline Beardsley. He died in April 1968 in Pecos, New Mexico.

Two years later, in 1886, Rob and Caroline had another son. They named him Henry Waughop Ware, but he was usually called Hal. He was born on July 17th in Chicago. Cornelia wrote, "Henry, or Hal, married Louise Thode and lives on the home ranch near Dexter, New Mexico. There are three children – Robert Macky, who is a graduate of the Naval Academy and made a brilliant record in the Navy during WWII. Henry W. Jr. also in service and a daughter, Margaret." (Ref. 2, 3) The Catalogue of Beta Theta Pi, 1905 for the University of Illinois in Champaign lists both Josiah William Ware as an orchardist and farmer in Dexter, New Mexico, and also Henry Waughop Ware as an orchardist and farmer in Hagerstown, New Mexico.
Hal married Louise Christine Thode on March 27, 1912, in New Mexico. Their children were Margaret Ann Ware, Robert Macky Ware, and Henry Waughop Ware, Jr. In later years, Hal Sr. wrote a family history and included some wonderful information about all the Wares in New Mexico. He wrote of his children:
"Margaret took a nurse's training course in Denver General Hospital. After graduation she went to the Navy Hospital in San Diego and met Ted Ivers, a chief petty officer in the Navy. They married in 1940 and raised two fine sons. Robert graduated from the Naval Academy at Annapolis in 1937, took flight training, and went through the war with Japan. After returning he married and later retired from the Navy. He and his wife, Edie, now live in Guadalajara, Mexico. Hal Jr. graduated from high school in Hagerman and went to New Mexico A. and M. . . After time out for war service In Italy in the Air Force, he graduated in 1947. He married Blanche Egerton and they now live in Tucson, Arizona." (Ref. 103)
Hal died in January 1983 and was buried in Artesia, New Mexico. Both he and Louise were laid to rest in Twin Oaks Memorial Park.

Grave marker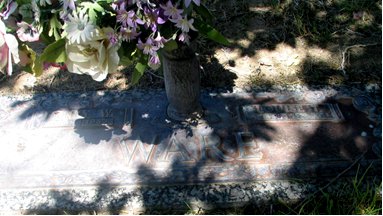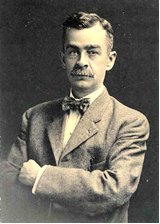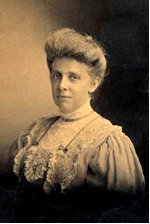 Robert and Caroline in 1904
The youngest child for Rob and Caroline was a daughter they named Alice Wilson Ware. She was born June 25, 1891. Cornelia wrote in her letter, "Now I will tell you a little about Uncle Rob's and Aunt Carrie's children. Of course, I have not been as closely associated with them as the Virginia cousins, except my dear Alice. They all lived too far away for us to meet very often. Alice, Uncle Rob's youngest, married first Roger Elliott. They left New Mexico and lived in White Plains, New York. There are three children; Marjorie who married Dan Carpenter – they have a fine boy (Roger) and live in New York. Elizabeth has just returned to this country after serving 2 years in the Red Cross with General Patch's 7th Army, 3rd Division. John is married and they have a new baby and live in New York. Alice's husband, Roger, died and after some years she remarried Arthur Ebbets of the famous family that 'Ebbets Field' in Brookland is named after. He is a theatre manager. Within the last two years they have bought a home and farm near Carmel, New York." (Ref. 2, 3)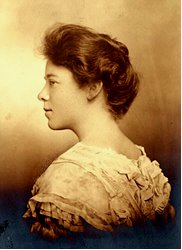 Alice Wilson Ware 1910
Alice married Roger Sherman Elliott on April 16, 1910. Their children were Marjorie, Elizabeth, and John Elliot. After Roger died, Alice married Arthur Henry Ebbets on May 26, 1937.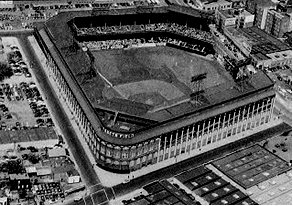 'Ebbets Field' that Cornelia Ware Anker mentioned
Alice Wilson Ware Ebbets died in October 1983 in New York.


In 1904 Robert Macky Ware traveled to New Mexico to look over the country. Both of his parents, Edmonia and Josiah, had passed away by this time and all of the children were pretty much grown. He found some land there that looked promising. As Hal wrote, he"was anxious to get away from city life . . . was favorably impressed and decided to make the change." (Ref. 103) Once school was out, the Wares packed up and "started in July [of 1905]. Ellen had married Sterling Goddard and did not come to New Mexico. Mr. and Mrs. Ware and Alice came by train in late July and brought a carload of furniture. Jo and Hal started the first of the month by freight train in an immigrant car and landed in Greenfield about a week later. It was a most memorable trip." (Ref. 103) A truly wonderful account of the move, written in fascinating detail, can be found on the Goddard-Reagan genealogy website.
In 1906, the new home in New Mexico was finished and Rob and Caroline spent the remainder of their years on their new ranch. His son wrote, "Mother and Dad grew old on the farm and he died in 1942 just before his eighty-fifth birthday. Mother lived on for several years on the farm and [then] in Chicago with Ellen. She died in Chicago in 1954. They are both buried in South Park Cemetery in Roswell. (Ref. 103)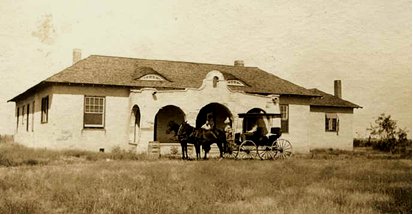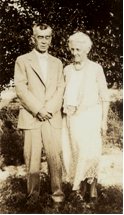 Robert Macky Ware home in New Mexico in 1908, and Rob & Caroline Ware
With the move to New Mexico, Rob became the only child of Josiah and Edmonia's who was not buried in their home state of Virginia. The group photograph below, of Edmonia with her four sons, was obviously taken before 1900.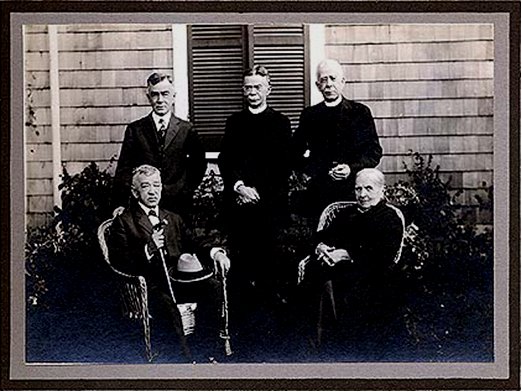 Seated left is Jaquelin Ware, seated right is Elizabeth Alexander Ware Britton McGuire, the three in back (l to r) are Robert Macky Ware, Rev. Josiah William Ware, and Rev. Sigismund Stribling Ware