(3)George Colby Taylor (born 1805)
(4)William Henry Harrison Taylor (born 1812)
(5)Martha Christy Taylor (born 1823)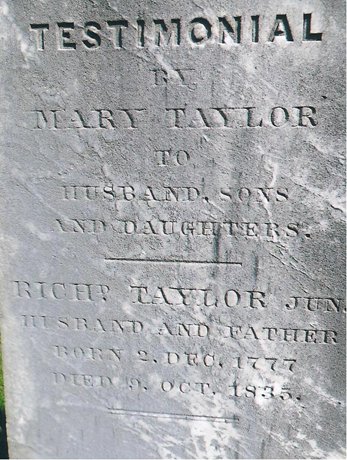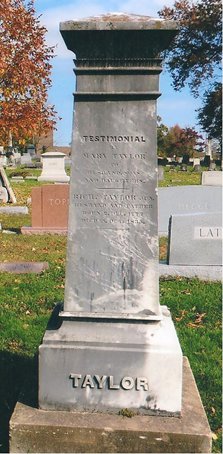 Memorial for Mary (Polly) Taylor and Richard Taylor, Junior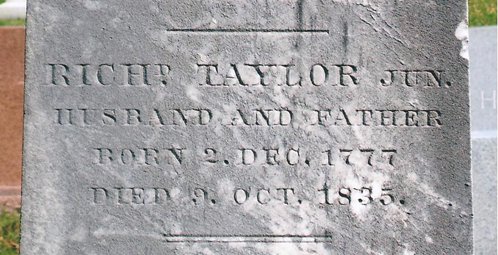 According to author William Railey, "John Eastin Taylor and Rebecca Edrington were personally acquainted, if not sweethearts before they moved to Hickman County, the former from Franklin Co. the latter from Woodford. It is possible that the two families moved to southern Kentucky at the same time, but Richard Taylor Jr., the father of John Eastin, was a magistrate in Franklin County in 1813, going to Hickman County a few years later where he engaged in surveying government lands, and it was at Columbus, Hickman County, that John Eastin Taylor and Rebecca Edrington were married. They reared several children in that vicinity." (Ref.1024)
Rebecca was "the daughter of Joseph Edrington and Elizabeth Bohannon Cook, the widow of Jesse Cook who was killed by the Indians at the Old Innis Fort, three miles from Frankfort on Elkhorn April 28, 1792." (Ref. 1024) Elizabeth (born 1769) would end up displaying the incredible courage and fortitude that the pioneer women of those times needed. The following excerpts of a story were told by one of her descendants, Dr. J. F. Cook, and published in 1908:
"The women were cheerily singing some old gospel song, when all at once they heard the ringing of rifles close to the cabin. One of the men fell by the sheep he was shearing; the other man was shot, presumably near the heart or through it, but he ran and fell in the door and the women pulled him into the cabin and barred the door, which was made of heavy slabs. . . . When the door was barred the Indians made signs as if they would be very kind to them if they would let them in. The one who had stayed behind to rob the dead man came up, and he could speak some English. Aunt Peggy always thought it was Simon Girty, or someone he had taught some English to. They fired the cabin first at the door, trying to burn the door out, but the women put this fire out with what water they had in the cabin. The Indians then climbed up and threw fire through the upper cracks. That was easily put out when it fell to the floor; but the women's resources were very limited . . . ." These brave women ended up having to use the bloody shirt of one of the fallen men and even raw eggs to try and put the fires out. "One of the women found a piece of lead, bit off a piece, chewed it as round as she could in that short time, and they loaded the gun with this, and when it was loaded she peeped through the crack at the door-jamb and saw the Indians out in the front. The chief, with his men around him, in order to strike terror to their hearts, told what he would do to them if they did not surrender; and thereupon the Indian sat down upon the body of Hosea Cook, having dragged it up in front of the home, and proceeded to scalp him, being directly in range . . . . The gun was put through the crack and the Indian was shot squarely through the body. Aunt Peggy said that when the ball struck the Indian he leaped high off the ground, gave a yell, and fell down dead." The Indians took the body of the dead Indian and threw it in the Elk Horn River and then left. Peggy went on to share that "during the whole scene there was not tear shed, but after it was all over they took the bodies of their husbands and washed them and prepared them for burial. And the dear old woman said it seemed as if they shed tears enough over them to wash their faces. This is the story as I got it from my grandfather's sister and from my grandfather." (Old Kentucky by Dr. J. F. Cook)
Elizabeth Cook remarried and it was by her second husband, Joseph Edrington, she had Rebecca (and ten other children.) Her daughter must have admired her courageous mother a great deal.
Joseph Edrington was active in church affairs and worked with William Ware in 1795 to find an appropriate meeting place for their Baptist church. In 1812, when there was a movement to actually build the new church, the members of "the various committees appointed for these transactions were John Price, Silas Noel, Carter Blanton, William Samuel . . . William Ware, John Major, Joseph Edrington [Rebecca's father], and William Graham." (Ref. 2291)
In recent years there have been family letters donated to the Filson Club, Kentucky's oldest privately supported historical society, and those letters, transcribed by Mike Vetch, provide some wonderful information about the Taylors. In one entry Mike wrote:
"I am up to 1835 and John [Eastin] Taylor, his wife Rebecca, son Edmund and slave Tony have travelled to New Orleans in a flatboat. Their daughter Eugenia was left behind with John's father, Richard Taylor Jr., in Columbus Ky. John describes the trip and his apartments in New Orleans in a 2 January 1835 letter. I also know that this is the year he dies and Edmund eventually ends up in Frankfort raised by his Uncle Edmund." (Filson Club)
Indeed, John Eastin Taylor died in 1835, and Rebecca remarried on October 5, 1842, to Reverend William K. Young. According to census records, daughter Eugenia was "living with Reverend William K. Young and his wife Rebecca and daughter Anna in Missouri." Rebecca died on April 20, 1875, at the age of 75.
Children of JOHN EASTIN TAYLOR and REBECCA EDRINGTON
1] EDMUND HAYNES TAYLOR JR (or II)
Born: 12 Feb 1830 Columbus, Hickman, KY, Died: 19 Jan 1923 Franklin, KY
2] EUGENIA TAYLOR lived with her stepfather, Rev. William Young, and his wife, Rebecca
Born: Sep 1833 KY, Died: after 1900
3] JOHN RICHARD TAYLOR married Virginia Ann Ellis around 1866
Born: 6 Mar 1835 KY, Died: 22 Apr 1926 Marion Co, MO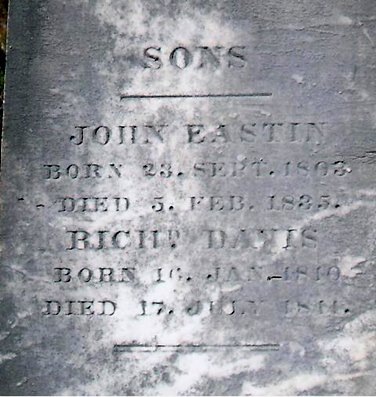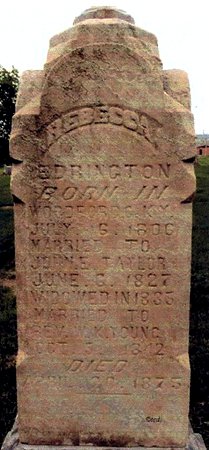 Graves for John Eastin Taylor and Rebecca Edrington Taylor (Young)
Rebecca and John Eastin Taylor's son, Colonel Edmund Haynes Taylor, was born on February 12, 1830. Only five years old when his father died, he was raised in New Orleans where he attended school. "The well-educated youth moved back to Kentucky, where E. H. Taylor, Sr., adopted him. In Frankfort, Taylor… followed in the footsteps of his adopted father and became involved in banking." (Ref. Buffalo Trace website)
At the age of 22, Taylor married the beautiful Frances Miller Johnson "on December 21, 1852." (Ref. 2279) The couple had seven children: Jacob Swigert, Mary Belle, Rebecca, Eugenia, Kenner, Margaret Johnson, Edmund Watson, and Frances Allen Taylor.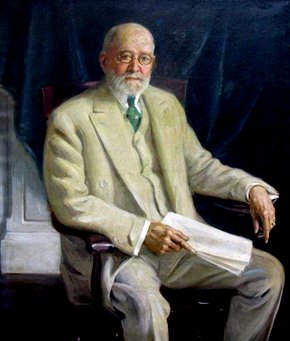 E. H. Taylor, Jr., Portrait by Charles Sneed Williams 1918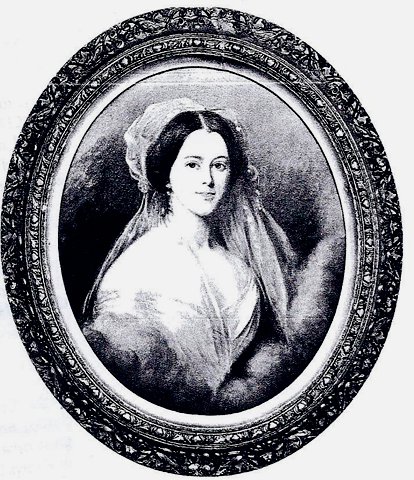 Frances Johnson Taylor (Ref. 2527)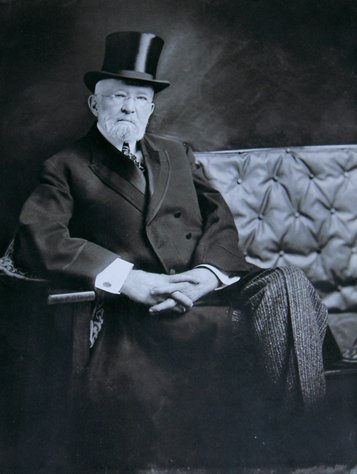 Colonel Edmund Haynes Taylor
Colonel Taylor was a man of many talents. In 1870, he took many of the skills he had honed by working for his uncle in the banking business and applied them to his new venture of upgrading the Kentucky distillery business. He purchased the Swigert Distillery - located on the banks of the Kentucky River, where distilling and whiskey storage had been taking place on the site since 1787. The first actual distillery was constructed by Harrison Blanton in 1812, and the oldest building on the site (built in 1792) was the home of Commodore Richard Taylor (great grandson of James Taylor who also had Erasmus Taylor, ancestor of Josiah Ware.)
Taylor equipped the distillery with a modern boiler and immediately began to renovate, upgrade, and modernize the plant. One of his first improvements was to replace worn out equipment with copper. This innovative strategy was so successful that he ultimately named his business the O.F.C. (Old Fashioned Copper) Distillery and it was not long before his products were unrivaled. The following information, found in the Kentucky Encyclopedia, was kindly provided by family researcher, Debbie McArdle:
"Bourbon production in the Franklin County area was at best crude and unreliable until after the American Civil War. It was at this time that Colonel Edmund H. Taylor Jr. is credited with revolutionizing the distilling industry within central Kentucky. Taylor established three distilleries within Franklin County. The first, in 1868, was located on Glenn's Creek where James Crow began his whiskey making enterprise some years earlier. This was the Old Taylor Distillery and produced the widely popular Old Taylor brand. The main distillery building was constructed during the 1880s and resembled . . . 'a medieval castle'. Inside, Taylor substituted modern, sanitary distilling equipment for the unclean, wooden beer still which distilleries had used for decades." (Kramer, Carl E. Capitol on the Kentucky, Historic Frankfort Inc.: Frankfort, 1986)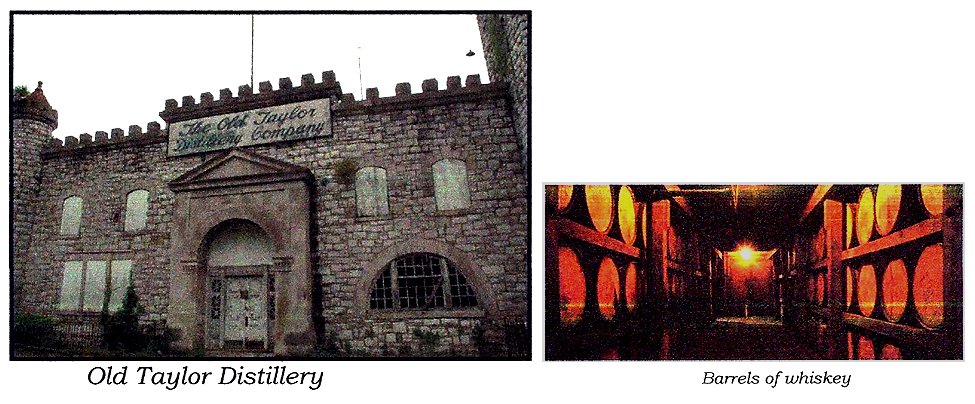 According to an article written in the Kentucky Bourbon Trail, "Colonel Taylor made an ultra fine whiskey on the famous site of the famous old Taylor plant, and it was the product of this plant that brought the Taylor whiskey a worldwide reputation. In 1886 Colonel Taylor disassociated himself from all his other distilling interests and organized the firm of E. H. Taylor, Jr. & Sons, confining his operations exclusively to the old Taylor plant. Experts have pronounced the old Taylor plant the finest distillery in the world." (Ref. 2561)
Colonel Taylor "started and owned seven different distilleries throughout his career, the most successful being the O.F.C. and Carlisle distilleries; the forerunners of today's Buffalo Trace Distillery." (Ref. Wikipedia) In 1878, The O.F.C. Distillery was purchased by George T. Stagg and Taylor devoted his energies more into agricultural venues.
Then, in 1897, at age 16, Albert Blanton (born on a farm adjacent to the building) began work "as an office boy at what was then known as the George T. Stagg Distillery." (Ref. Web) Albert was the grandson of Dr. James Ware Bacon – so he therefore had relatives in both the Taylor and Crittenden lines. (His mother, Alice Bacon Blanton was first cousins with Laura Ware Bacon Crittenden.) As with Colonel Taylor, Albert had an uncanny business sense and under his management, the distillery business continued to flourish into what is still known as The Buffalo Trace.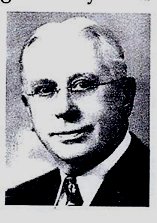 Albert Blanton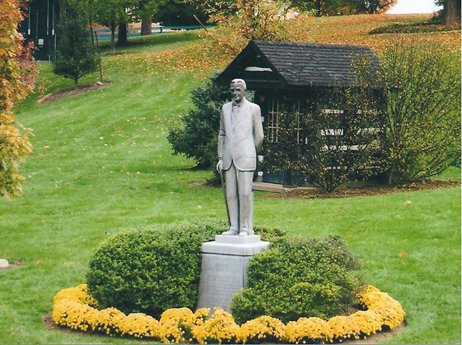 Statue of Albert Bacon Blanton with the log cabin of Richard Taylor behind him
All color photos on this page courtesy of Judy C. Ware 2012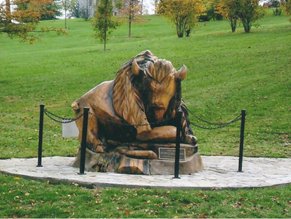 Carved Buffalo at the Buffalo Trace Distillery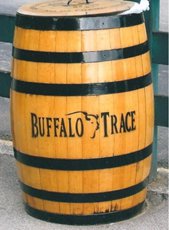 Keg
While establishing his legendary reputation in the distillery business, Colonel Taylor and Frances had also been busy in the community and raising their family. Taylor served as the mayor of Frankfort for almost seventeen years (from 1871-1887) - as well as being a local state representative to the Kentucky General Assembly and a member of the State Senate. He purchased the home of the late Philip Swigert, and it was here that he and Frances lived with their children. They named their lovely estate Thistleton and it was described by Carl Kramer as "no doubt one of the most splendid Queen Anne-style residences in Franklin County." The home had "900 acres of park and farming lands adjoining" it.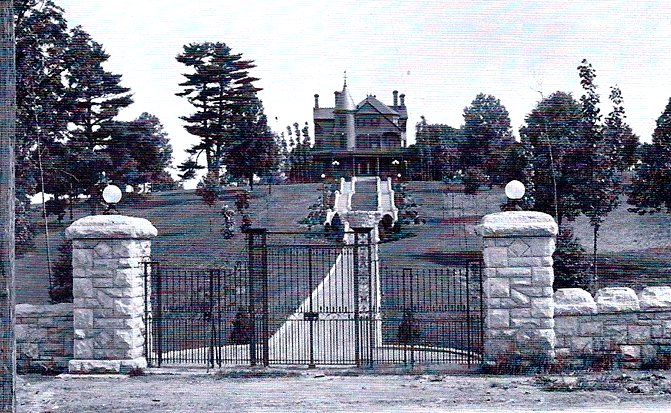 Thistleton (Ref. 2564)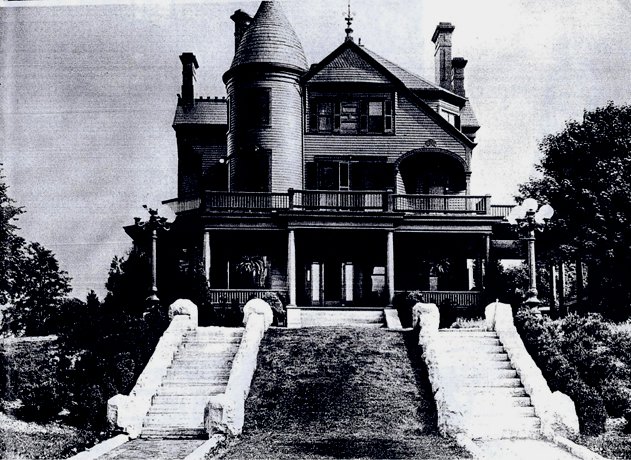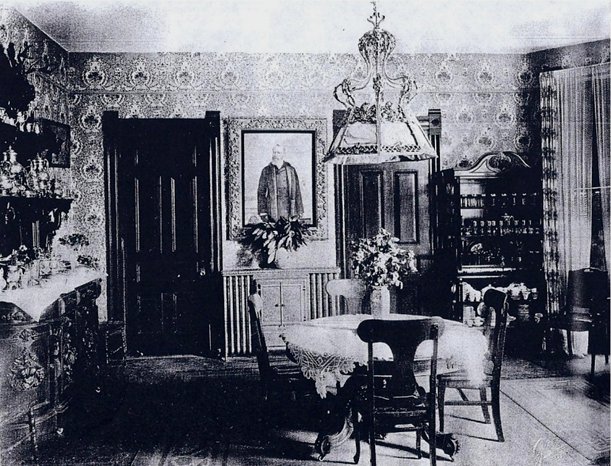 (Ref. 2564)
Interior of Thistleton
Colonel Taylor made another name for himself in Kentucky history with his keen interest in breeding good livestock - particularly Hereford cows. It was "about 1900, or a little later, Col. Taylor decided that the cattle interests of the United States were being neglected and immediately took advantage of the opportunity to promote a higher grade of cattle in Kentucky." (Ref. 1024) Charles Kerr, in his History of Kentucky, provides a wonderful quote about Taylor that was written in an issue of 'Breeder's Gazette' in 1921: Col. Taylor "has left a record of achievement as a Hereford breeder that is more enduring than granite."
Taylor lost his lovely wife on October 11, 1898, at the young age of 46. He would live another 25 years as a widower, dying on January 12, 1923.
Although the lettering is very hard to read, the following grave markers for both Frances and E. H. Taylor can be found in section "D" of the Frankfort Cemetery.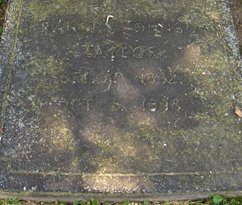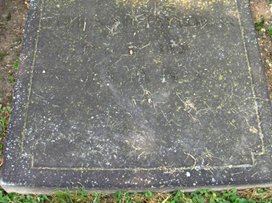 Frances Johnson Taylor Edmund H. Taylor
The following provides further information on the children that Colonel and Mrs. Taylor had.
(1)Jacob Swigert, usually just called Swigert, was born on September 30, 1853. He married Sarah Bacon Crittenden. Much more information on him will follow. Swigert died September 17, 1928.
(2)Mary Belle Taylor was born September 20, 1855, and married Dr. J. Lampton Price. She died in November 1941.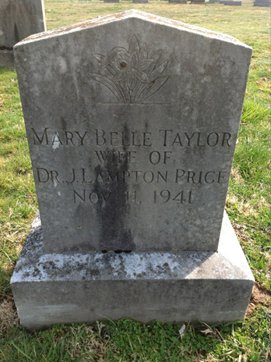 Grave for Mary Belle Taylor Price

(3)Rebecca Taylor, born on September 2, 1857, married Richard W. Kline.
(4)Eugenia Taylor died in infancy.
(5)Kenner Taylor was born November 15, 1863, and married Juliet Rankin Johnson. He died June 1, 1934.
(6)Margaret Johnson Taylor was born in September 1866, and married Philip Fall Taylor. She died on August 19, 1929.
(7)Edmund Watson Taylor was born December 10, 1868, and married Stella Underwood. He died July 10, 1964.
(8)Frances Allen Taylor was born on March 26, 1872, and married twice. Her first husband was Pythian Saffell, and her second husband was James M. Saffell.
On November 24, 1880, J. Swigert Taylor married Miss Sadie Ware Bacon Crittenden, daughter of Eugene Crittenden and Laura Ware Bacon. It is through this union that the three families (Ware, Taylor, and Crittenden) weave back into a union of both the families and their properties.
After their marriage, the Taylors "resided at the beautiful old family homestead of Thistleton" and raised their two children. Sadie first delivered a daughter (Eugenia Taylor) but the little girl died very young. Daughter (Mary Belle) and son (Edmund Taylor III) soon joined the family and both of these offspring lived to maturity.
It is with deepest, heartfelt appreciation that I thank Crit Blackburn Luallen for the pictures of her great grandparents, grandparents, and parents on the following pages. Her generosity knows no limit.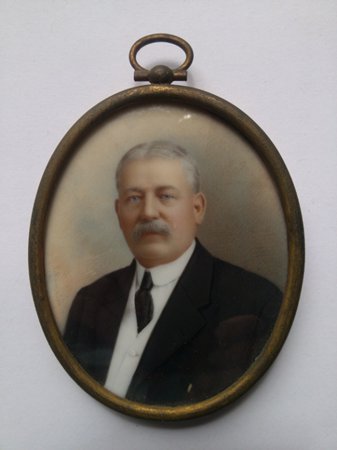 J. Swigert Taylor Sadie Bacon Crittenden Taylor
Swigert Taylor inherited his father's keen sense of business and also his love of the land. He and Sadie devoted their attention to the breeding, training, and racing of pedigreed horses; a business which was highly successful. They lived in a lovely house called Point Breeze - not from Swigert's boyhood home of Thistleton.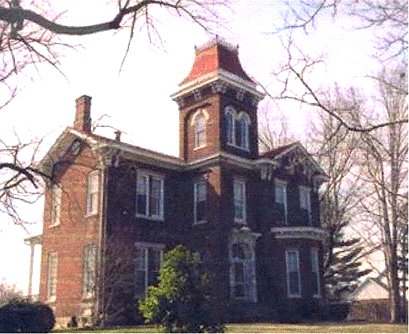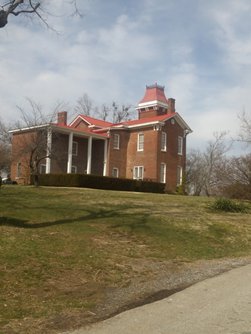 Point Breeze
Current photo courtesy of Crit Blackburn Luallen
By the early 1900s, Swigert and Sadie Taylor were in their 50s and busy planning the wedding of their daughter, Mary Belle, to Charles Walter Hay. (Ref. 2279) A striking beauty, the bride was 26 at the time of her nuptials, and Charles (born on November 12, 1878) was five years older.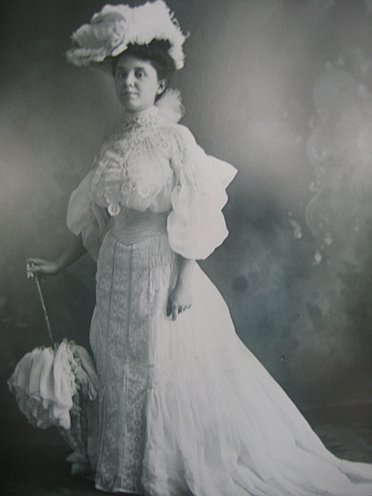 Mary Belle Taylor Hay
Ware/Taylor/Hay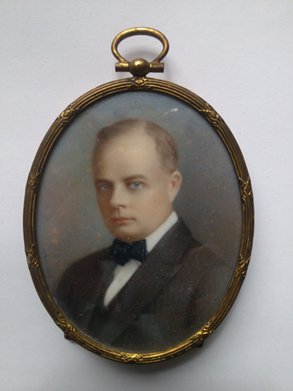 Charles Walter Hay
Mary Belle's husband was the son of Charles Sherrod Hay and Mary Charlotte Runyon, and the grandson of George Washington Hay and his wife, Susan Jane Williams. His family was from Clark County, Indiana, where his father and mother had wed in 1873. Charles had four siblings: Oscar Lee Hay, Jesse Hay (Matthews), Leila Hay (Haas), and Mabel Hay, who died at 17.
Before his marriage to Mary Belle, Charles "attended the public schools of Jeffersonville, a business college at New Albany, and graduated in 1896 from the Bryant and Stratton Business College at Louisville, where he specialized in stenography and bookkeeping. The same year he went to work in the quartermaster's depot for the United States Government at Jeffersonville, and was there two years, including the period of the Spanish-American war. For another year he was in the general freight office of the Southern Railway Company at Louisville, and on November 1, 1899, came to Frankfort and for five years was assistant correspondent for the Kentucky Distilleries and Warehouse Company. He then resumed his old business as a railroad man and for eight years was general freight and passenger agent for the Frankfort and Cincinnati Railway Company. He then took up and developed a general insurance agency at Frankfort and gave his active supervision to the business until 1920." (Ref. 2279)
Mary Belle, no stranger to education herself, "was a graduate of the well known Baldwin School at Staunton, Virginia." The facility was originally named Augusta Female Seminary in 1842, but was renamed in 1895 in honor of Mary Julia Baldwin, the longtime principal. (Ref. 2279) It had then (and still has) a wonderful reputation for academic excellence.
After their marriage, Charles had an "interest in the petroleum industry . . . being secretary-treasurer of the Taylor-South-Hay Oil Company." (Ref. 2279) He was "also vice president of the Hughes Drug Company which he helped organize in December, 1919 . . . secretary and treasurer of the Frankfort Realty Company and a director of E. H. Taylor, Jr., and Sons." (Ref. 2279) It seemed that there was little he could not do, but he really felt "an avocation in the raising and breeding of thoroughbred horses" and [was] at one time, "one of the stewards at the race meetings conducted by the Kentucky Jockey Club." (Ref. 2279) It was a passion he could certainly share with his father-in-law, since Swigert Taylor was such a horse enthusiast himself.
Mary Belle and Charles Hay married on September 2, 1909, and had a family of five children: (1) Edmund Haynes Taylor Hay (b. August 12, 1910); (2) Eugenia Crittenden Hay (b. June 4, 1913), (3) Charles Walter Hay (b. October 20, 1914); (4) Jacob Swigert Taylor Hay (b. June 19, 1917 - died 3 months later); and (5) Jacob Swigert Taylor Hay (b. October 2, 1918). These children had many memories of Thistleton because the oldest was 12 years old before his great grandfather (E. H. Taylor) died in 1922. Sadly, however, Mary Belle Taylor Hay lost her mother even before then. After 40 years of marriage, Sadie (Ware) Bacon Crittenden Taylor passed away on June 29, 1920, at age 62.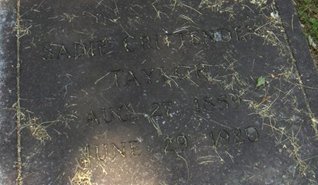 Lettering is very hard to read
Grave for Sadie Bacon Crittenden Taylor
It must have been difficult for Swigert Taylor to lose his beloved Sadie in 1920 and his father just two years later in 1922. According to his grandson, Edmund H. Taylor Hay, "in 1923, after his father's death, Swigert Taylor took his inheritance and bought Scotland Farm for his daughter, my grandmother, Mary Bell Taylor Hay who is the granddaughter of Colonel Taylor . . . it was 650 acres at the time." (Ref. Oral History) The farm had once been called Locust Hill in the early 1800s, when the owner was Robert Scott. It had been renamed 'Scotland' by the Mason family who purchased it from him. (See Chapter 12) Ironically, however, this property was originally known as Wareland when it belonged James Ware I - - - Sadie's great great great grandfather! The land had come full circle. Mary Belle's father, J. Swigert Taylor, died six years after his father, on September 17, 1928, at the age of 75.


(Ref. 2533)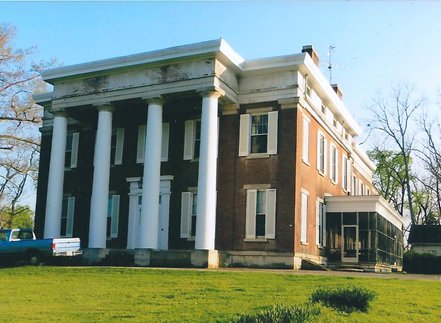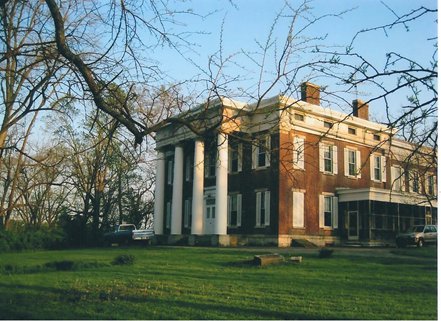 Scotland Color photos by Judy C. Ware 2012
Any color photographs were taken with the kind permission of one of the current owners of Scotland, John Hay. I am deeply indebted to him for his hospitality and generosity in allowing me to visit his beautiful home. John is also a descendant of James Ware (through J. Swigert Taylor and his wife, Sadie Bacon Crittenden).
Mary Belle and Charles Hay lived at Scotland the rest of their lives. The beautiful formal gardens on the property were "laid out by Mrs. Hay with the intent of preserving those maintained since the Scott's original gardens" (Ref. Historical Registry) It must have been a wonderful place to gather for family celebrations.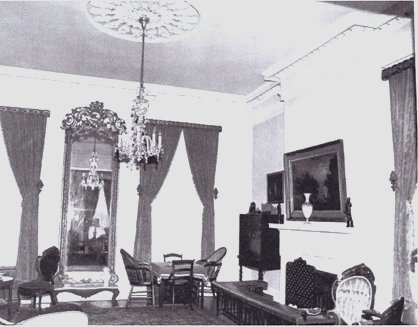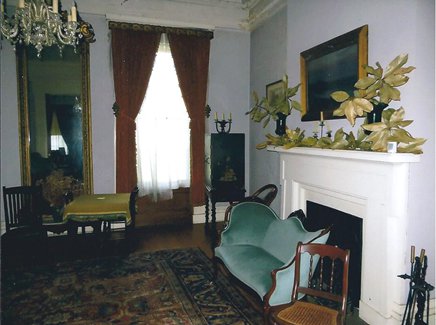 Old photograph (Registry) Taken by Judy C. Ware 2012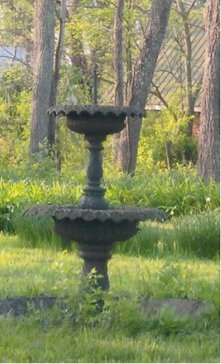 Scotland Farm Gardens 2012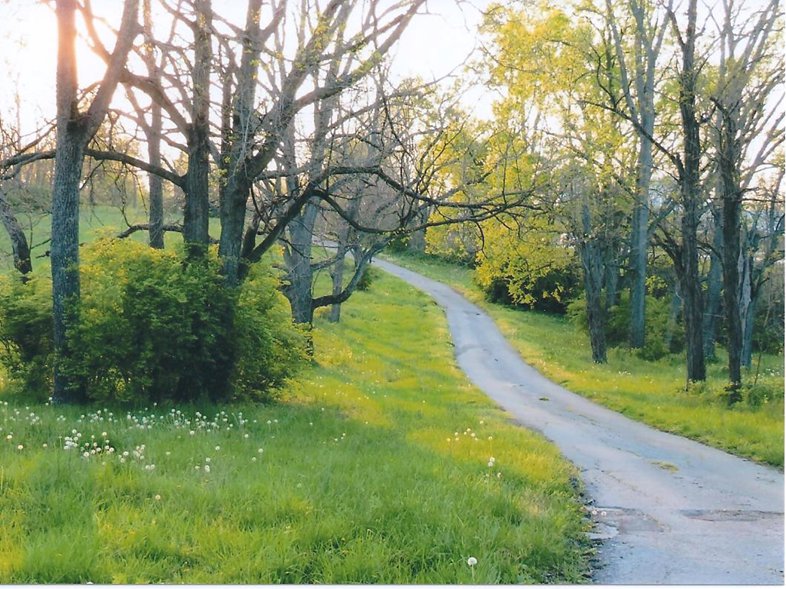 Taken at sunset – exiting Scotland
Of the four adult children of Mary Belle and Charles Hay:
1. Edmund H. Taylor Hay was born one year after Mary Belle and Charles got married, on August 10, 1910. He later married Ruth Williams, and their descendants are the current owners of Scotland.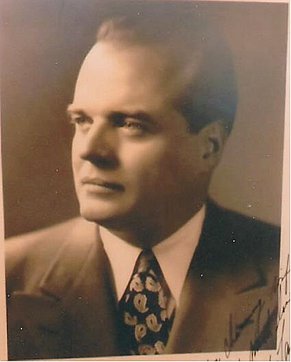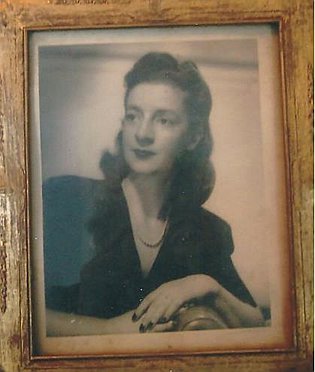 E. H. Taylor Hay Ruth Williams Hay
2. Eugenia Crittenden Hay was born June 4, 1913, and she wed Samuel Everett Blackburn. The Blackburns had a distinguished family history as well. The descendants of Eugenia and Samuel currently own Wareland.
3. Charles Walter Hay, born October 22, 1914, died tragically with his wife in a house fire on April 15, 1951.
4. Jacob Swigert Taylor Hay, born June 19, 1917, only lived for three months and died on September 15, 1917.
5. Jacob (Jake) Swigert Taylor Hay, born October 2, 1918, married Mary Elizabeth Hunter and passed away June 9, 1966.
In further transcriptions of the family letters, Mike Vetch writes: "I am about to wrap up the 1940's and move on to the 1950's. Taylor Hay Jr. is a cadet at VMI. Mary Belle is in Pine Manor Junior College near Boston. Taylor Sr. is still managing the Union League Club in Chicago while his wife Ruthie and young son John (born in 1944) live on Scotland Farm near Frankfort. I am in 1953 – C. W. Hay and his wife died in a house fire in 1951 and Kenner Taylor has passed away in July of 1953. Taylor Hay Jr. has married and has Taylor Hay III. Mary Belle Hay has also married. They are breeding horses on Scotland Farm as well as sheep." Mike Vetch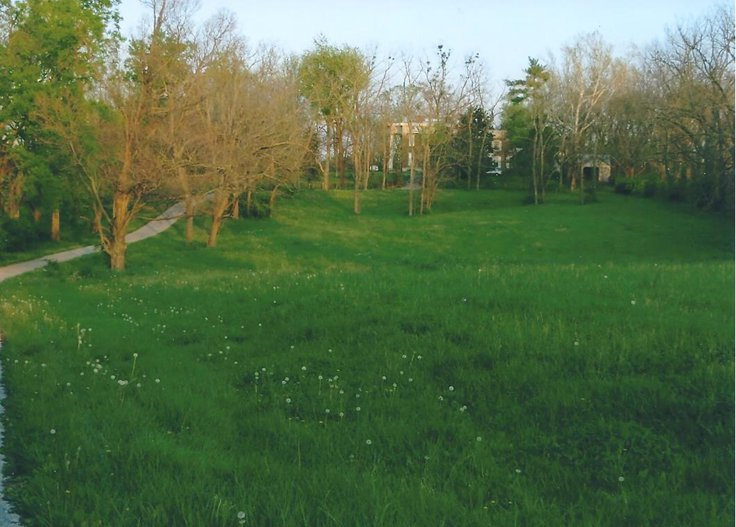 Scotland – photo taken by Judy C. Ware 2012
The lovely home of Mary Belle and Charles was decorated with a true eye for beauty. "Mrs. Hay [was] "a painter of portraits and collector of antiques, and the stately old home is filled with priceless family and museum pieces." (Ref. 2533)
Entrance hall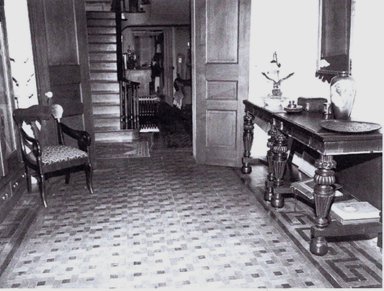 Her attention to detail shows clearly throughout the home. "Handsome parquet floors of oak and other woods were installed over the original and poplar floors in most of the downstairs room at the turn-of-the-century. The entrance hall, for instance, has a basket-weave pattern with a wide border." (Ref. Historical Registry)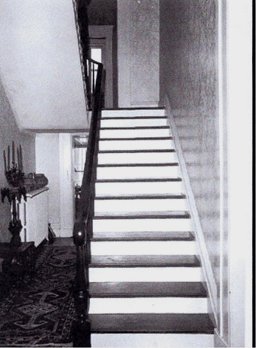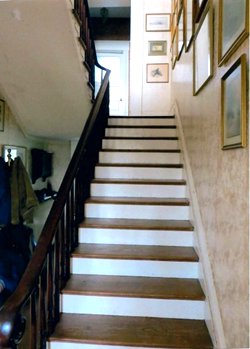 Old photo Current photos taken by Judy C. Ware 2012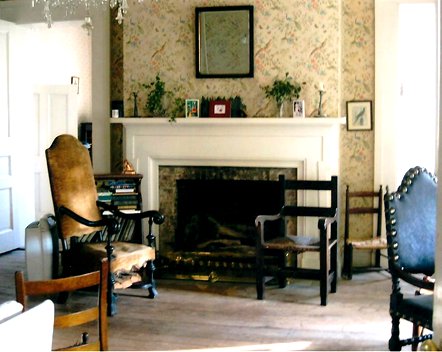 Every detail, even down to the light fixtures, was done with the thought of enhancing the beauty of the breath-taking mansion.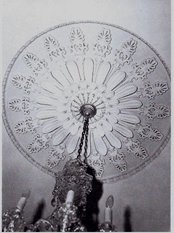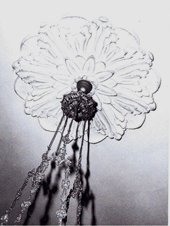 Photos appearing in the National Register of Historic Places Inventory
"The third floor was reserved for the governess and seamstress. Steps led to the roof, of which a portion was flat and had benches on which one might sit and have a magnificent view of the undulating Bluegrass country of over one thousand acres belonging to Scotland." (Ref. 2533) (Extra acres had been purchased over the years.)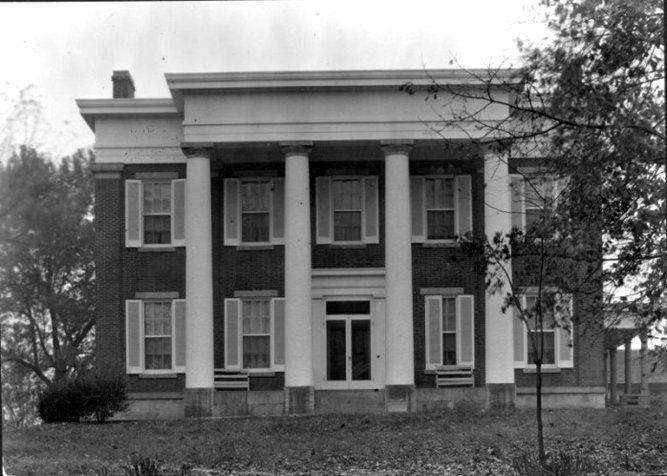 Photo provided courtesy of the Kentucky Historical Society
The years at Scotland were happy ones when the children were growing, and many wonderful memories were made for the family and extended family. Charles died on July 13, 1936, at the age of 58. Mary Belle Taylor Hay would only live another three years - dying on November 8, 1939, at the young age of 56. She and Walter had celebrated 30 years of marriage.
Ware/Taylor/Hay/Blackburn
When Mary Belle's daughter, Eugenia Crittenden Hay, married into the Blackburn family, she joined another prestigious Kentucky family. The Kentucky patriarch was George Blackburn (born 1746) who was the "son of Edward and Anne Blackburn of Virginia and the grandson of William and Elizabeth Blackburn." (Ref. 2291) George wed Prudence Berry (born 1754) in 1791.
His Will (WOODFORD COUNTY KENTUCKY, WILL BOOK E, PG. 202-04, names as heirs: "Wife, Prudence; Daughters, Mildred White, (William White), Harriet Blackburn, Margaret KinKaide, Maria Blackburn, and Nancy Bartlett; sons, Churchill J., Jonathan, Edward, William B., and George." The will was written 5th. September 1817
The following is from the Blackburn Family Bible in possession of Mrs. C. Douglas (Charlotte McKamy) Kelso, Jr. of Tennessee. The original record is in the handwriting of her great great grandfather, Edward Mitchell Blackburn.
The Children of George and Prudence Blackburn
George Blackburn b. 16 January 1746, Glouchester Co., VA d. 1817 Woodford Co, KY marriage: Prudence Berry 19 Sept. 1771 in Louisa Co., VA
children:
Nancy Ann b. 30 July 1772 in Middlesex Co., VA
William Berry b. 24 April 1774
Jonathan b. 10 Feb. 1776
Luke Pryor b. 14 Sept. 1777
Mary "Polly" b. 12 Dec. 1789
Mildred b. 25 August 1782
George Jr. b. 27 Nov. 1785, the first born in Woodford Co., KY
+Edward Mitchell "Uncle Ned" b. 10 Feb. 1787, Woodford Co.
Margaret Trotter "Peggy" b. 7 Oct. 1790
Churchill Jones b. 25 Sept. 1793
Prudence Rachael b. 11 July 1795
Note: The home of George was located only a mile from Spring Station. He and his wife moved to Woodford County in 1784. His fort was used as a refuge, in the event of Indian attack, by all those within the vicinity.)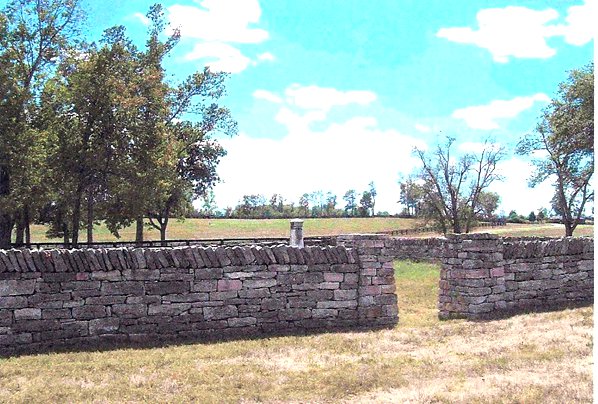 George Blackburn Family Cemetery
George died in 1817, and Prudence passed away in 1836. This cemetery was established for them and their family. "Their many grandchildren included Kentucky Governor (1879-83) Dr. Luke Pryor Blackburn; U.S. Senator (1885-95, 1901-07) Joseph C. S. Blackburn, who was later chairman of the Lincoln Memorial Commission (1914-18); Kentucky Senator and Secretary of State James Blackburn; and St. Louis Mayor Edward Blackburn." (Web) In her will, the Blackburn's granddaughter Elizabeth J. Blackburn (wife of Dr. C. J. Blackburn) instructed her executor to "have a substantial stone wall built around my Grandfather Blackburn's family graveyard in Woodford County and to have the graves and monuments therein repaired and put in good order, the whole not to cost exceeding one thousand dollars." (Franklin County, Kentucky, Will Book 3, Pg 327)

"The cemetery is currently located on the Lane's End Farm (Fort Blackburn Division) on Old Frankfort Pike (KY 1681) near the Woodford/Franklin County border. The cemetery can be accessed by appointment by contacting the Lane's End Farm Security Office at 1500 Midway Road near Versailles. Security personnel must guide and accompany visitors to the cemetery. Visitors must cross an active rail line that runs through the farm." (Find a grave)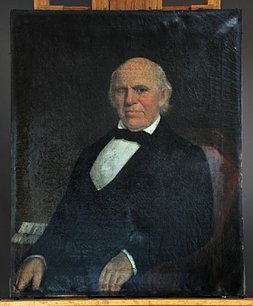 E. M. (Ned) Blackburn
One of the sons of George and Prudence was Major Edward (Ned) Mitchell Blackburn, who was born February 10, 1787. At the age of 20, Ned married Lavinia St. Clair Bell in 1807. His young bride was six months shy of her 14th birthday at the time. The couple would have a very large family – with fourteen children.
Excerpt from Family Bible
MARRIAGES
E.M. Blackburn and Lavinia S. Bell were married Sept 3rd, 1807
Edward ("Ned") Blackburn, was a lawyer and an avid horse breeder. He "bred many racers on his farm which cornered at Spring Station just one mile distant from his father's home." (Ref.1024, 2291) Their lovely property was named Equira (and the "71 lush acres" that surrounded it) added to its' beauty. It was here that the Blackburns raised their family; three of whom became very well known in politics. Luke Pryor Blackburn was governor of Kentucky from 1879 to 1883, Joseph Clay Stiles Blackburn became a senator, and James Weir Blackburn served as the Kentucky Secretary of State from 1879 to 1883. Lavinia was 69 years old when she died on June 3, 1863, and Ned died at age 80 on March 18, 1867. (Gravestones)
BIRTHS

E.M. Blackburn was born Feb 10th, 1787
Lavinia S. Bell was born March 23th, 1794
George E. Blackburn was born July 6, 1810 - 4 o'clock A.M.
John Bell Blackburn was born Nov. 29, 1811 - 2 o'clock P.M.
Frances Ann Blackburn was born May 28th,1813 - 4 o'clock A.M.
Luke P. Blackburn was born June 16th, 1816 - at sunrise in the morning.
Edward Lewis Blackburn was born Dec. 18th, 1817 - 8 o'clock P.M.
Mary Prudence Blackburn was born July 11th, 1819 - one hour before sunset.
Elizabeth Jane Blackburn was born April 3rd, 1821 - Tuesday 10 o'clock A.M.
William Edwin Blackburn was born Feb. 14, 1823 - Friday 8 o'clock A.M.
Henry Berry Blackburn was born 13th DEc., 1827 - Thursday 6 o'clock P.M.
Churchill Horace Blackburn was born 13th Dec., 1827 - Thursday 6 o'clock
Edward Mitchell Blackburn was born Sept 3rd 1829 - Friday 4 o'clock A.M.
Breckenridge Flournoy Blackburn was born Feb 25th, 1823 - 8 ocl;ock A.M.
James Weir Blackburn was born April 30th, 1834 -Wednesday 10 o'clock
Joe C. Stiles Blackburn was born Oct. 1, 1838 - 1 o'clock AM Monday
Lavinia B. Flournoy was born Nov. 28th, 1829 - Friday 12 o'clock
James W. Blackburn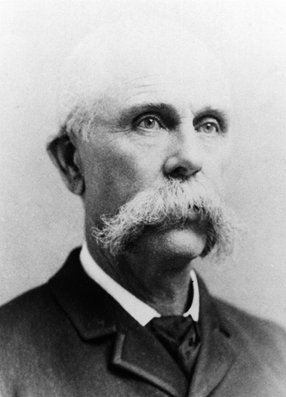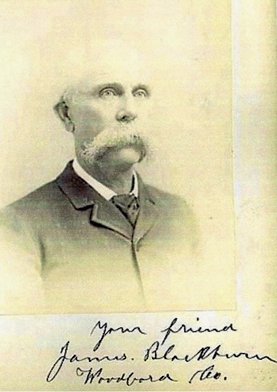 James Weir Blackburn was born on April 30, 1834. He married Henrietta Everett "January 6, 1846, 7 o'clock Thursday Evening," and the couple had four children - - James, Mary, Samuel, and Henrietta. (Ref. Family Bible) James Blackburn "joined the Confederate armed forces in Arkansas in 1861 and served until he was taken prisoner in 1864. He was exchanged in February 1865 and then served until the end of the war." (Ref. Web) He then "served in "the State Senate from 1875 to 1879 and as Secretary of State from 1880 to 1883 in the administration of Luke P. Blackburn. In 1890 he was a member of the constitutional convention. (Ref. Website for Kentucky politicians)
James and his family were clearly very proud of his service in the Confederate Army because his grave makes special mention of the fact. When his son, James Jr., died, it was even written on his tombstone that he was "son of a Confederate soldier."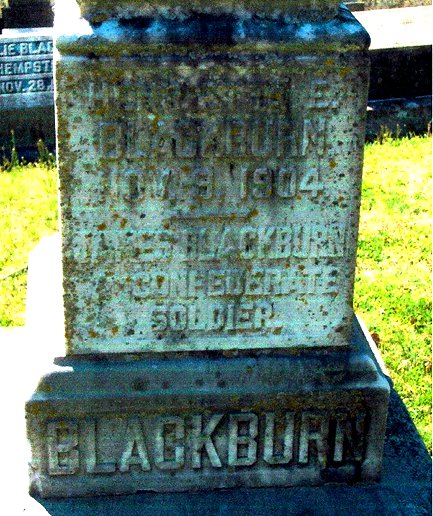 Grave for James Weir Blackburn and Henrietta Everett Blackburn
It was through the brother of James (George E. Blackburn) that part of the Wareland estate came into the Blackburn family. When the heirs of Samuel Ware sold some sections of the land in 1847, George purchased 24 acres.


Deed for sale of 24 acres of Wareland to George Blackburn
Henrietta Everett Blackburn carried on her maiden name with her son Samuel. Born in 1861, (his tombstone says 1860) Samuel Everett Blackburn married a much younger lady. The manifest for passengers aboard the voyage of 'Cristobal' to Ellis Island on February 13, 1916 shows the following listing:



Ship Manifest
This would have made Lucy 20 years younger than Samuel (born in 1881) and verified Samuel's birth year as 1861. Lucy's father, Robert Boggs Lyle, of Lebanon, Kentucky was "one of Kentucky's foremost farmers and stockraisers and helped develop and train some of the great Kentucky horses of his time." (Ref. 2279)
Lucy was a trained nurse and "her first duties in her profession were as director of physical training and head nurse at St. Mary's College, an Episcopal institution at Dallas, Texas. According to her plans and specifications the college hospital was built, and she remained in active charge for several years." (Ref. 2279)
Samuel and Lucy were married on October 30, 1907. Senator Joseph Blackburn, Samuel's uncle, "appointed him a Federal judge in the canal zone, and he lived on the Isthmus of Panama" with Lucy for ten years. (Ref. 2279) It was in the Canal Zone that their two children were born: Henrietta Lyle in 1908, and Samuel Everett Jr., in 1910. Judge Blackburn "resigned in the spring of 1918 on account of ill health" and returned to Lebanon. (Ref. 2279)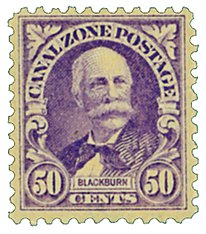 Commemorative stamp for Joseph Clay Styles Blackburn (Uncle of Samuel) who served on Canal Commission and as Governor of the Canal Zone 1907-09
It was the only son of Judge Samuel Blackburn and his wife, Lucy, (Samuel Everett Blackburn Jr.) who wed lovely Eugenia Crittenden Hay. Born on August 9, 1910, the groom was three years older than his bride, who was born on June 4, 1913.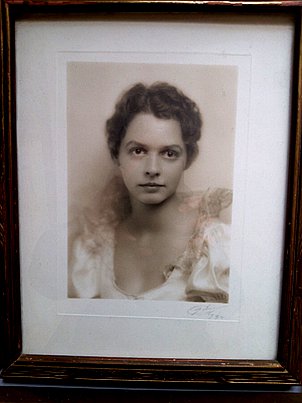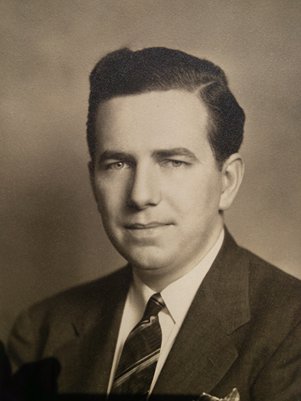 Eugenia Crittenden Hay Blackburn - Samuel Everett Blackburn
Eugenia gave birth to six children: (1) Samuel Everett Blackburn, (2) James Weir Blackburn, (3) Robert Lyle Blackburn, (4) Jacob Swigert Blackburn, (5) Edmund Taylor Blackburn, and (6) Eugenia Crittenden (Crit) Blackburn. Sometime before her marriage, Eugenia had received a letter from her father telling her that he had purchased a farm he had been anxious to buy. His 155-acre acquisition was none other than a sizable portion of what was originally known as Wareland. It was on this farm that the Blackburns would raise their family.
Samuel died on May 20, 1969, and Eugenia passed away on October 8, 1986. It is through the children of Samuel and Eugenia Crittenden Hay Blackburn that the legacy of Wareland still continues. Their offspring are the great (X 6) grandchildren of James and Agnes Todd Ware. It is almost surreal to realize that, as of 2013, the property known as Wareland and the property known as Scotland are both owned by the grandchildren of Mary Belle Hay – and those owners are descendants of James Ware I of Virginia. The land is, today, as beautiful and beckoning as it was for him when he first set foot on it 230 years ago!
In a nutshell, the lineage of the first owners of Wareland to the current owners looks like the following:
(1)

James & Agnes Ware had William Ware

(2)

William & Sarah Ware had Elizabeth Ware

(3)

Elizabeth Ware (Bacon) & John Bacon had Williamson

(4)

Williamson Ware Bacon & Anna Marie Noel had Laura

(5)

Laura Ware Bacon (Crittenden) & Eugene Crittenden had Sadie

(6)

Sadie Crittenden (Taylor) & Swigert Taylor had Mary Belle

(7)

Mary Belle Taylor (Hay) & Charles Hay had Eugenia

(8)

Eugenia Hay (Blackburn) & Samuel Blackburn had 6 children

(9)

Their surviving children (one being Eugenia Crittenden (i.e., Crit) Blackburn Luallen) are the current owners of Wareland.
While on a research trip for this book, my husband and I had the honor of meeting Crit Blackburn Luallen. This generous and kind lady welcomed me into her home without any advance notice, and in an unbelievable act of hospitality and graciousness, she provided me with answers to questions that have intrigued family researchers for generations. There are no words to adequately express the depth of my gratitude to Crit for the precious gift of history that she so warmly shared with me. What a blessing she has been to, not only me, but every Ware researcher for generations to come. The following photographs are like "buried treasure" for all of us who can trace our roots back to James and Agnes Ware. To look at the beautiful land that called the Wares out of Virginia into Kentucky is like breathing life into our past.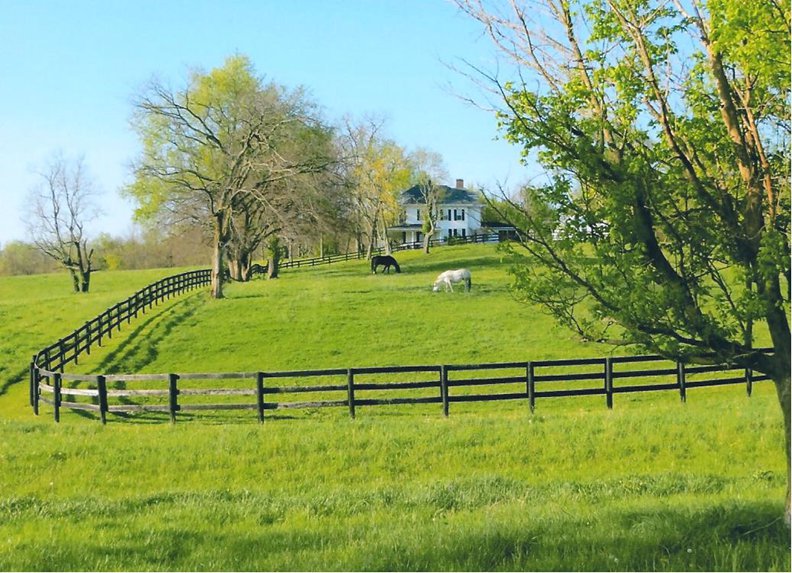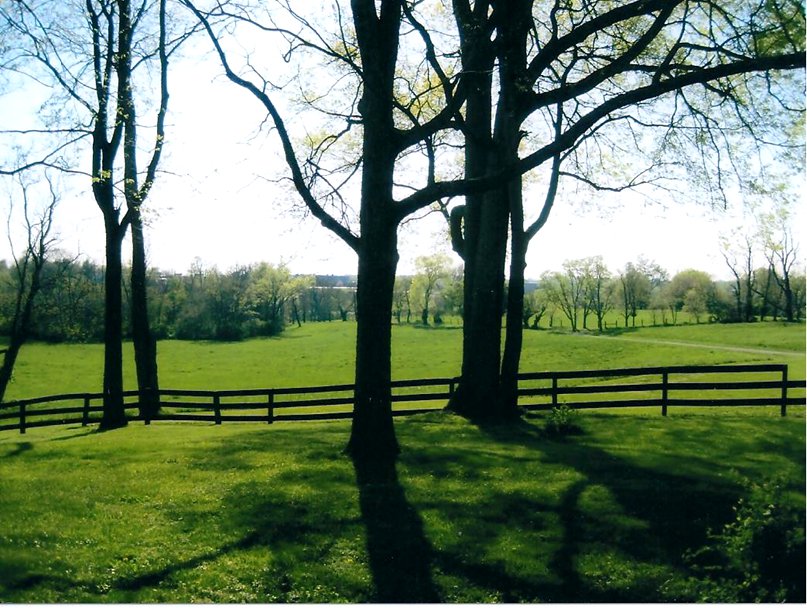 The current house (built in the early 1900s) sits on the original Wareland property owned by James Ware in 1783.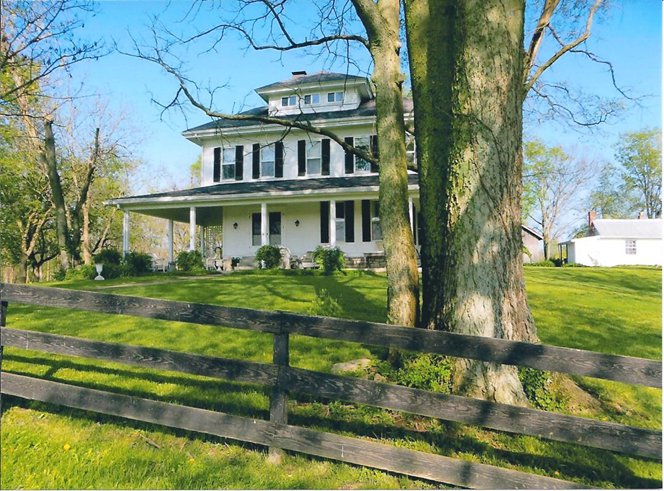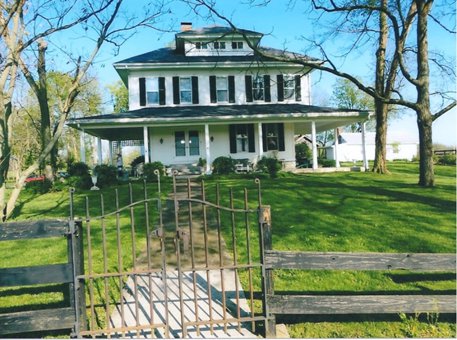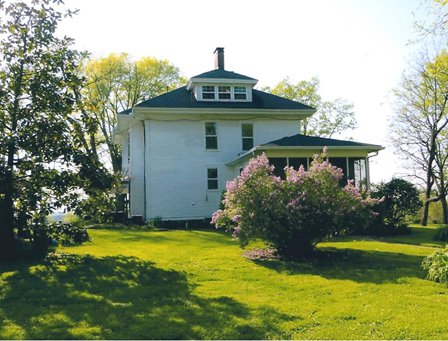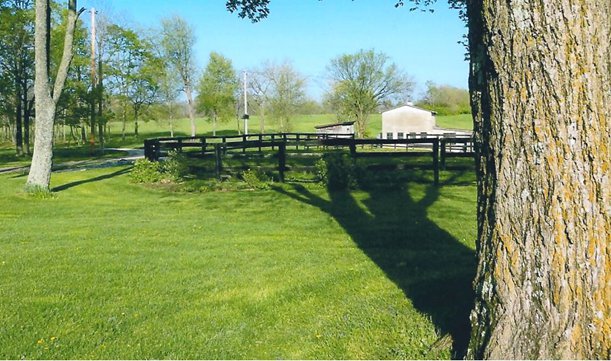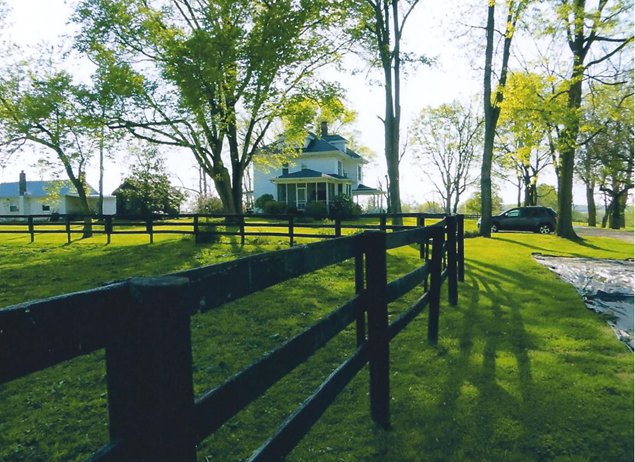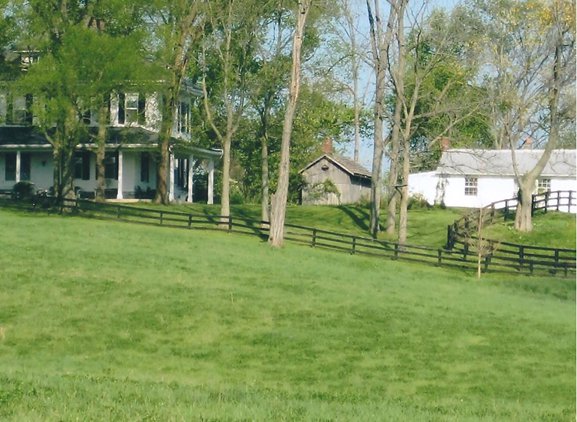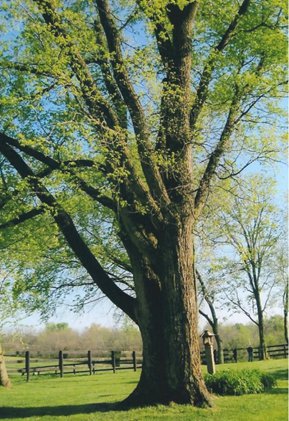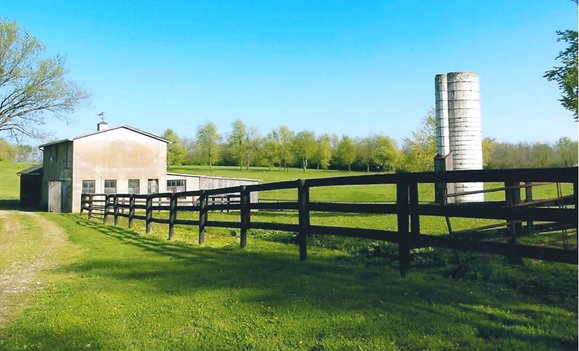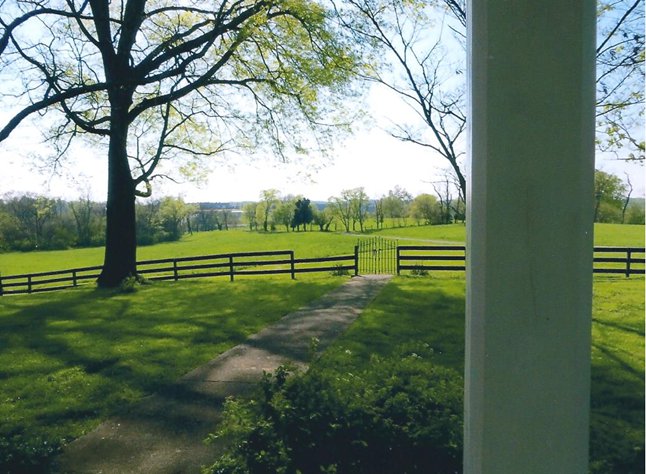 What a view!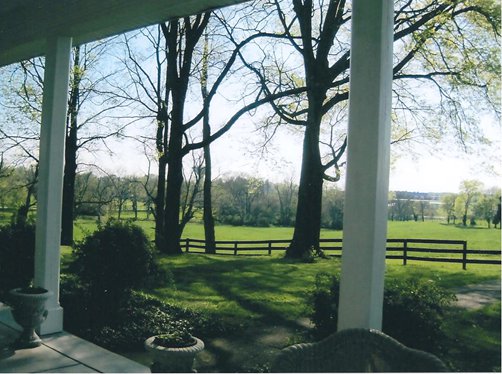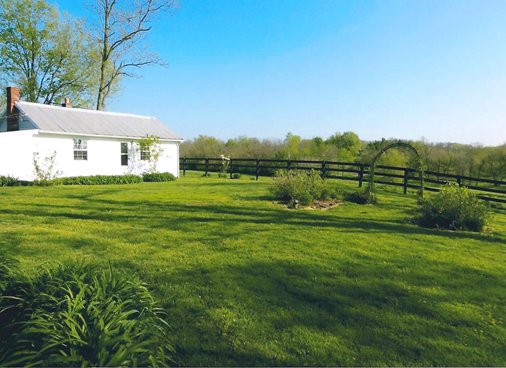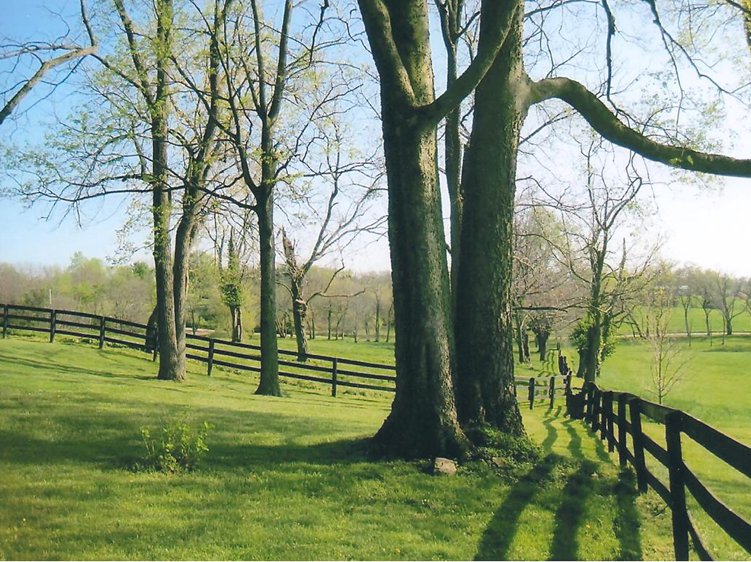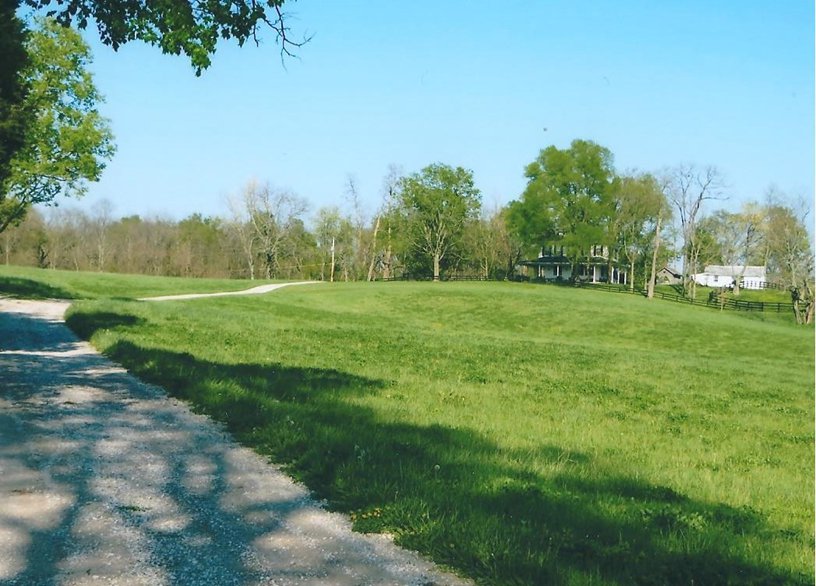 Supporting Documentation for Addendum
Children of:
Williamson Ware Bacon and Anne Maria Noel
B. March 7, 1804 November 3rd, 1824 B. circa 1808
D. March 17, 1845 D. 1850
Had:
1. Maria Elizabeth Bacon born April 11, 1826 died Oct. 6, 1873
married John Adair Monroe
2. Laura Bacon born February 1833 died 1898
married Eugene Wilkinson Crittenden
Children of:
Richard Taylor Jr. and Mary (Polly) Taylor (his cousin)
B. December 2, 1777 B. September 21, 1781
D. October 1835 D. December 9, 1856
1. Edmund Haynes Taylor born June 4, 1799 died April 24, 1873 married (1)Elizabeth Clay, (2)Louisa Ann Brown Hart, (3) Martha Southgate Taylor, and (4) Elizabeth Sarah Fall
2. John Eastin Taylor born September 23, 1803 died February 5, 1835 married Rebecca Edrington
3. George Colby Taylor born October 15, 1805 died April 7, 1871 married (1) Virginia Singletary and (2) Isabella B. Winn
4. William Henry Harrison Taylor born January 6, 1812 died 1868 married (1) Nancy B. Eskrige and (2) Catherine Smith Robinson
*** Interesting side note - - Richard was described as having "an extraordinary physique, measuring six feet two inches and weighing about 250 pounds – having not an ounce of surplus flesh, carrying a frame of bone and muscle." (Ref. 1024)
Children of:
Jacob Swigert Taylor and Sarah (Sadie) Bacon Crittenden
B. September 30, 1853 1880 B. August 17, 1858
D. September 17, 1928 D. June 29, 1920
1. Mary Belle Taylor born September 20, 1883 died November 8, 1939
Married Charles Walter Hay on September 2, 1909
Children of:
Col. Edmund Haynes Taylor and Frances Miller Johnson
B. February 12, 1830 1852 B. September 10, 1832
D. January 12, 1923 D. October 11, 1898
1. Jacob Swigert Taylor born September 30, 1853 died September 17, 1928 married Sarah Bacon Crittenden
2. Mary Belle Taylor born September 20, 1855 died married Dr. J. Lampton Price
3. Rebecca Taylor born September 2, 1857 married Richard W. Kline
4. Eugenia Taylor died in infancy
5. Kenner Taylor born November 15, 1863 died June 1, 1934 married Juliet Rankin Johnson
6. Margaret Johnson Taylor born September 1866 died August 19, 1929 married Philip Fall Taylor
7. Edmund Watson Taylor born December 10, 1868 died July 10, 1964 married Stella Underwood
8. Frances Allen Taylor born March 26, 1872 married Pythian Saffell, 2nd husband being James M. Saffell.
Children of:
Mary Belle Taylor and Charles Walter Hay
B. September 20, 1883 1909 B. November 12, 1878
D. November 8, 1939 D. July 13, 1936
1. Edmund H. Taylor Hay born August 12, 1910 died July 17, 1995 married Ruth Williams
2. Eugenia Crittenden Hay born June 4, 1913 died October 8, 1986 married Samuel Everett Blackburn.
3. Charles Walter Hay born October 22, 1914 died April 15, 1951 married Nell Hunter
4. Jacob Swigert Taylor Hay born June 19, 1917 died September 15, 1917only lived 2 months
5. Jacob (Jake) Swigert Taylor Hay born October 2, 1918 died June 9, 1966 wed Mary Elizabeth Hunter
INFORMATION ON GREAT GRANDPARENTS
George Washington Hay wed Susan Jane Williams
B. 1798 B. 1817
D. 1886 D. 1891
They had:
Charles Sherrod Hay wed Mary Charlotte Runyon
B. 1853 1873 B. 1856
They had: (1) Oscar Lee Hay, (2) Jesse Hay (Matthews), (3) Charles Walter Hay, (4) Leila Hay (Haas), (5) Mabel – died at 17
Extra References used just for this section
Across

  

the Continent 
Fifth Cavalry, Compiled by: George F. Price 
Captain Fifth Cavalry, U. S. Army, With Four Portraits On Steel 
New York: D. Van Nosteand, Publisher, 83 Murray Street and 27 Warren Street. 1883. 
Information was found on this site:
BourbonEnthusiast.com
Transcription of family letters donated to the Filson Club and researched by Mike Veach