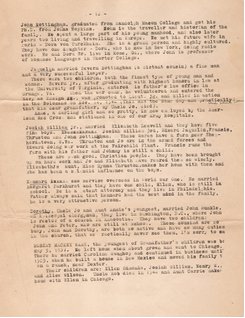 Original page 12
CORRECTION: A manuscript at the Rutherford B. Hayes Library lists the children of Josiah and Anne as "John Nottingham Ware, Annie Ware, Jaqueline Ware, Josiah William Ware III, Kennard Nottingham Ware, and Dorothy I. Ware." (Ref. Hayes Library) Since Cornelia Ware Anker recorded that the couple had "five children who lived to maturity; John Nottingham, Jaquelin, Josiah William III, Kennard, and Dorothy," one can assume that Annie Ware did not survive childhood. (Ref. 2)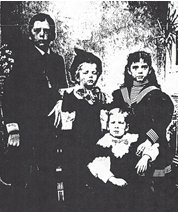 Standing from left to right is John Nottingham Ware (age 14), Kennard Nottingham Ware (age 4),
Jaquelin Ware (age 10) and seated is Josiah William Ware (age 8)
The original photo is the property of Jane and Scott Dudgeon

75.

John Nottingham, graduated from Randolph Macon College and got his Ph.D. from Johns Hopkins. John is the traveler and historian of the family. He spent a large part of his young manhood, and also later years too, living and travelling in Europe. He met his future wife in Paris – Dora von Turekheim. She is a grand person and highly cultured. They have one daughter – Dora – who is now in New York, doing radio work. He and Dora Sr. live in Rome, Georgia, where John is professor of Romance languages in Shorter College.


John Nottingham Ware
original photo owned by Jane and Scott Dudgeon
Josiah and Ann's first son, born on February 8, 1882, was named John Nottingham Ware. He "studied in Paris and was an instructor of French at the University of North Carolina in 1910." (Ref. 2395) He later "became a teacher in Sewanee, Tennessee and married Dora Von Turckheim on July 27, 1915." (Ref. Hayes) They had one child, a daughter named Dorchen Ware who "married James Marshall." (Ref. 3)
*** A passport application in 1921 gave the birth place of Dora as Tharandt Saxony, Germany.
There is another interesting piece of information about John Nottingham Ware that can be gleaned from a letter written by his Aunt Elizabeth, his father's older sister, in 1915. She wrote:
"I must tell you a contradictory thing in the family. John (Jo's son) is professor of languages at Sewanee Tenn. and for several years has spent his vacations in foreign countries, studying them and became enamored of a German girl and this summer despite all risks, went to Germany, married and brought her home. He made narrow escapes crossing from England and from being arrested as a spy. Once had a paper rolled up under his foot but though they felt all around in the shoe – did not take it off. Had they found it, he would be fared horrible. After all, she seems to be a most desirable partner and will be well treated." (Ref. 161)
According to The Living Church, Volume 140, John, "who was a vestryman of St. Peter's Church, Rome, Georgia, died December 10, 1959 at the age of 77 in Rome."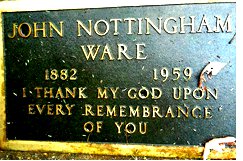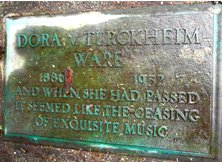 Grave markers for John Nottingham Ware and Dora Turckheim Ware

76.

Jaquelin married Severn Nottingham (a distant cousin) a fine man and a very successful lawyer. There were two children, both the finest type of young man and woman. Severn Jr., after graduating with highest honors in law at the University of Virginia, entered is father's law office in Orange, Virginia. When the war came, he volunteered and entered the Navy as ensign, was promoted to lieut. j.g. and killed in action in the Solomons on Nov. 14, 1942. (This was the same day and practically the same hour that his dear grandfather, my Uncle Jo, died.) Anne, a darling girl and so pretty, is now employed by the American Red Cross and stationed in one of our army hospitals.
** Jo and Anne next had a daughter; naming her Jaquelin Ware. She married Severn Marcellus Nottingham (a distant cousin) and the wedding, as mentioned before, was held in St. Stephen's Episcopal Church. Her father performed the ceremony, and her older brother, John, walked her down the aisle. Their announcement read:
Ware, Jacqueline, Miss to Severn Marcellus Nottingham - Date of Marriage; Wednesday - Married at Saint Stephen's Episcopal Church - Daughter of Rev. and Mrs. Josiah William Ware - Son of Edgar Nottingham, Sr. - Will make their home in Culpeper - Nottingham-Ware - ESH 14 Jun 1912.
The couple had two children - - a son named after his father, Severn Nottingham, Jr., who was killed in 1942, and a daughter named Anne who married John Piers.
The Naval Battle of Guadalcanal is sometimes referred to as the 3rd and 4th Battles of Savo Island or the Battle of the Solomons. The fighting took place from the 12th to the 15th of November in 1942.
Jaquelin Ware Nottingham was an active member in the United Daughters of the Confederacy and in 1931, became an officer in the organization. Below is her letter of acceptance.


(Ref. 2394)
Jaquelin Ware Nottingham died on January 21, 1959

77.

Josiah William [Ware], Jr., married Elizabeth Leavell and they have five fine boys – Josiah William 3rd, Edward Jaquelin, Francis, Thruston, and John Nottingham. These Wares have a farm near Shepherdstown, West Virginia. Thruston and Jo are in the armed forces and Edward doing war work at the Fairfield Plant. Francis runs the farm with his father and Johnny is still a child.
** Josiah William Ware III was Jo and Anne's next child. He was born December 21, 1888 and married Elizabeth Hunter Thruston Leavell on March 4, 1916, in West Virginia. The couple had 5 boys; (1) Josiah W. Ware IV, (2) Francis Leavell Ware, (3) Edward Jaquelin Ware, (4) Thruston Ware, and (5) John Nottingham Ware. (Ref. 2, 3) Jo died in 1968, and Elizabeth passed away on January 6, 1972.
LEAVELL, Elizabeth Hunter Thurston married on March 4, 1916 in Jefferson a groom named Josiah William Ware.
As for their children:
(1) Josiah W. Ware IV – He was born January 5, 1918 and died November 15, 1984. He also entered the ministry.
(2) Francis Leavell Ware – He was born December 9, 1919 and married Dorothy Lee Brandenburg on August 21, 1948 in West Virginia. The presiding minister was his brother-in-law, John C. Runkle. In 1987, Francis married a widow named Winifred Alice (Anderson) Green.
WARE, ALICE (GREENE), age 88, of West Orlando, passed away Saturday, September 8, 2012. Alice was born June 3, 1924 in Port Chester, CT to Robert and Winifred Anderson. She moved to Orlando in 1959 with Frank Greene and their 4 sons. After being widowed in 1973, she married Francis Ware in 1987.
(3) Edward Jaquelin Ware – He was born April 4, 1921 and married Frances Gimbel, with whom he had four children. He died February 20, 1950.
(4) Thruston Ware – His full name was Charles Mynn Thruston Ware and he was born on September 9, 1923. He married Patsy Claire Lindsey in 1958 and they had 3 children.
(5) John Nottingham Ware – He was born October 24, 1929 and died February 10, 1982.

78.

These are such good, Christian people. They have been brought up on hard work and Jo and Elizabeth have reared them so wisely. Elizabeth's aunt, Miss Mynna Thruston, makes her home with them and she has been a splendid influence on the boys." (Ref. 2)
Mynna Thruston was an accomplished writer – one of her publications being:
The Washingtons and their colonial homes in West Virginia - by Mynna Thruston.
79.

Kennard saw service overseas in World War One. He married Margaret Parkhurst and they have one child, Ellen, who is still in school. He is a patent attorney and they live in Philadelphia. Father always said that Kennard had the best mind in the family, he is a very attractive person.

Kennard Nottingham Ware
original photo owned by Jane and Scott Dudgeon
** Another son for Jo and Anne, Kennard Ware, was named in honor of Anne's mother, Sally Stratton Kennard. He was born on December 9, 1892 and died on November 1, 1964, at the age of 71. He and Margaret's daughter, Ellen Ware, graduated from Upper Darby High School in 1946 and from Mary Washington College in 1950, with a degree in sociology. She married Joe Andrelczyk and lived to be 84 years old – dying on March 29, 2013.

80.

Dorothy, Uncle Jo and Aunt Annie's youngest, married John Runkle, an Episcopal clergyman, they live in Washington D. C. where John is rector of a church in Anacostia. They have two children: John and Peter, who are still at school. These cousins are so busy; John and Dorothy are both so active and have so many duties in the church that we practically never see them, I'm sorry to say.
** Rev. John C. Runkle died in 1961, and Dorothy Ware Runkle passed away in 1991.

81.

ROBERT MACKEY WARE, the youngest of Grandfather's children was b. May 5, 1857. He left home when about grown and went to Chicago. There he married Caroline Waughop and continued in business until 1905, when he built a house in New Mexico and moved his family there on a ranch, near Dexter. Their children are: Ellen Edmonia, Josiah William, Henry W., and Alice Wilson. Uncle Rob died in 1944 and Aunt Carrie makes her home with Ellen in Chicago. His grave says 1942.
CORRECTION: Cornelia, like so many others, put an "e" in his name, but all other records (including military records) show the name spelled as "Macky".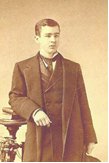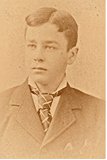 Robert Macky Ware
** Robert (or Rob, as he was usually called) was born in 1857. His father, Josiah Ware, was 55 years old at the time of his birth, and there was a 25 year difference between this youngest Ware son and the oldest one, James Alexander. In fact, it was just one year prior to the birth of Rob that James got married in Texas and would soon begin a family of his own. The odds are that these two brothers never knew each other very well. For that matter, both Sigismund and Jo (the next youngest) were off to seminary before Rob had even entered his teen years. It is, therefore, not surprising that this youngest Ware son branched out on his own and moved first to Chicago and then later settled in New Mexico.
Excerpt from Ware Connection to Grace Episcopal Church:
"At age 18, Robert moved to Chicago and "went to work as a haberdasher [dealer in men's furnishings] for Wilson Brothers." (Ref. 84,103) Between 1887 and 1926, the company expanded its line of merchandise to include undershirts, pajamas, knitted underwear, neckties and assorted men's shirts.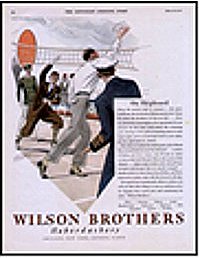 Old advertisement for the company
During his time in Chicago, Robert met his future wife, Caroline Hubbard Waughop. On September 27, 1881, they were married and the couple continued to live in Chicago 'while he continued on in the business until 1905.'" (Ref. 2, 3)
Rob and Caroline moved to Riverside, "a residential suburb of Chicago," (Ref. 103) and raised their family there. They had four children who lived to maturity, not counting "two sons who died in infancy, viz: Sigismund S. and Josiah Wm." (Ref. 84)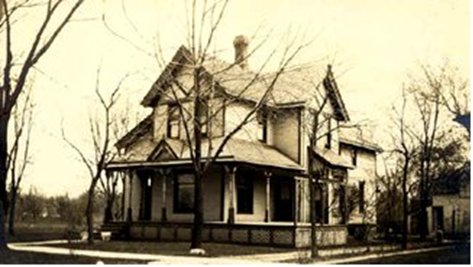 Home of Robert and Caroline Ware in Illinois
photos courtesy of The Goddard-Reagan family web site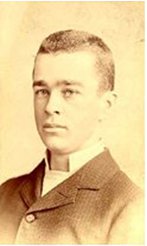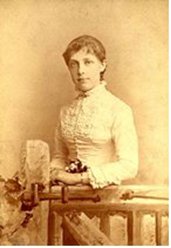 Robert Macky Ware and Caroline Waughop Ware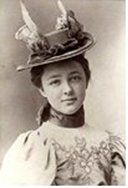 Ellen Edmonia Ware 1898
Their first daughter, named Ellen Edmonia Ware, was born on June 24, 1882. (Ref. 2, 3,103) She was followed by three siblings: Josiah (Jo) William Ware in 1884, Henry (Hal) Waughop Ware in 1886, and Alice Wilson Ware in 1891. When the family decided to relocate to New Mexico, Ellen was already married and, therefore, did not come with her parents, and Alice traveled with her mother by train. That left Jo and Hal to move the majority of the family's belongings across country. Hal wrote a wonderful memoir of his experiences which can be found on the Ware/Reagan/ Goddard site at http://www.bigballoonmusic.com/goddardreagan. One of his quotes lets us know that "the folks arrived [in New Mexico] the last of July and took up residence in the shed. Jo and I lived in a boarded up tent." They really had to start from scratch. The home they built, however, became a wonderful gathering place for family members over many years.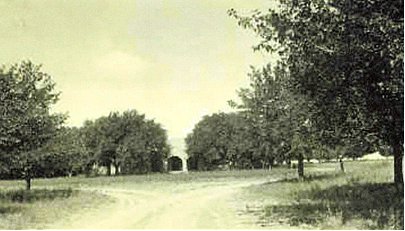 Ware Home in New Mexico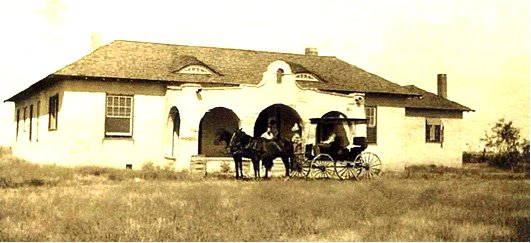 More recent photos of the Ware home in New Mexico kindly provided by Barbara Lokting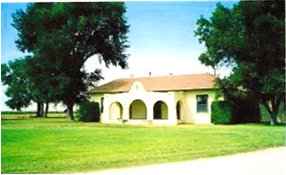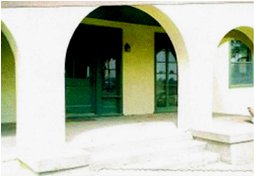 Robert Macky Ware

and Caroline Waughop Ware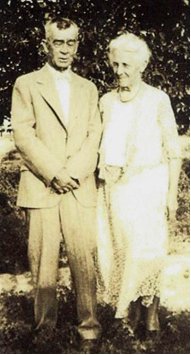 Robert Macky Ware and Caroline
When Rob died in 1944, Caroline went to live with her daughter, Ellen, in Chicago. Caroline died in 1954.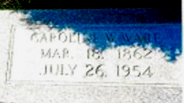 Photos of the graves for Robert and Caroline are kindly provided by Barbara Lokting.