TRANSCRIPTION OF 1848 LETTER FROM SENATOR AND SECRETARY OF STATE DANIEL WEBSTER TO JOSIAH WARE
Transcribed by: Judy C. Ware
© Judy C. Ware February 2009
Original copy of letter on file at the RB Hayes Library in Ohio
---
** At the time of this letter, Daniel Webster was well established in Washington politics. Josiah was in his mid-40's.
Washington
May 27th, 1848
My Dear Sir:
Circumstances of a private and domestic character called me home in March; and I have had no earlier opportunity of acknowledging and answering your letter of the 20th of April. I should be very glad of your Cotswold lamb, if I knew how to get him to my farm conveniently. Perhaps he might as well be shipped from this place, as from Baltimore. I will make inquiry.
Two years ago I imported some Cheviot sheep - I like the breed very well. It is smaller than my Leicester, but I think rather better suited to our northeast climate. My only sorts are Cheviots and South Down.
From what I have seen of your sheep, they appear to me to be very superior.
Respectfully, your
Friend and obedient servant,
Daniel Webster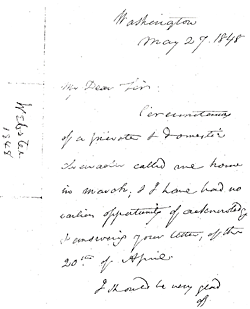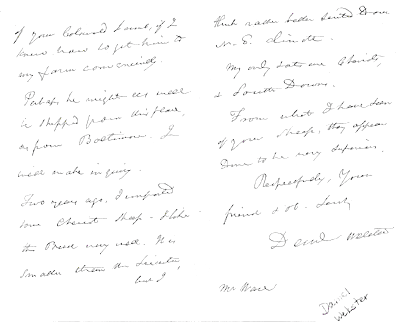 Cotswold
The Cotswold breed originated in the Cotswold Hills of Gloucester,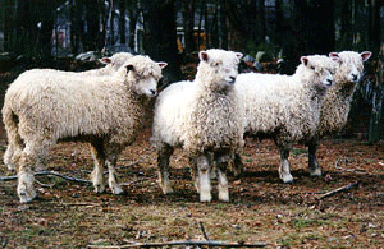 a south midland county of England. The name "Cotswold" was given the breed because in the early days they were folded or housed in shelters known locally as "cots" or "cotes" and they were pastured on the wild, treeless hills of the area, called "wolds".
Cotswold sheep are a large, white-faced, hornless breed with a broad, flat back, moderately deep body, heavy fleece, and long, coarse wool hanging in ringlets. .
From: The Columbia Encyclopedia, Sixth Edition | Date: 2008 | The Columbia Encyclopedia, Sixth Edition. Copyright 2008 Columbia University Press.
Placement of family photographs & visual graphics accompanying this piece are the fine work of John Reagan who has been an invaluable help in setting up a website for me entitled Ware Genealogy at www.waregenealogy.com. I will forever be grateful for his expertise & kindness.