LETTER FROM PRESIDENT JOHN TYLER – 1842
Transcription and notations by Judith C. Ware
© Judy C. Ware, Oct 2008
Owner of original letter – Mr. & Mrs. Scott Dudgeon
---
Josiah received this letter from President John Tyler's office at the White House in 1842. It was clearly not written by Tyler himself, but probably a secretary. It would seem that Josiah was making a request for an acquaintance of his (Mr. Holliday) to receive an appointment as a Cadet at West Point.
It is interesting to note that in the memoirs of Josiah William Ware Jr., it was made clear that President Tyler had visited his father's home at Springfield. Since Josiah was well known as an excellent breeder of stock, his mutton was regarded as some of the best in the country. (see quote below)
"My father kept the finest Cotswold sheep in this country, always taking the first prize in the U. S. Fair in Philadelphia, Pennsylvania."
"When President Tyler was a guest at Springfield, he was taken into the dining room where the decanters and wine glasses were on the side-board. The "saddle of mutton" was brought in, and he was more enthusiastic over it than the refreshments." Josiah William Ware, Jr.
Washington City
December 21, 1842
Sir:
The President desires me to say to you in answer to your note of the 15th instant that he will consider of your wishes in reference to young Mr. Holliday as Cadet. He desires me also to thank you for the saddle of mutton you promise for his table, and to say to you that you must consult your own convenience with regard to the time of its' delivery.
I return you my thanks for your kind recollection of myself & brother, and by leave to assure you of my high esteem & regard.
John Tyler, Jr. (writer)
Josiah William Ware Esquire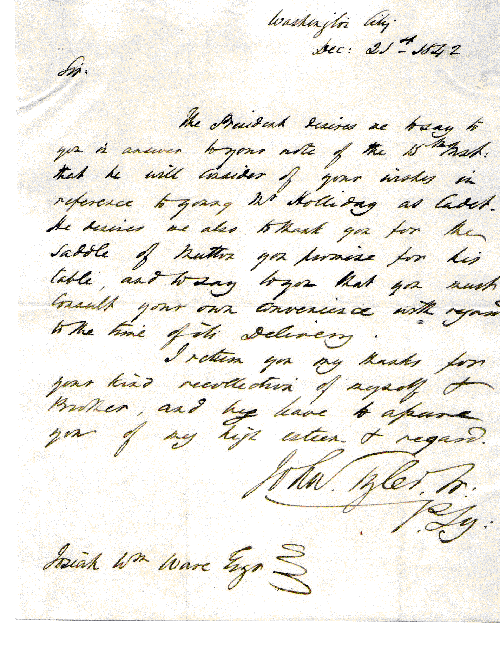 ****************************************************************
***I would like to thank Scott Dudgeon and his wife for allowing me to copy & transcribe this letter for my historical research. I am deeply grateful.