Josiah Ware - Communications with President John Tyler
Researched & written by Judy Ware
© Judy C. Ware, March 2008
---
Background information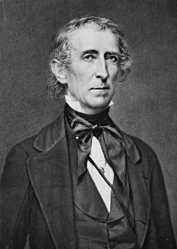 John Tyler was the tenth President of the United States - serving in that capacity from April 04, 1841 until March 04, 1845. He actually started out as the Vice- President under William Henry Harrison. Upon the sudden death of President Harrison (who had only been in office for one month) Tyler became the first Vice-President to step into the role of the Presidency.
This action was not met with total acceptance from the country. Opposing members in Congress wanted just an "acting" President who would still remain basically a Vice-President in status. John Tyler was a stickler for the Constitution, however, and knew that under the power of that document he was obligated to assume the office. He not only took the oath of office - he also delivered an Inaugural Address.
Tyler had been elected Vice-President on the Whig party, but he was really more of a Democrat. Once in office, he made it clear that he did not agree with a lot of the ideas that President Harrison had supported. His term as President was laced with unpleasantness and bitterness. Within the first six months of taking over the office, all but one of his cabinet members resigned in protest.
During his administration, his Secretary of State was first Daniel Webster, then Abel Upshur, and finally John Calhoun. His Secretaries of Treasury were Thomas Ewing, Walter Forward, John Spencer, and George Bibb. His Secretaries of War were John Bell, John Spencer, and William Wilkins. His Attorney Generals were John Crittendon, Hugh Legare, and John Nelson. His Postmaster Generals were Francis Granger and Charles Wickliffe, and his Secretaries of the Navy were George Badger, Abel Upshur, Thomas Gilmer, and John Mason. In addition to correspondence between President John Tyler and Josiah William Ware, there are also copies of letters that were exchanged between Josiah and the names listed above that are printed in bold.
During his Presidential term, Tyler needed to fill a vacancy on the Supreme Court. He nominated John Spencer, Rueben Walworth, Edward King, and John Read, but all of them were rejected by the Senate. Edward King was even rejected twice. The position was finally filled by Samuel Nelson.
In the fall of 1843, Tyler tried to form a third political party that was made up of moderate Whigs and Democrats. The chief issue on his platform was the annexation of the Republic of Texas. During the Presidential campaign of 1844, this third "convention" was little more than a group of officeholders in his administration and patronage seekers who met in Baltimore, Maryland. Tyler ultimately withdrew from the race and gave his support to James Polk who won the election, but he signed the resolution to annex Texas on the last day of his term, March 3, 1845.