Background Information on William C. Preston
Researched & written by Judy C. Ware
March 2009
© Judy C. Ware
---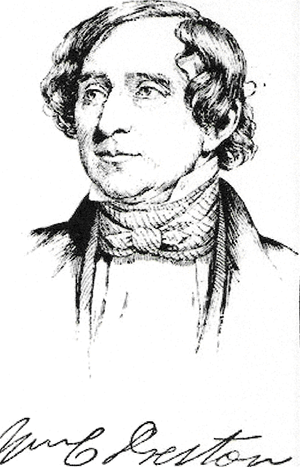 William Campbell Preston was born in 1794 in Pennsylvania. His entire family had a rather long history of public and political service. Starting his education in Virginia, William was later sent south because of his "delicate lungs" and graduated from the College of South Carolina in 1812. After graduation, he traveled abroad quite a bit and then settled in South Carolina in 1822 where he quickly gained a fine reputation as a skilled orator.
When Preston wrote his letter to Josiah in 1839, he was serving as a representative in the United States Senate. He would have been 45 years old and Josiah would have been 37. It would be another twenty -two years before the start of the Civil War and with South Carolina being one of the strongholds of slavery, Preston undoubtedly was familiar with the institution and the South's reliance on it for prosperity in the region.
William Preston was a true classical scholar and his ability to infuse those illustrations and moving words into his speeches made him beloved by his audiences. He was considered by many to be the most accomplished orator in the South. Although his speeches were praised by Henry Clay and Daniel Webster, Preston differed dramatically, however, from John C. Calhoun and most of his constituents. The thought of South Carolina seceding from the Union distressed him greatly. He ultimately decided to resign his seat in the Senate and resume his law practice in South Carolina. He spent his final years there. He and his wife remained childless and he died in May of 1860. He never had to witness the actual war that the secession of his beloved South Carolina instigated.