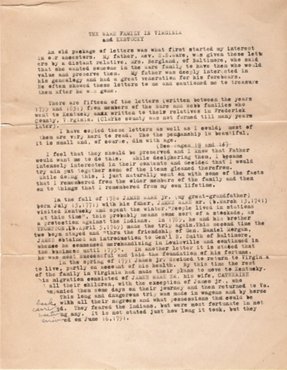 Original page 1
THE WARE FAMILY IN VIRGINIA AND KENTUCKY
1.

An old package of letters was what first started my interest in our ancestors. My father, Rev. S.S. Ware, was given these letters by a distant relative, Mrs. Bergland, of Baltimore, who said that she wanted someone in the Ware family to have them who would value and preserve them. My father was deeply interested in his genealogy and had a great veneration for his forebears. He often showed these letters to me and cautioned me to treasure them after he was gone.
** Cornelia more than honored her father's request. She typed her letter in 1945, and it is of particular importance because she writes of so many MEMORIES - first hand experiences and recollections. She actually talked with and visited Josiah and Edmonia in their homes. Since they were her grandparents, she had a close and intimate view of them. Her vivid memories of their lives, their home, and the other people at that time are so insightful and informative. Her letter is better than any history book because she actually LIVED it.
As the granddaughter of Josiah Ware, Cornelia had many uncles and aunts – some from the union of Josiah with his first wife, Frances Toy Glassell, and others from his second marriage to Edmonia. All these relatives were mentioned frequently in her writings. Josiah's first set of children were James Alexander, John Glassell, Elizabeth Alexander Ware Britton McGuire (Aunt Key), Lucy Balmain Ware Lewis, and Dr. Charles Alexander Ware. The children from Josiah's second marriage were all sons - Jaquelin Smith, Sigismund Stribling, Josiah William Jr., and Robert Macky Ware.
<![if !supportLists]> 2. <![endif]>

There are fifteen of the letters (written between the years 1799 and 1831) from members of the Ware and Webb families who went to Kentucky and written to their relatives in Frederick County Virginia. (Clarke County was not formed til many years later). In her later document, Cornelia added that these letters "are written by uncles, aunts, and cousins in Kentucky to their relatives" in Virginia.
** We own several authentic old letters that have been passed on to my husband from his father, but I do not know if he ever owned these particular letters. I do, however, have COPIES of these letters, and it looks as if they were the transcriptions by Cornelia. There were extra difficulties encountered in my own work with them because I, not only had to deal with the awkward punctuation and capitalization, but there were also many 'modern day' typing errors that I had to wade through. (Ref. 35, A-H)
<![if !supportLists]> 3. <![endif]>

I have copied these letters as well as I could; most of them are very hard to read. The penmanship is beautiful - it is small and, of course, dim with age.
** It IS very hard to transcribe these letters – not only due to the penmanship, fading, and old age, but there is also the distinct difference in writing that has evolved over time. In the past, whenever a double "s" appeared (as in the word miss or press ) it would look like (what we would refer to today) a lower case "p". In reality, it was called a "long s," and there were actually many formal grammar rules that came into play for the proper use of this letter. It eventually went out of style completely and was no longer used. The fourth word on the first line below shows an example of this - as it reads "to hand, I press him urgently to" . . .

In addition to writing alterations, it is often clear that Cornelia was unsure of the exact definition of a word she found and simply "gave it her best shot".
<![if !supportLists]> 4. <![endif]>

I feel that they should be preserved and I know that Father would want me to do this. While deciphering them, I became intensely interested in their contents and decided that I would try and put together some of the items gleaned there from. While doing this, I just naturally went on with some of the facts that I remembered from my own lifetime.
** Cornelia opened the door for so much more exploration – God bless her! After reading letter upon letter and following the clues she left for further research, I was able to locate photographs and more data to support this history.
Cornelia may not have realized exactly how many James' ended up in the family history. She used "junior" or "senior" when referring to James II and James III - when in reality, the patriarch of the whole family was also a James – husband of Agnes. In order to keep these generations clearer, I have referred to the lineage as James I, James II, James III, Josiah, and so on. The book I wrote titled New Nation/New Home goes into great detail about the history of the first James – husband of Agnes Todd. My second book, Kentucky Roots in Virginia Soil, is the biography of one their sons - Dr. James Ware (James II) and his wife, Caty Todd Ware. It is down this line that our family descends. Cornelia usually refers to Dr. Ware (or James II) as James Sr. which can be confusing.
<![if !supportLists]> 5. <![endif]>

In the fall of 1784, JAMES WARE JR.(III) ( my great grandfather) born July 13, 1771 - with his father, JAMES WARE SR.(II) (born March 13, 1741) visited Kentucky and spent the winter.
** In the fall of 1784, Cornelia's great grandfather, JAMES WARE III (born in 1771) visited Kentucky with his father, James Ware II (born 1741) and spent the winter. Her great, great grandfather, James Ware I (born 1714) and his wife, Agnes Todd Ware, had already moved to Kentucky with the Traveling Church in 1781.
CORRECTION: Cornelia says that JAMES WARE III was born on July 13, 1771, but the family bible very clearly shows that the actual birth date was January 13, 1771. (When using the abbreviation of Jany – it can be easily misconstrued as July if the writing is faint.) Other family bibles also validate the birth month for James III as being January. (Ref. 1, 5, 6, 35, 56, 173, 372, 620, 621,628)

Ware Family Bible – owned by James and Judy Ware
<![if !supportLists]>

<![endif]>"People lived in stations at this time" - this probably means some sort of a stockade, as a protection against the Indians. In 1789, he and his brother, THOMPSON (born April 5, 1769) made the trip again. This second time the two boys stayed and "through the friendship of Gen. Daniel Morgan, JAMES obtained an introduction to General S. Smith of Baltimore, whence he commenced merchandizing in Louisville and continued in the business until 1795." In another letter it is stated that he was most successful and laid the foundation of his fortune.
** Stations were, indeed, forts or stockades used as protection from the Indians. (See photo below)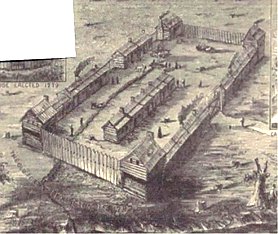 Lexington Fort (Station)
In the fall of 1784, Dr. Ware (James II) decided to visit Kentucky with his son James III, and they remained there all that winter. They returned to Virginia in the spring, but in 1789, James II traveled back to Kentucky again – this time bringing his two oldest sons, Thompson and James III, with him. It was decided that the sons would stay in the area and establish roots so that the entire family could later make the move. In all likelihood, both boys saw their grandfather (James Ware I) while they were there since both he and Agnes had already relocated to the area.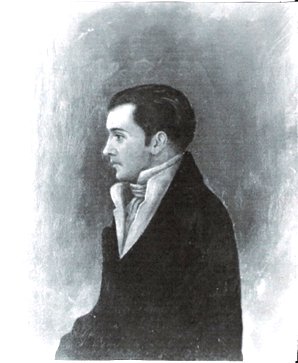 James Ware III
**There is much more information that can be found in the biography I wrote on James Ware II, but I thought I would include some of the additional details here as well.
While Thompson was settling around the area of Paris, Kentucky in 1789, his brother, James III, went to Louisville, Kentucky to work. Thompson later wrote to his niece, Sally Ware (Stribling) about how he and James "were raised and educated together until our father took us to Kentucky and there left us. We got separated; he located at Louisville and I in the neighborhood of Lexington when my age was 20 and his about 18 months younger." (Ref. #35E)
James III became acquainted with Mr. Johnson who was the clerk of Jefferson County. As Cornelia wrote, "at the age of eighteen, he wrote in Mr. Johnson's office until he became fully familiar with the business." (Ref. #35G) Then, "through the friendship of Daniel Morgan, James obtained an introduction to General S. Smith of Baltimore. James worked as a merchant in Louisville for about two years and became quite successful; his son Josiah later writing that he "owned a great part of the town." (Ref. #299)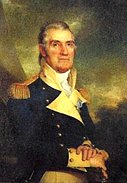 General Samuel Smith
General Samuel Smith of Baltimore was a United States Senator and Representative from Maryland. He entered "into national politics when he was elected to the Third United States Congress, serving from March 4, 1793, until March 4, 1803." (Ref. Wikipedia) He earned his title of 'General' in the Maryland Militia, and was a Revolutionary War Patriot. In his later years, he also served as Mayor of Baltimore. He was certainly a man of great influence.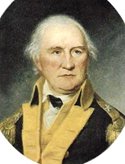 General Daniel Morgan
Daniel Morgan was a friend of the Ware family from Virginia. He was "an American pioneer, soldier, and United States Representative from Virginia. One of the most gifted battlefield tacticians of the American Revolutionary War, he later commanded troops during the suppression of the Whiskey Rebellion." (Ref. Wikipedia) Prior to the war, a Masonic Lodge was started "in Winchester by James Gamul Dowdall who served in the Revolution as a "Cadet" in Company 7 of Daniel Morgan's Regiment of Riflemen. Morgan Alexander, a member of Winchester Lodge No. 12, was Captain of this company. This regiment served with distinction and won renown in the battles around Saratoga, New York."(Ref. History of Winchester Hiram Lodge in Virginia) When James III married in 1796, his bride was Elizabeth Taliaferro Alexander - the only child of Morgan and his wife, Sarah Snickers Alexander.
6.

In the spring of 1791, JAMES JR. (III) decided to return to Virginia to live, partly on account of his health. By this time the rest of the family in Virginia had made their plans to move to Kentucky. This migration consisted of JAMES WARE SR., (II) his wife CATHERINE, and all their children, with the exception of JAMES WARE JR.(III), who accompanied them some days on their journey and then returned to Virginia. This long and dangerous trip was made in wagons and by horseback, with all their negroes and what possessions that could be carried. They feared the Indians, but were most fortunate in not meeting any. It is not stated just how long it took, but they arrived on June 16, 1791.
** In 1791, the Ware and Webb families made their big move to Kentucky. The patriarch of the whole family, James Ware I, had already settled there in the Woodford County area. James III accompanied the travelers for a while to provide extra protection, but he had already decided to move back to Virginia. His son, Josiah Ware, later wrote that "suffering from chills and fever undermined his health, so my father sold out his business and returned to Virginia where he farmed but never recovered his health." (Ref. 299) We now know that James III suffered from tuberculosis. Due to the illness's highly contagious nature, it ultimately killed not only James, but both women he married and most of his children. You can find many more details about this in New Nation/New Home. James married Elizabeth Alexander in 1796.
The Indian danger is apparent in one of the documents recorded by "Mrs. Nancy Innis, the oldest living representation of the family . . . who stated that she often heard her mother, Mrs. Charles Webb, say that her oldest child was but three months old when they came to Kentucky." (Ref. 174) Mrs. Charles Webb was Polly Ware – the daughter of Dr. James Ware (James II) and his wife, Caty. Polly often shared the story about how when "they came to Kentucky, they descended the Ohio in flat boats in momentary apprehension of being attacked by the Indians." (Ref. 174, 602)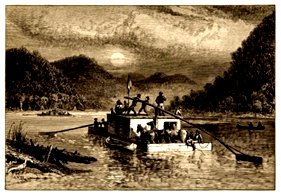 Flatboat
The date of their arrival to their new home in Kentucky is validated by a quote in a letter written by Charles Ware in 1831 - - "My father [James II] (and your grandfather) then moved his family to Kentucky in the spring of this year [1791] and arrived at his home on the 16th of June. (Ref. 35)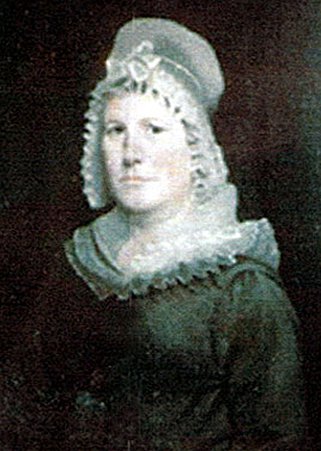 <![if !vml]>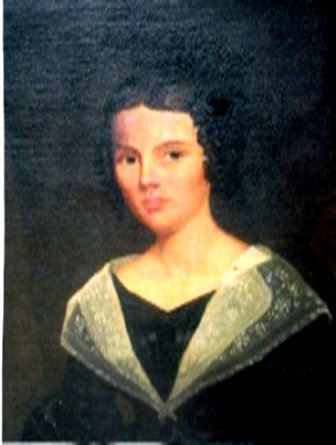 <![endif]> Mary (Polly) Todd Ware and her oldest daughter, Fanny
Family portraits kindly provided by Sandra Walker