LETTER FROM SENATOR BENJAMIN WATKINS LEIGH
TO JOSIAH WARE – DATED APRIL 1, 1839
Transcribed by Judy C. Ware
© Judy C. Ware January 2009
Original letter is on file in the Rutherford B. Hayes Library in Ohio
---
This is a legal letter from Senator Benjamin Watkins Leigh to Josiah William Ware concerning a court ruling in favor of Josiah in 1839 (Ware vs Stevenson)
Richmond, April 1, 1839 (or 1835)
Dear Sir - -
I have the pleasure to inform you that the case of Ware vs Stevenson was argued last week and has been, this morning, decided by the court of appeals - - the judgment of the circuit superior court scorned, and judgment entered for you. You will recover all your legal costs in both courts.
I expect you to send me an additional fee of $50.00.
I remain with all respect,
Your obedient servant
B.W. Leigh
(Benjamin Watkins Leigh)
Col. Josiah W. Ware
Battletown
Jefferson County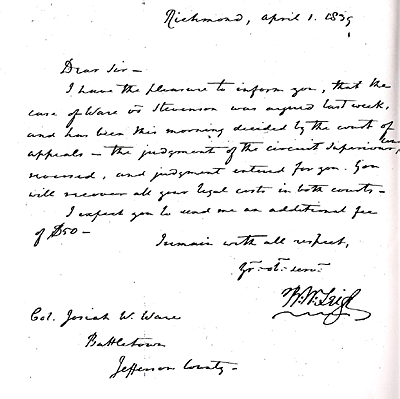 *** In looking at the date of this letter, it is of interest to note that the original name for Berryville was Battletown – bestowed on it around the eighteenth century. During the early 1830's Battletown became increasingly called Berryville; with the town post office using this address officially for the first time in 1831. "The town had been chartered in 1798 as Berryville, and the adoption of this name thirty-five years later was perhaps an expression of east Frederick County's growing desire for a new identity."
According to Warren R. Hofstra, author of the book entitled A Separate Place, "The writer of the petition for the division of counties was probably Josiah W. Ware, for throughout the controversy he was the most articulate and visible advocate of a new county." Frederick County ultimately became Clarke County, and Jefferson County is now part of the state of West Virginia.
Reference: A SEPARATE PLACE (THE FORMATION OF CLARKE COUNTY, VIRGINIA) by Warren R. Hofstra, published by the Clarke County Sesquicentennial Committee, White Post, Virginia 1986 (This book is in our possession)