Letter from Senator William C. Rives to Josiah Ware,
dated November 4, 1838
Transcribed & researched by Judy C. Ware,
© Judy C. Ware January 2009
Original copy on file at the Rutherford B. Hayes Library in Ohio
---
Castle Hill Nov. 4, 1838
My Dear Sir,
I had the pleasure of receiving your kind letter of 11th ult.
(month before this one; i.e. October) some seven or eight days ago. I have been waiting before I returned you my thanks for it, to see what arrangements I should be able to make to bring over the fine calf you have been so good as to present to me. I have, at length, made an arrangement with a worthy & plain neighbor of mine, (upon whose care & management I can better rely than on those of a servant) who will go over for the young animal about the last of the present, or first of the next week. I shall value him most highly, not merely for the intrinsic qualities he possesses but still more as a memento of your friendship & regard. When you come to see me (which, I hope, will be at no distant day) I shall be able to show you, in the care I shall take of him, how much I prize him for the donor's sake.
My visit to you is only postponed, as it was, necessarily by my numerous engagements this last summer. Be assured I shall avail myself, with eagerness, of the very first opportunity of accepting your kind invitation.
Be pleased to present my best respects to Mrs. Ware, in which Mrs. Rives tho' she has not (as I have) the pleasure of her personal acquaintance, begs leave to join, and believe me,
very dear sir,
Very truly your friend
W.C. Rives
Col. Jos. W. Ware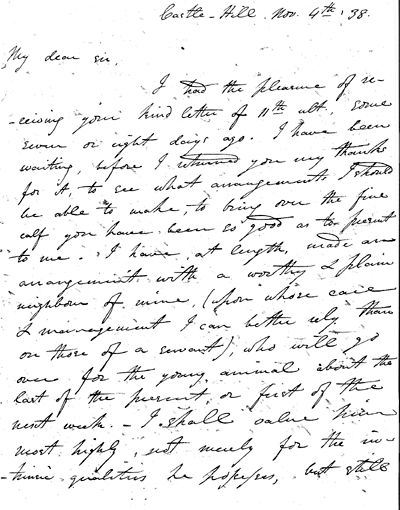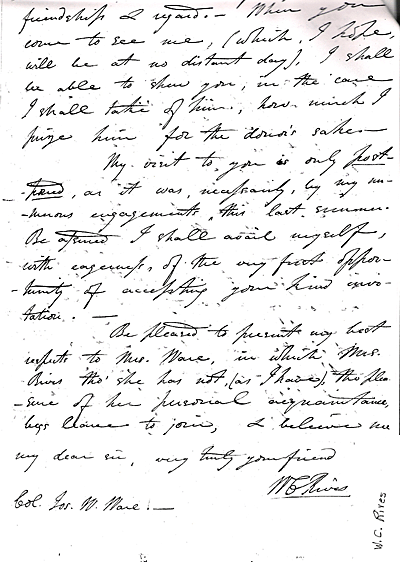 *** Castle Hill was the name of Rive's estate near Charlottesville, Virginia.
Ult. was the abbreviation for the word ultimo. It means "in the last month; pertaining to the month preceding the present one." This term (along with "inst." which meant instant; of the present or current month) was used very frequently in the 1880's.