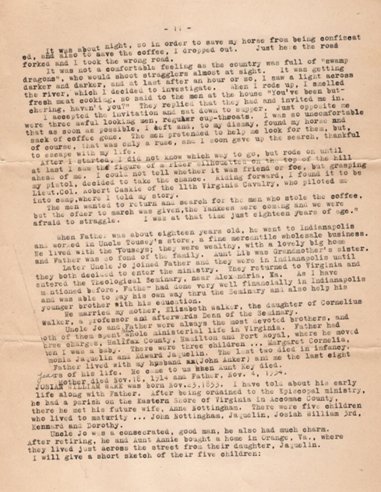 Original page 11
It was about night, so in order to save my horse from being confiscated, and also to save the coffee, I dropped out. Just here the road forked and I took the wrong road.

69.

It was not a comfortable feeling as the country was full of "swamp dragons" who would shoot stragglers almost at sight. It was getting darker and darker, and at last after an hour or so, I saw a light across the river, which I decided to investigate. When I rode up, I smelled fresh meat cooking, so said to the men at the house, "You've been butchering, haven't you?" They replied that they had and invited me in. I accepted the invitation and sat down to supper. Just opposite me were three awful looking men, regular cut-throats. I was so uncomfortable that as soon as possible, I left and to my dismay, found my horse and sack of coffee gone. The men pretended to help me look for them, but, of course, that was only a ruse, and I soon gave up the search, thankful to escape with my life.

70.

After I started, I did not know which way to go, but rode on until at last I saw the figure of a rider silhouetted on the top of the hill ahead of me. I could not tell whether it was friend or foe, but grasping my pistol, decided to take the chance. Riding forward, I found it to be Lt. Col. Robert Caskie of the 11th Virginia Cavalry, who piloted me into camp, where I told my story. The men wanted to return and search for the men who stole the coffee, but the order to march was given, the Yankees were coming and we were afraid to straggle. I was at that time just eighteen years of age."
Taken from Newspaper:
Handsome Sword for a Gallant officer. -- We saw yesterday a very handsome and serviceable cavalry sword recently presented to Lieut. Col. Robert A. Caskie, by the officers and men of his old company, the Caskie Rangers. On the front of the blade are the words: "Presented to Col. Caskie by the officers and men of the Caskie Rangers;" on the reverse, the motto, "Audaces Fortuna Juvat."
71.

When Father [Sigismund] was about eighteen years old, he went to Indianapolis and worked in Uncle Tousey's store, a fine mercantile wholesale business. He lived with the Touseys; they were wealthy, with a lovely big home and Father was so fond of the family. Aunt Lib was Grandmother's sister.
Elizabeth (Aunt Lib) Smith Tousey was a younger sister of Edmonia's. She first married John Bush of Kentucky and then later wed Oliver Tousey of Indianapolis. Oliver was in business with Norman S. Byram - - their store was known as the "Tousey and Byram Dry Goods Store".
72.

Later Uncle Jo joined Father and they were in Indianapolis until they both decided to enter the ministry. They returned to Virginia and entered the Theological Seminary, near Alexandria, Virginia. As I have mentioned before, Father had done very well financially in Indianapolis and was able to pay his own way through the Seminary and also help his younger brother with his education.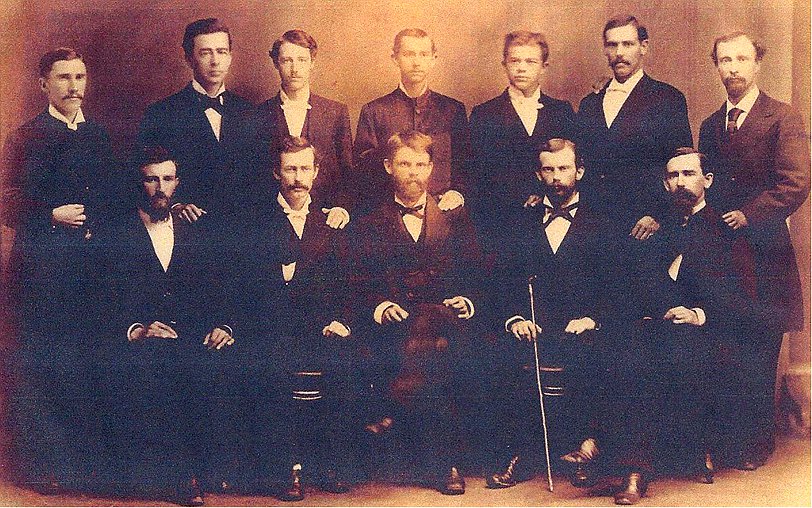 Seminary Class with both Sigismund (2nd from left) and Josiah (third in from the right) on the back row.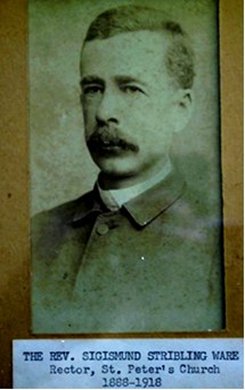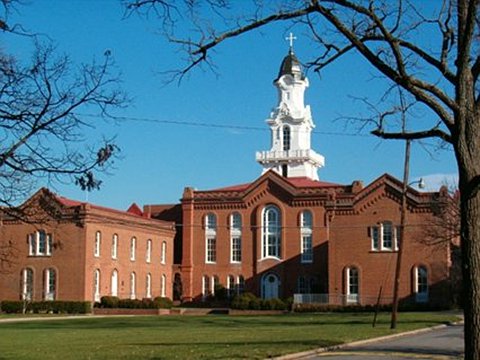 Virginia Theological Seminary

73.

He married my mother, Elizabeth Walker, the daughter of Cornelius Walker, a professor and afterwards Dean of the Seminary. Uncle Jo and Father were always the most devoted brothers, and both of them spent their whole ministerial life in Virginia. Father had three charges, Halifax County, Hamilton, and Port Royal, where he moved when I was a baby. There were three children . . . Margaret Cornelia, Edmonia Jaquelin, and Edward Jaquelin. The last two died in infancy. Father lived with my husband (John Anker) and me the last eight years of his life. He came to us when Aunt Key died. Mother died Nov. 18, 1914 and Father, Nov. 4, 1934.
** Little Edmonia J. Ware was born in 1889 but only lived nine months. She was buried in Grace Episcopal Church Cemetery. A son, named Edward Jaquelin, was born in 1892. He lived four short years and died on November 3, 1896. He was buried in St. Peter's Churchyard – the church Rev. Sigismund Stribling Ware was serving in as Rector at the time.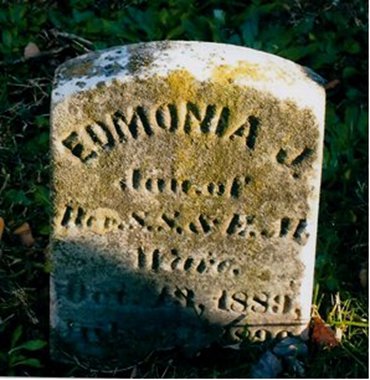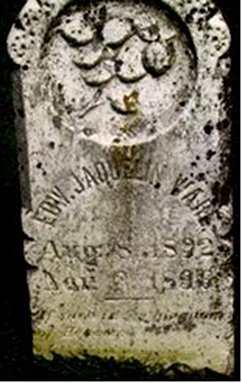 Graves for baby Edmonia Ware and young Edward Jaquelin Ware
The following are all excerpts from Biography of Sigismund Stribling Ware written by Judy C. Ware. For many more details, please refer to this biography on www.waregenealogy.com
"Cornelia W. Anker wrote, 'Father had three charges – Halifax County, Hamilton, & Port Royal, where he moved when I was a baby.' (Ref. 2) Indeed, in 1888, Reverend and Mrs. Ware moved to Port Royal, Virginia, where 'The Rev. Sigismund (Sidge) Stribling Ware became Rector of St. Peter's church and of Grace Church, October 15, 1888; he resigned the latter church after 15 years, June 26, 1903, and resigned from St. Peter's Church after 30 years, October 15, 1918.'" (Ref. 2384)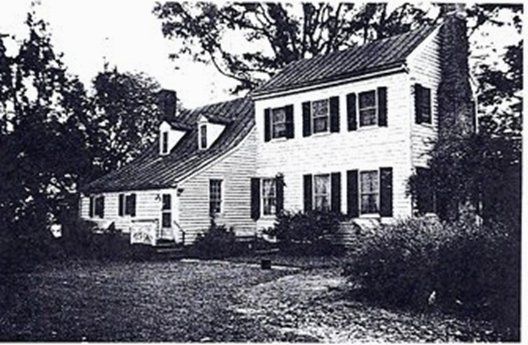 St. Peter's Rectory
Home for Rev. Sigismund S. Ware, Lizzie, and daughter, Cornelia
"In 1914, Lizzie [Cornelia's mother] died 'after a long and painful illness.' (Ref. 161) According to author Ralph Emmett Fall, Lizzie 'was buried in St. Peter's Churchyard beside their son who died in 1896. Much of the present shrubbery at the Rectory, including the large mock-orange tree in the driveway was planted by Mrs. Ware during the 26 years she occupied the Rectory. Her husband and daughter lived there another four years.' (Ref. 2384) A year after the death of his wife, Sig went back to Berryville to visit his stepsister, Elizabeth. She observed: 'Your Uncle Sig . . . lost his boy and it was a terrible blow to him. He has only one child – a grown and very attractive girl, but he [Sig] looks like an old man.'" (Ref. 161) Sigismund took losing his wife very hard."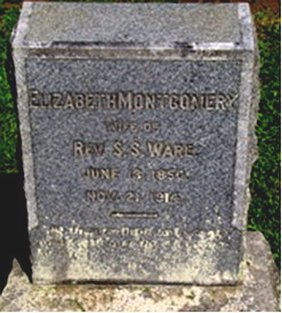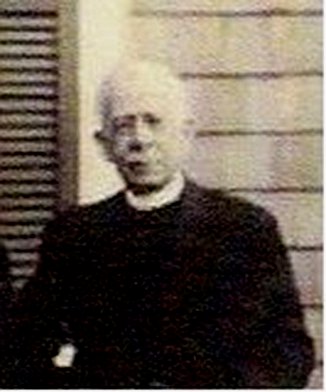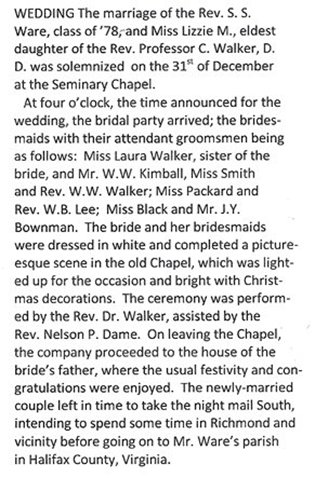 Rev. Sigismund Stribling Ware and
Wedding announcement for Sig and Elizabeth
"The author of Hidden Village – Port Royal, Virginia 1744-1981 wrote the following about Reverend Sigismund Ware: 'Fifty years later, citizens both black and white still remembered Ware with affection. A photograph of Ware is seen in the church's sacristy. The credence shelf in the church sanctuary holds a brass tablet as a memorial to Ware.'" (Ref. 2384)
(Credence Shelf – used for holding articles in the Eucharist service)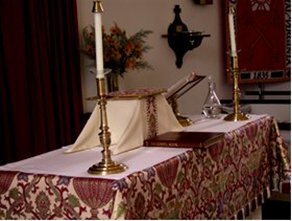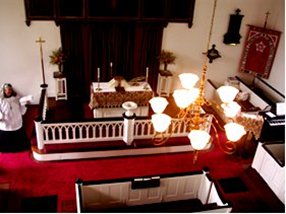 Photos done by Ben Hicks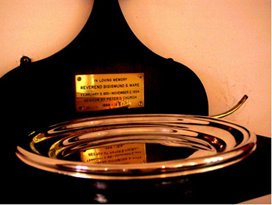 Photo courtesy of Ben Hicks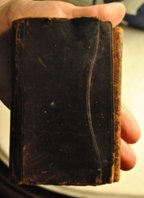 Diary
In 2013, Ben Hicks (husband of the current Rector of St. Peter's) contacted me concerning a diary that had surfaced that was written by Sig during his years there. Ben worked very hard on a beautiful tribute that was given by the church on Founder's Day of that year. It was a lovely celebration of the life and service of Reverend Ware in their church. The sermon used and the events of the day can be found in Diary and Tribute to Rev. Sigismund Stribling Ware also found on my website at www.waregenealogy.com

74.

JOSIAH WILLIAM WARE was born Nov. 23, 1853. I have told about his early life along with Father. After being ordained to the Episcopal ministry, he had a parish on the Eastern Shore of Virginia in Accomac County. There he met his future wife, Anne Nottingham. There were five children who lived to maturity . . . John Nottingham, Jaquelin, Josiah William 3rd, Kennard, and Dorothy. Uncle Jo was a consecrated, good man, he also had much charm. After retiring, he and Aunt Annie bought a home in Orange, Virginia where they lived just across the street from their daughter, Jaquelin.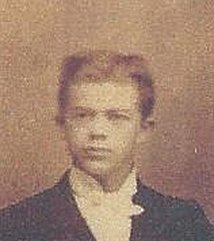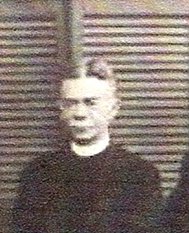 Josiah William Ware, Jr.
Sigismund and Jo were very close brothers. Of the second set of Josiah's children, they were the closest in age – "since Jaque was a full five years older than Sig, and Robert (the baby of the family) was six years younger. With only a two-year difference between them, these brothers were inseparable. This special closeness was only enhanced by the Civil War which found Jaque going off to serve in the military, and Sig suddenly the 'man of the house' when his father was away. One can only imagine how life must have changed for these two young boys during those horrible years of conflict." (Ref. Biography of Sigismund Stribling Ware by Judy C. Ware)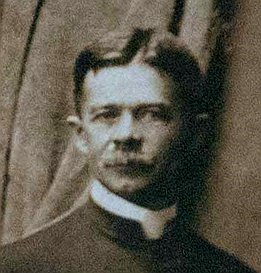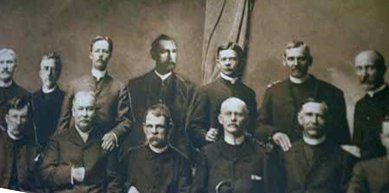 Rev. Josiah Ware
<![if !vml]><![endif]> The brothers both attended seminary at the same time and the years often found them, not only serving in their respective churches, but sitting on committees together and even attending school reunions.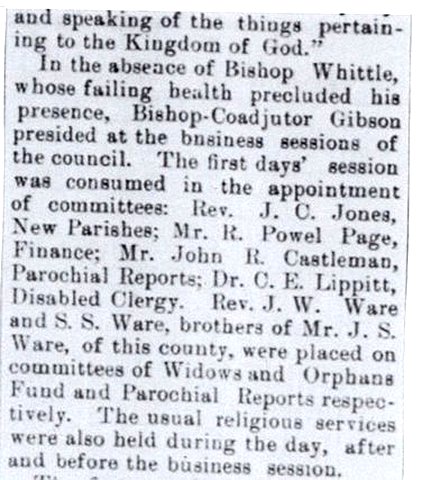 This article mentions all three of the Ware brothers.
From 1878 until 1880, Rev. Jo Ware worked in Hungar's Parish, a place rich in history and tradition. (Ref. 2392) The two churches that fell in his parish, Hungar's Church and Christ Church in Eastville, had served the people of the Eastern Shore of Virginia since 1623.
On October 22, 1879, at Christ Church, Rev. Josiah Ware married Ann Wise Stratton Nottingham. The wedding ceremony was especially memorable for him because his brother, Rev. Sigismund Stribling Ware, performed the ceremony. (Ref. 2394)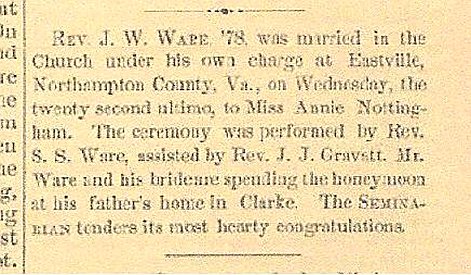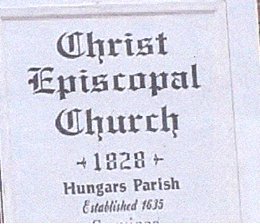 Wedding announcement
Rev. Jo Ware served in many churches and for a more detailed history of him, the reader can go to www.waregenealogy.com and read the section on him in Ware Connection to Grace Episcopal Church written by Judy C. Ware. One of his last charges was in St. Mark's Parish in Culpeper County, Virginia. In 1903, Jo began his ministry at St. Stephen's Episcopal Church there. (Ref. 2392, 2414) In 1912, Annie and Jo's own daughter, Jaquelin Ware, would marry in the same church.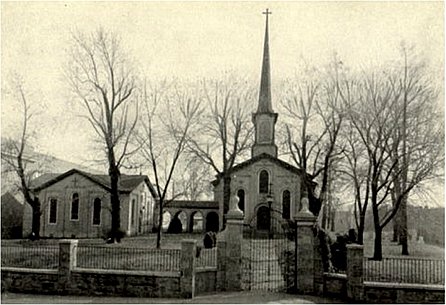 St. Stephen's Episcopal Church in St. Mark's Parish in Culpeper, VA
Jo and Anne enjoyed a close marriage as can be attested to by an excerpt from his memoir. He wrote in 1924, "Again, I gratefully record my thanks for the wife, who in God's goodness has blest my life for so many years. Great is His mercy in sparing her life so long, not only to enrich my life, but also those of our children. Gifted intellectually with a character which has been enriched by a noble charity for the faults of others, generous in her judgments, liberal in the use of limited means, she is an inspiration to her husband and children." (Ref. 84)
After his retirement, "he and Aunt Annie bought a home in Orange, Virginia where they lived just across the street from their daughter Jaquelin." (Ref. 2, 3)
Anne passed away first in 1938, and Josiah died about four years later on November 15, 1942. (Ref. 3) They were both buried in Graham Cemetery in Orange, Virginia.