Transcription of 1880 Letter from George N. Miller to Josiah Ware
Transcribed by Judy C. Ware
© Judy C. Ware March 2009
Original letter owned by Jane & Scott Dudgeon
---
Wallingford, Conn. January 26, 1880
Colonel J. W. Ware
Berryville, W. Virginia
Dear Sir;
I had the pleasure of meeting and conversing with you at the White House in Washington about five weeks ago and retain a very pleasing recollection of the event. I thought it might possibly interest you to know that your entertaining reminiscences of some of the great men of the past generation have started me on a course of reading that is proving very interesting. Since I saw you, I have read the Lives of Daniel Webster and John C. Calhoun and am now reading the Lives of the Presidents. They are made more interesting by the personal knowledge which you imparted.
If it should be convenient and agreeable to you to send me your photograph sometime I should keep it as a souvenir of a pleasing and memorable event.
With great respect, I am
Your very truly
George N. Miller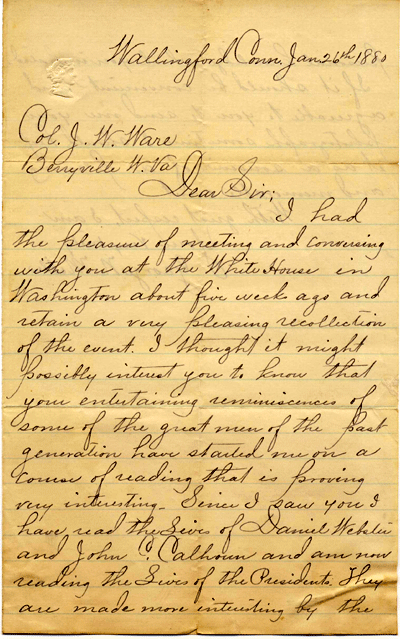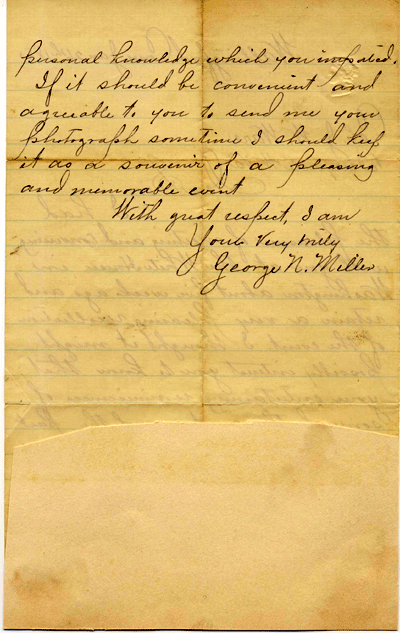 ***I would like to thank Jane & Scott Dudgeon for allowing me to copy & transcribe this letter for my historical research. I am deeply grateful.
Placement of family photographs and visual graphics accompanying this piece are the fine work of John Reagan who has been an invaluable help in setting up a website for me entitled Ware Genealogy at www.waregenealogy.com. I will forever be grateful for his expertise and kindness.