Transcription of Letter to Josiah Ware
from Lt. Jesse F. Wyckoff
Researched & transcribed by: Judy C. Ware
© Judy C. Ware October 2008
Original letter owned by Jane & Scott Dudgeon
---
** Halltown, Virginia was a small hamlet on the road between Charlestown and Harper's Ferry. It is now known as Halltown, West Virginia.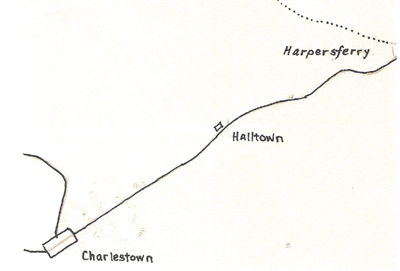 The signature on this letter is very hard to decipher, but I was able to locate a "Lt. Jesse F. Wyckoff" who was serving in the area around this timeframe. Since the rank, first name, and middle initial are the same, it is my guess (at this time) that the last name is Wyckoff.
This letter was written to Josiah in 1864 and makes reference to his arrest (and later imprisonment) in Old Capital Prison.
The man who is mentioned in the letter (Lt. Nims) was a Union officer that Josiah helped out at one time earlier in the war. It is probably safe to assume that he was asking for some assistance in return. In the book entitled Boots and Saddles, the author writes the following:
"It is due to Col. J.W. Ware, that noble citizen of the Shenandoah Valley, of whom I have spoken in a previous chapter, to say that his solicitude for the welfare of our officers and men led him to visit Winchester immediately after our retreat to see if he could be of any service to those who might have been wounded or captured. He found Lieut. F.A. Nims, of our regiment, a prisoner and succeeded in rendering him valuable service. Nims was aide-de-camp to General Elliot, but being sick at the time, was left behind and fell into the hands of the enemy. Col. Ware heard at Winchester that the private property of some of our officers had been captured on the retreat from Berryville and he mounted his horse and followed General Lee to Chambersburg, Pennsylvania and obtained a letter from him requiring those having the property to deliver it to Col. Ware to be returned to the proper owners; which was done. This speaks volumes for both General Lee and Colonel Ware; and it were well had the same spirit animated more of the officers on both sides during our late 'unpleasantness'."
All quotes in italics are from the book Boots and Saddles by Capt. James Stevenson 1st New York (Lincoln) Cavalry Regiment, Patriot publishers, Harrisburg, PA copyright 1879
---
Headquarters Cavalry Brigade
Halltown, Virginia March 9th 1864
J.W. Ware, Esquire
Baltimore, Maryland
Sir, your favor of February 27th has just been received. In reply I would say that it will afford me great pleasure to assist you in any way I can do. It will be necessary for you to obtain a permit for such goods as you wish to purchase. I will see that they are delivered or will convey any message to your friends you may see fit to forward to me. I regret exceedingly your arrest, believing it to have been done by persons with more zeal than brains. Though I cannot coincide with you in your political views, I shall always be ready to testify to your gentlemanly and kind bearing toward us while stationed near you and do not for a moment believe in the report causing your arrest. I will mention to Lt. Nims your suggestion.
Hoping, Colonel, you may soon be released and permitted to join your family,
I remain your obedient servant,
Jesse F. Wyckoff
Lt. and a.a.a.g.
Cavalry Brigade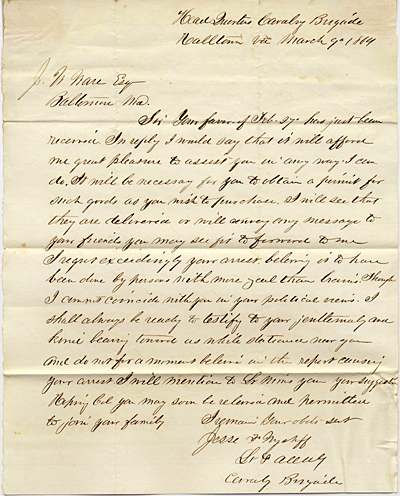 ---
**a.a.a.g. stands for Acting Assistant Adjutant General
***I would like to thank Jane & Scott Dudgeon for allowing me to copy & transcribe this note for my historical research. I am deeply grateful.