Background Information on Senator Daniel Webster
By: Judith C. Ware
January 2009
© Judy C. Ware
During the early and mid 1800's, there were 3 men who helped shape American history in a very profound way. Each held tremendous political power and yet none of these three men ever attained the office of the Presidency. It certainly was not for lack of trying. These men were John C. Calhoun, Daniel Webster, and Henry Clay. Together they were often referred to as the "Great Triumvirate" for their outstanding oratory and statesmanship qualities.
Daniel Webster was born in New Hampshire in January 1782. He was known to be a "sickly" child, but his health certainly didn't get in the way of his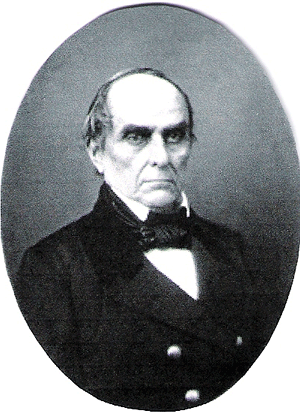 future. He attended Dartmouth College and was accepted to the bar in 1805. Just seven short years later, in 1812, he was elected to the House of Representatives. He served two terms there. Instead of seeking a third term, Webster decided to focus on his law practice.
Webster soon became established as one of the nation's leading lawyers and outstanding orators. As was recorded by one of his fans, "His voice was deep and sonorous; and his sentiments high and sublime." He served as counsel in a number of high profile, important Supreme Court cases. His impassioned speeches and brilliant legal mind brought about major precedents in the Constitutional jurisprudence of this country. This only helped propel him faster into Presidential politics. Although one Southern lady expressed that she found him "much less eloquent than Henry Clay because his heart is decidedly colder," Lincoln always believed that Webster's words would "outlive the age."
As with Henry Clay, Daniel Webster was often nominated for the Presidency but never attained enough votes. In two of the Administrations (William Henry Harrison and Zachary Taylor) he was offered the office of Vice President, but declined. He did, however, serve with distinction as Secretary of State under President Harrison and President Tyler; being the only Whig in Tyler's cabinet not to resign. He was reelected to the Senate in 1845 and later served as Secretary of State again under the administration (1850 -1852) of President Millard Fillmore.
There was exactly twenty years difference between Daniel Webster and Josiah Ware. During the time period (1840-1848) when they were corresponding, Webster was well established in Washington politics and was serving as Secretary of State. Josiah was in his late 30s and mid-40s. There was obviously spirited conversation between them concerning the government (especially since Webster fostered more "northern" views) but there was also a deep respect they had for each other.
Daniel Webster had a serious fall from his horse in 1852 which resulted in a crushing blow to the head. He was already suffering from cirrhosis of the liver and the brain hemorrhage that occurred from the fall hastened his death. He died on October 24, 1852.
References:
Daniel Webster
: A Bibliography The Papers of Daniel Webster, edited by Charles Wiltse,
Harold D. Moser
, et al. 15 vols.

Hanover, N.H. University Press of New England, 1974-1989
Wikipedia 2009


Papers of Soloman P. Chase
, Manuscript Division, Library of Congress, February 14, 1829, Diary reel 1
Team of Rivals
by: Doris Kearns Goodwin, copyright 2005, Blithedale Productions, Inc., Simon & Schuster Paperbacks
Placement of family photographs and visual graphics accompanying this piece are the fine work of John Reagan who has been an invaluable help in setting up a website for me entitled Ware Genealogy at www.waregenealogy.com . I will forever be grateful for his expertise and kindness.