Background Information on
Senator William Cabell Rives
By: Judy C. Ware
January 2009
© Judy C. Ware
William Cabell Rives was born May 4, 1793 in Virginia and attended school at Hampden-Sidney College and the College of William and Mary. He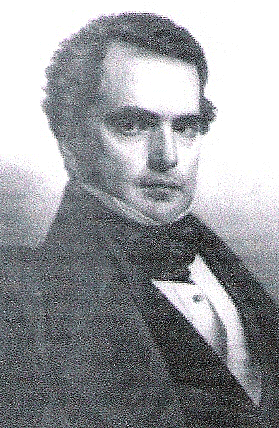 was nine years older than Josiah Ware so at the time of this letter, Rives was 45 years of age and Josiah was 36.
Although William Rives attended William & Mary, he was unfortunately expelled for an "affair of honor" which according to one writer, "ruffled feathers but did not escalate into a duel." Upon the recommendation of the President of William and Mary, Rt. Rev. James Madison, Rives became the protégé of Thomas Jefferson and received training in both law and politics. He got his license to practice law in 1814, but obtained a position as aide to General John H. Cocke when the War of 1812 threatened his country.
The political career of William C. Rives really took off in 1816. He eventually won election four times to the United States Congress. He served from 1823 until his resignation in 1829 when he accepted an appointment from President Andrew Jackson to be Minister to France. Following his return in 1832, Rives served all (or part of) three terms in the United States Senate before accepting reappointment as Minister to France under Presidents Zachary Taylor and Millard Fillmore, from 1849-1853. Rives was a big supporter of Henry Clay. The letter he wrote to Josiah was written during his time in the Senate.
References:
Raymond C. Dingledine, "The Political Career of William C. Rives" (1947)
"William C. Rives," Dictionary of American Biography
James Childs Rives, Reliques of the Rives (Ryves) (1929)
Jon Wakelyn, ed., Southern Pamphlets on Secession (1996)
Russell S.Wingfield, "William Cabell Rives, A Biography" (1915)
Dictionary of American Biography; McCoy, Drew R. "Legacy: The Strange Career of William Cabell Rives." In The Last of the Fathers: James Madison and the Republican Legacy, pp. 323-69. New York: Cambridge University Press, 1989; Wingfield, Russell S. "William Cabell Rives." Richmond College Historical Papers 1 (June 1915): 57-72.