Letter (dated October 9, 1836) from
Senator Benjamin Watkins Leigh to Josiah Ware
Transcription & additional information added by Judy C. Ware
© Judy C. Ware January 2009
Original copy is on file at the Rutherford B. Hayes Library in Ohio
---
Richmond, October 9, 1836
Dear Sir,
I have to acknowledge your letter of the 3rd. I also received your former letter on the same subject and thought I had answered it – but, probably, in the pressure of other business on my hands, it escaped my attention. I shall trust to your goodness to pardon the neglect.
As well as my memory serves me, the papers relating to the claim of Morgan Alexander's heirs were among those found at the same time with those relating to the claim of Colonel Meade's heirs; and all the papers found at that time (near the close of the last session) were returned by me to the Secretary of the Senate, and the committee was, upon my motion, discharged from the further consideration of them - except, I think, in Meade's case, in which, if I remember aright, the committee made a favorable report. Your papers, I have no doubt, are on file in the Secretary's office.
Yours with all respect,
B. W. Leigh
J.W. Ware Esquire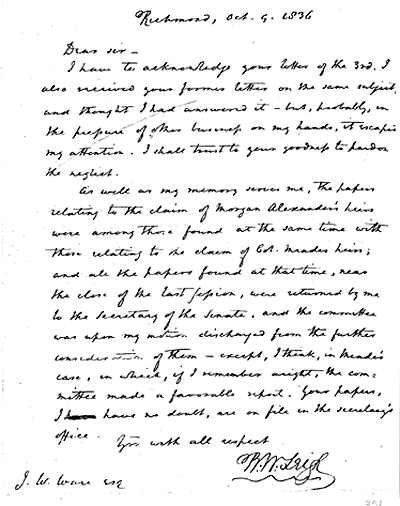 *** Morgan Alexander was the grandfather of Josiah Ware on his maternal side. Josiah's mother was Elizabeth Alexander Ware (married to James Ware III.) Her mother was Sarah Elizabeth Taliaferro Snickers (known as Elizabeth) before she married Morgan Alexander on February 12, 1773. Elizabeth was the daughter of Edmund and Elizabeth (Taliaferro) Snickers of Clarke County whose son William (brother of Elizabeth) married Frances Washington, the daughter of Warner and Mary (Whiting) Washington; first cousin of General George Washington.
D.A.R. records show that Morgan Alexander fought in the Revolutionary War and attained the rank of Colonel. In 1778 he commanded an expedition against the Tories. He died prior to 1783.
Reference: The Proceedings of the Clarke County Historical Association Volume XXIII 1983-1984 copyright 1985 by the Clarke County Historical Association – printed by Commercial Press, Stephens City, Virginia 22655 *we own this book
D.A.R. forms for Children of the American Revolution
In 1882 Josiah wrote a long letter to Rutherford B. Hayes having to decline an invitation to travel with Hayes & his wife (Josiah's cousin) out west. In the letter, he made mention of this claim for Morgan Alexander.
". . . if we ever can reach my claim for my grandfather's pay as Colonel for the Revolutionary War (for the departments show accounts against him for money 'for his men' and no pay for himself) then I shall be able to visit relations and friends."
From this letter, it would appear that at least 46 years had passed since Josiah had submitted his claim to the Senate and obviously he had not gotten a settlement yet.