Chapter 10
Changing Times for James & Agnes
By the end of 1753, James and Agnes had completed their family. Both of them were 39 years old, and Agnes had just given birth to her last son, Edmund. They were established property owners in one of the largest and most influential colonies in North America. Virginia would continue to play a major role in the historical events that were beginning to unfold. The city of Williamsburg had been chosen as the capital of the Commonwealth, and "it was here that the convention adopted the Virginia Bill of Rights on June 12, 1776." (Ref 1026) There was a restless wind of change that was blowing, however, and the repercussions would be felt in more than just the Old Dominion. The events leading up to the Revolutionary War and the final break with Great Britain were rooted in problems that had been simmering for quite some time.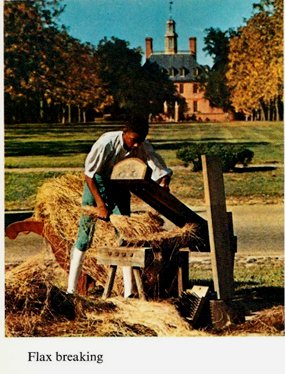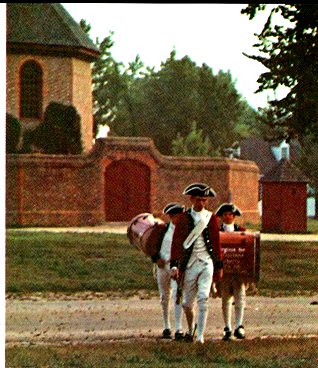 Photos from Colonial Williamsburg
When the colonists came from England to settle in the New World back in the 1600s, one of the driving motivations was the desire for religious freedom.

To some small extent they may have found that in this new land, but old bigotries and the natural inclination for men to want to judge others followed them.

Even the Puritans, zealous in their own struggle to practice their faith in freedom, resorted to "torture and imprisonment of many leaders of non-Puritan Christian sects which led to the 'banishment' of many Christian leaders and their followers from the Massachusetts Bay Colony."
(Ref. Wikipedia)
Virginia fared no better.

"
The law of the land mandated that white Virginians worship in the Anglican Church
[Church of England] and support its upkeep with their taxes. Where religion was an integral part of everyday life in Virginia, the lines blurred between religious and civil authority."
(Ref. History of Religion.org)
The established Episcopal Church was held dear by many of this country's first settlers, including the Ware family.

Records attest to their membership and active roles in the church - holding positions of honor and high respect.

The religious life of Virginians was not without diversity, however, and those choosing different denominations in which to worship chafed at legal restrictions placed on them.

"Finally, after about 1750, evangelical Christians precipitated a struggle for religious freedom parallel to and often reciprocal with the wider struggle for political independence."
(Ref. History of Religion.org)
We know that James and Agnes were both born in Gloucester County, but the years following their marriage would find them living in new counties being formed further inland. The maps below show the settlement path the couple took during the years from their own birth to just prior to their move to Kentucky.
X
Gloucester

X

King and Queen

X

Caroline

X

Spotsylvania

X

Orange

X

Culpeper

X

Frederick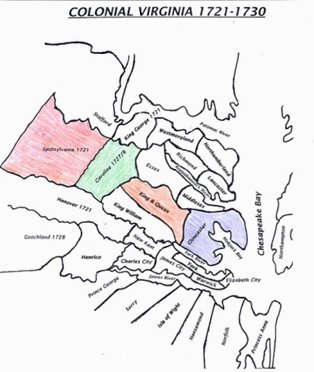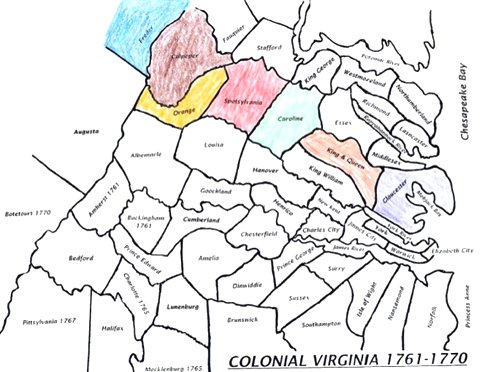 1721-1730

1761 – 1770
The following map gives us a good idea of how their world changed in the nine years most of the Ware children were being born. Shaded areas represent newly formed counties from 1741 to 1750. Virginia was growing as quickly as the Ware family.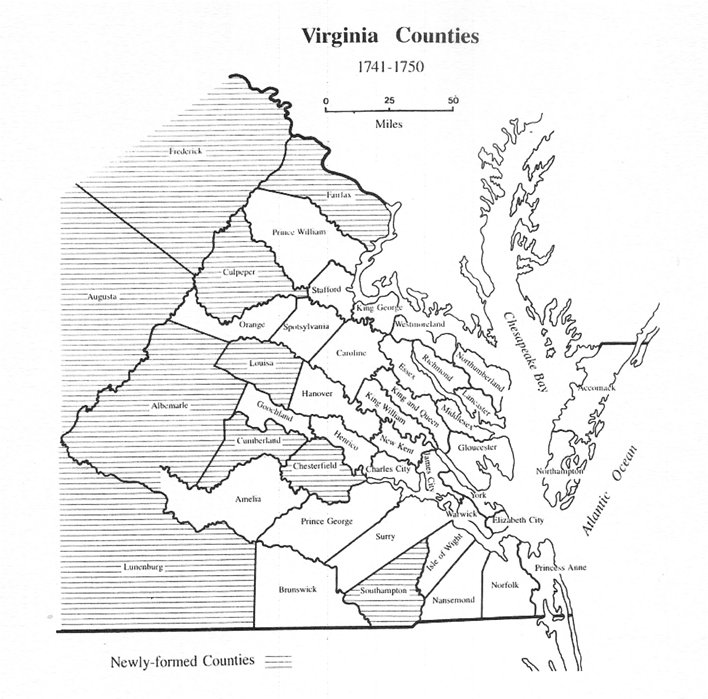 With growth comes change, however, and the religious climate of Virginia was evolving as well. As author Shelley D. Bailess wrote:
"The period from 1769 to 1775 saw the rise of the Baptist evangelist, an increase in the number of converts and churches and as a result, more determined persecution from the Anglican establishment . . . . By the time of the American Revolution, Separate Baptists numbered more than ten thousand, and by 1790, there were more than two hundred Baptist churches and one hundred and fifty ordained ministers in the denomination in Virginia. Their enthusiasm, the rapid rise in their membership, and their place in the social order created an environment of opposition that soon developed into open oppression - and resulted in the drive for religious liberty in Virginia." (Ref. 2567)
From documents and records found in the Virginia and Kentucky archives, a picture appears which leads us to believe that James Ware Sr. was highly involved in this exploding religious movement. There were many vibrant, inspiring ministers who adhered to this new faith, and each of the major Baptist ministers mentioned below (Hickman, Taylor, Craig, and Marshall) were acquainted with (and had interactions with) James and his family in some way. The following timeline and attached documents with explanations will support the conclusion that James Ware Sr. came to Kentucky with the Traveling Church.
X JAMES Sr. X HICKMAN X JAMES Jr. X TAYLOR X CRAIG X MARSHALL X SINGLETON
1767 – On November 20, 1767, a new church is started and named Upper Spotsylvania Baptist Church. (Spotsylvania and Caroline Counties had both been formed in the 1720s as the population moved further inland from Gloucester.) One of the members of the new church is Christopher Singleton who will later come to the support of James Ware Sr.
The name

Christopher Singleton

is on Morgan Edward's list of the
first members of the Upper Spotsylvania Church, one of the first Baptist
churches (or perhaps the first) in Virginia. This was around 1767.
FREDERICKSBURG BAPTIST CHURCH by Oscar M. Darter, 1960 (Richmond, Va.), citing the Morgan Edwards MSSS,
American Baptist Historical Society, Crozier Theological Seminary,Chester, Penn
1768 – William Marshall is converted and begins preaching in the Shenandoah area of Virginia (i.e., Frederick County) where James Jr. (Dr. James Ware) will later live in 1770.
1769 – James Sr. and James Jr. both start out living in Caroline County, but James Jr. ends up moving to Winchester, Virginia - in Frederick County.
Frederick Co. is blue, Spotsylvania Co. is red, and Caroline Co. is green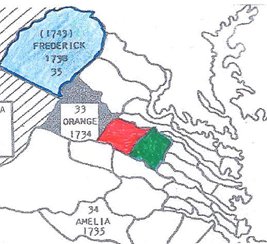 Marshall has been preaching in the area and performed the first baptism in the Shenandoah River. John Taylor is converted by Marshall and begins preaching.
1770 – Lewis Craig becomes the minister of Upper Spotsylvania Church where several references tell us James Sr. attended. At age 56, James Sr. and his wife, Agnes, start to sell off their property which they own in Spotsylvania. (See below)

May 7, 1770. Spotsylvania Co., VA. James WARE & wife Agnes of Caroline Co., VA, to John CHICK of Hanover Co., VA, 100 acres in Spotsylvania County for £1, 5s. Witnesses to the deed were Wm. CROW, Francis BABER, & Nichol. WARE. On this same date, John CHICK witnessed several other deeds from James & Agnes WARE to various individuals, for parcels of land in St. George's Parish, Spotsylvania Co. In all, James & Agnes WARE conveyed 8 parcels of land on May 7, 1770. Along with John CHICK, the grantees were Nathaniel HILL of Hanover Co., James RIDDLE of Caroline Co., Ezekiel MITCHELL of Caroline Co., Humphrey HALEY of Caroline Co., Thos. UPSHAW of Essex Co., Wm. CROW of King & Queen Co., and Francis BABER of Caroline Co. (Spots. Co., VA, Deed Book G, 1766-1771).
On May 7, 1770, in Spotsylvania County, the couple "held a land lottery selling 1,000 acres, in 100 acre increments, which were drawn in Ware's Lottery." (Ref. 6,379) The Virginia County Deed Book states that one of those transactions was between "James Ware and Agnes, his wife, of Caroline County to Ezekiah Mitchell of said county." (Ref. 5) On the same date, "James Ware and Agnes (his wife of Caroline County) deeded to Nathaniel Hill 100 acres in St. George Parish Spotsylvania County, which land Hill won as a prize in the Ware's Lottery."
According to the Spotsylvania County Records of 1721-1800, the following land transactions were also done by James Sr. and Agnes during this time:
May 7, 1770 James Ware and Agnes his wife of Caroline Co. to James Riddle of said county - 100 acres in Spotsylvania Co., in St. George Parish which said land was drawn in Ware's Lottery
May 7, 1770 James Ware and Agnes his wife of Caroline Co. to Humphrey Haley of said county – 100 acres in St. George Parish, Spotsylvania Co. drawn in Ware's Lottery
May 7, 1770 James Ware and Agnes his wife of Caroline Co. to Thomas Upshaw of Essex Co. – 100 acres in St. George Parish, Spotsylvania Co. drawn in Ware's Lottery
May 7, 1770 James Ware and Agnes his wife of Caroline Co. to William Crow of King & Queen Co. – 100 acres in St. George Parish, Spotsylvania Co. drawn in Ware's Lottery

May 7, 1770 James Ware of Caroline Co. and Agnes, his wife, to Francis Barber of same county – 100 acres in St. George Parish, Spotsylvania Co. drawn in Ware's Lottery
1771 – Louis Craig is arrested in Caroline County (where James Sr. and Agnes still live) for preaching. James Sr. is also arrested for preaching in Fredericksburg, the county seat for Spotsylvania.
1772 - James Ware Sr. is arrested for preaching in Caroline County and is given aide by Christopher Singleton. James Sr. and Agnes sell some of their last land in Spotsylvania, and the transaction is recorded by Nathaniel Holloway who will also be arrested for preaching in Caroline County that year. (See following documentation for land sale and the arrest of James Ware Sr.)
Dec. 5, 1772 James Ware and Agnes, his wife, of Caroline County, to John Knight of Spts. Co. 15 Lbs curr. 100 acres in Spts. Co. Nathaniel Holloway, Thomas Wisdom. March 18, 1772
Spotsylvania County Records Crozier, page 296
"James Pitman . . . was arrested in 1772 along with James WARE and imprisoned for 16 days in Caroline County's jail for having preached in their home." Caroline County, VA, Order Book, 1772-1776
"Ware's arrest for preaching at James Pitman's tavern . . . marked another turning point in the propagation of the Baptist faith in Caroline County . . . . Powerful friends came to Ware's rescue after he "got into trouble." William Taliaferro and Christopher Singleton, rich planters of the great landlord caste, offered to post bond for his good behavior. This was the first instance of record that great landlords befriended a Baptist in Caroline since Daniel Stover faced the local court, over two decades before. But Ware was not willing to accept this bond on the usual conditions, supported by Taliaferro and Singleton he contended that "keeping the peace" he construed literally and not as a bar to preaching." Colonial Caroline, A History of Caroline County, Virginia, by T. E. Campbell, The Dietz Press, Inc, Richmond VA, 1954.
"There was preaching in the homes in 1771-1773 by such preachers as Lewis CRAIG and John WALLER. This was unlawful so at least two citizens, James WARE and James PITMAN, were jailed for allowing their homes to be used for such a gathering." Virginia Baptist Historical Society in Richmond, Virginia

"In Caroline Co. VA Christopher and his family supported a Baptist minister, James Ware, who was being persecuted for preaching the first noted open, public sermon (in James Pittman's tavern). Christopher Singleton is noted as a "Powerful friend" and being a "rich planter of the great landlord caste.'" Coastal Carolina
". . . there had been violent opposition to the Baptists in that neighborhood, the parson of the parish preaching against them, and warrants being issued for the apprehension of Lewis Craig, Edward Herndon, Bartholomew Choning, James Goolrick, James Ware and James Pitman, all of whom were thrown in prison."A History of the Ten Baptist Churches by John Taylor, 2nd Edition (1827)
"
James Ware
- Church Layman"
The Baptists of Virginia, 1699-1926
by: Garnett Ryland
"In 1922, a monument was dedicated in Bowling Green to the memory of six Baptist ministers who were imprisoned in the Caroline County jail in 1771. The monument has since been moved to Carmel Baptist Church, the oldest church of this faith in the county. The names appearing on this monument are: Bartholomew Chewning (also spelled Choning), John Young, Lewis Craig, Edward Herndon, John Burrus and James Goodrich (also spelled Goolrich). Several of these names will appear in the following narratives of the four Baptist churches established in this immediate area . . . coming to their defense was Patrick Henry of Hannover. Such names as John Waller, James Pittman, James Ware, Hipkins Pitman and Younger Pittman will also appear in connection with these Churches: and these men were imprisoned, whipped or threatened during their ministry in this county, also. Some were imprisoned many times in the Fredericksburg jail and jails of surrounding counties." (Website)
Meanwhile, as James Sr. is preaching, James Jr. is getting established in his new home in Winchester.
"In October 1772, James Ware was appointed overseer of the road leading from Berry's Ferry (where US Route 50 crosses the Shenandoah River) to Winchester. Part of this old road is still in use and crosses the road leading from Boyce to Old Chapel near New Market." (Ref. 203, 272, 322)
Records for Overseer
Later, in 1782, it is recorded that James, "along with Edward Smith and other inhabitants of Winchester, communicated with the Executive of Virginia. They were setting forth reasons why the British prisoners [being held] in barracks near Winchester should not be moved." (Ref. 372) (Calendar of VA state papers) These soldiers had been "part of the army of General John Burgoyne, who was defeated at Saratoga in 1777 by General Horatio Gates." (Ref. 2570)
1773 - James Sr. is still attending Upper Spotsylvania Church. There is another "Ware" activist who gets arrested, but he is not from the same family tree. This "Robert" Ware lived and preached around Essex County, and he never moved to Kentucky. The following is taken from a book by Alfred Bagby titled King and Queen County, Virginia, published in 1908, and it shows that Robert never left Virginia:

The following list was found in the book Imprisoned Preachers and Religious Liberty in Virginia by Lewis Peyton Little (J. P. Bell Co., Inc., Lynchburg, VA, 1938.) It shows where the two Ware men resided and the connection between Louis Craig and James Ware.
Caroline County 
1. Burrus, John - Jailed for preaching 
2. Choning, Bartholomew - Jailed for (?) 
3.

 

Craig, Lewis

 - Arrested and required to give bond 


4.

 

Craig, Lewis

 -

 Jailed for preaching "Three months" 


5.

 

Craig, Lewis 

-

 Carried to Williamsburg on habeas corpus 


6. Goolrich, James - Jailed for preaching 
7. Herndon, Edward - Jailed for preaching 
8. Pitman, Hipkins - Arrested and threatened with whipping


9. Pitman,James - Jailed for preaching "Sixteen days" 




10. Pitts, Younger - Arrested, abused and released


11. Waller, John - Jerked off stage—head beaten against ground
12. Waller, John - Whipped severely by the Sheriff 
13. Waller, John - Jailed for preaching (Ten days) 


14. 

Ware, James

 - Jailed for preaching (Sixteen days)


15. Young, John - Jailed for preaching (Five or six months) 
Essex County


1. Lewis, Ivison - Arrested but not imprisoned

2. Shackelford, John - Jailed for preaching (Eight days)

3. Waford, Thomas - Arrested, searched and released

4. Waller, John - Jailed for preaching (Fourteen days)

5. Ware, Robert - Jailed for preaching (Eight days)

1774 – Cornstalk, a prominent leader of the Shawnee nation prior to the American Revolution, is defeated in the French and Indian War. In May of 1774, the militia of Frederick County had been put into service against the Indians. One of the most notable citizens, Captain Daniel Morgan, is a close associate of James Jr., who will later help his son, James Ware III. This Frederick County company served for 164 days.

"Through the friendship of General Daniel Morgan, he (James III) obtained an introduction to General S. Smith of Baltimore, whence he commenced merchandizing in Louisville."

(Ref. 2, 6, 35)

1775 – Taylor visits Kentucky and stays about a year but then returns to Virginia where he will soon meet James Jr. in Winchester. Christopher Singleton, who had come to the aide of James Sr. when he was arrested, moves to Kentucky. Lewis Craig (although still preaching for the church) becomes a verbal and adamant proponent for the fight against England.

1776 – The country is now at war with Great Britain, and both James Ware Jr. and James Ware Sr. do patriotic service in one way or another. (See documentation below) There is also a great revival in Upper Spotsylvania Church, and over 100 people are added to its membership.

Ware Family History
American Genealogical Research Institute, Washington DC, Heritage Press, 1978


(Ref. 894)

DAR Patriot
Index Centennial Edition, Part III,
Washington, 1994
"

James

Ware Sr. did patriotic service in Virginia."


American Genealogical Research Institute in Washington, D.C.
James

Ware "rendered service in the revolution, as did several of his

sons, and... he moved to Kentucky after hostilities had subsided."

The Register of the Kentucky State Historical Society

,

Vol. 19

KY
Military history information for

James Ware

, husband of Agnes Todd

-

LDS AFN: GPOX-70 Latter Day Saints record



Military records show

James Jr.

was "a cavalry soldier in a Virginia unit."

He is listed as a Revolutionary War Patriot.

DAR Patriot Index, 2003, NSDA

Revolutionary War Pension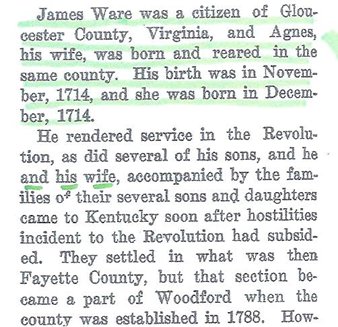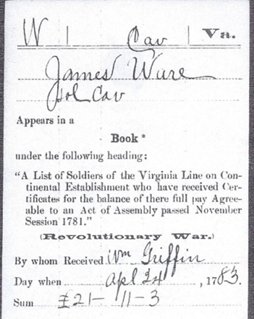 James Senior
James Junior
1777 – James Sr. and Agnes Ware still in Caroline County

Forks of Elkhorn Church, by Emina Jett Darnell, 1939
1778 – Plans are discussed at Upper Spotsylvania Church about moving to Kentucky.
1779 – 

The winter weather this year is unusually bitter.

  

"It was fixed in the minds 
of the early pioneers as the 'Hard Winter of 1779-1780' . . . heavy snows and low 
temperatures brought extreme distress to human and beast over an extended time." 


(Ref. 2570)

 

 

Lewis

 

Craig

 comes with Captain William Ellis to explore the possibility of 
moving to Kentucky.

  

(It will take two years to make all the preparations.)

  

Virginia is 
authorized to send militia into South Carolina – thereby laying the groundwork for 
Nicholas Ware (who will serve there) to make his future decision to permanently 
move to the area.

  

Nicholas, son of 

James Sr. 

and brother of 

James Jr., 

had been 
attending Broad Run Baptist Church in nearby Fauquier County with his wife since 
1773.

  
NICHOLAS WARE APPOINTED CLERK 1773
By his military record, we know Nicholas served in South Carolina, and a

ccording to 
T. E. Campbell in his book titled Colonial Caroline, A History of Caroline County, 
Virginia, Nicholas was "listed as a Lieutenant in the Militia in the year 1762, but he 
eventually reached the rank of Colonel."

  

In 1783, Nicholas would take his wife and 
family to South Carolina to "

start the Turkey Creek Baptist Church."

 

   

Minutes of Broad Run 
Baptist Church, Fauquier Co., Va., 1762-1872.
"NICHOLAS WARE OCT 25 DISMISSED TO SOUTH CAROLINA -
MARTHA WARE OCT 25, 1783 - DISMISSED TO SOUTH CAROLINA"
Minutes of Broad Run Baptist Church, Fauquier Co., Va., 1762-1872.
1780 – 

The capital of Virginia is moved from Williamsburg to Richmond.

  

(Ref.
2570) 

A land warrant (dated March 22, 1780) for 3,000 acres in Kentucky "for military 
service rendered" is given to James Ware Jr.

  

He

 

chose not to move to Kentucky 
until almost ten years later, but he obviously was looking at his options because he 
did contact a man named Simon Kenton, a known surveyor and land speculator.

  


Kenton had mixed reputation.

  

Some thought of him as a folk hero, and others found 
some of his actions unscrupulous.

  

Not only did he have an unfavorable interaction 
with 

James Jr.

, but another lawsuit followed in 1795 between Simon and the eldest 
son of James, Thompson Ware.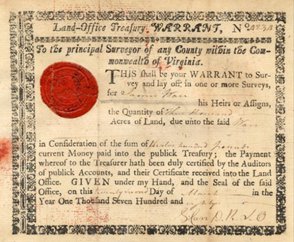 Land warrant for

James Ware Jr.
Interaction between James Ware and Simon Kenton
This day came William Smith of [illegible] before me John A. Woodcock, a Justice of the peace of same county, who being of full age deposeth and saith that about the first of June 1780, being in Kentucky and empowered to purchase Land, for Mr. James Ware, he the deponent agreed with a certain Simon Kenton of Kentucky for 1000 Acres of Land about 2 or 3 miles from the big salt spring on Licking, that the sd. Kenton on condition that the sd. Smith would pay him L100 in hand and L100 more when sd. Land was surveyed, ... sd. Kenton on his part would have the land surveyed, and a fee Simple made there to .... sd. Land was first rate Land and had a good Spring thereon .... He agreed to warrant and defend the same ... against all persons whatsoever ... sworn to before me this 17th day of Nov. 1789. Later on, the purchaser, who did not take possession of the land for eight or nine years, feared it would not prove as fertile as Kenton had said, and threatened to sue Kenton; but Kenton evidently had the whip-hand in the controversy, for the land being out in the wilderness, the purchaser did not know its exact location, and when he threatened suit, and asked to be shown it, Kenton "swore that he would not show it at all."
[Letter of James Ware, Nov. 29, 1789.]
Interaction between Thompson Ware and Simon Kenton
April 6, 1795, Mason County, Kentucky The document reads: "Know all men by these present that I, Simon Kenton of the County of Mason & State of Kentucky, am held & firmly bound unto Thompson Ware of the County & State aforesaid in the Penal Sum of Three Hundred pounds Good & Lawful money of Kentucky; I bind myself my heirs Exors, Admors and Assigns firmly by these present sealed with my seal and dated this 6th day of April 1795. The Condition of the above obligation is such that if the above bound Simon Kenton his Heirs Exors and Admors or assigns do shall well & truly pay unto the above named Thompson Ware & his Heirs the just & full sum of One Hundred & fifty pounds in like money as mentioned above, on or before the 1st day of September next ensuing for & in consideration of 1000 acres of land sold the said Kenton then this obligation to be void else to remain in full force & virtue in Law. (signed) Simon Kenton."

1781 - This was the big year for James Ware Sr. and the Upper Spotsylvania Church as the congregation of about 200 people decided to follow Lewis Craig into Kentucky. Marshall had also moved to Kentucky from the Shenandoah region and was followed shortly by what would become known as the Traveling Church. According to author Dalla Bogan, "One group, numbering about 500, which included the entire Upper Spotsylvania Baptist Church congregation . . . passed through the gap in 1781. As was common custom, they had to abandon their wagons, loaded with personal items, and walk the mountain trail with only what they could carry or load on horses." It was a journey that required great courage, fortitude, and faith beyond measure. "The Travelling Church was perhaps less an organized church and more of a traveling band of disciples (some church members and some simply pilgrims) seeking a better life in Kentucky." (Wikipedia)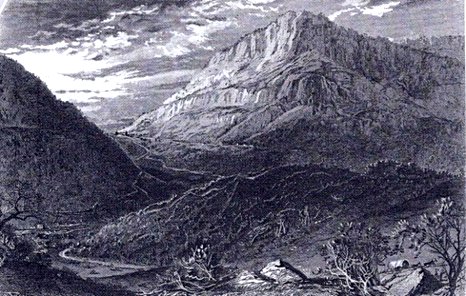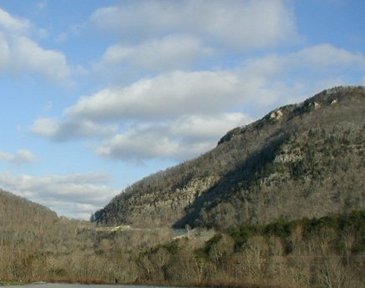 2532

Cumberland Gap
Estimates for the size of the Traveling Church range between 500 and 600 people. The largest group was made up of church members, their children, and their slaves. Other emigrants who wished to travel in a large company for safety also joined in. Military guidance was provided by Captain William Ellis, a revolutionary soldier and pioneer who had previously visited Kentucky in 1779. Ellis would become one of the foremost settlers in early Kentucky and an early member of the Bryant's Station and David's Fork churches. Some Ware family members would also attend the David's Fork church later.
As John Taylor wrote in his diary, the church in Virginia "prospered as long as Mr. Craig remained with it in its first location. Mr. Craig continued to serve Upper Spotsylvania church as pastor, till 1781, when he moved to Kentucky. So strongly was the church attached to him, that most of its members came with him." With the history and interaction that James Ware Sr. had with Lewis Craig in Virginia, it would make sense that he and Agnes would become part of this massive exodus to Kentucky. (We know the Ware patriarch was there prior to 1790 because of the date on his will.) The following pieces of information would seem to back up this theory.
George Ranck, in his history of the Traveling Church written in 1891, gave "a partial list of the families that were part of this historic journey." He wrote: "How many died on the way, how many were slain by savage foes and how many were injured for life by exposure, no records remain to tell nor is there a list extant of the heroic men and women who survived the perils of the wilderness and planted the banner of their faith at Gilbert's Creek. The names of some of them, however, have been secured and are herewith appended . . . These names were obtained from family records, 'Ford's Repository,' 'Virginia Baptists,' 'Ten Churches' and 'Spencer's History of Kentucky Baptists. In most cases only the family name was given without either the names or number of the members of the family." The names secured are:
ALLEN

    

                           

ELLY

         

                   

PRICE
ASHER

    

                          

EASTIN

     

                   

ROBINSON & Wife
BLEDSOE

              

            

GARRARD

               

     

RAMSEY
BOWMAN

               

           

GOODLOE

              

      

RUCKER
BARROW

                

           

HUNT

      

                     

SHACKELFORD
BURBRIDGE

                      

HART

        

                   

SHIPP
BUCKNER 

             

           

HICKMAN

                     

SHOTWELL
CRAIG, Toliver & wife

      

HICKERSON

           

      

SINGLETON


CRAIG

, 

Lewis

     

   

           

MARTIN

   

                    

SMITH
CRAIG, Joseph

    

   

          

MOORE

   

                      

SANDERS
CAVE, William

       

           

MORTON

 

                     

STUART
CURD

      

                          

MARSHALL

              

    

TODD
CARR

      

                          

 MORRIS

    

                   

THOMPSON
CREATH

  

                         

 MITCHUM

                

    

WALTON
DUDLEY

  

                           

NOEL

        

                   

WOOLFOLK
DUPUY

    

                           

PAYNE

      

                   

WATKINS
DARNABY

              

            

PARRISH, Timothy

      

WALLER
DEDMAN

                

           

PARRISH, James

    

    

 WARE


ELLIS, William & 

  

           

PITMAN

   

                    

 WOOLRIDGE
ELLIS' family of 5

              

PRESTON

 

                    

YOUNG
It is interesting to draw special attention to some names listed above.

  

These families
had close connections with 

James

 and Agnes Ware - making it logical that they 
would want to travel together.
PARRISH, James - A grandson of James and Agnes (by their son Edmund) marries Joannah Parrish, the daughter of James Parrish.
CRAIG, Lewis - Clearly the Wares and Craigs were close because of the family membership in Upper Spotsylvania Church.
TODD – The full name of James' wife was Agnes Todd Ware.
PITMAN – It was James Pitman who bailed James Ware out of jail.
SINGLETON – It was the Singleton family who aided James too.
PAYNE – A grandson of James (by son John) wed Susannah Payne.
GOODLOE – Thomas W. Goodloe would marry into the Ware family in 1844.
MARTIN – A granddaughter of James (by Edmund) wed into the Martin family.
Once they arrived at their destination and began their new church, named Gilbert's Creek Baptist Church, records show "some of the early church member family names were Allen, Bowman, Barrow, Burnbridge, Craig, Cave, Curd, Creath, Dudley, Dedman, Ellis, Eastin, Garrard, Goodlow, Hunt, Hart, Hickman, Martin, Moore, Morton, Marshall, Norris, Payne, Pitman, Preston, Price, Robinson, Shackleford, Shipp, Singleton, Smith, Sanders, Stuart, Todd, Thompson, Walton, Woolfolk, Watkins, Ware, Wooldridge and Young." (Ref. Spencer 1885)
(More information on the actual trip to Kentucky will follow later.)

1781
– There is a terrible drought in Virginia this year.
(Ref. 2570)
Lewis

Craig

and the Traveling Church arrive at Wolf Hills by late September, and in October they hear of the British surrender at Yorktown.

There are many delays, but the party makes it to Lincoln (now Garrard) County in December.

The travelers worship for the first time at Gilbert's Creek,
Lincoln County "on the second Lord's day in December, 1781."

(

Marshall

is there and
preaches to them.)

Lewis
Craig
and the

Wares

stay at Gilbert's Creek for two years before relocating to a safer place to form South Elkhorn Church.

James Sr.
owns 130 acres of land in Lincoln County.
Meanwhile, James Jr. buys land in Frederick County.
"There is a deed on file in the courthouse there for property bought by James Ware in 1781. The deed conveys to him half an acre of land in Winchester, Virginia for 2,000 pounds of tobacco; Virginia money." (Ref. 2, 334)
1782 - Another group, led by William Waller, comes from Spotsylvania to Kentucky. James Sr. has his land surveyed by John Buckhannon and officially filed. This property will later be purchased by Daniel Gray in 1798.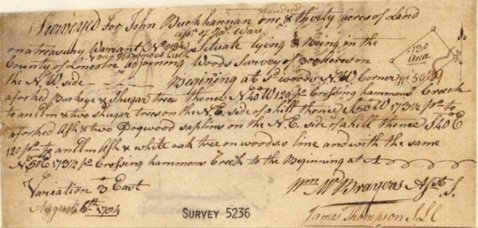 Survey for

James Ware

Sr.

land
1783 – Taylor, after selling a lot of land he inherited in Virginia from an uncle, comes back to Kentucky and another group from Virginia (Orange County) arrives in the area. (Ref. 2570) Due to Indian problems, Lewis Craig and most of the congregation (i.e., James Sr.) decide to relocate by crossing the Kentucky River and moving further north. (Ref. 2570) They organize South Elkhorn Church. Taylor takes over the small congregation that is left at Gilbert's Creek but later moves to South Elkhorn also. James Jr. has his survey for 1500 acres in Kentucky finished, and it is signed by Patrick Henry.
1784 – Official land warrants are now issued for military service. Although James Jr. is a member of an Episcopal church in Frederick Parish, he decides to visit Kentucky. He stays there all that winter. At this point, there were only two convenient routes "by which Kentucky could be approached from Virginia. The water route by way of the Forks of the Ohio River led downstream to the Falls at Louisville. The other course began in southern Virginia and followed the Kentucky Road through Cumberland Gap." (Ref. 2570) Since James Jr., unlike his father, was coming from northern Virginia, he probably took the water route. We know for certain that he traveled by water in 1791. Hickman arrives in Garrard County and later moves to Woodford County.
According to a letter written by Charles Ware, son of James II, "In the fall of 1784, James III with his father, James Ware II, visited Kentucky and remained there all that winter. This was at the time when people lived in stations [forts]."
1785 – William Hickman moves up to South Elkhorn Church, and "under the labours of Craig, Hickman, and other visitors, South Elkhorn soon [grows] up to be a large and respectable church." (Ref. Taylor) A committee of Hickman, Lewis Craig, James Rucker, and William Cave meet to decide the future of Gilbert's Creek. It will ultimately be dissolved the following year.
1786 - Lewis Craig, who was chosen pastor of South Elkhorn Church at the time of its constitution, helps the church continue to prosper. He also helps organize Bryan's Station which will become David's Fork Baptist Church where grandchildren of James and Agnes will attend. James Ware Jr. officially patents his land grant.
Ware, James. Grantee. Land grant 14 August 1786
Location: Fayette County, Kentucky


Description: 1500 acres on the dividing ridge between Stoners and

Hingstons Fork of Licking
Source: Land Office Grants No. 4, 1786, p. 375 (Reel 70) Part of the index to the recorded copies of grants issued by the Virginia Land Office. The collection is housed in the Archives at the Library of Virginia
1787 – James Jr. enters into bond with Daniel Morgan, Marquis Calmes, and Edward Snickers in Virginia, and there is a huge Baptist revival going on where James Sr. now lives in Kentucky.
Bond, 4 April 1787, Edward McGuire, Edward Snickers, Marquis Calmes, Robert Wood, James Ware, Daniel Morgan, and Burnett Williams to Jacquilin Ambler Treasurer of Virginia. Recorded in Frederick County 4 April 1787
1788 – Forks of Elkhorn Church is formed as an "arm" of South Elkhorn Church - with William Hickman as the first minister. The congregation builds a log cabin but later upgrades to a frame meetinghouse with a slave gallery. (The new building was located at the crossroads of Steele's Ferry and Lexington-Leestown Roads in order to take advantage of increasing road travel.) Woodford County is formed and "when they surveyed the line that separated the county of Franklin from Woodford, the line passed directly through the farm of James Ware Sr. and within a short distance of his log residence. It separated his farm into two almost equal parts, one in Franklin and the other in Woodford, but the residence went into Franklin County." (Ref. 874) His home will (one day) be called Wareland.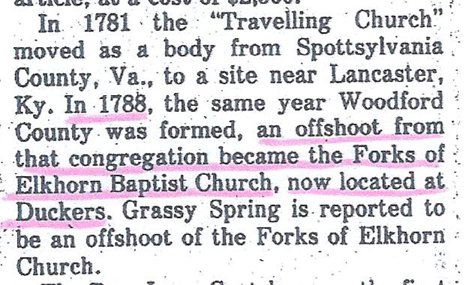 (Ref. 2291)
Meanwhile, James Jr. buys more land in Frederick County in December.
Deed, 12 December
1788
, for 478 acres in Frederick County from Hugh Nelson
of Yorktown to

James Ware

of Frederick County -Recorded 7 July 1789.

Located in oversize, Virginia Miscellany box 3, folder 4.
1789 - James Ware Jr., at age 48, re-visits Kentucky and leaves his two sons (Thompson and James III) while he returns to Virginia to make plans for the move. James Sr., in all likelihood, makes contact with his two grandsons during this time.
"He [James Jr.] then, in the year 1789, revisited this country and brought with him your Uncle Thompson and your father [James III] and left them here." (Letter written by Charles Ware)
1790 -

James Ware Sr.
,

age 76, writes his Last Will and Testament and has it signed by

William Hickman

.

His sons, William and Edmund, both show up on the tax records with him in Kentucky.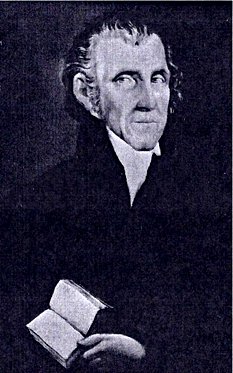 William Hickman
(Ref. 2527)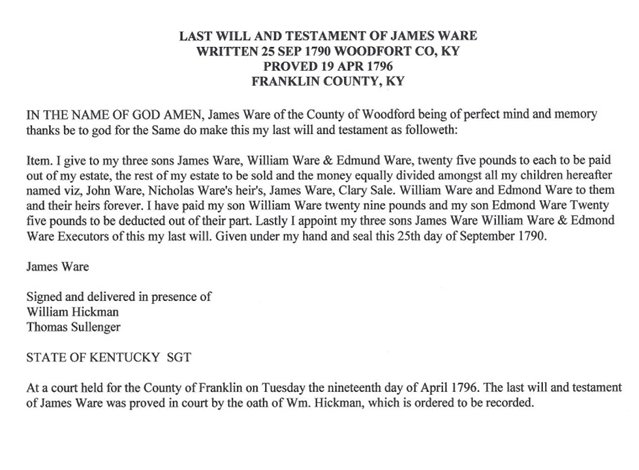 Will for James Ware Sr.
1791 – Hickman goes back to Virginia for a visit. James and his two sons (William, and Edmund) are all still paying taxes in Kentucky. His other son, James Ware II, age 50, now relocates to Kentucky as well. He settles closer to the Lexington area.
Dr. Ware (James Jr.) came to Kentucky by a different route than his father, but the journey was equally difficult. "The old trail had much to be desired. It was wide enough only for packhorses and traveling folks. One source says that during the summer and fall of 1784, hostile Cherokee Indians killed more than 100 travelers on the Kentucky side of the gap. The result of this carnage was that travel in large groups was deemed most appropriate." (Ref. 2569) Cautious travelers sought another option altogether.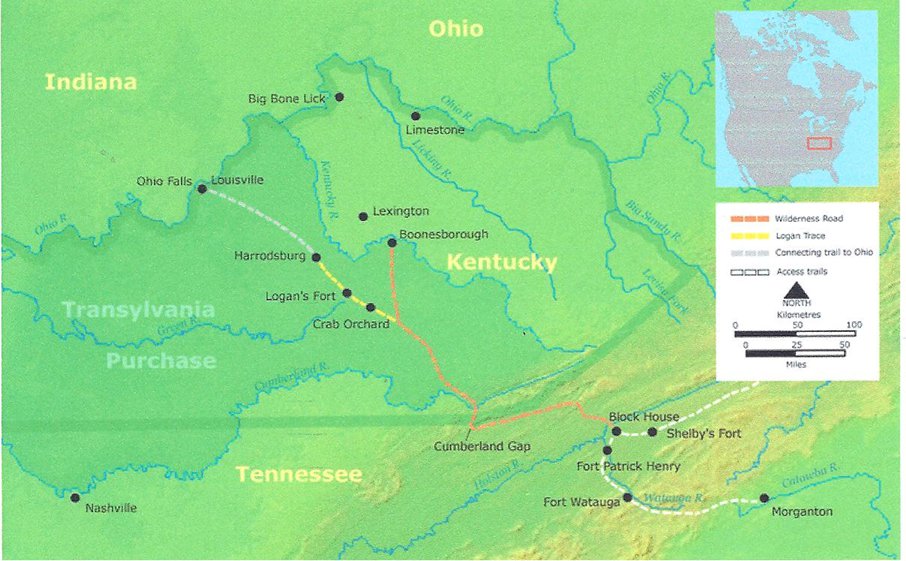 Routes to Kentucky
X
way

James I

came

X

way

James II

came
"By the beginning of the nineteenth century, the population of Kentucky had swelled to more than 200,000. Many came over the Wilderness Road, the route first laid out by Daniel Boone for the Transylvania Company. But a majority of settlers avoided overland passage and made their way to Kentucky by traveling down the Ohio River." (Ref. 2569) It is difficult to say which was the more toilsome. Lewis Craig traveled by land, and John Taylor by water.
Since Polly, the daughter of James Jr., wrote that "we descended the Ohio in flat boats in momentary apprehension of being attacked by the Indians," we know that this second Ware migration was done by water. (Ref. 602) Family letters also tell us that James "sent out some Negroes and an overseer to make a settlement and clear some ground." (Ref. 2) It was still a massive undertaking, but the family arrived "on June 16, 1791." (Ref. 35G)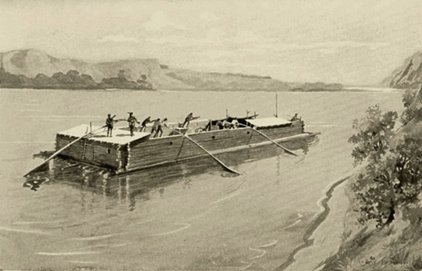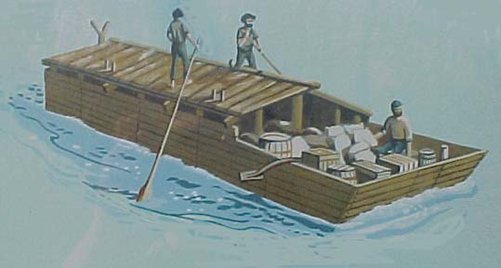 Samples of what flatboats looked like
"Early flatboat travelers were subject to Indian attack, so the boats were built like floating forts . . . windows, if any, were small and had sliding shutters. The walls were pierced with loopholes through which guns could be fired. Gradually, flatboats became more comfortable. The cabins were divided into chambers, and many had brick fireplaces and chimneys for heating and cooking, though a basic flatboat only had a sandbox fireplace." (Wikipedia)
1792
–

James Jr.

becomes fully vested in his new locale.
"In 1792, he built his home on the old Ironworks Pike, just east of the Bryan Station Pike. The Dr. James Ware house still stands at the intersection. . . ." (Ref. 939) James was also involved with civic duties and was appointed as a justice for Fayette County this year.

Report of new appointments made in 1792
The youngest son of James and Agnes, Edmund Ware, was very active in the Forks of Elkhorn congregation. By 1792, he was elected a deacon. James Jr. would later join this church in 1801.
The three years from 1792 to 1795 were full and active ones for all the Ware family. Homes were expanded, livestock imported, babies birthed, and reputations made. The once "wild" Kentucky was, by now, the 15th state in the union.
1796
–

James Ware Sr.

dies at the age of 82.

His property (later to be known as Wareland) is sold and bought back by his sons William and Edmund.

Edmund's section will eventually be named by subsequent owners as Locust Hill and then Scotland.
In studying the events from 1767 to 1796, it is hard to overlook the connections between James Sr., Lewis Craig, and William Hickman. There has long been speculation on why James and Agnes would choose to sell all their property in Spotsylvania and relocate to Kentucky. With the death of their son Richard and few records for Clary, we are left with their remaining five children to further guide our investigation. With them, thankfully, there are documents to verify and substantiate what we know about them. Nicholas left the Anglican faith, moved to South Carolina, and became a charter member of the Turkey Creek Baptist Church. James Jr., in 1801, joined the Baptist church in Kentucky – as did his brothers, William and Edmund. "The Records of the Forks of Elkhorn Baptist Church for 1800-1803" state that in 1801, "a meeting was held at William Ware's." Later, in 1812, William served on a committee to find a location for a new meetinghouse. Edmund was not only a member of the Forks of Elkhorn Church but a deacon. The only Ware son who did not convert to the Baptist faith was eldest son, John, who decided to stay in Virginia. This, alone, would lead one to think that religion played a large role in the move westward.
Although there is no hard and fast 'proof' that the "James Ware" identified in Caroline County (who preached and was jailed for his Baptist beliefs) is the same as the Ware patriarch who moved to Kentucky with the Traveling Church, there seems to be an abnormal amount of coincidences that would have to be reconciled for that not to be the case. We know for a fact that James Sr. and Agnes sold all their property in Spotsylvania – the very place where the Upper Spotsylvania Baptist Church was formed and became the Traveling Church. There is a documented land warrant for James Ware in the very area the church settled, and when they relocated and the Forks of Elkhorn Church was formed, we know James and his sons attended there.
Possibly the best proof of all is the Last Will and Testament of James Sr., which lets us know that (not only was he already in Kentucky in 1790), he was close enough friends with William Hickman to have him witness this important document. Tax records also verify the fact that James, William, and Edmund were all paying taxes as early as 1790. The family letters (dating back to the late 1700s) paint a clear picture that James Jr. followed his father's exodus to Kentucky – only James Jr. chose to travel by water instead of tackling the Wilderness Road. Both methods of transportation were dangerous, and both father and sons (not to mention their wives, daughters, and other family members) endured much to secure a new life for themselves in the Bluegrass state. The rewards of their bravery, however, would be far-reaching.