TRANSCRIPTION
Compensation note dated June 25, 1862 (on the inside)
Done by: Judith C. Ware
© Judy C. Ware
Original document owned by Jane & Scott Dudgeon
Headquarters
Department of the Shenandoah
Middletown, Virginia June 24th 1862
Mr. J.W. Ware living near Berryville Virginia had taken from him on or about the 18th day of June 1862 by two US Volunteers of the 1st Md Regiment of Cavalry two mares (one a chestnut, dark spot on right hip, and the other a light colored sorrel, both small) which have been found and returned to Mr. Ware by order of Maj. General Banks. While these mares were in possession of the thieves, the first described was branded (brand sign) and it is believed the other is also branded in the same descriptive manner.
This paper is to authorize Mr. Ware to keep in his possession the above described mares against all claimants on the part of the US Government except by the express and direct order of the Commander of this Department given in writing.
Mr. Ware is requested to place the letter "C" under the present unauthorized brand.
By Order of Maj. Gen. N.P. Banks
D.D. Perkins
Major & chief of Staff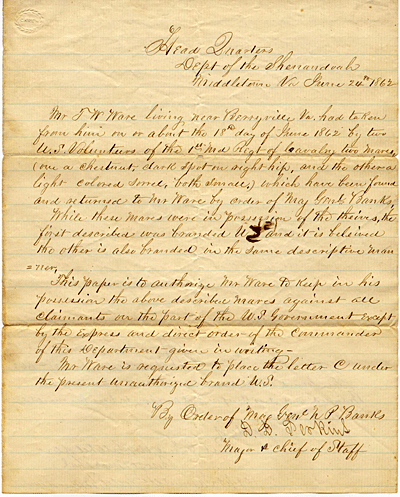 *** The letter "C" under the brand was to designate "commandeered"
---
TRANSCRIPTION of June 25, 1862 note (on the outside)
Done by: Judith C. Ware
Original document owned by Jane & Scott Dudgeon
Office Provost Marshall
Winchester, June 25th, 1862
The second mare named in the written order was not branded and it is therefore not necessary to have her marked commandeered.
Regards of Lieutenant Colonel Batchelder
Provost Marshall
Capt. Samuel M. Zulick
Provost Marshall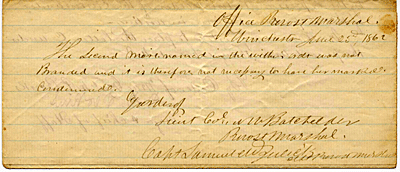 *** Lt. Col Richard Batchelder was also the Chief Quartermaster, 2d Corps. He was later awarded a citation for bravery for action at Catlett and Fairfax Station.
*** Captain Samuel M. Zulick ended up being promoted to a Brevet Brigadier General before the war was over.
---
*** I would like to thank Jane & Scott Dudgeon for allowing me to copy & transcribe this letter for my historical research. I am deeply grateful.
Placement of family photographs and visual graphics accompanying this piece are the fine work of John Reagan who has been an invaluable help in setting up a website for me entitled Ware Genealogy at www.waregenealogy.com. I will forever be grateful for his expertise and kindness.