Part 3 of Ware Connection to Grace Episcopal Church
James Alexander, John Glassell and Charles Alexander Ware
Located on the left hand side of Frances' monument is the inscription for the couple's eldest son, James Alexander Ware.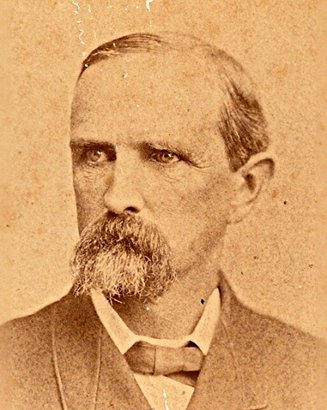 Judge James A. Ware
Photo owned by James and Judy Ware
James is not actually buried in Grace Episcopal Cemetery, however. The gravestone stands as merely a memorial to him because when he died in 1896, (the inscription on the stone in Grace Cemetery is "off" by one year on his death date) his home was in Texas, where he had served with the cavalry during the Civil War and also served as District judge in Maverick County after the war. Texas was where he married, raised his family, and spent his remaining years. Upon his death, his body was laid to rest in the Confederate Field at the Texas State Cemetery in Austin, Texas.
Memorial grave in Grace Episcopal Churchyard for James Alexander Ware
all photos courtesy of James & Judy Ware
<![if !vml]>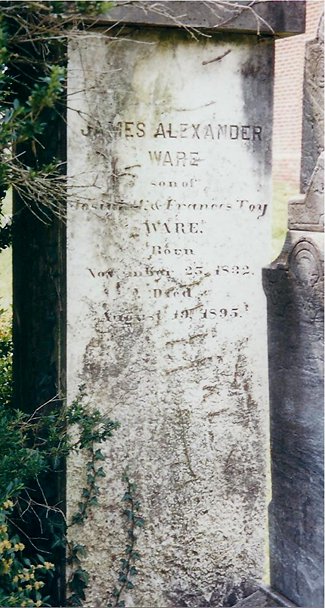 <![endif]>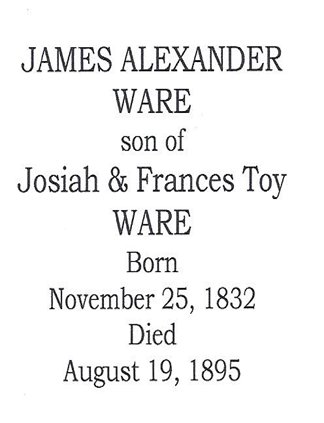 Texas State Cemetery - Photos provided by James and Judy Ware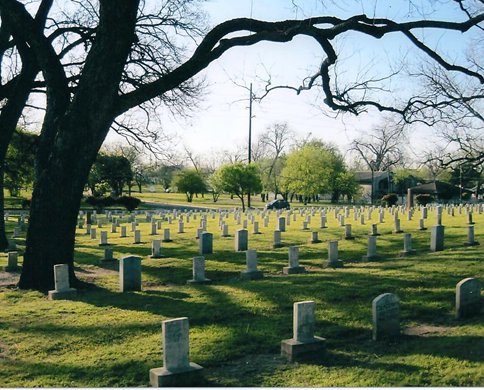 <![if !vml]> <![endif]>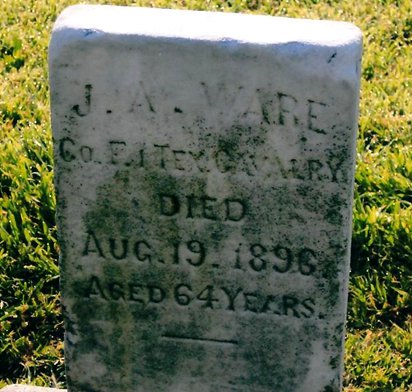 <![if !vml]>
<![endif]>
On the back of Frances' monument is an inscription for the next eldest son of Josiah and Fanny. John Glassell Ware was born on May 2, 1835. He went to the University of Pennsylvania to become a doctor and like his big brother, James, John went to Texas to serve in the military. (Ref. 2302) He fell victim to the yellow fever epidemic that hit Galveston in 1858 and, unfortunately, died of the disease at the young age of 23 on Sept. 29, 1858. The inscription on the tombstone is very hard to discern and the greenery around it makes it difficult to gain access for a closer look. It reads as follows:
JOHN GLASSELL WARE
son of
Josiah & Frances Toy
WARE
Born
May 2, 1835
Died
September 29, 1858
Unfortunately, there are no known photographs of John at this time, but the family bible helps substantiate a lot of his personal information.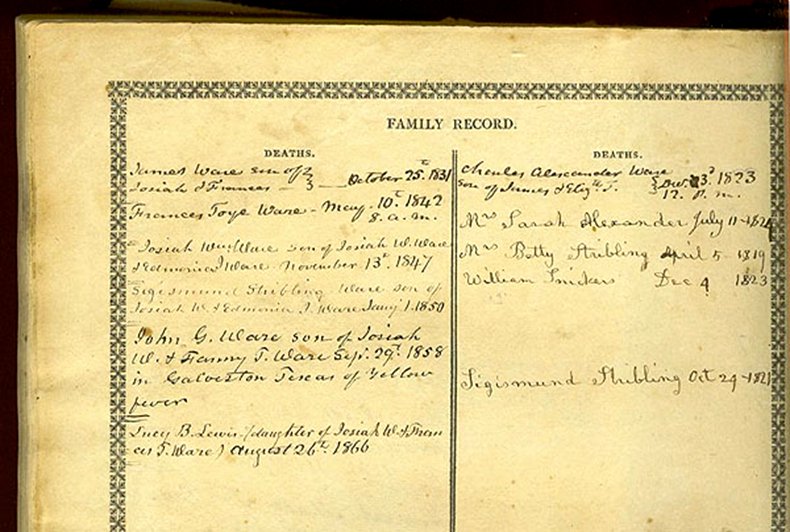 One page from the Ware Family Bible – owned by James and Judy Ware
<![if !vml]>
<![endif]>
<![if !vml]><![endif]>
On the right hand side of Frances' tombstone are the inscriptions for two other children born to the Ware couple. The top half of the stone is dedicated to their youngest son, Charles Alexander Ware.
<![if !vml]>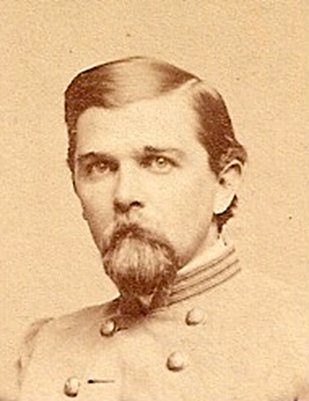 <![endif]> Charles Alexander Ware
photo owned by James & Judy Ware
It is truly amazing to see the family resemblance between the two Ware brothers even though the photo of James was taken in his later years and the two of Charles were taken when he was younger.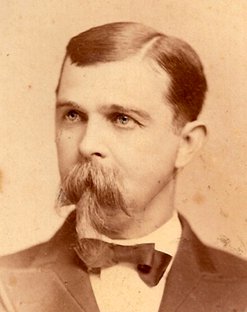 Charles A. Ware

The lettering on the monument for Charles Alexander Ware is very hard to read in the following picture because of the lighting, but the words are as follows: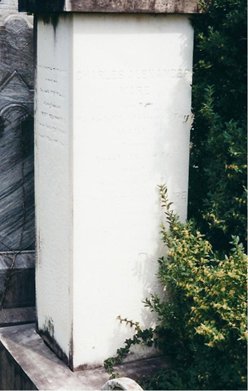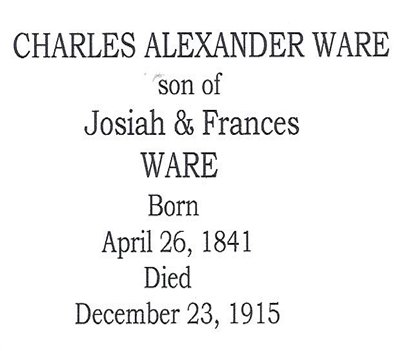 Charles was the last child born to Frances and Josiah. He attended medical school at the University of Virginia and when the Civil War began, he served in the cavalry under the renowned James Ewell Brown (J.E.B.) Stuart. (Ref. #47, 514) He later transferred over to the medical corps when General Lee put out a specific request for medically trained soldiers. With the rank of captain, he was appointed Surgeon in Charge of Dr. Boyd's church in Winchester [which was serving] as a hospital. [Ref. #205, 514)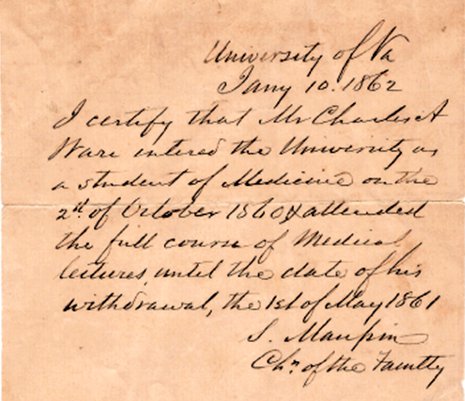 Medical Certification for Charles Alexander Ware from the University of Virginia
owned by James and Judy Ware
He also served as a surgeon in McClanahan's Battery and as Head Surgeon for Imboden's Corps. (Ref. #30) Dr. Ware was captured with the wagon train of wounded after the Battle of Gettysburg and sent to Fort Delaware. (Ref. # 171, 514) He was exchanged a few months later and returned to the war, serving as a surgeon in Lomax's Cavalry Division.
A confirmed bachelor, Dr. Ware set up his medical practice in St. Louis where he resided for about 46 years. In 1915, he wrote his sister that "the doctors in St. Louis had informed him that he "had arterial sclerosis of the heart and coronary artery." (Ref. #346) His letter showed exceptionally weak handwriting, and it was obvious that his health was failing. He somehow managed to travel back to Virginia to be with his sister though, and died on December 23, 1915, at her home. He was buried in Grace Episcopal Cemetery.
<![if !vml]><![endif]> Dr. Charles Alexander Ware in later years
Photo owned by James & Judy Ware