LETTER (August 14, 1879) WRITTEN BY JOSIAH WARE TO
PRESIDENT RUTHERFORD B. HAYES CONCERNING
SOME ITEMS BELONGING TO GEORGE WASHINGTON
Transcribed by Judy C. Ware
© Judy C. Ware February 2009
Original copy of letter on file in RB Hayes Library in Ohio
---
His Excellency the President
My Dear Sir,
I regret very much you all could not spend some time with us, though I could not hold out much inducement. I return to you, your favor to me, with many thanks. I intended then to return it on reaching home but was disappointed, then to give it to you on your hoped for visit, then was promised the "continental" and thought I would delay until I got that and would send it altogether, but although assured it was there put up for me & would be sent very soon to me; it has not yet come, and I will not wait longer. I enclose the $10.00 and with it - two Confederate notes. They may add a little to your cabinet. The boots have been stolen. I go to Winchester before mailing this (it is only 15 miles from here) to try for them again, if found. I understand they belong to a female branch of the family and fear she prizes them; also of the Washington letter in the hands of a lady in her dotage & if I have any success in this trip, I will add a p.s. after this goes. I will get on my horse and go after the continental notes; it is only 10 miles. I will get them, the boots, the letter if possible, and as such as I cannot get to you before, I will bring when I come to bring any claims up at the meeting of Congress. I have the autographs of some of the former statesmen; Clay, Calhoun, Webster, Tyler, Taylor, Buchanan, Leigh, King, and others. You can have any of them.
My wife says I must, before sending you the old Fairfax screen, give you a description of it or you may be disappointed in it. It is large; several folds. I think it is about 6 ½ feet high, the pictures of olden times cut from newspapers and journals. I have not had an opportunity of sending it to the Round Hill Depot. I was in hopes you would see it here and judge. If you still wish it, I will send it. Shall I direct it in your name?
M. Willis of Orange or Culpepper requests me to write you about his application for supervisor of census. I cannot recommend a drinking man for anything. I do not wish to hurt his feelings. If he asks of me, please say you received a communication from me without mentioning its contents.
I must beg you to excuse my delay in returning your favor to me and the haste in writing this. Please make my grateful regards acceptable to Cousin Lucy and present me to your household
Yours truly,
J. W. Ware
Aug. 14, 1879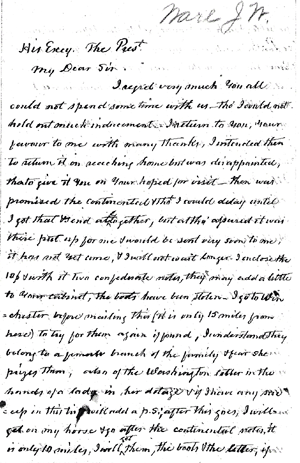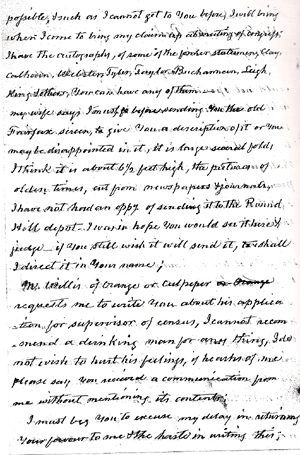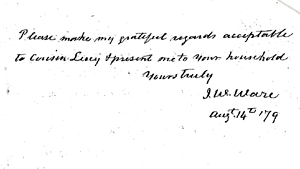 ** There are actual letters written to Josiah from the great statesmen he mentioned; Henry Clay, Daniel Webster, John C. Calhoun, President Tyler, President Taylor, etc.