Background Information on Congressman John Bell




Researched & written by: Judy C. Ware
October 2008
© Judy C. Ware
---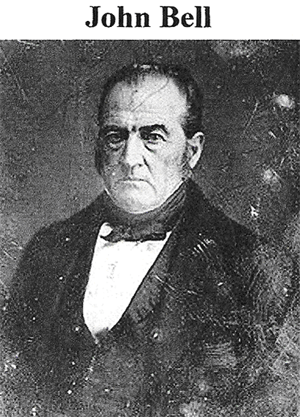 John Bell was born in February of 1797 near Nashville, Tennessee. He was a U.S. politician, attorney, and plantation owner. He served in both the House of Representatives and the Senate.
In 1824, when Josiah William Ware took the oath necessary for him to serve in the Virginia Militia, it was John Bell who served as the Justice of the Peace who witnessed the oath.
In later years, John Bell served briefly as the Secretary of War under the administration of William Henry Harrison and President John Tyler. He resigned that position in opposition to some of Tyler's policies.
Senator Bell was the leader of the conservative Southern element that, although supporting slavery, placed the Union first. He was able to hold Tennessee back from seceding until after the firing on Fort Sumter. At that point, he encouraged the state to join the Confederacy. He was in ill health during the war and never served actively. He died in 1869.
Wikipedia 2008, Columbia Encyclopedia & Biography by J.H. Parks (1950)