Chapter 1
Beginning With James Ware I
The roots of the Ware family tree are deeply embedded in the ground of Virginia. The tree is sturdy and has sustained all that history, weather, time, and man's foolishness has thrown at it. Since the first Ware patriarch traveled from England and put his foot on what would be called "The Old Dominion," the land provided shelter, food, and all the riches needed for the Wares to prosper in this new 'upstart' of a country, and prosper they did.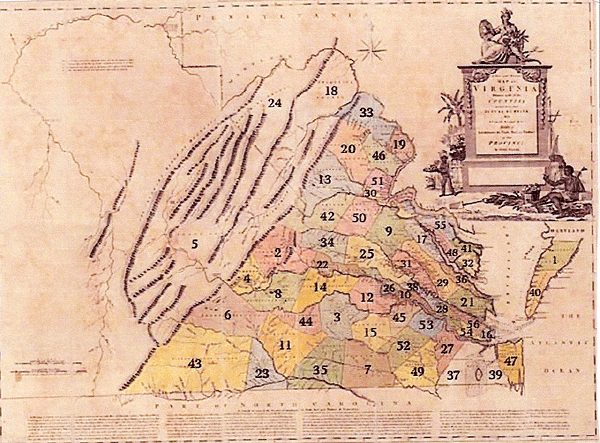 #9 Caroline County #21 Gloucester County #29 King & Queen County

James Ware I and his wife, Agnes, settled in Caroline County, and from 1736 through 1753 they established their family. Virginia was still a colony of Great Britain during this time, but things would change drastically during the years following the birth of their last child, Edmund. Their first child, John, was born in 1736, followed by Nicholas in 1739, James II in 1741, Richard in 1745, Clara in 1747, William in 1750, and Edmund in 1753.

By all accounts, it would seem that the children of James and Agnes did well in Virginia. They all lived to adulthood, and with the possible exception of Richard, they all married. Richard died in 1790. (Ref. 1, 2, 4, 6, 621, 651) John and his wife, Ann Harrison, settled in Goochland County and had nine children. Serving in the Revolutionary War as a captain, John was officially named a "Patriot" in 1816. (Ref. 894) This was the name given to soldiers in the 13 original colonies who fought against the British Empire during the war. It was considered a title of great honor.

Revolutionary War records for the James Ware family

He died on June 17, 1816, at 80, and was buried near the James River in Goochland County, Virginia. (Ref. 2095)
Nicholas married Martha "Peggie" Hodges in 1762, and he also served in the war against Great Britain. According to T. E. Campbell in his book entitled Colonial Caroline, A History of Caroline County, Virginia, Nicholas was "listed as a Lieutenant in the Militia in the year 1762, but he eventually reached the rank of Colonel." Nicholas and Peggy had eight children, and they decided to relocate to South Carolina after the war. Their new home, called Ware Shoals, was in an area around Abbeville. Nicholas died on March 26, 1787, and was buried in the Turkey Creek Cemetery near his home. (Ref. 875)
James II (the subject of this study) was born on March 13, 1741, and became a doctor. He married Virginia Catherine Todd in Caroline County, Virginia. They had seven children, and with the exception of one son, his entire family relocated to Kentucky after the war.
There is not much information available at this time about Richard or Clara Ware. (Please read New Nation/New Home for current findings) William, however, served as a private in the war, married Sarah Samuel, and they had six children. William, with his father, moved to Kentucky and he "took charge of his father's estate, named Wareland, after James passed away." (Ref. 379) He and Sarah both died in the year 1829, and according to the Daughters of the American Revolution (DAR) records, William was "buried at Frankfort, Kentucky at Wareland." (Ref. 2095)
The last child for James and Agnes was Edmund. Born April 25, 1753, Edmund married Susannah Brasfield and they had nine children. Edmund spent his younger years in Virginia and married there, but most of his accomplishments occurred after he moved to Kentucky. He and his family lived on property that was later known by the name of "Scotland."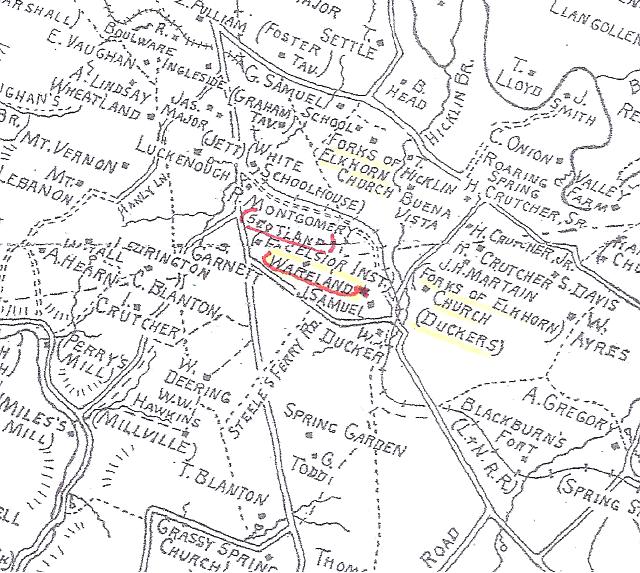 As the map above shows, "Scotland" was in very close proximity to "Wareland".
After the death of Edmund Ware in 1814, his property was sold by his heirs at a public auction. (see below)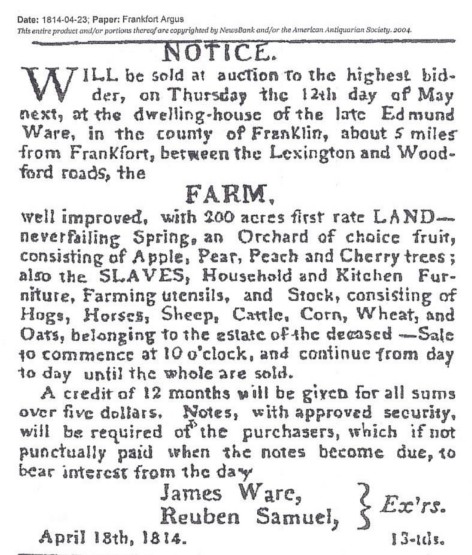 Auction notice kindly provided by Marti Martin
It would appear that the next owner of the property was Martin D. Hardin, a United States Senator from Kentucky. According to Ermina Jett Darnell, "Edmund and his family appear to have lived at Scotland, for in 1818, William and Sarah Ware and Reuben and Nancy Letcher Samuel, sold to Martin D. Hardin the land which Edmund resided at the time of his death, and upon which Rueben Samuel was living at the time the deed was made." (Ref. 2219A)
Hardin named his home Locust Hill, and when he died in 1823, special mention of the property was made in his last will and testament.
Portions of the will of Martin D. Hardin kindly provided Marti Martin,
Woodford County Historical Society Board Member and Researcher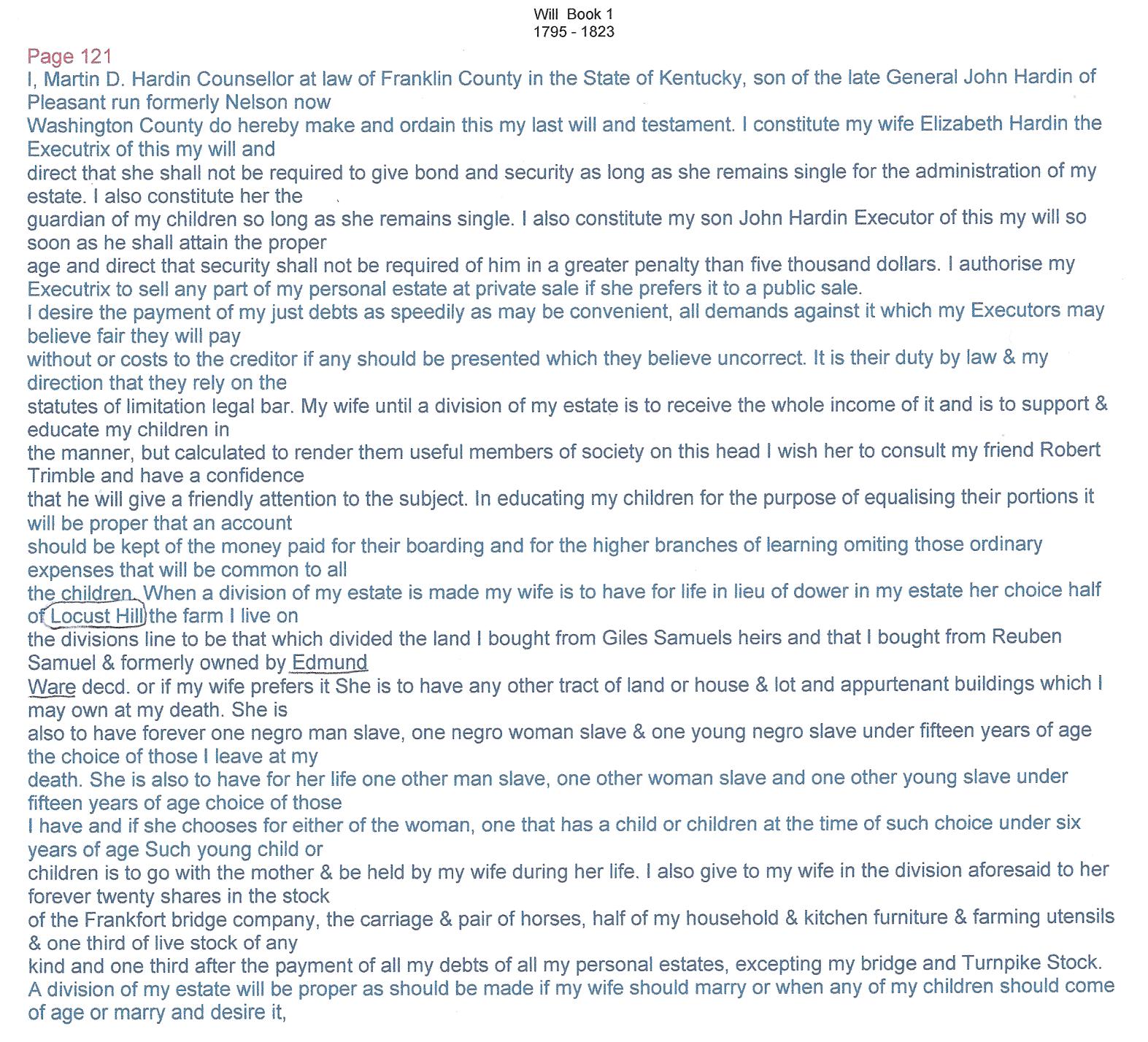 Robert Wilmot Scott purchased Locust Hill farm in the early 1830's from the Hardin heirs. The "palatial Greek Revival-style" mansion he built on the property had 20 rooms and was completed

in 1847. (Ref. 2292)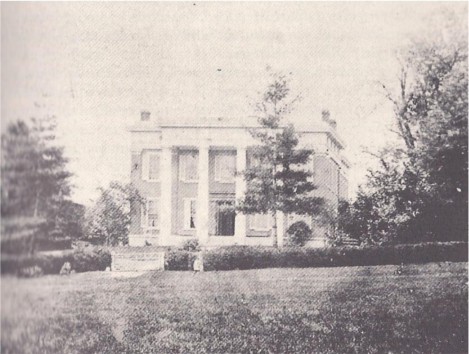 Locust Hill, later named Scotland

According to author, Thomas Clark, when Robert W. Scott purchased the Hardin land, he also acquired part or all of the famous lawyer's livestock holdings," and it was not long before Locust Hill became a showplace for miles around. (Ref. 2292) After Scott's death, the original land of Edmund Ware was then owned by "Mason, Hoge, Gooche, and Dandrige in 1885. It was then renamed 'Scotland' presumably in honor of its former owner." (Ref. 2292.) The last known owners of the property are the Hay family who acquired it in 1923, when Swigert Taylor bought the land for his daughter, Mary Belle Taylor Hay.

Before Edmund and his siblings made the relocation to Kentucky, their parents had invested extensively in real estate in the Old Dominion. James and Agnes were married approximately 56 years, and most of those years were spent in Virginia. They obviously managed to accrue quite a large amount of property because on May 7, 1770, in Spotsylvania County, the couple "held a land lottery selling 1,000 acres, in 100 acre increments, which were drawn in Ware's Lottery." (Ref. 6,379) The Virginia County Deed Book states that one of those transactions was between "James Ware and Agnes, his wife, of Caroline County to Ezekiah Mitchell of said county." (Ref.5) On the same date, "James Ware and Agnes (his wife of Caroline County) deeded to Nathaniel Hill 100 acres in St. George Parish Spotsylvania County, which land Hill won as a prize in the Ware's Lottery." According to the Spotsylvania County Records of 1721-1800, the following land transactions were also done by James and Agnes during this time:

May 7, 1770 James Ware and Agnes, his wife, to John Chick of Hanover Co. - 100 acres in Spotsylvania Co.

May 7, 1770 James Ware and Agnes his wife of Caroline Co. to James Riddle of said county - 100 acres in Spotsylvania Co, in St. George Parish which said land was drawn in Ware's Lottery

May 7, 1770 James Ware and Agnes his wife of Caroline Co. to Humphrey Haley of said county – 100 acres in St. George Parish, Spotsylvania Co. drawn in Ware's Lottery

May 7, 1770 James Ware and Agnes his wife of Caroline Co. to Thomas Upshaw of Essex Co. – 100 acres in St. George Parish, Spotsylvania Co. drawn in Ware's Lottery

May 7, 1770 James Ware and Agnes his wife of Caroline Co. to William Crow of King & Queen Co. – 100 acres in St. George Parish, Spotsylvania Co. drawn in Ware's Lottery

May 7, 1770 James Ware of Caroline Co. and Agnes, his wife, to Francis Barber of same county – 100 acres in St. George Parish, Spotsylvania Co. drawn in Ware's Lottery

Two years later, James and Agnes sold more land on December 5, 1772 "to John Knight of Spotsylvania Co. – 100 acres in Spotsylvania County." (Ref. 1058)

T

he next few years were very tumultuous ones for everyone in the colonies. Tensions had been growing with Great Britain for quite some time. On December 16, 1773, things finally came to a head. In what would later be forever immortalized as the "Boston Tea Party," all eyes were on Boston as the citizens refused to return three shiploads of taxed tea back to England. A local group of colonists, disguised as Indians, boarded the ships and destroyed the cargo by tossing it overboard into the Boston Harbor. King George III was livid, and the rebellious act was just a foretaste of things to come.

In 1774, the 1st Continental Congress convened, and the colonies organized a group of fighting militia called the Minute Men. On April 19, 1775, open revolution began with the "shot heard round the world" in Lexington, Massachusetts. The time for any peaceful negotiations had passed. In 1776, Thomas Jefferson was chosen to draft the Declaration of Independence, and thus began an eight-year struggle to establish freedom for a fledgling country against the world's strongest and best equipped military power at the time.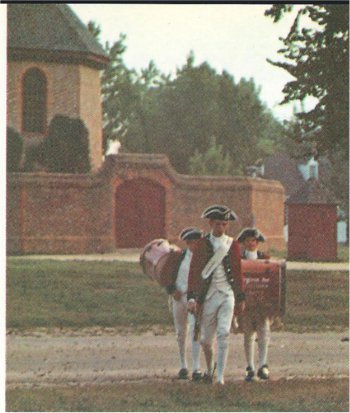 According to the American Genealogical Research Institute in Washington, D.C., "James Ware Sr. did patriotic service in Virginia." (Ref. 34, 629, 692, 2095) He and his entire family played a large role in the molding of this new nation, and their home colony of Virginia was a hotspot for some of the major battlefield engagements. As worded specifically by the Register of the Kentucky State Historical Society, "he rendered service in the revolution, as did several of his sons, and . . . he moved to Kentucky after hostilities had subsided." (Ref 874)
DAR Record for James Ware (Ref. 1062)

Fighting ceased in the colonies on April 18, 1783, eight years, to the day, since it began. With the end of the war, a new future opened up for the Wares. "Leaving Caroline County in the 1790's, James and Agnes and several of their sons and families moved to Kentucky." (Ref. 877) He "settled in what was then Fayette County, but it became a part of Woodford when that county was established in 1788." (Ref.845) Later, in 1795, there was further division when Franklin county was formed. (Ref.845) "When they surveyed the line that separated the county of Franklin from Woodford, the line passed directly through the farm of James Ware and within a short distance of his log residence. It separated his farm into two almost equal parts, one in Franklin and the other in Woodford, but the residence went into Franklin County." (Ref. 874) James named his home, appropriately, Wareland and it would stay in the family for many generations.

Further documentation described Wareland as sitting "back in an avenue some distance from (but in full view of) the Frankfort and Versailles road at the intersection of the Duckers Station Pike. It is five and ˝ miles from Frankfort and the farm originally extended

to Duckers Station, and included a part of the farm that was afterwards owned by Capt. Elijah Fogg." (Ref. 874) (Elijah Fogg was the husband of Ann Richardson Ware, the great granddaughter of James, granddaughter of William Ware and daughter of Samuel Ware.)

<![if !vml]><![endif]>

(Ref. 2291)

The History of Woodford County, published in 1938, also tells of the property owned by the Ware patriarch. It states, "James Ware owned all of the farm that was afterwards owned by Capt. Elijah Fogg and all of the farm that was later owned by Robert Scott and now owned by the Mason heirs." (Ref. 1024)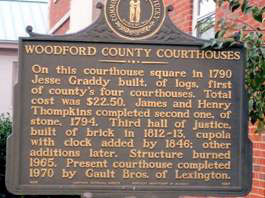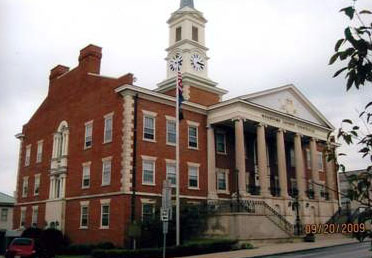 Woodford County Courthouse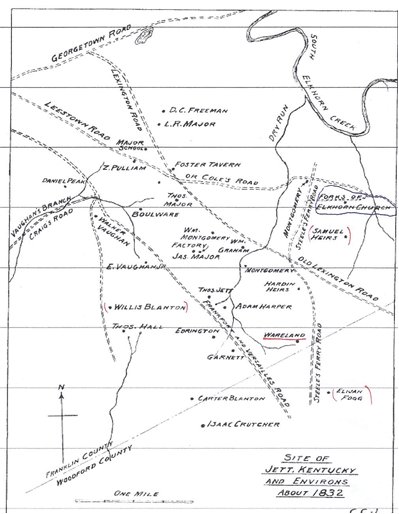 <![endif]-->
Map provided courtesy of David Nance and the Forks of Elkhorn Baptist Church records.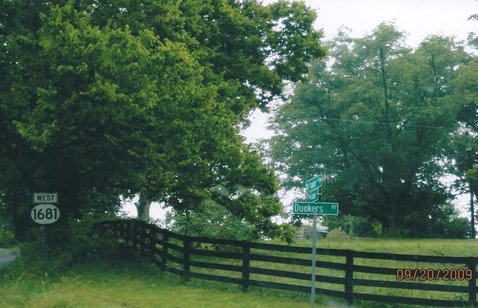 Corner by the property that was Wareland - Photos courtesy of Judy Ware 2009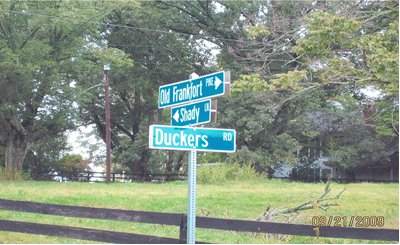 The following directions were kindly offered by Marti Martin
Woodford County Historical Society Board Member and Researcher, January 2011



Map showing Wareland
(Ref. 2291)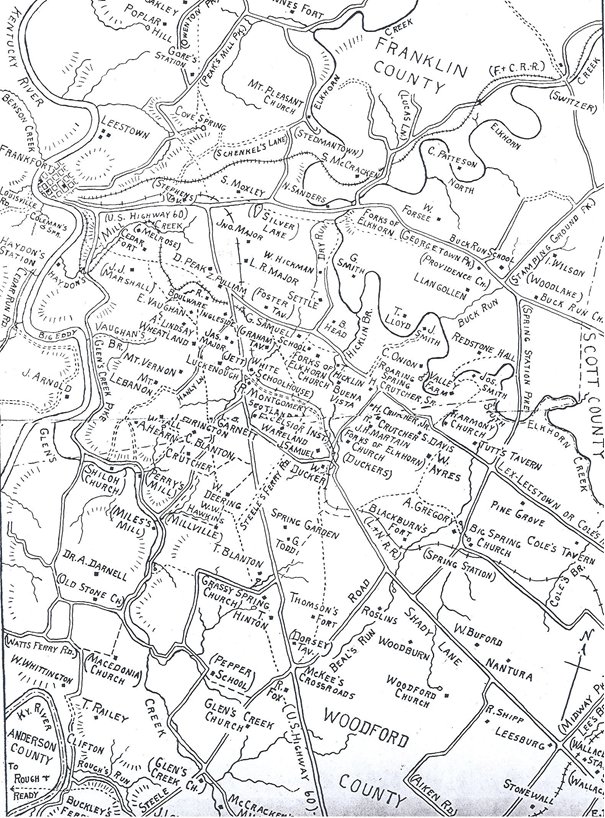 Once settled in their new home, a large number of the first Wares in Kentucky joined the Forks of Elkhorn Baptist Church.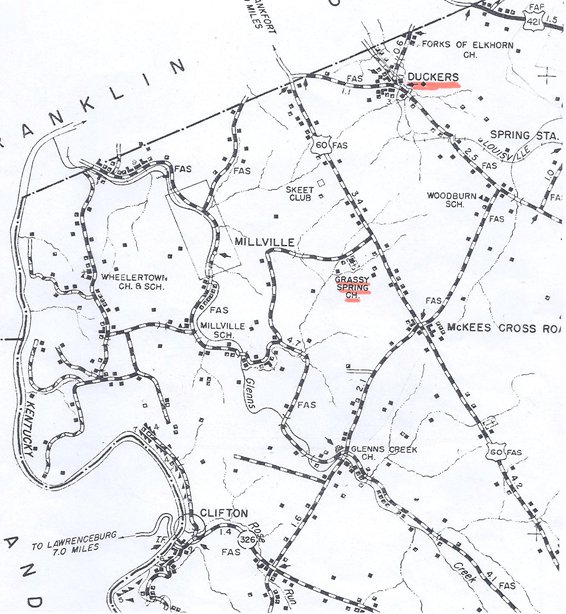 The church records for the years 1788 through 1800 show some of the following family members as belonging to this congregation: James Ware, Edmund Ware, William Ware, and Sally Ware. (Ref. 2284) In fact, The Records of the Forks of Elkhorn Baptist Church for 1800-1803 state that in May of 1801 "a meeting was held at William Ware's." In 1812, when there was movement to find a location for a new meetinghouse, William Ware was a member of the committee dealing with those decisions. (Ref. 2291)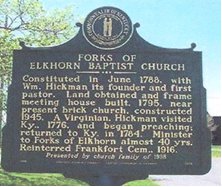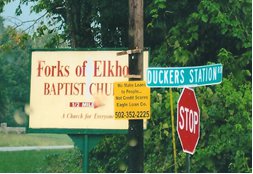 <![if !vml]><![endif]>In the book entitled Forks of Elkhorn Church by Ermina Jett Darnell, she notes that the youngest Ware son, Edmund, was one of the deacons at the church in 1792. (Ref. 2291) Later, "in July of 1807, Brother Edmund Ware was appointed to receive all such monies for the use of the church and to enter the same in a book to be kept for that purpose." (Ref. Forks of Elkhorn Church minutes)
At the age of almost 82, James Ware I died at his home in Kentucky shortly before April 19, 1796. (Ref. 963) His will, probated on that date, was witnessed by William Hickman, the founder and first pastor of the Forks of Elkhorn Church. Hickman, also originally from Virginia, served as the minister of that new church in Kentucky for almost 40 years.
Will of James Ware I

It is recorded that "after the death of James, his son, William, took over Wareland and was influential in the affairs of the community. After William's death, Wareland was used as a tenant house, but in 1876, it was bought by Mr. and Mrs. Thomas H. Bedford, who remodeled it and lived there for many years. It then became known as the 'Tom Bedford Place'." (Ref. 2219A)

Another reference showing the name changed to Bedford Place
William had been living with his family on a section of his father's estate since marriage. He and his wife, Sarah, both died in 1829, and according to DAR records, William was "buried at Wareland." Deeds found on file in Woodford County show that after his death, the next in line to own "Wareland" was his son, Samuel Ware. Just like his father, Samuel and his first wife, Anne, had been living "on a part of his father's estate" all along. (Ref. 1024)
Then, upon the death of Samuel in 1846, his sons James R. Ware and William S. Ware (both executors of his will and great grandsons of James) took over control of the land. By 1847, Elijah Fogg, the husband of Samuel's daughter, Ann Richardson Ware, was also owner of a portion of the land. Later records validate that the property of Elijah Fogg was "originally part of the holdings of James Ware I." (Ref. 1024) The Foggs lived in "a splendid old mansion" called 'Spring Garden,' located seven miles away on Frankfort Road. (Ref. 1024)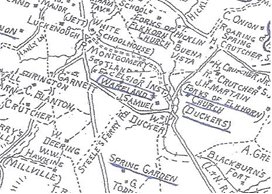 Notice the landmarks of Spring Garden and Wareland

Last Will and Testament of Samuel Ware (son of William Ware and grandson of James Ware I) kindly provided by Marti Martin - Woodford County Historical Society Board Member and Researcher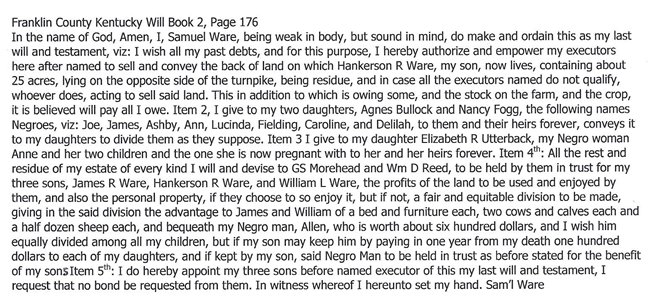 In late November of 1848, James R., Hankerson, and William Ware (all sons and trustees under the will of Samuel Ware) entered into an indenture (a mutual agreement in writing between two or more parties whereof each party has usually a counterpart or duplicate) with Robert W. Scott concerning the property. This paperwork was filed in 1849. It is of interest to note that in this transaction there was special mention made of "excluding a quarter acre of land which is reserved, including graveyard." (see deeds on pages 23 -24) Clearly, the graves of James, his son William, and numerous other family members were still being well maintained as of this date.

When the Bedford family bought Wareland in 1876, it had been 85 years since James first staked his claim on the land. Parcels had been divided out as inheritance or sold off. It would seem, however, that great care was initially taken to preserve and protect the graveyard that accompanied the land. Although research is still underway to sort out these land divisions, it is not currently known if those graves are still visible or if they can even be located. Time marches on and often these treasures are left unattended too long and nature takes over. It is remarkable to simply still be able to view the land, in all its natural beauty, that our forefathers walked on. When you stand on the road by Duckers, Houston-Antioch, and Shady Lane, you can almost hear their voices on the breeze that floats by.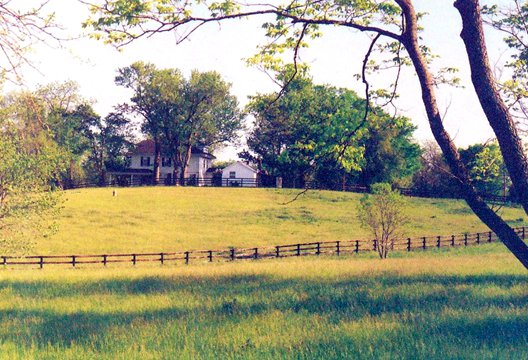 Possible location of Wareland

(This home has now been verified in the book New Nation/New Home)
The end of the 1700s would usher in a new era of prosperity and growth for America. Wilderness would give way to civilization and profound opportunities would abound for those with the pioneer spirit. The burgeoning new country would soon find her finest doctors, ministers, senators, representatives, and even presidential wives coming from this hearty stock of Ware Kentuckians. They may have started out with Virginia roots, but it wasn't long before those roots were deeply embedded in the rich Kentucky soil.

Supporting documentation for Chapter 1
All copies of deeds kindly provided by Marti Martin of the Woodford County Historical Society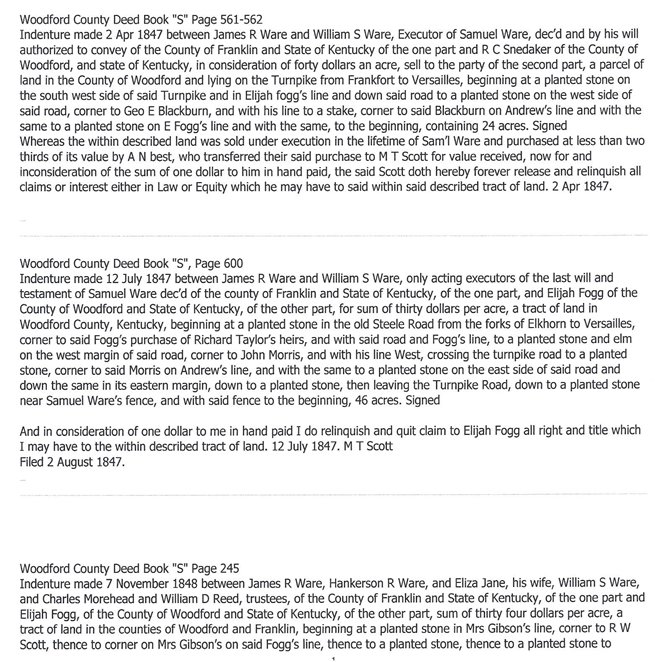 For more in depth information on James Ware I, see his biography entitled New Nation/New Home, also written by Judy C. Ware
---
CHILDREN OF AGNES TODD AND JAMES WARE I
(1) Capt. John B. Ware B. Dec. 12, 1736 D. June 17, 1816
Married Ann Harrison
(2) Nicholas Ware B. Aug. 12, 1739 D. Mar. 26, 1787
Married Martha Peggie Hodges
(3) Dr. James Ware II B. Mar. 13, 1741/2 D. May 7, 1820 (870, 959, 978,1074, 2023)
Married Virginia Catherine Todd
(4) Richard Ware B. May 18, 1745 D. Sept. 25, 1790
(5) Clara Ware B. Dec. 11, 1747 D.
Married Mr. Sale
(6) William Ware B. Mar. 29, 1750 D. Sept. 10, 1829
Married Sarah Samuel
(7) Edmund Ware B. Apr. 25, 1753 D. 1814
(Ref. 692, 871, 978)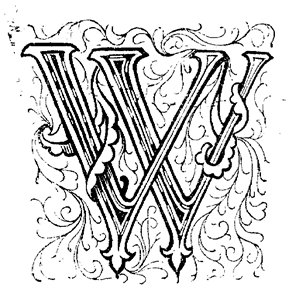 CHILDREN OF WILLIAM WARE & SARAH SAMUEL

B. March 29, 1750 B. 1754

D. Sept. 10, 1829 D. Sept. 10, 1829

William was the son of James Ware I and his wife Agnes Todd Ware. He married Sarah Samuel. William inherited his father's property called Wareland

(1)Samuel Ware – born July 3, 1775 died Sept. 12, 1846

Married (1) Elizabeth Read June 10, 1801 (2) Elizabeth Bullock Redd Jan. 21, 1823 and (3) Mary A. Jennings July 1834 (1024)

(2) Elizabeth (Betsey) Ware – born May 30, 1776 died July 30, 1849

Married John Bacon on May 31, 1799

(3) James Ware – born May 12, 1780

(4) Agnes Ware - born May 17, 1783 died Oct. 1877

Married Philemon Rouzee (Rowsey) July 29, 1805 and later William Porter

(5) Rebecca Ware - born in 1785

Married Willis Blanton on January 1, 1812

(6) Sarah (called Sally) Ware - born in 1788

Married William Porter Jr. on Sept. 15, 1819

~~~~~~~~~~~~~~~~~~~~~~~~~~~~~~~~~~~~~~~~~~~~~~~~~~~~~~~~~~~~~~~~

CHILDREN OF: SAMUEL WARE AND ELIZABETH READ (1ST WIFE)

B. July 3, 1775 B. Sept. 2, 1778

D. Sept. 12, 1846 D. Aug. 30, 1814

Samuel was the oldest son of William Ware and Sarah Samuel Ware and the grandson of James Ware I and his wife Agnes Todd Ware. Elizabeth Read was his first wife and they were married on June 10, 1801.

(1) James Read Ware – born May 30, 1803 died Sept. 22, 1857

(2) Lucy Ware – born April 7, 1805 died May 1817

(3) Agnes Ware – born Nov. 16, 1806 died Feb. 17, 1882

Married Thomas Bullock on Nov. 22, 1824

(4)Hankerson Favor Ware – born April 26, 1808 died 1808

(5)Hankerson Read Ware – born Sept. 3, 1809 died Jan. 9, 1849

(6)William Samuel Ware – born March 10, 1811 died Aug. 2, 1860

(7)Ann Richardson Ware – born Dec. 7, 1812 died April 1892

Married Capt. Elijah Fogg on July 21, 1833

Page from Ware Bible (Ref. 621)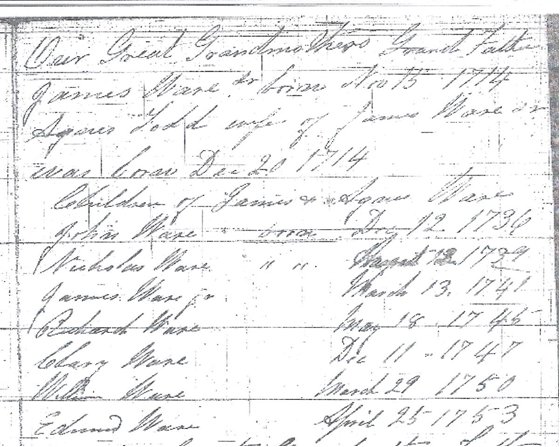 *** The following is an interesting and clarifying piece of information on "establishing dates" for genealogists who may not be familiar with it. It was kindly provided by Debbie McArdle with proper accreditation for the original source shown at the bottom.
"Calendar difficulties may come as a surprise to you unless you have either studied astronomy or have a good background in history. However, the calendar and its transition from the Julian to the Gregorian system and other changes involved therewith have considerable impact on many early American genealogical problems.
The main problem has to do with the changing of the calendars - when the switch was made from the Julian to the Gregorian. In Britain and her colonies (which included most colonies in America) this took place in 1752. (The Dutch in New Netherland never used the Julian Calendar. The Dutch had accepted the Gregorian Calendar prior to their American colonization. These people even continued to use New Style dates in their private records after England had control of their colony. The Quakers did not accept the ecclesiastical calendar but began their year on January 1 even though they otherwise accepted the dates of the Julian Calendar.) Remember that 1752 date; it is important. During the period while the Julian Calendar was used, the Christian church and the countries within which that church prospered used what we call an ecclesiastical calendar which had New Year's Day falling on March 25. This was the day of the Feast of the Annunciation which commemorates the visit of the Angel Gabriel to the Virgin Mary to inform her that she would be the mother of the Messiah. Note that this date is exactly nine months before Christmas, when we celebrate that birth.
Let's take an example to show the effects of this situation. You have several documents (such as wills) recorded in chronological order. The dates on these might run something like this:
November 14, 1718
December 26, 1718
January 3, 1718
January 22, 1718
February 16, 1718
March 5, 1718
March 23, 1718
March 28, 1719
April 12, 1719
This is very simple, isn't it? The main difficulty here is that we are accustomed to beginning our years on January 1, so when we see a date like one of these (say February 16, 1718) we automatically put it in the wrong year - we are automatically one year off.
One year off isn't bad, you say? This is true unless it leads you to make incorrect conclusions. If the record in question happens to be a church register and the christenings, etc. of your ancestor's children recorded therein, you may have a problem. Let's say you find two christenings on the following dates for persons you suppose are your ancestor's children:
April 1, 1720 March 22, 1720
If you didn't know that the year 1721 began three days after the second of these two christenings, what would be your conclusion?
Because of this problem, we use what we call double-dating. This means that whenever a date falls between January 1 and March 24, inclusive, before 1752, it should be recorded to reflect both the ecclesiastical and the historical calendars. (Ref. 2117)
"The Researcher's Guide to American Genealogy" 2nd Edition, Val D. Greenwood, Genealogical Publishing Co., Baltimore, MD, 1993, p41-43, kindly shared by Debbie McArdle