Governor J. J. Crittenden and Governor John Adair
Part 2
CONNECTION WITH
TAYLOR, BERRY, BLACKBURN, & CRITTENDEN
Major William Berry married Mary Pryor. Two of their children were Ann Berry (1749- 1809) and Prudence Berry (1754-1836).
Ann Berry married Jonathan Taylor (brother of Richard Taylor) and Prudence Berry married George Blackburn - - thus creating the connection between the Berry, Taylor, Blackburn, and Crittenden cousins.
The Children of George and Prudence Berry Blackburn
George Blackburn b. 16 January 1746, VA d. 1817 Woodford Co, KY marriage: Prudence Berry 19 Sept. 1771 in Louisa Co., VA
Children:
Nancy Ann b. 30 July 1772 in Middlesex Co., VA
William Berry b. 24 April 1774
Jonathan b. 10 Feb. 1776
Luke Pryor b. 14 Sept. 1777
Mary "Polly" b. 12 Dec. 1789
Mildred b. 25 August 1782
George Jr. b. 27 Nov. 1785, the first born in Woodford Co., KY
Edward Mitchell "Uncle Ned" b. 10 Feb. 1787, Woodford Co.
Margaret Trotter "Peggy" b. 7 Oct. 1790
Churchill Jones b. 25 Sept. 1793
Prudence Rachael b. 11 July 1795
George died in 1817, and Prudence passed away in 1836. This cemetery was established for them and their family. "Their many grandchildren included Kentucky Governor (1879-83) Dr. Luke Pryor Blackburn; U.S. Senator (1885-95, 1901-07) Joseph C. S. Blackburn, who was later chairman of the Lincoln Memorial Commission (1914-18); Kentucky Senator and Secretary of State James Blackburn; and St. Louis Mayor Edward Blackburn." (Web) In her will, the Blackburn's granddaughter, Elizabeth J. Blackburn (wife of Dr. C. J. Blackburn), instructed her executor to "have a substantial stone wall built around my Grandfather Blackburn's family graveyard in Woodford County and to have the graves and monuments therein repaired and put in good order, the whole not to cost exceeding one thousand dollars." (Franklin County, Kentucky, Will Book 3, Pg 327)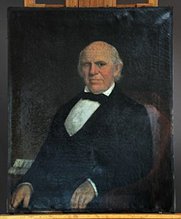 E. M. (Ned) Blackburn
One of the sons of George and Prudence was Major Edward (Ned) Mitchell Blackburn, who was born February 10, 1787. At the age of 20, Ned married Lavinia St. Clair Bell on September 3, 1807. Lavinia (born March 23th, 1794) was six months shy of her 14th birthday at the time. The couple would have a very large family – with fourteen children.
Edward ("Ned") Blackburn, was a lawyer and an avid horse breeder. He "bred many racers on his farm which cornered at Spring Station just one mile distant from his father's home." (Ref.1024, 2291)
Their lovely property was named Equira, and it was here that the Blackburns raised their family; three of whom became very well known in politics. Luke Pryor Blackburn was governor of Kentucky from 1879 to 1883, Joseph Clay Stiles Blackburn became a senator, and James Weir Blackburn served as the Kentucky Secretary of State from 1879 to 1883.
Lavinia was 69 years old when she died on June 3, 1863, and Ned died at age 80 on March 18, 1867. (Gravestones)
Excerpt from Family Bible
BIRTHS
E.M. Blackburn was born Feb 10th, 1787
Lavinia S. Bell was born March 23th, 1794
George E. Blackburn was born July 6, 1810 - 4 o'clock A.M.
John Bell Blackburn was born Nov. 29, 1811 - 2 o'clock P.M.
Frances Ann Blackburn was born May 28th,1813 - 4 o'clock A.M.
Luke P. Blackburn was born June 16th, 1816 - at sunrise in the morning.
Edward Lewis Blackburn was born Dec. 18th, 1817 - 8 o'clock P.M.
Mary Prudence Blackburn was born July 11th, 1819 - one hour before sunset.
Elizabeth Jane Blackburn was born April 3rd, 1821 - Tuesday 10 o'clock A.M.
William Edwin Blackburn was born Feb. 14, 1823 - Friday 8 o'clock A.M.
Henry Berry Blackburn was born 13th DEc., 1827 - Thursday 6 o'clock P.M.
Churchill Horace Blackburn was born 13th Dec., 1827 - Thursday 6 o'clock
Edward Mitchell Blackburn was born Sept 3rd 1829 - Friday 4 o'clock A.M.
Breckenridge Flournoy Blackburn was born Feb 25th, 1823 - 8 ocl;ock A.M.
James Weir Blackburn was born April 30th, 1834 -Wednesday 10 o'clock
Joe C. Stiles Blackburn was born Oct. 1, 1838 - 1 o'clock AM Monday
Lavinia B. Flournoy was born Nov. 28th, 1829 - Friday 12 o'clock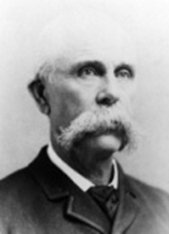 Their son, Secretary of State, James Weir Blackburn, (April 30, 1834) married Henrietta Everett on January 6, 1846, 7 o'clock Thursday Evening, and the couple had four children - - James, Mary, Samuel, and Henrietta. (Ref. Family Bible) James Blackburn "joined the Confederate armed forces in Arkansas in 1861 and served until he was taken prisoner in 1864. He was exchanged in February 1865 and then served until the end of the war." (Ref. Web) He then "served in "the State Senate from 1875 to 1879 and as Secretary of State from 1880 to 1883 in the administration of Luke P. Blackburn. In 1890 he was a member of the constitutional convention. (Ref. Website for Kentucky politicians)
Excerpt from New Nation/New Home by Judy C. Ware:
"James and his family were clearly very proud of his service in the Confederate Army because his grave makes special mention of the fact. When his son, James Jr., died, it was even written on his tombstone that he was 'son of a Confederate soldier.'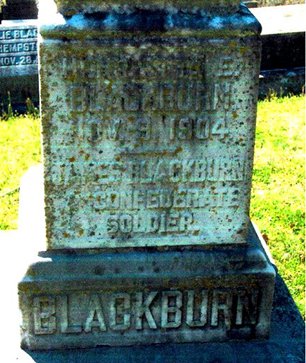 Grave for Henrietta and James Blackburn
James and Henrietta had four children: James W., Mary, Samuel, and Henrietta James Weir Blackburn and Henrietta carried on Henrietta's maiden name with their other son, Samuel Everett Blackburn. Born in 1861, (his tombstone says 1860) Samuel Everett Blackburn married a much younger lady, Lucy Underwood Lyle. Lucy was born December 11, 1877, and the couple wed on October 30, 1907. This made for (at least) a 16-year difference in their ages.
When Lucy and Samuel were married in 1907, Samuel had already taken on many jobs of public service. In 1885, after living in Memphis for several years, he was appointed as Deputy Collector in Frankfort to succeed Judge W. H. Sneed, who resigned.
Then in 1893, he was named as Chief Deputy Marshall. He also served as Stamp Deputy of Internal Revenue under President Cleveland in his first term. Samuel and Lucy married on October 30, 1907.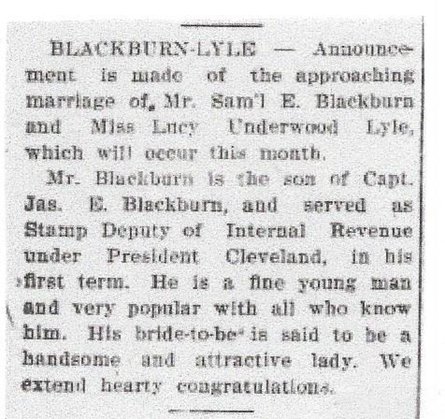 Wedding announcement from a Frankfort newspaper

"Social-Personal"
Samuel E. Blackburn, of Louisville, formerly of Woodford county, and Miss Lucy
Underwood Lyle were married Wednesday at the bride's home in Lebanon. They
came to Woodford Thursday and were given a wedding supper that evening at
the home of Mr. Blackburn's father, Capt. James Blackburn, near Spring Station.

<![if !vml]><![endif]>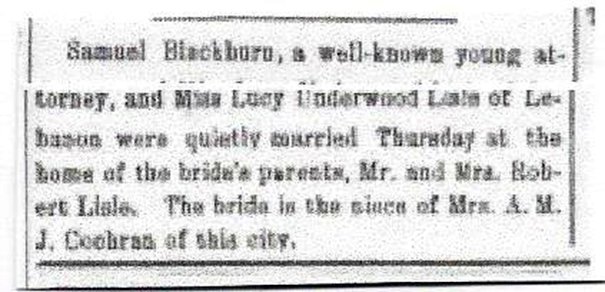 Wedding announcement
Senator Joseph Blackburn, Samuel's uncle, "appointed him a Federal judge in the Canal Zone and he lived on the Isthmus of Panama" with Lucy for ten years. (Ref. 2279) It was in the Canal Zone that their two children were born: Henrietta Lyle Blackburn on the 4th of August, 1908, and Samuel Everett Blackburn, Jr., on the 9th of August, 1910. Judge Blackburn "resigned in the spring of 1918 on account of ill health" and returned to Lebanon. (Ref. 2279)
"Lucy had been "educated in the public schools of Lebanon, at the noted Thane Miller School in Cincinnati, following which she took a two-year course and graduated as a trained nurse from the Norton Infirmary. . . Her first duties in her profession were as director of physical training and head nurse at St. Mary's College, an Episcopal institution at Dallas, Texas. According to her plans and specifications the college hospital was built, and she remained in active charge for several years." (Ref. 2279)
 
Notice how the newspapers often spell Lucy's last name as 'Lisle'.
Lucy outlived Samuel by over 30 years.

The only son of Judge Samuel Blackburn and Lucy, (Samuel Everett Blackburn Jr.) wed Eugenia Crittenden Hay. Eugenia was the daughter of Mary Belle Taylor who wed Charles Hay on September 2, 1909. Mary Belle Taylor Hay, was the daughter of J. Swigert Taylor and Sadie Ware Bacon Crittenden (Taylor). She was the granddaughter of Col. Edmund H. Taylor and Frances on the paternal side and Eugene Crittenden and Lucy Ware Bacon (Crittenden) on the maternal side.
It is through the children of Samuel and Eugenia Crittenden Hay Blackburn that the legacy of Wareland still continues. Their offspring are the great (X 6) grandchildren of James and Agnes Todd Ware.
In a nutshell, the lineage of the first owners of Wareland to the current owners looks like the following:
(1) James & Agnes Ware had William Ware who wed Sarah Samuel
(2) William & Sarah Samuel Ware had Elizabeth Ware who wed John Bacon
(3) Elizabeth Ware (Bacon) & John Bacon had Williamson Bacon, Sr. who wed Anna Marie Noel
(4) Williamson Ware Bacon & Anna Marie Noel had Laura Bacon who wed Eugene Crittenden
(5) Laura Ware Bacon (Crittenden) & Eugene Crittenden had Sadie Crittenden who wed Swigert Taylor
(6) Sadie Ware Crittenden (Taylor) & Swigert Taylor had Mary Belle Taylor who wed Charles Hay
(7) Mary Belle Taylor (Hay) & Charles Hay had Eugenia Crittenden Hay who wed Samuel Blackburn
The children of Eugenia Crittenden Hay Blackburn are the current owners of Wareland
WARE, BACON, CRITTENDEN, TAYLOR, MONROE, ADAIR
It is at this point, that it might be helpful to go back to the TAYLOR roots and see the connections again. If we go back one generation to the mother of Sadie Crittenden Taylor, we can see where the Bacon, Ware, Taylor, Crittenden, Monroe, and Adair lines tie in.
Col. James Taylor + Martha Thompson - they have:
Col. George Taylor (1710-1792) who marries Rachael Gibson - they have:
Richard Taylor who marries Catherine Davis - they have:
Richard Taylor Jr. (1777-1835) who marries Mary "Polly" Taylor – they have:
John Eastin Taylor (1803-1835) who marries Rebecca Edrington - they have:
Edmund Haynes Taylor (1830-1923) who weds Frances Miller Johnson – they have:
Jacob Swigert Taylor (1853-1928) marries Sarah Bacon Crittenden – they have:
Mary Belle Taylor (1883-1939) who marries Charles Walter Hay – they have:
Eugenia Crittenden Hay (1913-1986) who weds Samuel Everett Blackburn –
Sarah Bacon Crittenden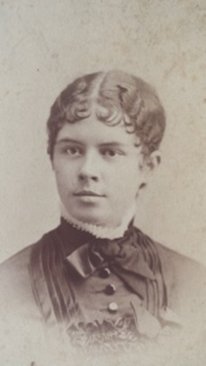 Photo kindly offered by Crit Luallen
Sarah (or Sadie, as she was more commonly called) could trace her roots straight back to James and Agnes Ware of Virginia. For a more detailed look at the Ware branch of the family, please refer to New Nation/New Home and Virginia Roots in Kentucky Soil.
In short, James Ware came to Kentucky with the Traveling Church and settled the property known as 'Wareland' in 1783. Ownership of the land was due, in large part, to Revolutionary War land grants given to Patriots who had fought in the war. The land passed into the hands of William Ware upon the death of his father, and this kept Wareland nestled side by side with the acreage that William's brother, Edmund, had purchased. Edmund's property would one day be known as 'Scotland'. Another son of James and Agnes, Dr. James Ware II, settled in Kentucky with his wife and family too, but they lived closer to the Lexington area.
William Ware's son, Samuel Ware, married both Elizabeth Redd and Elizabeth Read. (see previous pages for details) This union brought in family ties with the Bullock, Lewis, Taylor, and Berry families - - just to name a few. William had a daughter, Elizabeth Ware, who would provide the major links to the Taylor, Crittenden, Bacon, Lewis, and Monroe lines.
William's daughter - Elizabeth (Betsey) Ware
(May 30, 1776 - July 30, 1849) married John Bacon on May 31, 1799.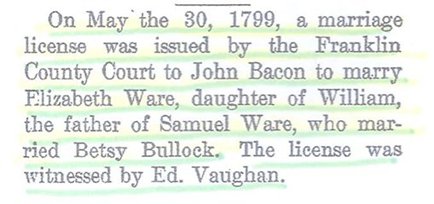 Notice of Betsey's wedding to John Bacon
There were 8 children born to John and Elizabeth Ware Bacon:
(1) Anne Apperson Bacon
(2) Sarah Ware Bacon
(3) Williamson W. Bacon
(4) Dr. James Ware Bacon
(5) Richard Apperson Bacon
(6) John Mosby Bacon
(7) Elizabeth P. Bacon
(8) Albert Gallatin Bacon
THE TIE TO THE BACON LINE
Below is a very brief history of each child of
Elizabeth Ware Bacon and her husband, John Bacon
Aunts and Uncles for Laura Ware Bacon and great aunts & uncles for Sadie Bacon Crittenden
(1) Anne Apperson Bacon (called Nancy)
(March 25, 1800 - Oct. 20, 1888) wed Rev. Philip Slater Fall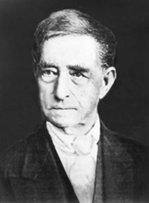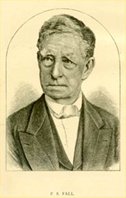 <![if !vml]><![endif]> Rev. Philip Slater Fall
When public schools were suspended during the Civil War, Reverend Fall opened a private academy which was extremely successful. When he retired in 1877, he was "probably the oldest educator in the county, and, doubtless the oldest Christian minister in the State, if not in the United States." (Ref. Bio)
Rev. Philip Slater Fall and Nancy lived at Poplar Hill, about three miles north of Frankfort. According to Philip's obituary, he wrote Nancy that "Col. E.H. Taylor was "so much pleased with Poplar Hill that he thinks we ought to come up and take possession of it – that we all ought to live here together in the summer and your mother, you, and myself live with them in town in winter." Taylor was anxious for the Fall family (who had Confederate feelings) to get away from Nashville because of possible war problems. They eventually moved to Frankfort in 1877. "Nancy suffered from a severe fall in 1880 that was so serious she spent the rest of her life as a crippled, bedridden invalid, dying in 1888." In Nancy's obituary, it was stated that she and Philip "were one – in head, in heart and in hand as I have rarely known husband and wife so lovingly to be."
Anne (Nancy) Apperson Bacon Fall, died October 20, 1888, and Reverend Philip Slater Fall lived two more years, dying in 1890.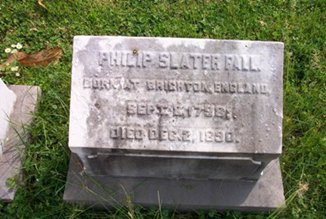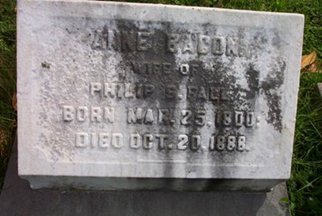 Graves for Anne Apperson Bacon Fall and Reverend Philip Slater Fall
The children of Nancy and Philip Fall (see below) would have all been cousins of - Laura Ware Bacon Crittenden, Williamson Ware Bacon, Annie Bacon Lewis, and Maria Bacon Monroe.
(1)James Slater Fall (April 4, 1822 - ) became a professor and married Martha King. By 1860, James was living in Midway, Kentucky and was a minister.
(2) Caroline Fall, known as Carrie, died single.
(3) Albert Boult Fall (1844 – 1864) died on February 14, 1864 - while serving in the Confederate Army at Fort Donaldson. He was 20 years old.
(4) William Ware Robinson Fall (1837 – at least 1880) married Edmonia Louisa Taylor. As of 1870, they were living in Davidson County, TN where William was a teacher. When the war broke out, William became attached to General Nathan Bedford Forrest's Independent Scouts.
(5) Catherine Marianna Fall, born in 1829, married Colonel John B. Temple on October 4, 1853. Two months after marriage, in December, she died of a stomach inflammation at the age of 24.
(6) Elizabeth Sarah Fall (July 29, 1826 – May 11, 1899) was better known as Bettie. She married Colonel Edmund Haynes Taylor (son of Richard Taylor) on February 12, 1861. They had (1) Philip Fall Taylor (born 1864) (2) Sallie Jouett Fall Taylor (born 1865). E. H. Taylor "died gently, and without pain or struggle at age 74 on 24 April, 1873." Bettie died May 11, 1898. (See Taylor section for photos of gravesites)
(2) Sarah Ware Bacon (Sally) (March 24, 1802 – March 27, 1886) never married
The following is a wonderful description of Sarah provided by her niece, Sallie Jouett Cannon:
"Sarah Ware Bacon retained through her long life a youthfulness of feeling, an interest in those around her that made her very dear to her relatives and friends, and with it all, she had a very stately dignity, a courtly manner. I have heard it said that when General Taylor made a tour through the country, he came to Frankfort and was given a reception at my father's house. When he was presented to Aunt Sarah, he exclaimed, 'What? Miss Bacon, still?' 'Yes,' she replied. 'Like you, General, I never surrendered.'"
(3) Williamson Ware Bacon (Laura's father) (March 7, 1804 – March 17, 1845) wed Anne Maria Noel on Nov. 3, 1824. (See section devoted to him for more details)
(4) Dr. James Ware Bacon (March 22, 1807 – Oct. 2, 1863) wed Alice Riggs March 24, 1836
<![if !vml]>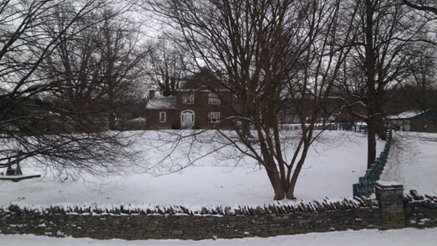 <![endif]>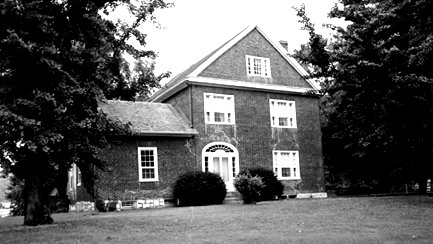 Blanton Home – current photo courtesy of Crit Luallen


(5) Richard Apperson Bacon (July 2, 1809- Oct. 1865) wed Ellen Elizabeth Terrell on April 15, 1830 Elizabeth died Jan. 4, 1874 in Texas. Their children:

John Bacon (1837)
Cordelia Bacon (1839)
Elizabeth Bacon (1841-1911) wed Thomas Rivers
Charles Bacon (1843 – 1844)
Martha Ellen Bacon (1845)
Chiles Bacon (1848 – 1930) wed Lucy Temple Hall
Alice Bacon (1851 – 1923) wed Samuel Hines in TX
Sarah Bacon (1858 – 1936)
Katherine Bacon (1861 – 1949) wed Louis Edward Brannin

(6) John Mosby Bacon (Oct. 31, 1811- Sept. 16, 1843) wed Sarah Jane Haggin on March 29, 1835 John only lived to be 32. One son, named James, died as an infant.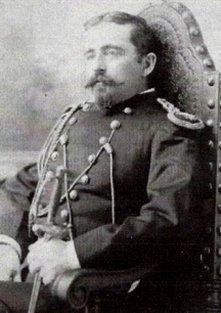 <![if !vml]> <![endif]>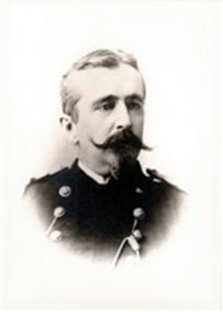 <![if !vml]><![endif]>John Mosby Bacon, Jr.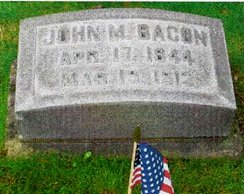 John Jr. served many years in the military and was promoted to major for his "gallant and meritorious action at the siege of Fort Kesaca, Georgia . . . .
(7) Elizabeth P. Bacon (May 7, 1814 – Oct. 15, 1850) wed Benjamin Howard Bryan They had one son, Howard Bryan, who died at 8.
(8) Albert Gallatin Bacon (Dec. 8, 1816 – Dec. 28, 1861) The following in an excerpt from New Nation/New Home:
During the Civil War, Albert served as a captain in Company "C" of the Kentucky cavalry. It was during this time of service when he died. According to Sallie Jouett Cannon, "Of my grandfather's brothers, Capt. Albert Gallatin Bacon died in defense of the cause which he believed to be just; fighting to the last and refusing to surrender though surrounded by overwhelming numbers. He was killed at the battle of Sacramento Kentucky." An affidavit provided by Isaac and Elizabeth Johnson (in January 1862) provides an intimate, detailed description of Albert's death:
"McLean County, KY. This day personally appeared before me, D. Little, presiding judge of the McLean County court, Isaac Johnson and Elizabeth Johnson his wife who state that on Saturday the 28th day of December 1861, they found Capt. Albert G. Bacon of Col. Jackson's Regiment of KY Cavalry lying on the side of the road leading from Ramsey to Greenville in McLean County, KY. That when they approached him and asked him if he was hurt, he stated that he was. He said his watch had been taken. They then asked him if he was a citizen of this part of the country, and he replied that he was a citizen of Frankfort, KY. They then asked him if he was a man of family, he replied that he was not. Johnson then asked Bacon if he was a religious man. He replied that he was not and asked Johnson to pray for him when he died. Bacon then prayed himself, after which he asked Johnson if he could write, that he desired his will be written, but Johnson having no writing materials could not comply with his request. Johnson then asked Capt. Bacon in the event he did not live to have his will written, in what way he desired to dispose of his property. Bacon replied that, after the payment of all his just debts, he 'willed' his entire property to his sister living in Frankfort, KY. who was an unmarried woman. They say that at the time of the above conversation, Capt. Bacon was evidently in the full possession of his faculties and entirely rational. They say that after this, he lived about twenty five or thirty minutes, and that he seemed to retain his faculties to the last moment." In testimony of which we here unto set our hands this 2nd day of January, 1862. Isaac Johnson Elizabeth Johnson
Captain Albert Gallatin Bacon died on December 28, 1861.
(3) Williamson Ware Bacon (Laura's father)
(March 7, 1804 – March 17, 1845) wed Ann Maria Noel (circa 1808 – 1850) on Nov. 3, 1824.

Ann Maria was the daughter of Dr. Silas M. Noel - the third pastor of the Frankfort church. "During the troublous times of 1824-1825 politics became rampant in the Frankfort congregation and for a while it seemed as though the church would be torn asunder, and a few years later when Alexander Campbell, with his new doctrine, divided almost every Baptist congregation in the western country, Dr. Noel was thought to be the only man who could hold the Frankfort congregation together and refute the arguments of Mr. Campbell." (Ref. web)
Williamson and Anne Maria Bacon had six children, including Laura. Therefore, the following are all brothers and sisters to each other.
Maria Elizabeth Bacon (1826 -1873) wed John Adair Monroe
Annie Caroline Bacon (May 1, 1828 – ) wed Callender Lewis (Nov. 11, 1823 – Sept. 7, 1863)
Sarah Cordelia Bacon (Nov. 1830 - ) wed Frank Pryor on January 29, 1851
Laura Ware Bacon (1833 – 1898) wed Eugene W. Crittenden
Alice Bacon (August 12, 1836)

Williamson Ware Bacon, Jr. (Feb 3, 1844 - March 1924 or 1925) wed Elizabeth Logan Glass
Children of
Williamson and Anne Maria Bacon
(1) Maria Elizabeth Bacon (sister of Laura) (April 11, 1826 – Oct. 6, 1873) married John Adair Monroe (born Feb. 22, 1823 - died 1873 in KY) on October 26, 1847. John was the son of Judge Thomas Bell Monroe and Eliza Palmer Adair Monroe – thereby connecting the Monroe and the Adair families with our lineage. (Eliza was the daughter of Governor John Adair.) Eliza and Judge Thomas Bell Monroe had 10 children – all aunts and uncles of Laura.
John Adair Monroe married Maria Bacon on October 26, 1847.
John graduated in law under his father and was Chief Clerk to the Judge of the United States District of Kentucky until the resignation of his father in 1861. John then was professor in the Kentucky Military Institute, teaching Latin, Greek, and Hebrew, until he was appointed Chief Clerk to Commissioner of the Insurance Bureau by General Smith. He lost that position due to his family's southern sympathies. John did not go to war and he and Maria were members of the Presbyterian Church.
They had 8 children
1 Thomas Bell Monroe, Jr. (Oct. 28, 1848 - 1933) wed Blandiana Broadhead Hord in 1872. They had 9 children and lived in Texas.
2 Annie Fall Monroe (Dec. 22, 1850 - 1927) died in Paris, KY never wed
3 Eliza Adair Monroe (July 24, 1852- 1902) taught in the Masonic Home – then wed Thomas H. Taylor. She died 1902
4 John Adair Monroe – (Sept. 26, 1853-1909) was in railroad construction
5 Alice Bacon Monroe born & died in 1855 Twin of Mary Temple Monroe
6 Mary Temple Monroe (Jan. 18, 1855) wed Rev. William Clark in Pass Christian, Mississippi on Dec. 17, 1878.
7 Victor Monroe (March 8, 1859 – June 1875) died at 16 - drowned while trying to save a boy's life
8 Willie Monroe (December 29, 1863 - 1875) – daughter After the death of John & Maria (her parents), she went to the Masonic Home with her sister Adair who was a teacher there. She died 1875 at age 12
CHILD #3 Eliza Adair Monroe (July 24, 1852- 1902) taught a while in the Masonic Home – then wed Brig. General Thomas Hart Taylor (July 31,1825 – April 12, 1901) on Oct. 1, 1878. Her little sister, Willie, lived with her for 2 years after their parents (John and Maria) died.
General Taylor was the son of Edmund Taylor and his second wife, Louisa Ann Brown Hart. (Edmund went on to marry Elizabeth Sarah Fall on February 12, 1861.) Thomas Hart Taylor had been married twice before he married Eliza, and he and Eliza had the following four children:
Mary Louise Taylor (May 10, 1880 – Oct. 31, 1959) wed William Ransom Zimmerman – no children.
John Adair Monroe Taylor (1881-1886) died of scarlet fever at age 5
Charles Jacob Taylor (May 15, 1883) changed his name to Thomas Hart, Jr. in 1900, wed Fern Norris and had 2 daughters.
Adair M. Taylor (Oct. 14, 1885 – Nov. 10, 1974) wed Congressman Wyatt Aiken and they had four children.
Maria Bacon and John Adair Monroe both died in 1873. This left their youngest children adrift. Thomas Bell Monroe (age 25) had moved to Texas – soon to be joined by his brother, John (age 20). Mary Temple Monroe married that year at age 18, and Victor (14) went to work and study with his cousin in Mississippi. Eliza (21) decided to teach at the Masonic Home and the youngest child, Willie Monroe (age 10) went with her. Willie (a girl) died two years later, and Eliza married in 1878.
*** The way that the Bacon/Monroe line connects with President James Monroe is through the president and his brother – Andrew.
BROTHERS James Monroe (1758 -1831) and Andrew Augustine Monroe, III (1760 -1835)
James Monroe married Elizabeth Kortright and went on to become the fifth president of the United States in 1816.
Andrew Monroe had son William who had son Andrew Augustine Monroe, III who married Ann Bell. They had Judge Thomas Bell Monroe, who married Eliza Palmer Adair. Eliza was the daughter of the 8th Governor of Kentucky (John Adair) and his wife, Katherine Palmer. One of the children from this union was John Adair Monroe (1823) who wed Maria Elizabeth Bacon (sister of Laura Bacon Crittenden).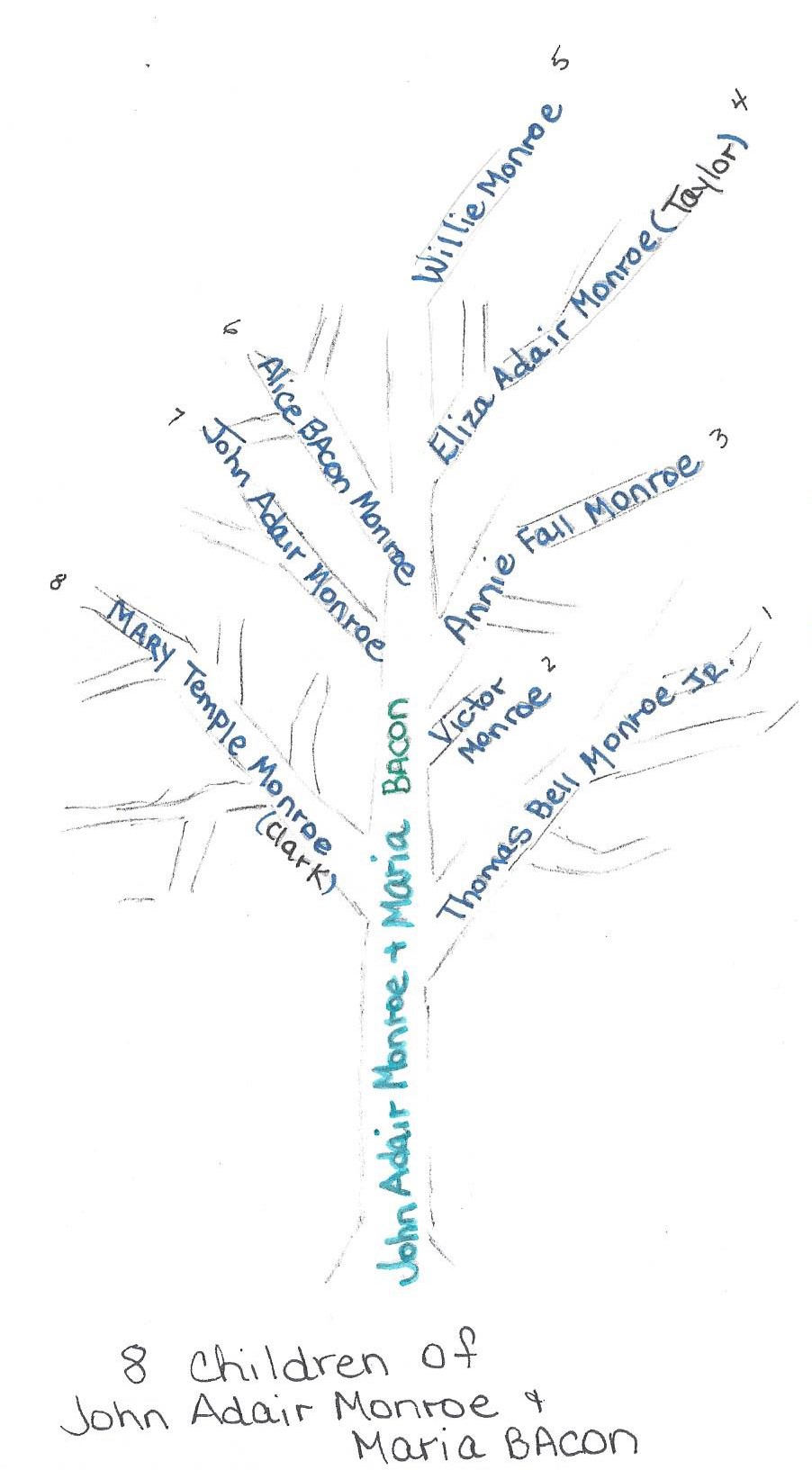 (2) Anna Caroline Bacon (May 1, 1828 – after 1894) –

The next child of Williamson Ware Bacon and Ann was always called Annie. In 1852, she married Callender Lewis (who was the brother of Ann Lewis Bonneville, wife of Gen. Bonneville).

Callender's Family:

Dr. Charles Lewis and Mary Irvine wed in 1805. They had 7 children:

1 William Irvine Lewis died at the Alamo 1836

2 Thomas Alexander Lewis wed Miss Stockton

3 Anne Callender Lewis wed Col. Benjamin L. E. Bonneville. She was 15 years younger than him, and they had 1 daughter named Mary before both mother and daughter died in 1862

4 Agnes Elizabeth Lewis wed Archie Campbell

5 Mary B. F. Lewis wed Samuel M. Leiper. They had Charles and Thomas Lewis

7 Callender Irvine Lewis (Nov. 11, 1823 – Sept. 7, 1863) wed Annie Bacon




Annie and Callender were married in 1852 and had two children before Callender's early death at age 40 –

(1) Callender Irvine Lewis, known as Cal, was born in 1853 and died at the age of 30 in 1883.

(2) Alice Lewis who was born in Philadelphia and wed John A. Castillo.

By 1894, Annie was living in California and her nephew by Laura (Frank Rector Crittenden) was helping her manage a ranch there. Her daughter, Alice Lewis, who was born in Philadelphia had wed John A. Castillo. Sadly, her son, Cal, predeceased his mother on August 8, 1883. According to the newspaper obituary, Cal was an assistant paymaster for the Navy when he became ill and came to Frankfort to stay with his mother. He died shortly thereafter of a brain tumor.

(3) Sarah Cordelia Bacon (Nov. 1830 - ) married Frank J. Pryor on Jan. 28 or 29, 1851

(4) Laura Ware Bacon (February 1833 – Aug. 1898) married Eugene Wilkinson Crittenden (find a more detailed history of her following this section)

(5) Alice Bacon (August 12, 1836)

(6) Williamson Ware Bacon, Jr. (Feb 3, 1844 - March 1924 or 25) wed Elizabeth Logan Glass in 1871. They had Robert Glass Bacon, Eliza Logan Bacon, and Williamson Ware Bacon.

As the baby of the family, Williamson Jr. was only one year old when his father died and just six years old when his mother passed away! From the family letters, it is clear that he was raised by his sisters – particularly Maria and Annie who were the two oldest. Maria was 24 when her parents died and already married. Annie, at 22, married just 2 years later. There is no doubt that both older sisters took on a "mothering" role for him.

Williamson was educated in Philadelphia and, at the outbreak of the Civil War in 1861 he enlisted in the Twenty-second Kentucky (Union) Regiment, under Col. Lindsay. He served four years in the Company 'F' Kentucky Infantry until the close of the conflict. He was promoted first lieutenant in 1862 at Cumberland Gap, and to rank of captain in 1863 at Vicksburg, where he was wounded.

After the war, Williamson married Elizabeth Logan Glass in 1871. She was the daughter of Dr. Robert Glass and Eliza Logan.

Her father had died of cholera in 1854. "At the time of his decease, he was a ruling elder in the Presbyterian Church at Shelbyville. He was highly esteemed as a gentleman of high social culture, a skillful physician and a devoted member and office bearer of his church." (Ref. web)

Williamson and Elizabeth had three children: Elizabeth, Williamson Ware Jr., and Robert. From the close of the war until 1873 he resided in Frankfort, at which time he purchased and removed to the old Logan place." (Ref. Web) In 1883, however, "Captain Williamson Ware Bacon, his wife Eliza­beth, their daughter Elizabeth, and two sons. W. W., Jr. and Robert came to Duarte, California from Kentucky. They purchased 42 acres in the Upper Duarte, including the Andres Duarte adobe. The Bacon's would later become an important part of Duarte. Tocino Drive is named after the Bacon family." (Web)

According to the obituary of Betsy Bacon, the granddaughter of Williamson Ware Bacon Jr.:

"Captain Bacon was described as a slender, erect gentleman of great dignity wrapped around a whimsical sense of humor and his wife also tall, willowy, ethereal and beautiful. She had a sense of humor."

According to Claudia Heller, who wrote a biography of Williamson's granddaughter in 2008:

"Captain Williamson Ware Bacon, his wife Elizabeth, daughter Elizabeth, and sons W.W. Jr. and Robert came to Duarte from Kentucky in 1888 and at that time were depicted as the 'epitome of the Southern upper class.' "

Williamson lived to be 80 years old.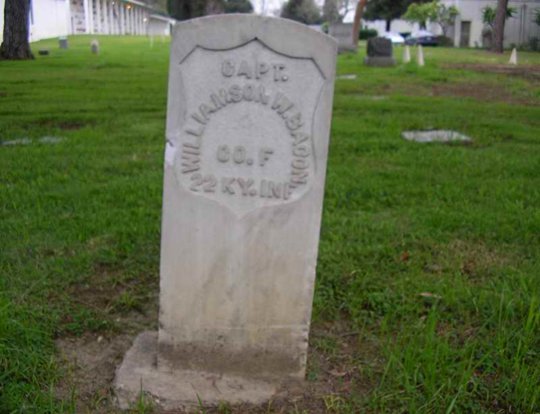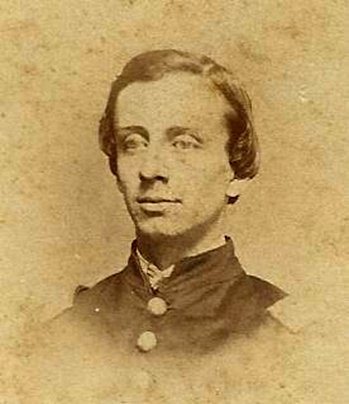 Captain Williamson Ware Bacon, Jr., (son of Williamson Sr. & brother of Laura)