Safeguard Note dated May 30th 1863
With quotes from Boots and Saddles about Josiah Ware
Transcribed by Judith C. Ware, September 2008
© Judy C. Ware
Original document owned by Jane & Scott Dudgeon
---
Headquarters 3rd Brigade
2nd Division 8th Army Corps
Berryville, Virginia May 30, 1863
Guards & Pickets -Pass Mr. Ware Esquire from his home on the Snicker Ferry road into Berryville and back again this day accompanied by his son J.S. Ware.
By Command of
Col. A.T. McReynolds
Commanding Brigade
James H. Stevenson
Lt & aaag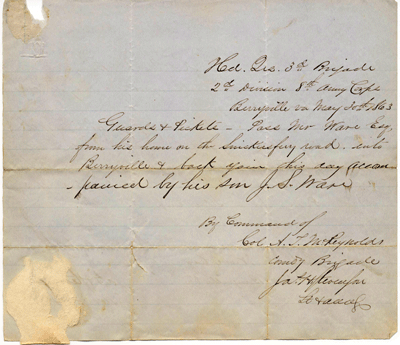 *** aaag = Acting Assistant Adjutant General: A military officer who assists the commanding officer
*** J.S. Ware was Josiah's son, Jaquelin Smith Ware
---
James Hunter Stevenson (the 2nd signature at the bottom of the note) became good friends with Josiah Ware when he was stationed in the Shenandoah Valley. He later wrote a book entitled: "Boots and Saddles," a history of the First volunteer cavalry of the war, known as the First New York (Lincoln) cavalry, and also as the Sabre regiment. It was printed in Harrisburg, PA:, Patriot publishers copyright 1879. The following are excerpts from his book.
"There were a great many first-class people in the Shenandoah Valley; people who might well claim to be called the "FFV's" of Virginia. They were secessionists, of course, but they were high-toned ladies and gentlemen, notwithstanding. Most of them were descendents of the best English families that originally settled in that good old Commonwealth; and lineal descendents of the patriots, soldiers and statesmen who helped to make us a nation.
Their manners were refined and their hospitality, even to us, whom they considered enemies, were worthy of imitation everywhere. Col. J.W. Ware, who resided on a fine old plantation near the Shenandoah, was a true type of the old Virginia gentleman. He treated our officers and men in the most hospitable manner, although he made no secret of his southern views; but neither did he obtrude his views upon us. He had some of the best blooded stock in Virginia and had spent a great deal of money in importing horses and sheep; some of his sheep costing $500 a head, and his horses fabulous prices. I gave him a pass to be present at the races and he seemed to appreciate the civility very much. He came to Philadelphia during the Centennial and I was about the first person he called upon. He said that half the anticipated pleasure of his visit lay in his hope of seeing me and expressing his thanks for the kindness I had shown him in those troublous times. I was very sorry to hear from him that the Union troops had, after we left that place, killed all his fancy sheep and carried off all this fine horses. He invited me to visit him and spend as much time as I chose fishing and gunning in the "Valley," making his house my home while there."
"It is due to Col. J.W. Ware, that noble citizen of the Shenandoah Valley, of whom I have spoken in a previous chapter, to say that his solicitude for the welfare of our officers and men led him to visit Winchester immediately after our retreat to see if he could be of any service to those who might have been wounded or captured. He found Lieut. F.A. Nims, of our regiment, a prisoner and succeeded in rendering him valuable service. Nims was aide-de-camp to General Elliot, but being sick at the time, was left behind and fell into the hands of the enemy. Col. Ware heard at Winchester that the private property of some of our officers had been captured on the retreat from Berryville and he mounted his horse and followed General Lee to Chambersburg, Pennsylvania and obtained a letter from him requiring those having the property to deliver it to Col. Ware to be returned to the proper owners; which was done. This speaks volumes for both General Lee and Colonel Ware; and it were well had the same spirit animated more of the officers on both sides during our late 'unpleasantness'."
All quotes in italics are from the book Boots and Saddles by Capt. James Stevenson 1st New York (Lincoln) Cavalry Regiment, Patriot publishers, Harrisburg, PA copyright 1879
***I would like to thank Jane & Scott Dudgeon for allowing me to copy & transcribe this safeguard note for my historical research. I am deeply grateful.