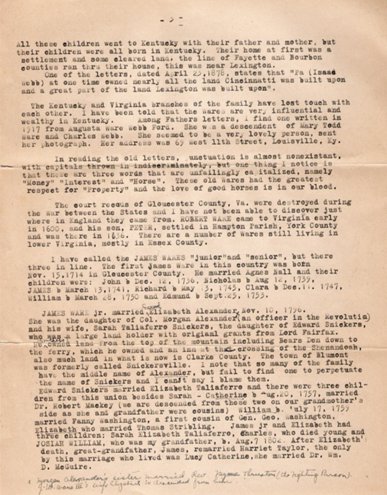 Original page 3 & 4
14.

All these children went to Kentucky with their father and mother, but their children were all born in Kentucky.
CORRECTION: When Cornelia wrote this, she was partially right. All the children of Dr. James Ware and Caty Todd Ware did travel to Kentucky with them, but Polly had her first child in Virginia before they all moved.
** Although it is very possible that the line for Fayette and Bourbon Counties ran through the house of James and Caty Ware too, this "boundary line" fact is usually tied with James Ware I and his property in Woodford County. Several records state that James Ware I and his sons, William and Edmund, "settled in what was then Fayette County, but that section became a part of Woodford when the county was established in 1788. However, when they surveyed the line that separated the county of Franklin from Woodford, eight or ten years later, the line passed through the farm of James Ware, and within a short distance of his log residence, and separated his farm into two almost equal parts, one in Franklin and the other in Woodford, but the residence went into Franklin."(Ref. 1024) County lines were frequently shifting, however, so it easily could have happened to both James I and James II.
15.

One of the letters, dated April 25, 1878, states that "Pa (Isaac Webb) at one time owned nearly all the land Cincinnati was built upon and a great part of the land Lexington was built upon."
Excerpt from Virginia Roots in Kentucky Soil by Judy C. Ware:
"Isaac Webb enlisted in the Revolutionary Army at the age of 17, served to its close, attained the rank of Captain, and received land from Virginia. 'Lieut. Isaac Webb, of the Continental line, received Jan. 13, 1784, 2666 2/3 acres for three years service; also an annual pension from May 31, 1833 until his death. He resigned Feb. 24, 1780, after Gates defeat, having served three years and more. General Clinton, by proclamation, offered to reinstate any resigned officer who would repair to headquarters and report. Lieut. Webb at once returned and was made Captain. He marched to the South, with 120 men, and never resigned afterwards.'" (Ref. 6) Actually, Isaac "first served as an Ensign and 2nd Lieutenant in the 7th Virginia Continental Line; then 1st lieutenant, 5th regiment of the Line in 1799." (Ref. 944) He also "served as a Captain under Green in the 14th campaign." (Ref. 621,934)
16.

The Kentucky and Virginia branches of the family have lost touch with each other. I have been told that the Wares are very influential and wealthy in Kentucky. Among father's letters, I find one written in 1917 from Augusta Ware Webb Ford. She is a descendant of Mary Todd Ware and Charles Webb. She seemed to be a very lovely person, sent her photograph. Her address was 69 West 11th Street, Louisville, Kentucky.
** The correspondence between the Virginia Wares and the Kentucky relatives continued throughout the generation of Josiah, but the Civil War made long distance relationships hard to sustain. Even before then, however, the mails were slow and unreliable, and life was very busy and demanding. It was not for lack of affection as can be seen in the letters that did get exchanged.
Lucy Webb wrote to Josiah's sister:
"I now find no room to write Josiah, but give my warmest love and affection to him and his wife. I want much to see you all and Sigismunda [Sally's daughter]. Tell him [Josiah] I often look at my breast pin and think of him. I can consciously say, though I write seldom, you will ever be remembered by me as wonderful, beloved relations. Tell Josiah that if my life and health is spared, I will write him in a month or two. Farewell, my dear relations. May God forever bless, protect, and direct you through life will ever by my prayer." Lucy Webb
Josiah once lamented that "Uncle Charles sometimes writes and you [meaning Lucy] sometimes - but not often enough neither of you. I would to God I could be among you all once more to stir up your recollection - - how delighted I should be. We sometimes talk about it and lay our plans to accomplish the journey, but I cannot say positively when we will be there."
In later years, Josiah stayed very close to his cousin, Lucy Ware Webb Hayes, and they frequently visited each other. They shared many facts about the families and memories of loved ones. Once that generation passed away, however, it became harder to keep track of everyone. Consequently, Cornelia naturally concentrated most of her memoirs around the relatives she knew growing up in Virginia.
17.

In reading the old letters, punctuation is almost non-existent - with capitals thrown in indiscriminately, but one thing I notice is that there are three words that are unfailingly capitalized, namely "Money," "Interest," and "Horse." These old Wares had the greatest respect for "Property" and the love of good horses is in our blood.
So true!
18.

The court records of Gloucester County, Virginia were destroyed during the War Between the States, and I have not been able to discover just where in England they came from. Robert Ware came to Virginia early in 1600, and his son, Peter, settled in Hampton Parish, York County and was there in 1636. There are a number of Wares still living in lower Virginia, mainly in Essex County.
Due to limited documents available at the time and her own personal experience, Cornelia focused most of her writing on the generations of James Ware II, James Ware III, and Josiah Ware – her grandfather. In her later document, written in 1948, she attempted to fill in a few gaps on the generation preceding them – that of her great- great- great grandfather – James Ware I. It created some repetition of facts, but I still included it because there were many new things that popped up that were of great interest. She wrote:
<![if !supportLists]>
<![endif]> "The first Ware to come to Virginia from England was Peter, who landed in Gloucester County early in 1600. All court records of this county were destroyed during the War Between the States, but there are numerous mentions of different members of the family in the church records – as members of vestries, marriages, etc. The Ware Church bears witness to its presence and standing.
James Ware 2nd, b. March 13, 1741, was the first to come to Frederick County. He was the son of James I and Agnes. He was born and lived the early part of his life in Gloucester County, studied medicine and moved to Caroline County. There he practiced and married Catherine Todd – aged fourteen – the daughter of Dr. James Todd – "an eminent physician and a Scotchman." James 2nd was said to be "one of the handsomest men in the state." He moved to Frederick County some years after his marriage, with his family and lived near Winchester. There is a deed on file in the Courthouse for property bought by him in 1781.
James 2nd and his family (with the exception of his son, James 3rd, moved to Kentucky in 1791. The Ware and Webb families traveled together, Capt. Isaac Webb having married Lucy Ware just before they left Virginia. They went by horse-back and in wagons, with their slaves and cattle. This was a difficult and dangerous journey and they feared the Indians, but they arrived safely. Several of the men had been out before clearing the land and preparing a shelter for them on land near where the city of Lexington now stands. This was a grant given by the government for service in the Revolution. The family prospered in Kentucky and much of the information I have of these early Wares is from an old package of letters which my father, Rev. S. S. Ware, preserved and treasured."
19.

I have called the JAMES WAREs "junior" and "senior" but there were three in line. The first James Ware in this country was born November 15, 1714, in Gloucester County. He married Agnes --- and their children were: John b. Dec. 12, 1736, Nicholas b. Aug. 12, 1739, James b. March 13, 1741, Richard b. May 13, 1745. Clara b. Dec. 11, 1747, William b. March 28, 1750, and Edmund b. Sept. 25, 1753.
We now know that "Todd" was the maiden name of Agnes Ware.
20.

James Ware Jr. [III] married Elizabeth Alexander
Nov. 10, 1796. She was the daughter of Col. Morgan Alexander (an officer in the Revolution) and his wife, Sarah Taliaferro Snickers, the daughter of Edward Snickers who was a large land holder with original grants from Lord Fairfax. He owned land from at the top of the mountain including Bears Den down to the ferry, which he owned, and an inn at the crossing of the Shenandoah – also much land in what is now Clarke County. The town of Blumont was formerly called Snickersville. I note that so many of the family have the middle name of Alexander, but fail to find one to perpetuate the name of Snickers and I can't say I blame them.
In her second document, Cornelia added, "The gap in the Blue Ridge and the ferry there were all named for him [Edward Snickers]." She also mentioned that when James III remarried, his wife was "Harriet Taylor. My father has told me that their house "Riverside" on the Shenandoah and at the foot of the Blue Ridge was a show place for miles around. It was held in the family for six generations. It still stands - a charming stone house and now owned by Mr. Peter Williams."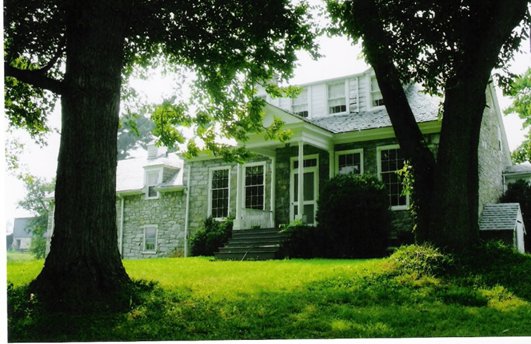 Photo owned by James & Judy Ware
Riverside – home built by James Ware III
There is clearly a page missing in the typed transcription that Cornelia did because the entire section below (which appears in her original rough draft) is gone – even though her page number goes directly to "5" next. The following information is what was contained in that missing page from her rough draft but appeared in the second edition of her letter.

<![if !supportLists]> <![endif]> James Jr. lived on the Shenandoah. Father has told me that their house was the show place of the neighborhood. I have seen it and it looked very simple to me, a story and a half stone house, with dormer windows, not large at all, but a very charming place. It is now owned by Mr. Cummins, formerly of Pittsburgh.
When Cornelia wrote her first document in 1945, she typed "Mr. Peter Williams" as the current owner of Riverside. She used the same name in 1948, when she updated her paper. It is only in a typed "copy" of her work that the name "Mr. Cummins" has appeared. I can find no reference of Mr. Cummins, but I did find a "James Peter Williams" as the owner of Riverside in the early 1900s. During the Civil War, Peter wrote to his mother that "Our Camp here is about 3 miles from the Shenandoah River, and apparently in one of the finest portions of Virginia. The farms around here are magnificent & there are a good many very fine looking country residences. I went out about 5 miles from Camp yesterday "foraging," down the river. I stopped about 2 o'clock at a beautiful place right on the bank of the river owned by a man named Lewis. I went in & bought a peck of magnificent apples & got one of the best dinners I ever saw. I met with two ladies, one rather an elder lady --the other very young & very pretty, but both married."
This letter is important because it ties in with the following facts:
By 1862, Lucy Ware McGuire, the daughter of James Ware III who inherited Riverside, would have already passed away. Her only surviving daughter (Elizabeth Holmes McGuire) was single in 1862, but married Dr. James Mercer Garnett McGuire in 1864. In all likelihood, they lived in the McGuire home after marriage. Riverside, therefore, may have been under the care of her aunt and uncle – the Lewis's. The "Lewis" women Peter referred to were probably Lucy Balmain Ware Lewis – (granddaughter of James Ware III) and her mother-in-law, Esther Maria Coxe Lewis. Lucy Balmain Ware Lewis would have been around 22 at the time of this letter – therefore "very young and married." The author of the letter (James Peter Williams) married Virginia Carrington. In the obituary of Nell Baskerville Williams, born in 1921, it was written that "her parents, James Peter & Virginia Carrington Williams, were Virginians, and her family's farm, Riverside, near Berryville, VA was the childhood summer home she most lovingly remembered."
It is possible that this is the person to whom Cornelia Ware Anker was referring to in her papers. Sigismund Ware, in a remembrance written in his old age, mentioned that Riverside's "present owner, Mr. Peter Williams, formerly of Lynchburg, is a brother of Mrs. Archibald Cummins."
Riverside Farm obviously fell out of Ware ownership sometime after the death of Josiah's daughter, Elizabeth Alexander Ware who ended up marrying Dr. James Mercer Garnett McGuire as her second husband. Dr. McGuire's first wife had been Betty Holmes McGuire, the daughter of Elizabeth's step-sister, Lucy Ware McGuire. In an amazing turn of events, when Dr. McGuire married Josiah's daughter (Elizabeth Alexander Ware Britton) ten years after the death of Betty, they resided at Riverside – the home that was built by the grandfather of both women – namely James Ware III.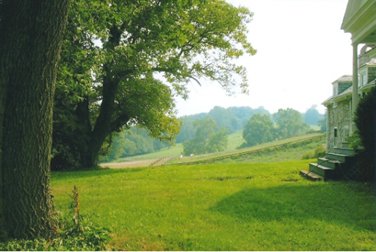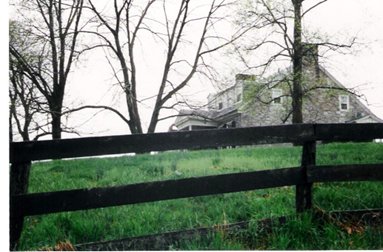 Riverside Farm – built by James Ware III
Directly across the road from the lovely home, is the mill that was purchased with the land.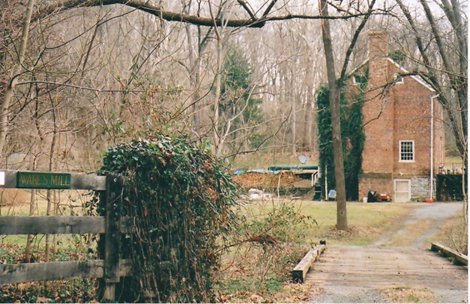 Ware's Mill – photos taken by Judy C. Ware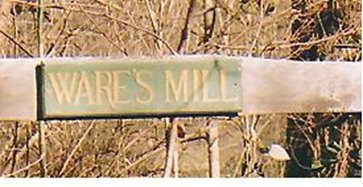 <![if !supportLists]>

<![endif]> In a letter written to Grandfather by T. S. Davison dated 'The Forest Oct 28, 1833,' he writes, 'Grandpa remembers to have met General Charles Lee after his disgrace at Mr. Snicker's, and Morgan Alexander was there. The following anecdote was told me of the occasion. The conversation leading to the subject of fine horses, Lee said: "Man is a presumptuous creature - he prides himself upon his similitude to his Maker and arrogates to himself superiority in all the good qualities, but in my opinion a fine horse is by far the nobler animal and is superior in dignity and appearance, as well as honesty." Alexander replied, "True, man would not compare in many things with a fine horse, but a fine woman is equal to anything in creation."
"Pho!" said Lee. "Your passions blind and mislead your judgment . . . man is bad enough, but woman! Psha! Psha!" Lee was disgraced after the battle of Monmouth, which was fought Aug. 29, 1778.
Cornelia was referring to General Charles Lee. He faced public disgrace by the Continental Army for his failure to lead his men adequately during an engagement with the enemy which led to a crucial breakdown during the Battle of Monmouth. In 1778, George Washington dispatched Major General Charles Lee with 5,000 men to assault the British rear guard near Monmouth Court House, New Jersey. Lee mismanaged the fight and was forced to retreat with the British in pursuit. He was subsequently court-martialed.
Morgan Alexander was the husband of Sarah Elizabeth Taliaferro Snickers and the father of Elizabeth Alexander who would marry James Ware III. Morgan Alexander, therefore, was the grandfather of Josiah William Ware.
Alexander, Morgan & Sarah Snickers --- January 19 1773.
Surety, - Edmund Taylor.
Marriage notice
<![if !supportLists]>

<![endif]> Sarah Elizabeth, or Sally, the daughter of James Jr.[III] and Sarah Elizabeth Alexander Ware, married Dr. Sigismund Stribling. He was well beloved. Grandmother named a baby for him, but he died. She named the next baby also for her brother-in-law, and this baby was my father. The Striblings lived just across the road from the Wares at Morgan Springs - a very handsome house and farm. It is now owned by the Wheats.
CORRECTION: The Sarah Elizabeth who married Dr. Sigismund Stribling was the daughter of James Ware III and Elizabeth Taliaferro Alexander Ware – not Sarah Elizabeth Alexander Ware.
The tradition of naming children after family members can make it very confusing if you don't keep the generations straight. Edward Snickers married Elizabeth Taliaferro – making her Elizabeth Taliaferro Snickers. They had a daughter they named Sarah Elizabeth Taliaferro Snickers (born Jan. 18, 1756). When she married Morgan Alexander, her full name was then Sarah Elizabeth Taliaferro Snickers Alexander. Morgan and Sarah had a daughter they named Elizabeth (born Oct. 26, 1774) – her full name being Elizabeth Taliaferro Alexander. When she married James Ware III, she was then Elizabeth Taliaferro Alexander Ware. James Ware III and Elizabeth had a daughter they named Sarah (Sally) Elizabeth Taliaferro Ware (born Oct. 1, 1797). She married Dr. Sigismund Stribling – making her Sarah (Sally) Elizabeth Taliaferro Ware Stribling.
It was a great tradition to make sure family names were "carried on." The only surviving son of James and Elizabeth Alexander Ware (Josiah William Ware) married Fanny Glassell, and they used Josiah's mother's maiden name as a middle name for three of their five children who survived infancy . . . James Alexander Ware, Elizabeth Alexander Ware, and Charles Alexander Ware.

Marriage of James Ware and Elizabeth Taliaferro Alexander
taken from family bible

Sigismund Stribling & Sarah E.T. Ware - daughter of James & Elizabeth Ware
November 7th, 1820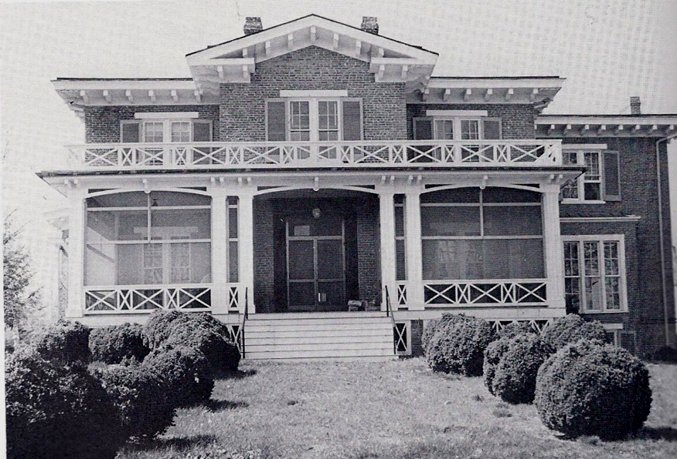 Morgan Springs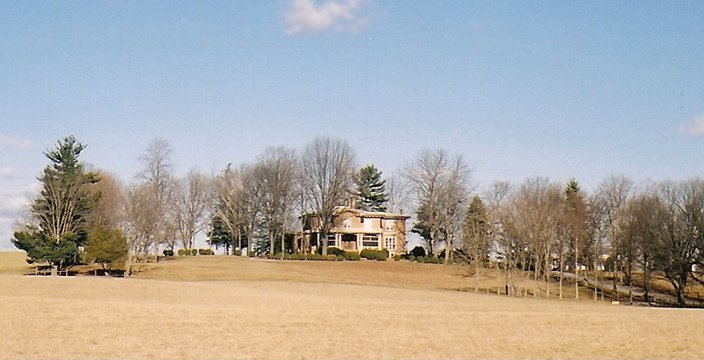 Morgan Springs – taken from the road in front of the entrance to Springfield
Photo taken by Judy C. Ware
<![if !supportLists]>

<![endif]> The Striblings lived just across the road from the Wares at Morgan Springs - a very handsome house and farm. It is now owned by the Wheats.
According to Annals of Clarke County Virginia:
"On April 18, 1878, Mrs. S. E. T. Stribling died. Mr. Leo Wheat purchased her farm 2 miles east of Berryville for $19,000."
Leo P. Wheat was a well known pianist and composer.
<![if !supportLists]>

<![endif]> Miss Ann Stribling, Dr. Stribling's cousin, lived with them. She helped to rear the children and they loved her. The Ware children called her "Sister Ann" too, and she had built a cottage and the Striblings and Wares would drive up in style for the Springs. She was a real "Mother of Israel" and is still remembered for her good works. The mountain back of the Shrine is called "Miss Ann's Mountain."
Cornelia was referring to Ann Stribling, daughter of Francis and Rebecca Littler Stribling. Born in 1824, Ann was only three years younger than Sally Ware Stribling's daughter, Sigismunda. When both Francis and Rebecca Stribling died at a young age, it seemed natural for Sally, who was a widow by this time, to take the young Ann into her home to care for. Not only were Ann and Sigismunda close in age, but she was only eight years older than the firstborn of Josiah. By the time he had his last child in 1857, Ann was 33 years old. She probably was a great help to her cousin Sally as a single mother and also to Josiah when his first wife died – leaving him several young children to still care for before he remarried. The census records show that for a brief period of time after Dr. Stribling passed away, all three females (Sally, Sigismunda, and Ann) even lived with Josiah Ware at Springfield. The women eventually made their home at Morgan Springs, however, – directly across the road from the entrance into Springfield.

She was a real "Mother of Israel" and is still remembered for her good works. The mountain back of the Shrine is called "Miss Ann's Mountain."
** In referring to Ann as a "Mother of Israel", Cornelia was using a common reference from the bible. In the book of Judges, Deborah is portrayed as a strong, independent woman. Even today, some people still refer to Deborah as a "Mother of Israel."
** The cottage Cornelia mentioned was located at Orkney Springs – a quaint Virginia village located at the foot of the Great North Mountain. The historical medicinal waters and the curative powers of the numerous springs in and around Orkney Springs have brought travelers to this area since the early 19th century. In the 1850s, the Orkney Springs Hotel was constructed, and the main facility (The Virginia House) was completed in 1873. "With its white clapboard structure and tall, green-shuttered windows, the Virginia House is four stories high. The 96,000 square-foot building includes a 5,000 square foot Ball Room, a forty foot by one hundred fifty foot dining hall and numerous small meeting and break out rooms. The Virginia House is listed in the National Register of Historic Places." (Ref. Website).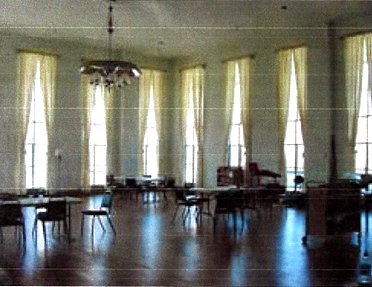 Old Ball Room in the Virginia House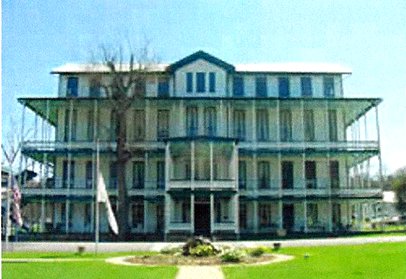 The Virginia House was originally known as Orkney Springs Hotel
Orkney Springs "is an unincorporated community that still draws people from far and wide. Most of the original buildings are still standing, have been restored, and are even still being put to good use today. The Virginia House is believed to be the largest wooden structure in Virginia. The Orkney Springs Hotel was owned privately until 1979 when it was purchased by the Episcopal Diocese of Virginia and became part of their retreat center called Shrine Mount. Conferences, reunions, and retreats are often held on the grounds there. The Cathedral Shrine of the Transfiguration of the Episcopal Diocese of Virginia is also located at Shrine Mont. This outdoor worship space, built of native stone, was built in the 1920s and consecrated in 1925." (Ref. website)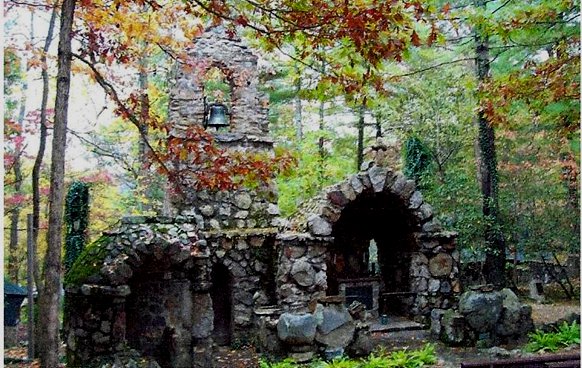 Part of the shrine
Ann Stribling, who never married, owned and ran a boarding house for many years in Orkney Springs. Her home was known as "Stribling Cottage" and is still located at the top of the "Circle."
It was first called the 'Stribling Select Boarding House' and was managed by Ann until her death in 1904. Sadly, the original building burned, but it was replaced by the current structure in 1915. Ann's great niece, Miss Lucy Kimball, owned the cottage next and kept it until her death in 1975. Upon her request, it was then deeded to the Episcopal Diocese of Virginia. The house is still used for lodging church families. Lucy Kimball was the granddaughter of Sigismunda Stribling Kimbell, the great granddaughter of Sally and Dr. Sigismund Stribling, and the great, great, granddaughter of Elizabeth and James Ware III.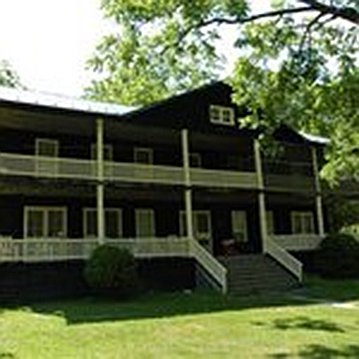 Stribling Cottage
"This cottage is a large two story building and was renovated in 2011. It has ten bedrooms and four and a half bathrooms and can sleep up to 19 people. There is also a living room with a fireplace, a large meeting/dining room and a kitchenette. Stribling has four large porches one of which is screened." (Ref. Website)
Article printed concerning the renovation of the cottage:
"Stribling Cottage has been a mainstay for Shrine Mont and Orkney Springs. The Stribling Select Boarding House has its roots to the mid 1860's when the Stribling family came to Orkney Springs. Bishop Robert Gibson and his family spent their first summers in Orkney Springs at the Stribling Boarding House in the 1890's at the recommendation of family. While at Stribling, the Bishop became enamored with Orkney and purchased Tanglewood Cottage and the surrounding land in 1902, and the rest is history. Miss Lucy Kimball, granddaughter of the original proprietor was a dear friend to Shrine Mont and left the cottage to Shrine Mont upon her death in 1976." The renovation of the cottage was made possible by the funding of numerous guests who stay in Stribling and friends of Shrine Mont and Miss Lucy. Shrine Mont Director Kevin Moomaw said "This is a great gift to Shrine Mont and a lasting tribute to those who care so much about the Stribling Cottage and Miss Lucy's legacy of hospitality." (Ref. website)
<![if !supportLists]>

<![endif]> The Striblings had one daughter, Sigismunda, who married Charles Edward Kimball. They had two sons - Theodore and William Ware Kimball. William was an Episcopal clergyman, married Violet Wrigley from Georgia, and they had two daughters - Floretta (who died during the flu epidemic in 1918) and Lucy.
As mentioned before, Sigismunda Elizabeth Stribling (born August 23, 1821) was the only child of Dr. Sigismund Stribling and Sarah Elizabeth (Sally) Taliaferro Ware. Dr. Stribling died just two months after her birth on Oct. 24, 1821. Poor Sally was not even married a full year before she was a widow, and to make matters worse - she also lost her father (James III) in September of the same year.
Sigismunda grew up across the road from her Uncle Josiah and Aunt Fanny Glassell Ware who resided at Springfield Plantation. When Sally Stribling took Ann into her home to care for her, she and Sigismunda grew up like sisters. Even the Ware children acted as if they were all siblings. It is clear from Josiah's diary that he spent a lot of time helping his widowed sister with her home, Morgan Springs.
Excerpts from Josiah's diary: "1832 Sep. 6 - Clear and warm. Jim Bell, London, Alfred, and Jack plowing Morgan Springs field.
1833 Apr. 2 - Finished sowing and harvesting oats at Morgan Springs.
1833 Oct. 15 - Finishing the two fields at Morgan Springs"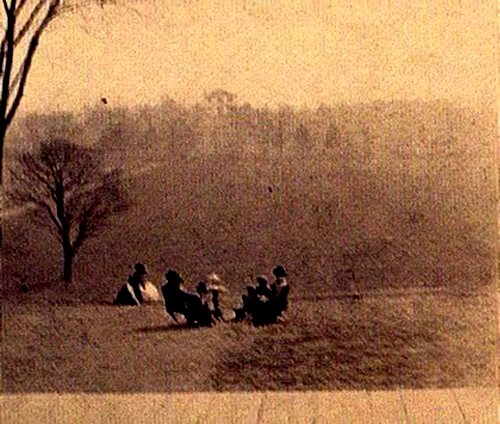 This photo was taken from the front porch of Morgan Springs (the Stribling home). Josiah's home of Springfield can be seen on the horizon just past the tree line. I would like to thank Barbara Clagett for the use of this fascinating photograph.
This photo was taken from the attic window of Springfield.

  

It shows the tree-
lined entryway that comes in from the road and also Morgan Springs sitting off 
to the left - directly ahead down the road.
Photo taken by Judy Ware 2007 with the kind permission of Barbara Clagett
At the age of 27, Sigismunda married Charles Edward Kimball on 
June 13, 1848.

  

Charles, born in Maryland in 1823, was a cavalry 
officer under J. E. B. Stuart during the Civil War.

  

The couple had 
two sons - - Theodore Horatio Kimball (born 1854) who married 
Mary Nolte in 1886, and Reverend William Ware Kimball (born 
1857) who married Violet Wrigley on June 5, 1889.

  

It was the 
daughter of William and Violet (Lucy Kimball) who was the last 
family owner of Stribling Cottage.
<![if !supportLists]>

<![endif]> Lucy still spends her summer in the cottage which replaced the one first built. She keeps a most delightful home, and we love to go there as we did in Cousin Violet's day. She has a portrait of Mrs. Sarah Elizabeth Stribling, her great grandmother, which hangs in the living room at Stribling Cottage at Orkney. It is very lovely - a face of so much character and sweetness.
** When I recently (2013) spoke with a staff member at Orkney Springs, he validated for me that the portrait was still hanging in the Stribling Cottage. He was kind enough to take a picture of it for me. As far as I know, this is the only likeness of Sarah Elizabeth Taliaferro Ware Stribling (Josiah's sister) that has been found.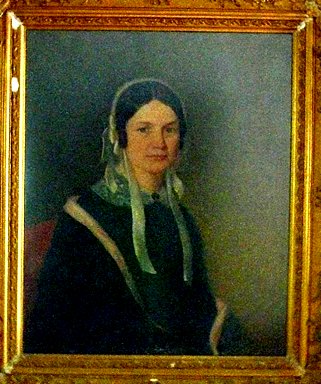 Sarah Elizabeth Taliaferro Ware Stribling
sister of Josiah Ware, mother of Sigismunda, and daughter of James Ware III and Elizabeth A. Ware
<![if !supportLists]>

<![endif]> Lucy also has a diary kept by Sigismunda Kimball (her grandmother) that is most interesting. There were originally two volumes, but one was destroyed when the house was burned. This book which was burned was written during the last two years of the war. She tells much about the life of the two families – Uncle Jo's and (Grandfather) and the Kimballs. The diary started out to be merely an account book, but many interesting items come into it. Mr. Kimball was away in the army and she was managing the place. With the negroes slipping away and the 'Yankees' camped over the place, she had a bad time.
** Sigismunda Stribling Kimball died on September 16, 1879, in Orkney Springs. The following is a page from the diary that Cornelia mentioned. Many personal entries from it were used in a book titled Confederate Reckoning by Stephanie McCurry.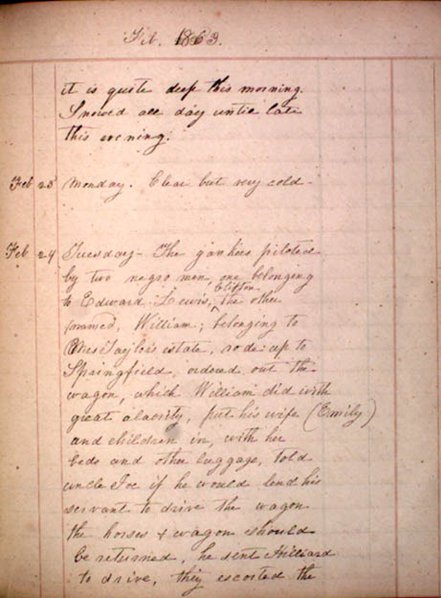 Page from Sigismunda's Diary
NOW BACK TO CORNELIA'S ORIGINAL LETTER
21.

Edward Snickers married Elizabeth Taliaferro and there were three children from this union besides Sarah: Catherine
b. Aug. 20, 1757, married Dr. Robert Mackey (we are descended from these two on our grandmother's side as she and Grandfather were cousins) William b. July 17, 1759 married Fanny Washington, a first cousin of General George Washington, and Elizabeth who married Thomas Stribling.
I have seen Catherine's husband's name spelled Mackey, Macky, and even McKee. The name has been carried on many times in the family and it seems like the preferred spelling for generations is Macky. Notice the gravestones below for Roberta Macky (Smith) Powers and their daughter – direct descendants of Robert and Catherine Snickers Macky. Most documents on file and family letters spell it "Macky" as well.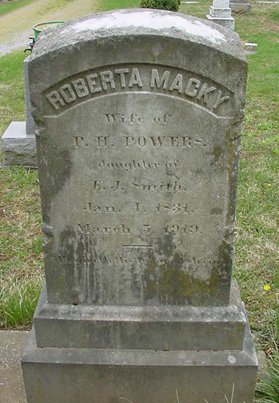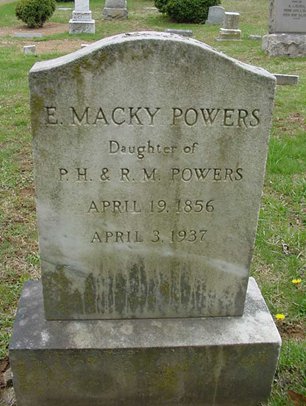 E. Macky Powers was the daughter of Roberta and Philip.

** As Cornelia wrote, the four children of Edward and Elizabeth were (1) Sarah (1756), (2) Catherine (1757),
(3) William (1759), and (4) Elizabeth (1761). Sarah married Morgan Alexander, Catherine wed Dr. Robert Mackey, William married Fanny Washington, and Elizabeth married Thomas Stribling. Catherine inherited "the 306 acre farm called Buck Marsh from her father." (Ref. 492) *** William's wife, Frances Washington, was the daughter of Warner and Mary (Whiting) Washington, first cousins of General George Washington.
Snickers, William & Frances Washington. --- May 28, 1793 Surety, Robert Macky
Wedding record
Notice the spelling of Robert's name in this document as well.
"William inherited the family home called Clermont and also a mill on the Shenandoah River." (Ref. 7, 494) Whenever Washington traveled through the area, "Clermont was a frequent stopping place for him." (Ref. 111)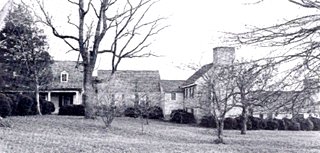 Clermont - Home of the Snickers family
In November 1803, James and Elizabeth Ware expanded their holdings and "bought 401 acres in the heart of the Snicker's tract from Elizabeth's Uncle William for $14,011.00. The acreage included Snicker's Ferry, Snicker's Tavern, the blacksmith shop, and at least one mill." (Ref. 28, 195, 200)

<![if !supportLists]> <![endif]> James Jr.(III) and Elizabeth had three children: Sarah Elizabeth Taliaferro, Charles, who died young, and JOSIAH WILLIAM who was my grandfather b. Aug. 7, 1802. After Elizabeth's death, great-grandfather, James, remarried Harriet Taylor. The only child by this marriage who lived (to full adulthood) was Lucy Catherine. She married Dr. William D. McGuire. Morgan Alexander's sister married Rev. Mynn Thurston (the Fighting Parson). James Ware III's wife, Elizabeth, is descended from him.
CORRECTION: Josiah William Ware was born
August 19, 1802.

Family Bible
The three children of James Ware III and Elizabeth Alexander Ware were (as mentioned in above paragraphs) Sarah Elizabeth Taliaferro, Charles, and Josiah William Ware. The following is an excerpt from the family bible: Sarah Elizabeth was born October 1, 1797, Charles on July 3, 1800, and Josiah on August 19, 1802.
First Column in family bible
James Ware Born 13th January 1771
Elizabeth T. Ware 26 October 1774
Sarah E.T. Ware 1st October 1797
Charles A. Ware 3rd July 1800
Josiah W. Ware 19th August 1802
Harriet M. Ware 26th April 1790
Charles Alexander Ware actually lived to adulthood, but he died before he could marry. His death (at age 23) occurred on
December 3, 1823, at 12 o'clock in the evening. That left Sally and Josiah as the only siblings from the union of James Ware and Elizabeth Alexander Ware.

Birth date for Charles Ware


Death date for Charles Ware
Excerpt from Virginia Roots in Kentucky Soil by Judy C. Ware:
"Unfortunately, all the financial security that blessed James and Elizabeth could not stave off tragedy in their marriage. They were destined to share only seven short years together before Elizabeth died of complications from tuberculosis, a disease she probably, unknowingly, caught from James. Her death occurred on August 29, 1803, and she was only 29 years old at the time."


Bible record for the death of Elizabeth T. Ware
James did remarry – five years after Elizabeth's death. His new wife was a cousin, Harriet M. Taylor. The couple had six children: (1) James W., (2) Bushrod Thomas, (3) Thomas Marshall, (4) Lucy Catherine, (5) Harriet Mary Todd, and (6) Elizabeth Alexander.
Excerpt from family bible:
James W. Ware 1st February 1809
Bushrod T. Ware 10 September 1810
Thomas M. Ware 3rd July 1812
Lucy Catharine Ware 26th July 1814
Harriet Mary Todd Ware 21st November 1816
Elizabeth Alexander Ware 6th November 1818
Although Cornelia was correct that only Lucy Catherine lived long enough to marry, some of the other children managed to live beyond infancy. The following is an excerpt from Virginia Roots in Kentucky Soil:
"Tragically, tuberculosis loomed like a cloud over the family and eventually took the lives of all but one child who lived long enough to marry. James W. died at 18, Bushrod at 7, Thomas Marshall at 20, Harriet at 12, and baby Mary only lived 14 months. The dreaded disease also killed both James and his second wife - - James in 1821 and Harriet in 1822."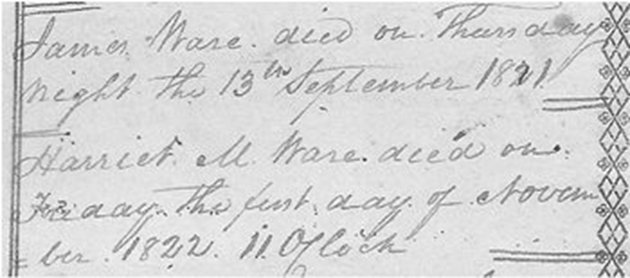 Bible page
"Fortunately, before her death, Harriet Ware had asked her brother, Bushrod, and his wife (Betsey Stribling Taylor) if they would be willing to raise her children if anything happened to her. Betsey had no children of her own and lovingly adopted these four little ones. Marshall was the third of the Ware orphans to die and his loss was the most difficult for Betsey to accept." (Ref. 900)
Lucy Catherine Ware was the only child who lived long enough to marry. She wed Dr. William McGuire and they lived at Riverside, the home her father built in his youth. (Ref 590, 899, 900) It was held in the family for six generations and still stands to this day."
Deaths recorded in Ware Family Bible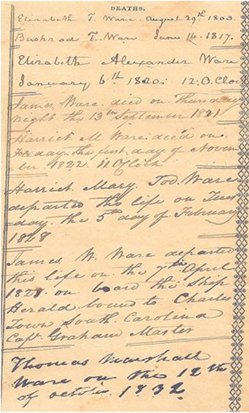 Elizabeth T. Ware August 29th, 1803
Bushrod T. Ware June 14, 1817
Elizabeth Alexander Ware January 6th, 1820 12:O'Clock
James Ware died on Thursday night the 13th September 1821
Harriet M. Ware died on Friday the first day of November 1822 11O'Clock
Harriet Mary Todd Ware departed this life on Tuesday the 5th day of February, 1828
James W. Ware departed this life on the 7th April 1827 on board the ship Herald bound to CharlesTown S. C.
Thomas Marshall Ware on the 12th of October 1832
Lucy Catherine Ware was a step-sister to both Sally Ware Stribling and Josiah Ware, but there was quite an age difference between them. Sarah (Sally) had been born in 1797 and Lucy Catherine was born on July 26, 1814. (Ref. Family Bible) That made Sally 17 years older than her step-sister, and Josiah 12 years older.
Lucy Catherine and her husband, Dr. William D. McGuire, had several children, but the only one to live to maturity was Elizabeth (known as Betty) Holmes McGuire who was born in 1834. She would grow up to marry a cousin with the same last name - Dr. James Mercer Garnett McGuire.
Lucy Catherine Ware McGuire only lived to be about 24 years old – dying on March 7, 1839. She is buried in Grace Episcopal Church Cemetery. Her grave is the long, flat one in the foreground.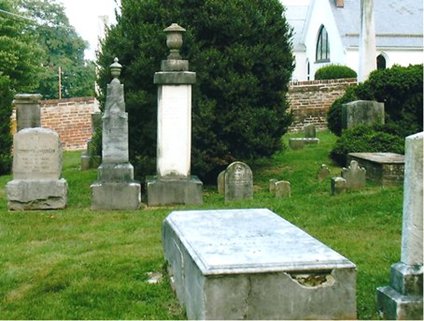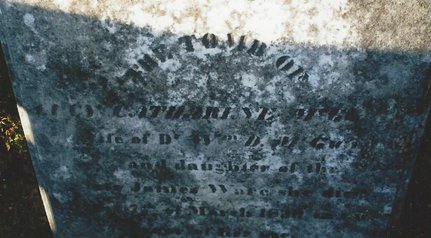 The Tomb of
LUCY CATHARINE McGUIRE
Wife of Dr. William D. McGuire
And daughter of the late James Ware, she died
The 7th of March 1839 in the 24th year of her life
After her death, Dr. William McGuire married again. His second wife was Nancy Boyd Moss and they 11 children.
Dr. James Mercer Garnett McGuire and Betty Holmes McGuire (same last name) had the following children: (1) Maria Garnett McGuire, (2) James Mercer Garnett McGuire, (3) John Peyton McGuire, (4) Charles Fenton McGuire, and (5) William McGuire. Sadly, Betty also died fairly young and when Dr. McGuire remarried on April 30, 1884, it was to her aunt (Elizabeth Alexander Ware Britton) – the step-sister of Lucy Catherine Ware. Elizabeth was in her 40s and Dr. McGuire (born April 20, 1833) was in his 50s at the time of their wedding. (Ref. 838) Rev. Horace Edwin Hayden, author of the Glassell Genealogy, was the presiding minister at their ceremony.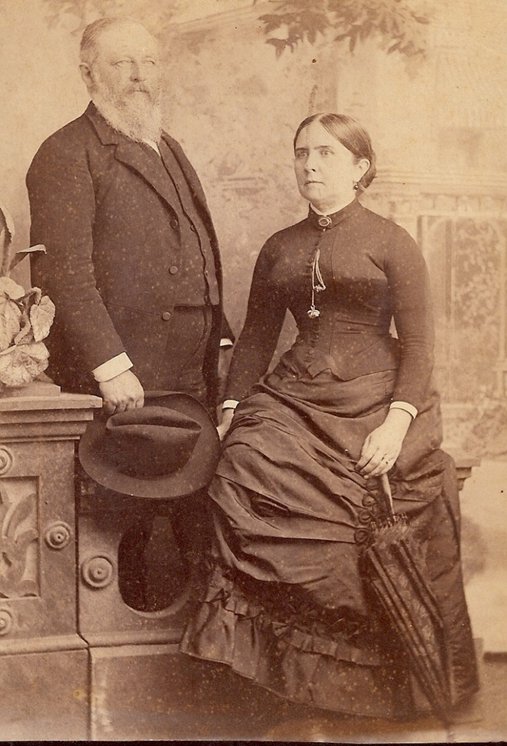 Dr. James Mercer Garnett McGuire and
Elizabeth Alexander Ware (Britton) McGuire
Photo property of James and Judy C. Ware