TRANSCRIPTION OF 1863 LETTER
FROM J.C. BATTERSBY to JOSIAH WARE
© Judith Cumbea Ware 2008
Original letter owned by Jane & Scott Dudgeon


This letter was written by Union Captain J.C. Battersby who was serving with the Lincoln Cavalry; also called the First New York Cavalry. His superior officer was Col. Andrew McReynolds and the "Capt. Bailey" he refers to in the letter was the Quartermaster of his unit. Even though he was a Federal officer, he must have thought highly of Josiah to be willing to offer him his assistance.
---
Martinsburg, Virginia
August 21, 1863
My Dear Colonel Ware,
Accept my very kind regards and permit me to say, that according to my promise to you, I sent one of my sergeants to Williamsport with the package for your son, but your son had left the town some time and it was not known which way he went, but there was a supposition that he had gone to Hagerstown to which place our Captain Bailey is going this afternoon and will take it in his buggy and endeavor to find him.
Pray tender my very kind regards to Mrs. Ware and family, and my numerous kind friends about Berryville.
And believe me very sincerely your grateful friend,
J.C. Battersby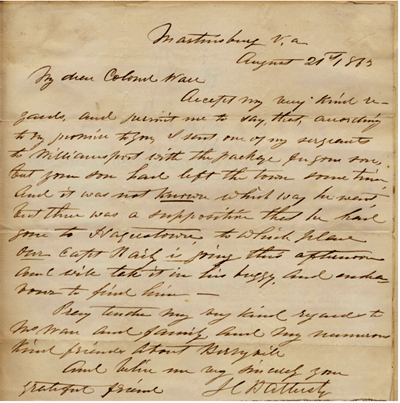 ---

"THE FIRST NEW YORK CAVALRY.-Captain Battersby, of the 1st New York Cavalry regiment, comes to this city with orders from Gen. Couch, in order to confer with Gov. Seymour, relative to the filling up of his regiment. This fine corps left the city in the summer of 1861, since which time they have been doing most arduous duty in Virginia, having served with McClellan on the peninsula, with Burnside at Fredericksburg, and throughout the other important campaigns. The regiment went out over one thousand strong, and has been greatly reduced from disease and sickness." Taken from the New York State Military Museum New York's Citizen Soldiers by William F. Howard New York Archives.
***I would like to thank Jane & Scott Dudgeon for allowing me to copy & transcribe this letter for my historical research. I am deeply grateful.