COMMISSIONING PAPER FOR JOSIAH WILLIAM WARE
Transcribed by: Judith C. Ware
October 2008
© Judy C. Ware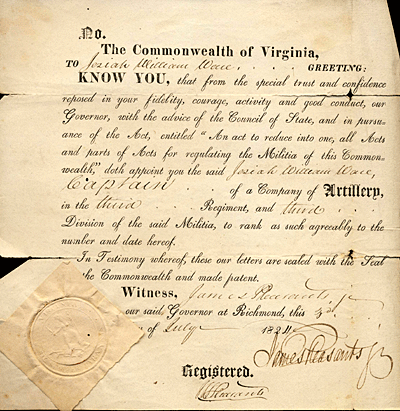 NO.
The Commonwealth of Virginia,
To Josiah William Ware . . . . Greeting:
KNOW YOU, that from the special trust and confidence reposed in your fidelity, courage, activity, and good conduct, our Governor, with the advice of the Council of State, and in pursuance of the Act, entitled "An act to reduce into one, all Acts and parts of Acts for regulating the Militia of this Commonwealth," doth appoint you the said
Josiah William Ware, Captain . . . of a Company of Artillary, in the Third . . . Regiment, and Third . . . Division of the said Militia, to rank as such agreeably to the number and date hereof.
In Testimony whereof, these our letters are sealed with the Seal of the Commonwealth and made patent.
Witness, James Pleasants, Jr.
Our said Governor at Richmond, this 3rd . . . day of July 1824
James Pleasants, Jr.
Registered.
J.H.Pleasants
Original document owned by Jane & Scott Dudgeon. ***I would like to thank Jane & Scott Dudgeon for allowing me to copy & transcribe this document for my historical research. I am deeply grateful.