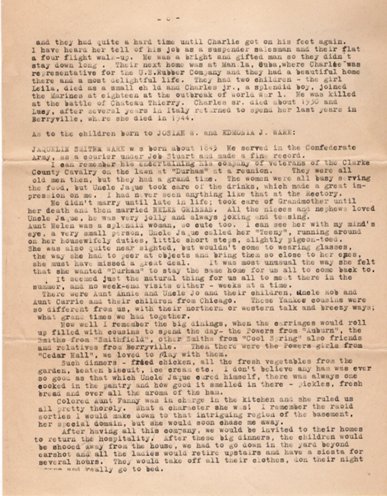 Original page 8
(continued from page 7) . . . they had quite a hard time until Charlie got on his feet again. I have heard her tell of his job as a suspender salesman and their flat a four flight walk-up. He was a bright and gifted man so they didn't stay down long. Their next home was at Manila, Cuba, where Charlie was representative for the U. S. Rubber Company and they had a beautiful home there and a most delightful life. They had two children – the girl Leila, died as a small child and Charles Jr., a splendid boy, joined the Marines at eighteen at the outbreak of World War I. He was killed at the battle of Chateau Thierry. Charles Sr. died about 1930 and Lucy, after several years in Italy, returned to spend her last years in Berryville, where she died in 1944.
Excerpt from Ware Connection to Grace Episcopal Church by Judy C. Ware:
"Edward Parke Custis Lewis remarried in 1869. His new wife was Mary Picton Stevens, the widow of Muscoe R. H. Garnett; "a prominent Virginian who served in the United States and Confederate Congresses." (Ref. 2383) Edward settled in Hoboken, New Jersey, and "was elected as a member of the New Jersey legislature, resigning on April 2, 1885 upon appointment by President Cleveland as the United States Minister to Portugal." (Ref. 2383) He served as a diplomat throughout Cleveland's entire administration. He and Mary had several children of their own: Edwin Augustus Lewis who married Alice S. Walker; Esther Maria Lewis, who was born in Switzerland and married Charles M. Chapin; Julia Stevens Lewis, who married James M. Cumming and made her home in Levanto, Italy; and Eleanor Parke Custis Lewis, who married Baron Zdenko von Dworzak and made her home in Florence, Italy."
Lucy Lewis (who often spelled her name Lucie) led an exciting life abroad while her father served as a diplomat. She was three years old at the time of her father's second marriage, and when the Lewis family moved to Portugal, she was 19 years of age. Her experiences as an ambassador's daughter were like something out of a fairy tale, and she wrote many detailed letters to her Aunt Elizabeth describing her activities. In 1887, she was able to attend many of the celebrations for the Golden Jubilee of Queen Victoria, and even had a personal meeting with the Queen herself. Due to Edward's status as a foreign diplomat, Lucy moved in all the social circles of Europe and apparently became quite close to Princess Eugenie who had been given asylum in England after the Franco-Prussian War.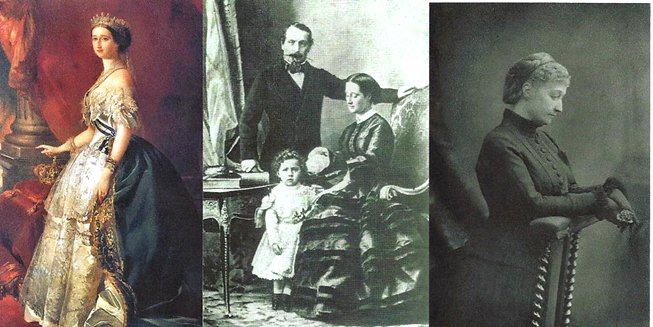 Photographs of Empress Eugenie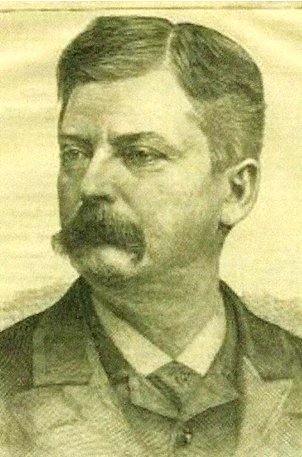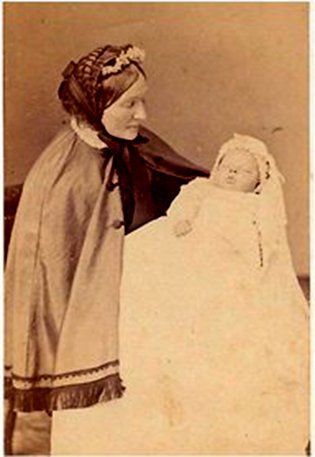 E.P.C. Lewis & Mary Lucy's step-mother, Mary Picton Lewis with son, Edwin Augustus Stevens Lewis. Photo owned by James and Judy Ware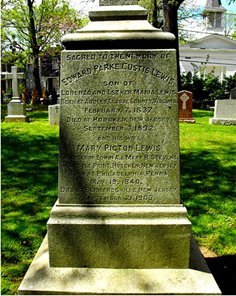 Grave for E. P. C. Lewis
Edward (Ned) fathered four more children with Mary, and she came into the union with a child of her own from her first marriage to Muscoe Russell Hunter Garnett. Their daughter, Mary Barton Picton Garnett, had been born on May 28, 1863, making her only three years older than Lucy. Minnie (as she was called) later married James Clayton Mitchell.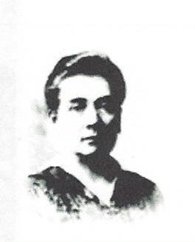 Minnie Barton Picton Garnett
In 1870, Lucy's new step-mother gave birth to a son named Edwin Augustus Stevens Lewis. He later married Alice S. Walker.
Edwin Augustus Stevens Lewis
Edward and Mary next had three daughters, and all three married into quite wealthy families.
In 1872, Esther Maria Lewis (sometimes known as Lili) was born in Switzerland. In 1888, she was presented, along with Lucy, to Queen Victoria. She wore a gown designed by Charles Frederick Worth - the world's first couturier. His name became so famous that the dress was later sold at the Doyle New York auction (on May 29, 2001) for $101,500.00 - at the time considered an auction record for an antique dress.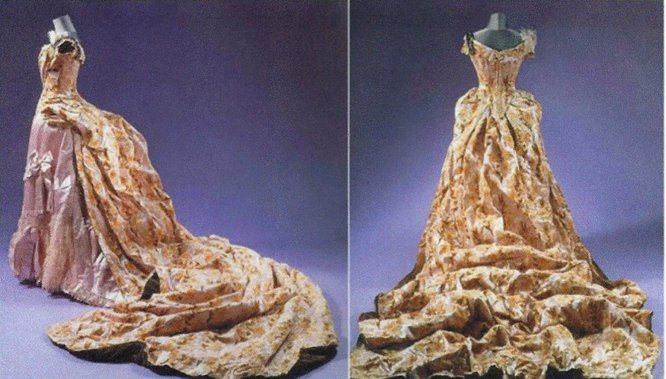 Esther's gown
On May 19, 1894, Esther married Charles Merrill Chapin in Hoboken, New Jersey. She spent her later years, before her death at 88, in a home called 'Westover' in New Jersey.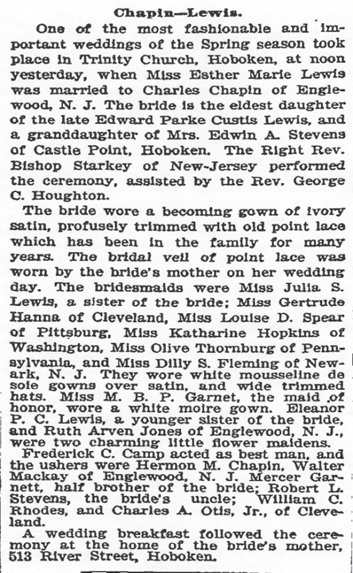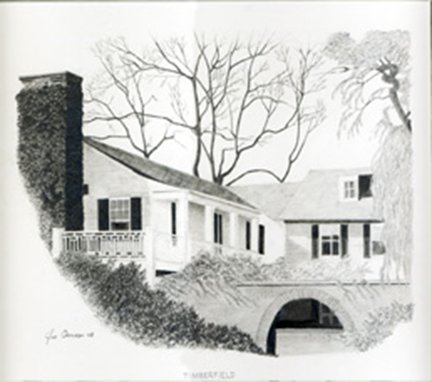 Westover
Two years after the birth of Esther, in 1874, Mary delivered another daughter. Named Julia Stevens Lewis, she later married James M. Cumming and made her home in Levanto, Italy.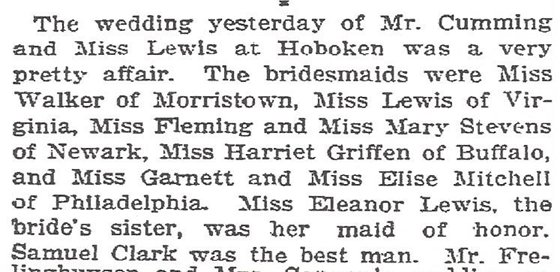 The last child for Edward and Mary was a daughter named Eleanor Parke Custis Lewis – born in 1876. Lucy was ten years old by the birth of this last child. Eleanor married twice. Her first husband was Thomas Bloodgood Peck, Jr. of New York. She later married Baron Zdenko von Dworzak, a former physician to the court of Wilhelm II. They made their home in Florence, Italy.
*Dworzak, Zdenko von (b. Moravia, 1875),
educated as physician, now practicing in
Denver, is also a trained musician. He has
written a symphonic poem, an overture, two
suites, two string-quartets, songs, etc., besides
medical essays upon the voice.
New York Times Newspaper - January 16, 1905
On Saturday, January 14, 1905, at Trinity Church, Hoboken, NJ, by the Rector, the Rev James Clayton Mitchell, assisted by the Right Rev Cortlandt Whitehead, Bishop of Pittsburg, Elinor Parke Custis LEWIS, daughter of the late Edward Parke CUSTIS and Mary Picton LEWIS of Hoboken, NJ to Thomas Bloodgood PECK, Jr, of New York City, NY.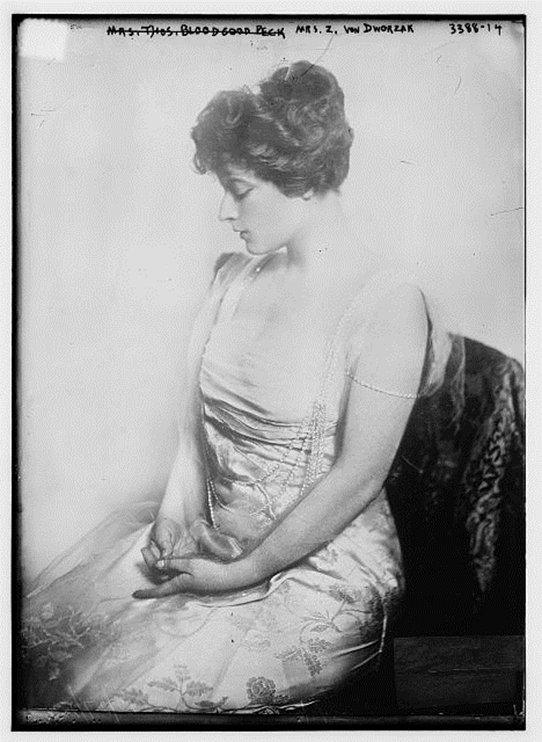 Eleanor Lewis
When Lucy Ware Lewis married Charles Treadwell Ayres McCormick on December 30, 1893, she was 27 years old. Sadly, her father had died before she wed.

Charles T.A. McCormick (March 11, 1861 – March 16, 1932) was the grandson of Province McCormick (1799-1873) and the son of Dr. Charles McCormick (1836-1861) with his wife, Laura Ayres McCormick (1840-1921). Dr. McCormick died the same year his son was born, and Laura then remarried to Capt. John Carr Parker on October 6, 1865.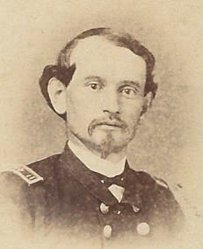 Capt. Parker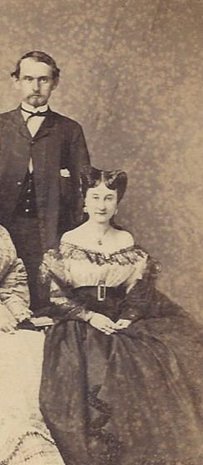 Mr. Parker & Laura McCormick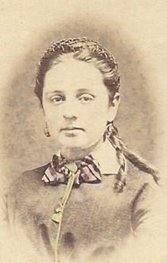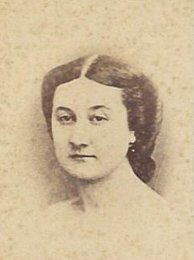 Laura Mosby Ayres McCormick Parker
All of the above photos are property of James & Judy C. Ware
Laura's parents (and Charles' grandparents) were Treadwell Smith Ayres (1814-1883) and Catherine Mosby Ayres, who died in 1903.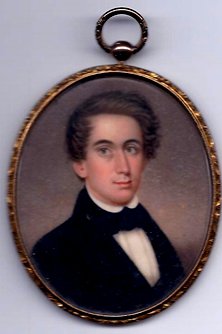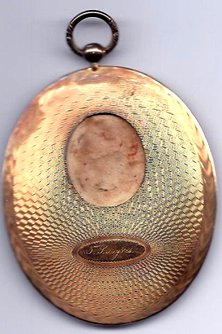 Mourning locket for "T. S. Ayres" Treadwell Smith Ayres
property of James & Judy C. Ware
FUNERAL OF MRS. C. M. AYRES
Body of Prominent Southern Woman Buried at Memphis.

The body of Mrs. Catherine M. Ayres, who died in St. Louis last week, has been deposited in the family vault in Elmwood Cemetery, Memphis. Captain and Mrs. John C. Parker of St. Louis accompanied the body to Memphis.

Mrs. Ayres, who was the widow of Treadwell S. Ayres, was well known in Memphis, where she and her husband resided for many years. The Ayres mansion, on Court Square, was noted for its hospitality in the days before the Civil War.

Since the death of her husband, in 1883, Mrs. Ayres had made her home in St. Louis. She lived with her daughter, Mrs. Parker. Mrs. Ayres had been a member of the Methodist Church for seventy-three years.
Both Treadwell and Catherine Ayres are buried in the family vault in Elmwood Cemetery in Tennessee.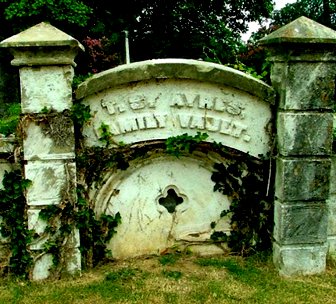 T. S. Ayres Family Vault
Laura's grandparents (and Charles' great-grandparents) were Isaac Ayres (1792-1886) and Mary Furman Smith Ayres (1794-1858) of Berryville, Virginia.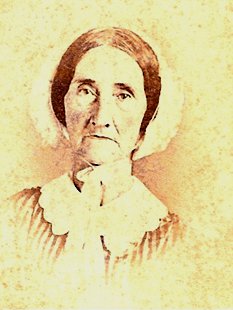 Mary Furman Smith Ayres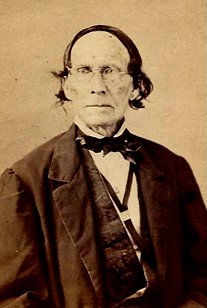 Isaac Ayres
Isaac and Mary Ayres had a large family of 13 children.
(1) Treadwell Smith Ayres married Catherine Mosby.
(2) Angus Wilkinson Ayre
(3) Josias Furman Ayres married Mary Wyatt.
(4) Amanda Ayres married Samuel Hart Sr. (1813-1888) of Carrolton, MS on June 18, 1842. He was a deeply religious man and well loved. It was said "His wife, Amanda Ayres Hart, was a quiet, unassuming, godly woman, in every way worthy of such a husband. She survived her husband about two years, when she joined him."
(5) Horace Peas Ayres
(6) Emily Ayres married Dr. Washington Stansbury of Carrollton, MS. "
By his marriage he was united with Miss Emily Ayres, a native of Kentucky, and a daughter of Isaac Ayres, a prominent planter of that state for many years. Mr. Ayres subsequently located near Memphis, but his death took place at the home of Dr. Stansbury in Carrollton. Of the nine children born to Dr. and Mrs. Stansbury, five were sons and four daughters."

(7) Samuel Warren Ayres married Elizabeth Cook. (see photo below)
(8) unknown
(9) Martha Ayres married Gustavus A. Wells of Elkton, KY. They had three children - Ida, Jesse and Charles.

(10) Matilda Ayers married Jacob C. Wheless in 1853. Matilda died at age 35. (See photos below)
(11) William Wirt Ayres
(12) Lydia Jane Ayres
(13) Isaac Harrison Ayres married Annie Roberts of Russellville, KY.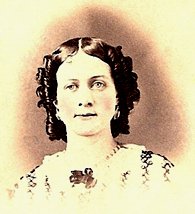 Aunt Lizzie – Mrs. Samuel W. Ayres
The children of Matilda Ayres and Joseph Wheless were;
Emily Wheless (1859), Joseph Sidney Wheless (1862), and Matilda Wheless (1868)
All the following photos are the property of James and Judy C. Ware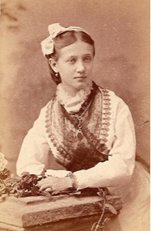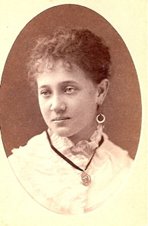 Emmie Wheless died at 18.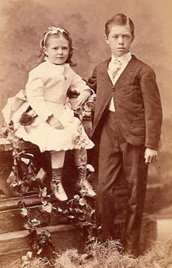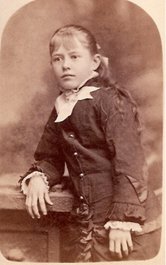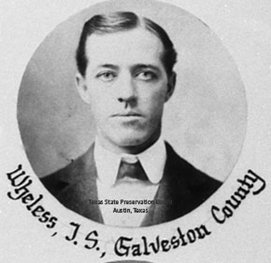 Matilda & J. Sydney Wheless – over the years
At some point after their marriage, Charles Treadwell Ayers McCormick and Lucy lived in Mexico where they owned a coffee plantation.
Mexico, in an effort to improve its economy, found a great resource in coffee. In the last quarter of the 19th century, migration from the United States was encouraged by the Porfirio Diaz regime with land grants and railroads. "The goal of the government was to bring in foreign capital to the country to develop its natural resources and modernize it." (Ref. wikipedia) Large coffee plantations sprang up, and in less than 20 years (between 1890 and 1910), the Soconusco region alone became the main producer and exporter of coffee for Mexico.
In 1910, however, the Mexican Revolution changed the relations between America and Mexico, and Lucy and Charles were among many people who had to flee the country. Through hard work and perseverance, the couple eventually made a successful fresh start.
There were two children from the union of Charles and Lucy, but sadly, neither one would live long enough to marry and carry on the family name. Their youngest, Mary Elizabeth (called Leila), was born in 1899, but she only lived to be nine years old.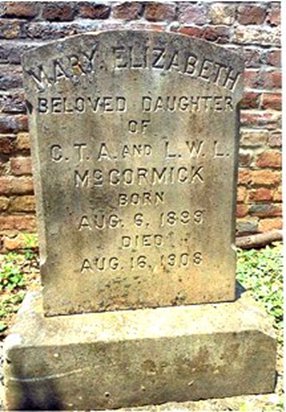 Grave for Leila
Excerpt from Ware Connection to Grace Episcopal Church by Judy C. Ware
"The oldest McCormick child was a son named Charles Treadwell Ayres McCormick, Jr., after his father. Charles was born in 1896, and according to a family letter, "Charles Jr., a splendid boy, joined the Marines at 18 at the outbreak of World War I. In 1918, "he was killed at the battle of Chateau Thierry." (Ref. 2, 3)
This historic battle was fought on July 18, 1918, and was one of the first actions of the American Expeditionary Force (AEF) under General John Pershing. It was especially important for three reasons: it was the first battle where the AEF experienced the heavy casualties associated with World War I, it showed the U.S. Marine Corps determination and dedication, and it was a signal to everyone that America was on the Western Front to fight. There is a beautiful memorial plate on the inside wall of Grace Church honoring the bravery of Charles McCormick, Jr., in this battle."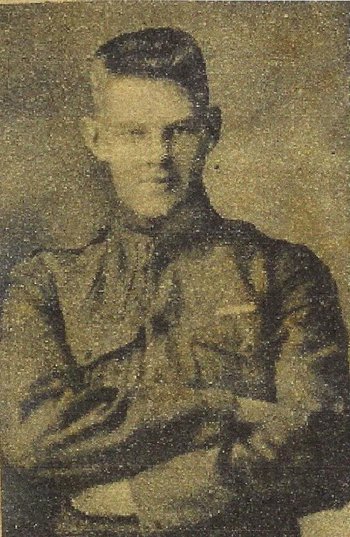 Charles T. A. McCormick, Jr.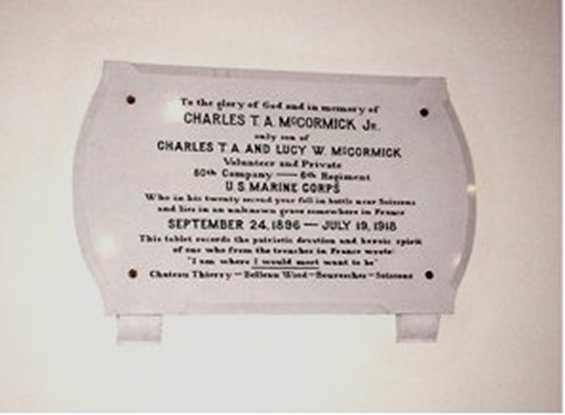 Memorial for Charles T. A. McCormick, Jr.
To the glory of God and in memory of
CHARLES T. A. McCORMICK JR.
only son of
CHARLES T. A. AND LUCY W. McCORMICK
Volunteer and Private
80th Company ____ 6th Regiment
U. S. MARINE CORPS
who in his twenty second year fell in battle near Soissons
and lies in an unknown grave somewhere in France
SEPTEMBER 24, 1896 ____ July 19, 1918
This tablet records the patriotic devotion and heroic spirit
of one who from the trenches in France wrote:
"I am where I would most want to be."
Chateau Thierry – Belleau Woods – Bouresches - Soissons
The following is an excerpt from a beautiful memorial written by Jonas Atkins (History Department) at Kent School in Connecticut, where Charles attended.
Another proud graduate was Charles Treadwell Ayres McCormick, Jr. of the class of 1918. Having played right guard for the varsity football team at a whopping 154 and a very crucial half pounds, McCormick left at the end of his 5th Form year and joined the Marine Corps. Writing to Father Sill from his training in South Carolina, McCormick asked "Please wish Joe and Sam and Wink the best of luck with their respective teams for me. Above all, for the love of Mike, beat Choate about 100-0." McCormick had lost his final game to Choate, 14-20, but the team of 1917 did not disappoint, beating Choate 61 to 3.

After arriving in France with the 80th of the 6th Marines, McCormick quickly made an impression on his commanding officer. A Lieutenant McKenzie, writing to Mr. and Mrs. McCormick, said, "Your son early showed the qualities of a good soldier and in every case has proven himself to be a quick and alert companion. Never hesitating in the advance, he set an example which showed his fine character…Charles has not given his life in vain for, although he is gone, his spirit still lives among us and makes us more determined to drive this menace from the earth." Eleanor Roosevelt, probably the most impressive First Lady in the history of our country, commented that "The Marines I have seen around the world have the cleanest bodies, the filthiest minds, the highest morale, and the lowest morals of any group of animals I have ever seen. Thank God for the United States Marine Corps!" It was, in the end, not for his high-minded ideals that McCormick was fighting. It was for his fellow Marines. And they would go on, partially to rid the world of the German menace, but also to avenge the death of the brother in arms. I hope that this combination, of dedication to national obligations and commitment to those to your left and right, those in the arena with you, will serve you well, as you yourselves seek to serve.

I would ask that, at the conclusion of our service this morning, you leave the chapel in silence. The bell, given by Charles McCormick's parents, will toll six times. It rings to the Glory of God and in memory of Charles T. A. McCormick, Jr. a private in the Sixth Regiment of Marines, who gave his life for his country at the Battle of Soissons July 9, 1918.
*** When Lucie Ware Lewis McCormick, the only surviving child of Lucy and Edward Parke Custis Lewis, passed away on November 8, 1944, the last direct "Washington descendant" coming down from the Ware line through Josiah Ware died too. She was 78 years old.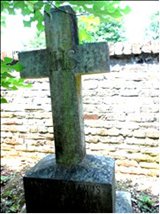 Grave for Lucy Ware Lewis McCormick
Because of the Lewis bloodline, Lucy had inherited many items from her father that had once belonged to George and Martha Washington. With no children to pass these things on to, she made very distinct bequests in her will that insured these treasures go to specific relatives or (in many cases) be given to Mount Vernon.
Excerpt from Lucy's last will and testament:
6 To Mount Vernon – 1 silk patchwork quilt made of pieces of General Washington's vests, Mrs. Washington & Nellie Custis' dresses. Set of pearls (pin in shape of bird) & silver comb – both of Mrs. George Washington – also her thread cap lace . . . Also 2 decanters which came from Mount Vernon.
It is through Lucy that the sugar bowl belonging to George and Martha Washington came into the hands of James Alexander Ware and, consequently, down our family line to this generation. It was our honor to give the sugar bowl back to Mount Vernon where it can be preserved properly and where future generations can enjoy viewing it.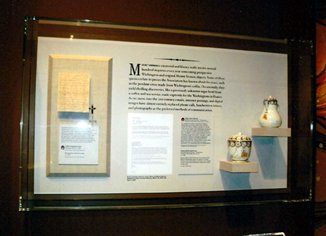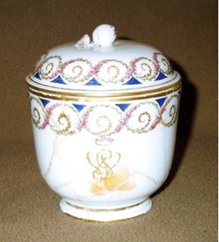 Sugar bowl displayed at Mount Vernon
Donated by James and Judy C. Ware
47. As to the children born to JOSIAH W. and EDMONIA J. WARE:
48. JAQUELIN SMITH WARE was born about 1845. He served in the Confederate Army as a courier under Jeb Stuart and made a fine record. I can remember his entertaining his company of veterans of the Clarke County Cavalry on the lawn at "Durham" at a reunion. They were all old men then, but they had a grand time. The women were all busy serving the food, but Uncle Jaque took care of the drinks, which made a great impression on me. I had never seen anything like that at the Rectory.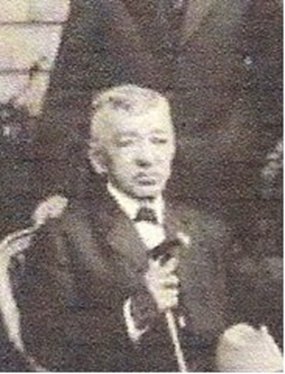 JAQUELIN SMITH WARE
CORRECTION: The birth date for Jaquelin Ware was February 7, 1846. Jaquelin (who usually went by Jaque, Jac, or Jack) was the firstborn child of Josiah and Edmonia. There was a 14 year difference between Josiah's first child with Fanny and the first son of this new generation of children. Jaque probably never grew very close to his oldest brother, James Alexander, because he was only five years old when James graduated from the literary and law department of the University of Virginia in 1851. Then, James very shortly thereafter, moved to Texas - - so the two brothers did not get to see very much of each other. They both, however, served in the Civil War; James in the Confederate army in Texas and Jaque in the Confederate army of Virginia.
Cornelia's quote "Uncle Jaque took care of the drinks" is rather funny because Rev. Jo Ware wrote in his memoirs that although their father (Josiah ) kept a wine cellar, he "was a total abstainer. He used neither liquor in any form, not even wine, nor tobacco." (Ref. 84)
Excerpt from Ware Connection to Grace Episcopal Church written by Judy C. Ware:
"As a youth, Jaque attended school at the Berryville Academy. After the Civil War began, he joined the Confederate Army at the age of 17, enlisting in Company D, 6th Virginia Cavalry. The roster for Company D, compiled from State of VA Reel 14 "Clarke Co. VA Muster Rolls," shows Jaque serving in the same unit as his older step-brother, Charles Alexander Ware. They did not stay together long, however, because Charles (being a doctor) transferred to the medical corps and Jaque "was detailed as a courier at the headquarters of General J.E.B. Stuart and served there until General Stuart was killed." (Ref. 3)
When the war finally ended, Jaquelin Ware went back to help his family during the turbulent years of Reconstruction. Josiah eventually was forced to sell Springfield, and the family then moved to Durham Farm; property inherited by Edmonia. Jaque, like his father, had a love for farming and his future success was found in the field of agriculture. He remained single for many years, but his time was well invested in the land and in civic affairs. "In 1892 Gov. McKinley placed him on the World's Fair Commission & in 1893 he was named as a member of the Board of Trustees of the State Normal School at Farmville."(Ref. 14)
The following is a photograph of the Civil War reunion
that Cornelia wrote about.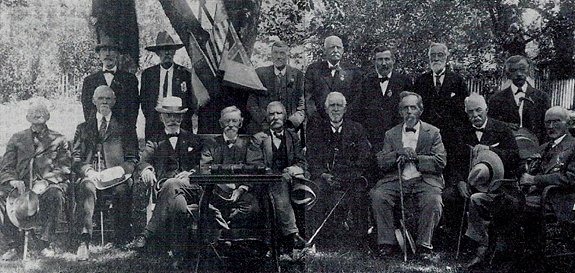 Jaque Ware is the last man on the right in the back row.
49. He didn't marry until late in life; took care of Grandmother until her death and then married HELEN GRINNAN. All the nieces and nephews loved Uncle Jaque, he was very jolly and always joking and teasing. Aunt Helen was a splendid woman, so cute too. I can see her with my mind's eye, a very small person, (Uncle Jaque called her "Teeny") running around on her housewifely duties, little short steps, slightly pigeon-toed. She was also quite near sighted, but wouldn't come to wearing glasses. The way she had to peer at objects and bring them so close to her eyes, she must have missed a great deal. It was most unusual the way she felt that she wanted "Durham" to stay the same home for us all to come back to.
Excerpt from Ware Connection to Grace Episcopal Church by Judy C. Ware
"By March of 1900, both of Jaque's parents had passed away, and after years of caring lovingly for his widowed mother who had suffered a stroke, he probably felt free to marry. On October 24th of that year, at 11 o'clock, Jaquelin Smith Ware married Miss Helen Glassell Grinnan at the home of her uncle, Mr. Andrew Grinnan, near Orange Courthouse. It must have been a special occasion for Jaque as his two younger brothers, Rev. Sigismund S. Ware and Rev. Josiah W. Ware, Jr., jointly performed the ceremony." (Ref. Judy Ware)
Wedding announcement for Jack and Helen Ware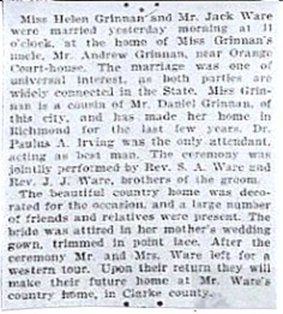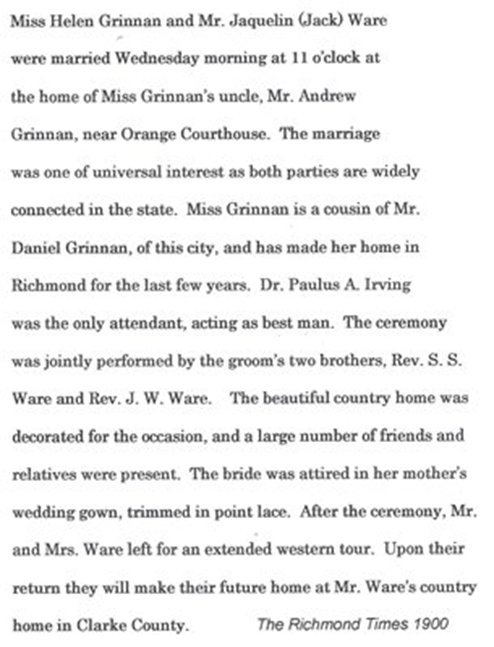 "Jaquelin Ware was very active in Grace Episcopal Church, serving on the vestry there. Although both he and Helen were buried at Green Hill Cemetery, their funeral services were performed at Grace. Jaque died at the age of 73 on November 28, 1919. Helen lived just two years later. The deep affiliation between Grace Episcopal Church and Jaquelin Ware can be attested to by the beautifully engraved brass pulpit memorial that can still be seen today." (Ref. Judy Ware)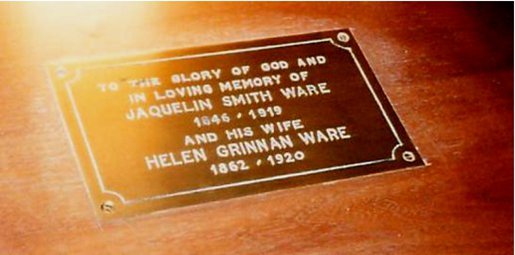 Brass pulpit memorial
All photos taken by Judy C. Ware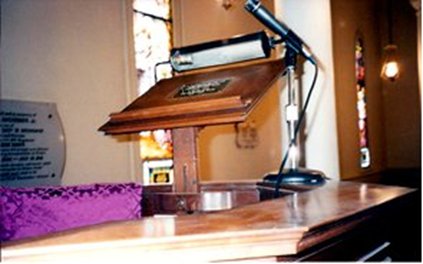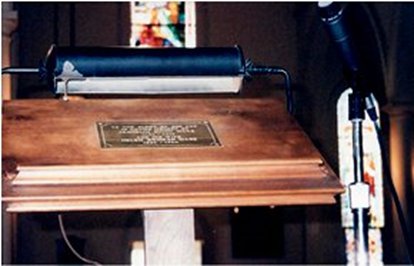 Photos of the pulpit memorial plate in Grace Episcopal Church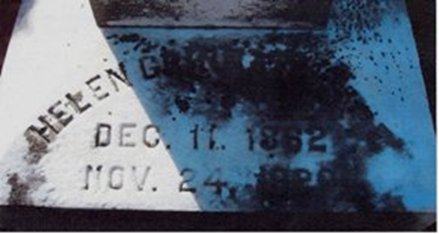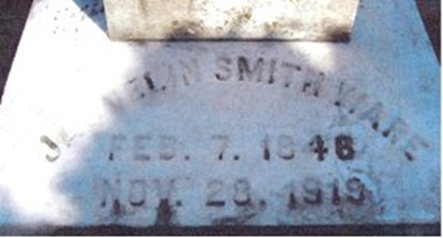 Grave markers for Helen Grinnan Ware and Jaquelin Smith Ware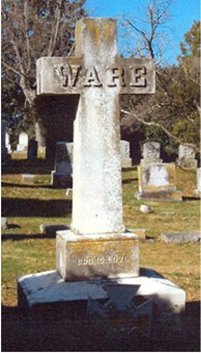 Located at Green Hill Cemetery
Transcription for the obituary of Jaquelin Smith Ware follows below.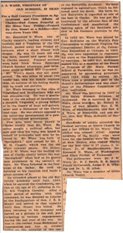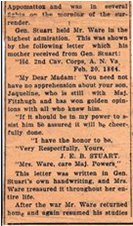 Transcribed obituary for Jaquelin Smith Ware
J.S. WARE, VIRGINIAN OF OLD SCHOOL, IS DEAD
FOR A HALF CENTURY PROMINENT IN AGRICULTURAL AND CIVIC AFFAIRS OF CLARKE – END COMES PEACEFUL AT HIS HOME LAST FRIDAY – PRAISED BY GEN. STUART AS A SOLDIER – SEVENTY-THREE YEARS OLD
Mr. Jaquelin S. Ware, one of Clarke County's leading citizens and farmers, and a Virginian of the Old School, passed away last Friday afternoon after a short illness with dropsy. He was 73 years old and was born, reared, and spent his life in Clarke County. Funeral services were held from Grace Episcopal Church Sunday afternoon and internment made in Green Hill Cemetery.
Mr. Ware's death was not unexpected. He was taken ill about two weeks ago and his family realized then, on account of his failing health, that he could not survive.
Mr. Ware belonged to that class of Virginians and Southerners who are fast disappearing. He was a gentleman of the old school of Southerners, a staunch Virginian, a strong believer in the theory of local self-government and a Democrat of the Cleveland type. He was always opposed to the latter-day development of a powerful centralized government.
Few men were better known in Clarke County than Mr. Ware. He never sought a political office, but now and then his voice was heard in behalf of principles and men he believed in. Mr. Ware was born at "Springfield", now owned by Mr. J.M.H. Clagett, which was the old Ware colonial estate. His father, Col. J.W. Ware, was the leading citizen of Clarke County before the war. Springfield often had as its' guests men prominent in the nation's affairs. Mr. Ware followed in the footsteps of his father. He took up farming as his vocation and made a great success of it.
He attended school at the old Berryville Academy until July, 1863 when he entered the Confederate service at the age of 17, enlisting in Company D, 6th Virginia Cavalry. After a short period of service with this command, he was detailed as Courier at the headquarters of General J.E.B. Stuart and served in that capacity until General Stuart was killed. He then returned to his company and served as a private to the end, participating in various engagements during the last year of the war. He was in the retreat from Richmond to Appomattox and was in several fights on the morning of the surrender.
General Stuart held Mr. Ware in the highest admiration. This was shown by the following letter which his mother received from Gen. Stuart:
Headquarters 2nd Cavalry Corps, A.N.Va.
February 20, 1864
"My Dear Madam: You need have no apprehension about your son Jaquelin, who is still with Major Fitzhugh, and has won golden opinions with all who knew him. If it should ever be in my power to assist him, be assured it will be cheerfully done.
I have the honor to be,
Very respectfully yours,
J.E.B. Stuart" Mrs. Ware, care Maj. Powers
This letter was written in General Stuart's own handwriting, and Mrs. Ware treasured it throughout her entire life.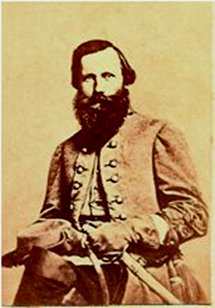 General J. E. B. Stuart – photo owned by James and Judy Ware
Another newspaper carried news of Jaquelin's death:
After the war Mr. Ware returned home and again resumed his studies at the Berryville Academy. He later engaged in agriculture, which he followed until his death. He was not disheartened by the adverse fate of the Confederacy and manifested the fighting spirit of the Southern soldier in his business pursuits to the end.
In 1892 Mr. Ware was placed by Gov. McKinley on the World's Fair Commission to represent Virginia 7th Congressional District at the Columbian Exposition at Chicago in 1893. He was also appointed to represent his state at the Exposition dedicatory exercises. In 1893 Gov. McKinley named him as a member of the Board of Trustees of the State Normal School at Farmville, and he was reappointed by succeeding governors until 1909 when he retired. Mr. Ware took a prominent part in the Board's deliberations and was chairman of the Finance Committee of that institution.
Mr. Ware was married in 1900 to Miss Helen Glassell Grinnan, of Richmond. He is survived by Mrs. Ware, three brothers, Mr. Robert M. Ware of New Mexico; Rev. J.W. Ware of Shepherdstown, and Rev. S.S. Ware of Berryville, and one sister, Mrs. Key Ware McGuire of Berryville.
Hundreds of people attended the funeral services at Grace Church to pay a last tribute to Mr. Ware. The edifice was almost filled. Among members of the family who were here for the funeral were Mr. Ware, of New Mexico, who visited Clarke for the first time in 17 years, J.W. Ware, Jr., of Shepherdstown, Mr. Kennard N. Ware of Washington, and Ellen Jordan, of Richmond.
The pallbearers were Mr. J.W. Ware, Jr., E.J. Smith, R.B. Smith, Frank McCormick, Judge F.B. Whiting, and Dr. L. M. Allen.
Mr. Ware was a member of Grace Church Vestry.
50. It seemed just the natural thing for us all to meet there in the summer, and no week-end visits either – weeks at a time. There were Aunt Annie and Uncle Jo and their children, Uncle Rob and Aunt Carrie and their children from Chicago. These Yankee cousins were so different from us, with their northern or western talk and breezy ways; what grand times we had together.
When Cornelia wrote "Aunt Annie and Uncle Jo," she was referring to Josiah Ware Jr. and his wife, Annie. Uncle Rob and Aunt Carrie were Josiah's youngest son, Robert Macky Ware and his wife, Caroline. More details of them will follow.
51. How well I remember the big dinings, when the carriages would roll up filled with cousins to spend the day – the Powers from "Auburn", the Smiths from "Smithfield", other Smiths from "Cool Spring" – also friends and relatives from Berryville. Then there were the Powers girls from "Cedar Hall" - we loved to play with them.
The "Powers" family represented relatives from Edmonia's sister – Roberta Macky Powers. This branch of the family resided in a home called "Auburn" which was located across from Smithfield.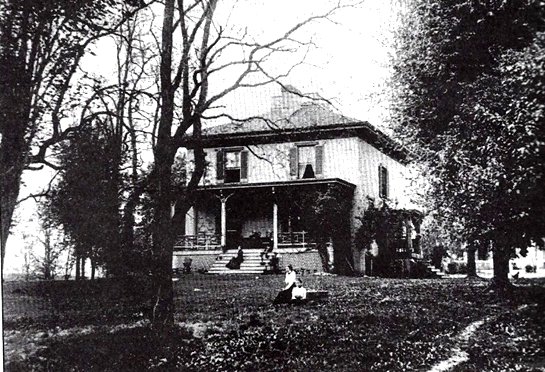 Auburn
Roberta married Philip Henry Powers and they had the following nine children:
(1) Mary Haggard (2) William Smith (3) Alice Burnett (4) Philip Henry
(5) Jaquelin Smith (6) Fanny Page (7) Edmonia Ware (8) Katherine Stuart and (9) Elizabeth Macky Powers
The "Smith" family obviously was comprised of Edmonia's family through her brother, William Dickinson Smith who married twice. His first wife was Agnes Pickett Williams and his second wife was Frances Stribling. His four children were: (1)Anna Williams (2)William Dickinson (3)Elizabeth Macky, and (4)Edward Jaquelin Smith. They all resided at the family home of Smithfield.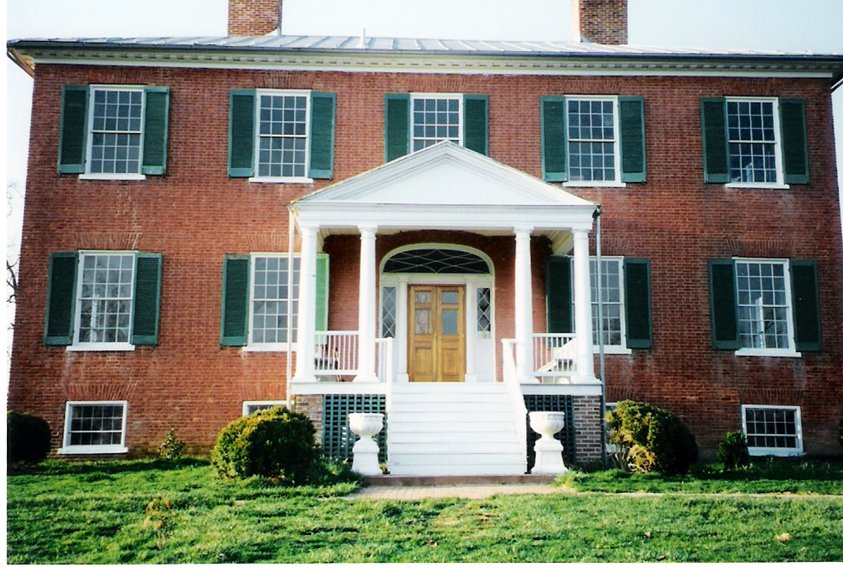 Smithfield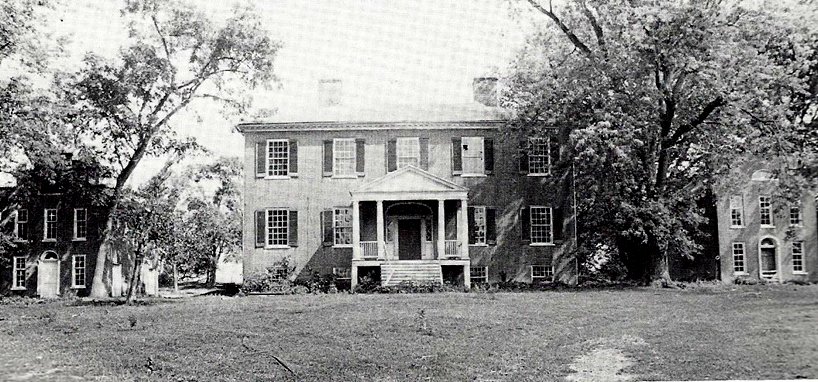 Older photo of Smithfield
showing the two side buildings that were used as a schoolhouse and a kitchen
The family home that was known as "Cool Spring" was later sold and turned into Our Lady of the Holy Cross Abbey. "Holy Cross Abbey is a monastery of the Catholic Order of Cistercians of the Strict Observance, popularly known as the Trappists." (Ref. website)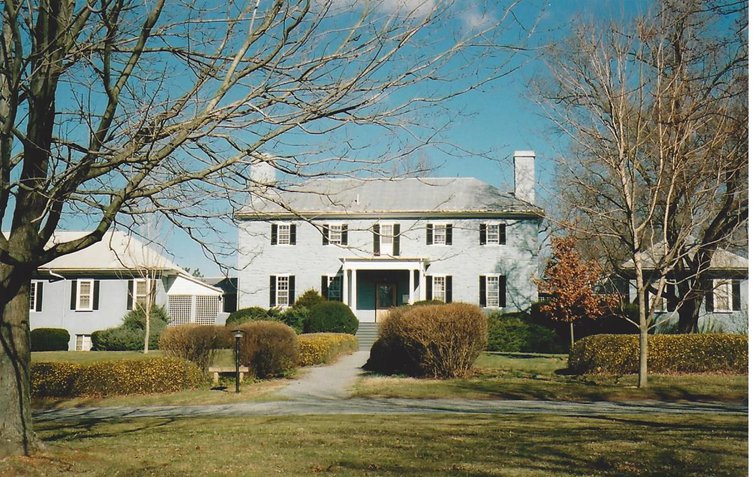 Cool Spring
Photo owned by James and Judy C. Ware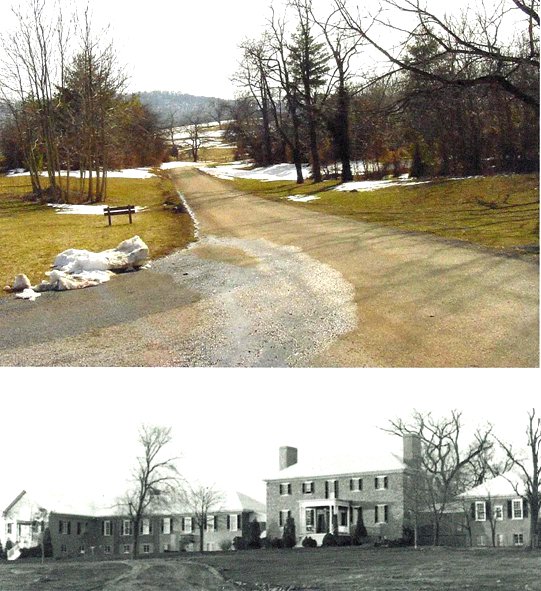 View from Cool Spring
"On November 18, 1950, a busload of 30 monks arrived on the site and began to settle the old Cool Spring property." (Ref. web)

Cool Spring
Additional facilities were added to the property over the years, and Holy Cross Abbey continues to be a beautiful, restful landmark in the area.
Then there were the Powers girls from "Cedar Hall"
Cedar Hall was the home of Edmonia's sister – Catherine Smith Hall, who had married Edward E. Hall.
52. Such dinners – fried chicken, all the fresh vegetables from the garden, beaten biscuit, ice cream etc. I don't believe any ham was ever so good as that which Uncle Jaque cured himself, there was always one cooked in the pantry and how good it smelled in there – pickles, fresh bread, and over all - - the aroma of the ham.
Josiah built a wonderful smokehouse on Springfield back in 1827. It was common in those times to cure your own meat, but with the exceptional stock that he raised, Josiah's beef, mutton, and hams were valued highly in the area. The old smokehouse still stands today (as of 2014), but the flooring has become so weathered that it makes it dangerous to go inside. The current owners have done a splendid job in keeping such a wonderful old landmark though.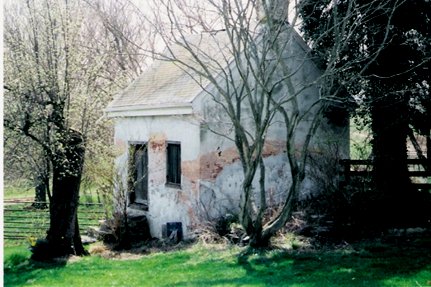 Photo taken by Judy C. Ware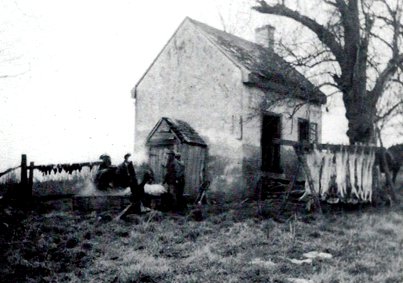 Photo provided by current owner, Barbara Clagett
Interior of the old smokehouse in 1986 – photo taken by Judy C. Ware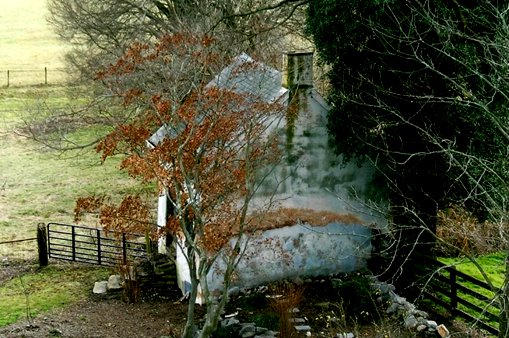 Beautiful view of the smokehouse taken from the attic window
with kind permission of Barbara Clagett 2007
53. Colored Aunt Fanny was in charge in the kitchen and she ruled us all pretty thoroughly. What a character she was. I remember the rapid sorties I would take down to that intriguing region of the basement, her special domain, but she would soon chase me away.
54. After having all this company we would be invited to their homes to return the hospitality. After these big dinners, the children would be shooed away from the house. We had to go down in the yard beyond earshot and all the ladies would retire upstairs and have a siesta for several hours. They would take off all their clothes, don their nightgowns, and really go to bed.
With the clothing styles of the times, it is easy to see why it would be almost impossible to rest without "undoing" some of the confining garments. The corsets, alone, made relaxing very difficult. The following dress patterns are from a 1909 Sears catalog.