LETTER FROM HENRY WISE TO JOSIAH WARE
dated Feb. 18, 1860
Researched & Transcribed by Judith Ware
© Judy C. Ware 2008
Original letter owned by Jane & Scott Dudgeon
The following letter was written to Josiah Ware after Henry Wise had just finished serving his full term as Governor of Virginia. Thoughts of secession and a possible Civil War were on the horizon, and many of the citizens of Virginia were anxious to join the active military service – especially those that had previously served in the state Militia.
Many years previous to this letter, in 1824, Josiah had been commissioned as an Artillery Captain of the 3rd Regiment of the 3rd Division of the Virginia Militia. He was 22 years old at the time and unmarried. In 1832, he was still serving in the 3rd Regiment of Artillery in the 16th Brigade & 3rd Division of the Militia. It was Governor Henry Wise who signed his commissioning papers in 1858 that promoted him to the rank of full Colonel – retroactive to his service since 1832.
By 1860, tensions were so high in the South that war seemed inevitable. By this time, Josiah had been serving in the Virginia Volunteers for almost forty years. At the age of 58 he was ready to go into active service again if his Regiment was activated. This letter from Governor Wise was in reply to an inquiry Josiah had made about the status of a possible promotion to General. Despite the glowing recommendations from many people, Josiah never did receive the promotion and his advanced age precluded him from any heavy fighting. Once the Civil War did break out, however, Henry Wise (younger than Josiah) entered the Confederacy as a Brig. General.
---
Near Norfolk, Virginia
February 18, 1860
My Dear Sir,
Yours of the 29th December went to Richmond in my absence on the Eastern shore. There I was breaking up and was caught in a dreadful spell of bad weather and was ice bound the 20th January, when I went to Richmond and found such a mess and variety of labor pressing on me that I could not attend to correspondence at all. Having to leave there for this place, with carpenters, mules, horses, Negroes, moving to a new and torn up plantation I haven't had time until now to acknowledge your letter. But I did not forget or neglect you. I found General Taliaferro in Richmond, and spoke to him about you and found that he put the same estimate upon you as an officer which I do, and now is about the time I think to move in your behalf. Next week I shall return to Richmond and there will be an extension of the Session and from this time out, I suppose, military bills and appointments will be discussed and made. You may rest assured that whatever I can do shall be done to promote your promotion. Taliaferro shall have your letter and present its views. This he owes to you for letting your fine mutton get cold and not eating of it hot or cold.
Johnny is up in Goochland. I am here alone - that is without wife or child or mutton.
Your letter for Taliaferro he has got long ago. Yours to me I'll send to him to remind him.
Very truly your friend,
Henry A. Wise
Colonel –

J. W. Ware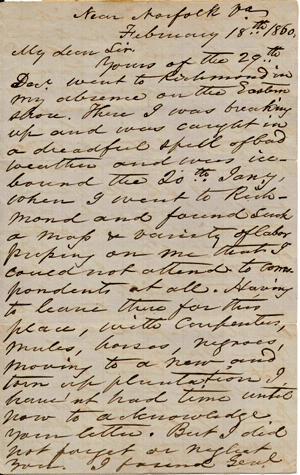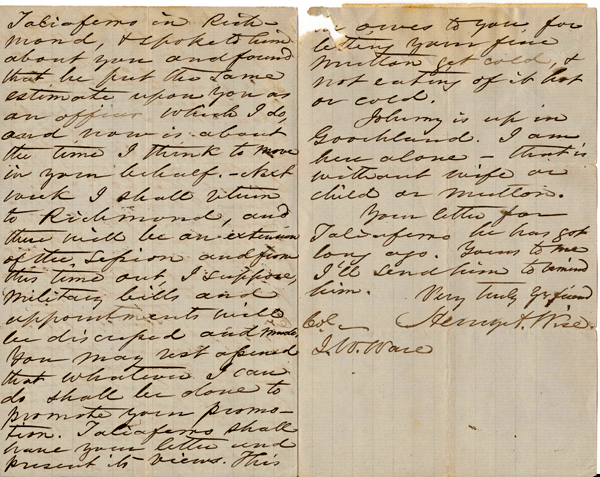 ** William Taliaferro served as a member of the Virginia House of Delegates. He had previous military experience before the Civil War and continued his military service as commander of a division of the Virginia state militia.
---
***I would like to thank Jane and Scott Dudgeon for allowing me to copy & transcribe this letter for my historical research. I am deeply grateful.
Placement of family photographs and visual graphics accompanying this piece are the fine work of John Reagan who has been an invaluable help in setting up a website for me entitled Ware Genealogy at www.waregenealogy.com. I will forever be grateful for his expertise and kindness.