Transcription of the Official Commissioning Orders
For Josiah Ware to the Rank of Colonel
Transcribed by Judy C. Ware
© Judy C. Ware March 2009
Original document owned by Jane & Scott Dudgeon
---
The
Commonwealth of Virginia
To Josiah W. Ware Greeting:
KNOW YOU, that from special trust and confidence reposed in your fidelity, courage, and good conduct, our GOVERNOR, in pursuance of the authority vested in him by the Constitution and Laws of this Commonwealth, doth commission you Colonel of the third Regiment of ARTILLERY of the 16th Brigade and 3rd Division of the VIRGINIA MILITIA, to rank as such from the 9th day of December 1832.
Notarized seal
In Testimony whereof, I hereunto signed my name as Governor, and caused the Seal of the Commonwealth to be affixed, this 24 day of July 1858.
Henry A. Wise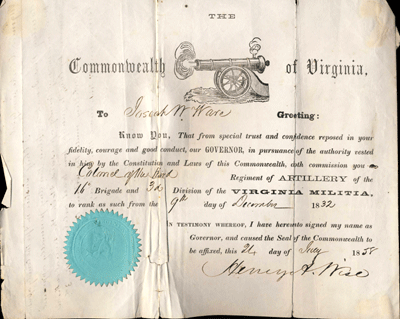 *** It is of interest to note the date of the effective rank (1832) and the date that this document was signed by Governor Wise (1858.) It was not unusual to have a rank applied retroactively. The original document, which is owned by Jane & Scott Dudgeon, still has the original Great Seal of Virginia attached to it.
On the back of the Commissioning document was the following attachment. Transcribed by Judy C. Ware
Virginia, Clarke County Sct.
I, Chief Justice in and for the county aforesaid, do testify that Josiah William Ware this day personally appeared before me in my county aforesaid & took the several oaths required by law to qualify him to act, as Colonel of the 3rd Regiment of Artillery under the within Commission.
Given under my hand this 24th day of August 1858
Francis McCormick

---
***I would like to thank Jane & Scott Dudgeon for allowing me to copy & transcribe this letter for my historical research. I am deeply grateful.
*** Placement of family photographs and visual graphics accompanying this piece are the fine work of John Reagan who has been an invaluable help in setting up a website for me entitled Ware Genealogy at www.waregenealogy.com. I will forever be grateful for his expertise and kindness.